3 New Patio Items to Update Your Backyard Sponsored by Wayfair
Sometimes patio updates are big and expensive. Other times all it takes are a few changes. I have 3 new patio items to update your backyard or porch.
Everyone has different needs for their backyard spaces. We needed three new patio items to update our backyard seating area.
With summer almost here, I focused on these three items and went shopping on Wayfair.
After shopping on Wayfair, I narrowed my choices to three specific items. These items solve both our esthetic and practical needs. They are also fairly inexpensive but will have a big impact.
3 New Patio Items to Update Your Backyard Sponsored by Wayfair
This is the summer that we plan to make major changes to our backyard. What are our plans?
Remove our retractable awning and build a covered patio with a ceiling fan.
Cover the two different hardscape surfaces with either a new stone surface or synthetic grass or a combination
More extensive lighting
So far, we have interviewed two companies to build the covered patio, one hardscape company and one synthetic grass company. The patio changes won't happen until later in the summer.
Until we get in all the bids and make our decision, I wanted to give our seating area an updated look. I wanted items that would be used after the major updates were completed.
OUR PATIO BEFORE THE NEW ITEMS
Before pictures always help to see the improvements we make to a space. Here are some pictures of what our patio seating area has looked like for the past few summers.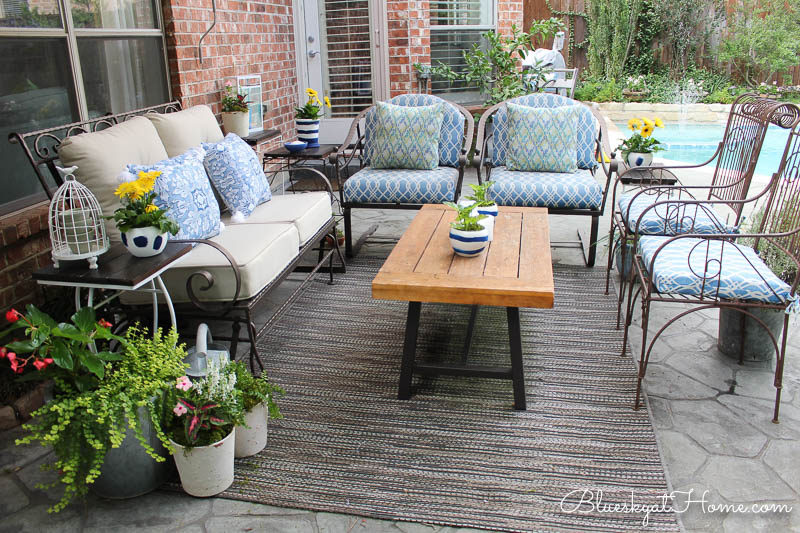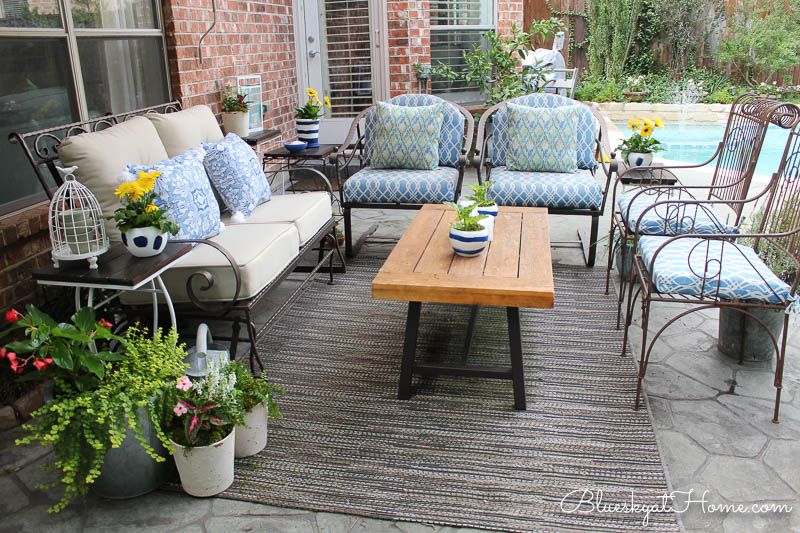 What items do we love that are staying?
Our patio furniture, including the love seat, two cushioned chairs, and the two side chairs, all came from our previous home.
Furniture cushions, which we replaced in 2018.
Our patio table from Wayfair
What did we need to give our seating area an updated look?
4 New side tables that were consistent in look and size.
A new area rug that added more color and pattern to the area.
More accent lighting.
These items would still be used after the major patio update.
By the way, before adding our new items, I changed the direction of the coffee table to be perpendicular to the love seat. Then I moved two of the chairs to face the other two chairs. This seemed to open up the seating area more to the pool and the rest of the backyard.
SHOPPING ON WAYFAIR
Over the past year, I have learned to love shopping online. Not just because we had to in 2020, but for the sheer volume of items and the convenience.
Previously, I shared my shopping experience on Wayfair for these patio items. You might take a look at all the items I put on my wish list. I have several Wish Lists. This is a feature that I love on the Wayfair site.
So what Items did we choose to give our patio an update?
Wayfair has an extensive patio and outdoor offerings. I had no problem finding plenty of items to choose from.
NEW PATIO AREA RUG
An area rug brings such great design to any space. Since our patio surface is stamped concrete (which is old and ugly), a rug is the only thing that can bring a seating area together. It also adds color and pattern.
In our previous home, we had a huge pergola to cover our entire patio. It was beautiful, but pergolas still let rain/snow come through. I think I replaced our rugs three times.
In our present home, the only patio coverage is a retractable awning. When it rains, our rug can stay wet for days. Even an outdoor rug can succumb to the elements and get dirty. Our current Wayfair rug is the third one we have had in the nine summers in our home.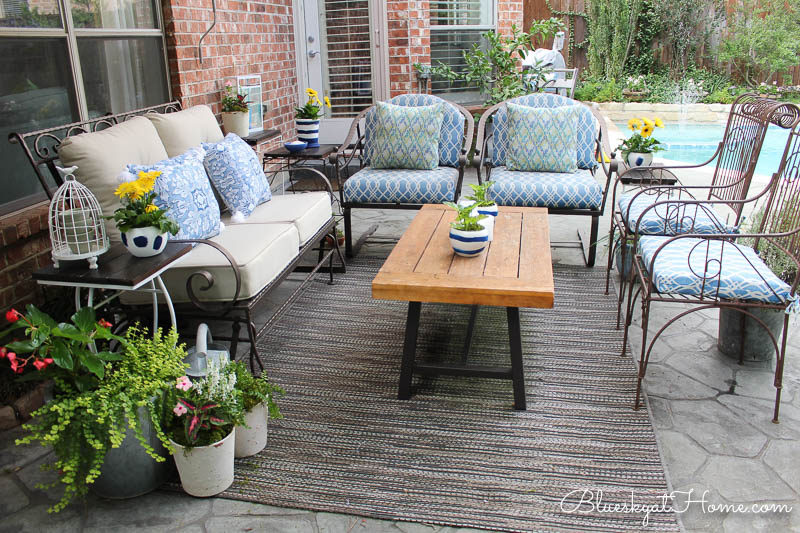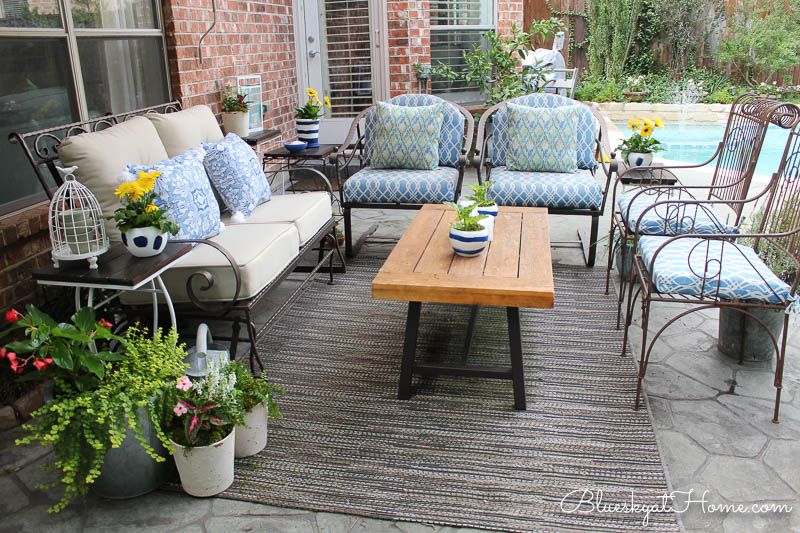 I purposely chose our current Wayfair rug for its dark color. It didn't show dirt and kept its nice look. After our freeze and snow in February, it stayed wet for weeks. Then, when all the more~than~usual rain came this spring, we noticed it getting a bit shabby.
Knowing that we would build a new completely covered patio this summer, I was up for getting a new rug. This time, I wanted one with blue in the pattern. I needed a rug that was 5 X 7 feet.
Here is one of my choices:
Here is my other choice: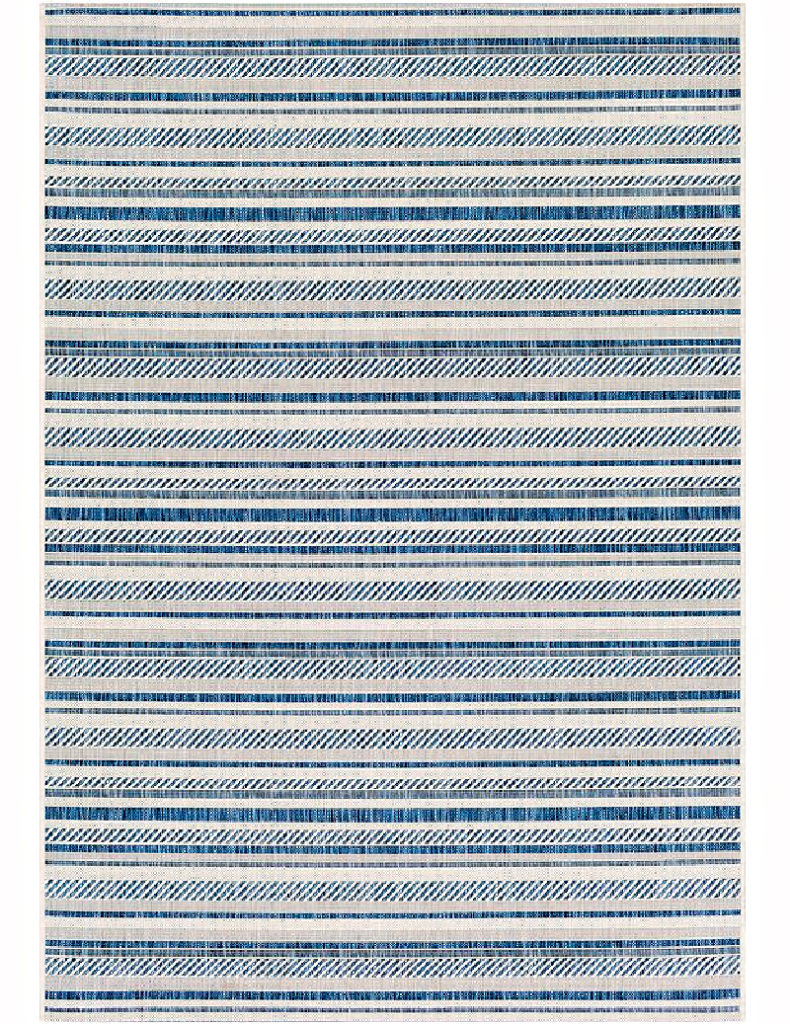 Which one did I choose? The Hennigan Indoor/Outdoor rug. It was $75.99.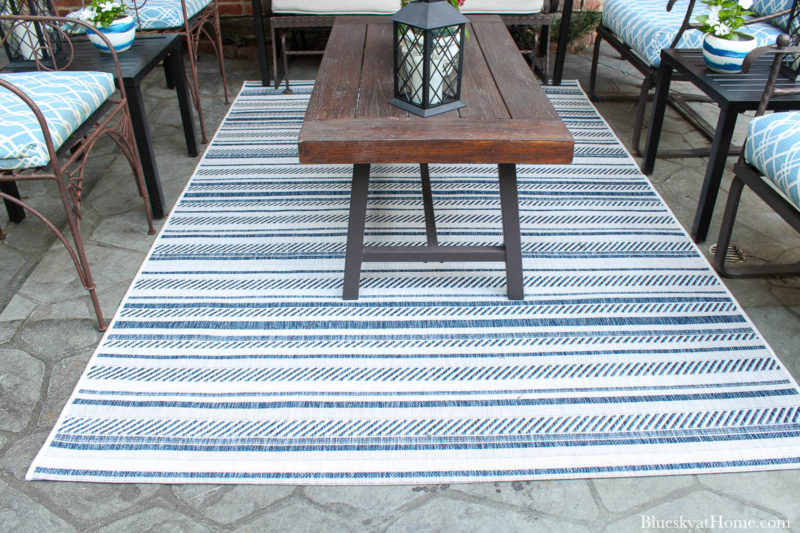 This may be my favorite patio rug ever. I love the shades of blue and the stripe pattern. Once the covered patio is built, I expect it to last several years.
NEW PATIO SIDE TABLES
A few years ago I shared my DIY patio side tables. All four had bases that were estate sale finds. I made the tops from excess wood from our estate sale teak dining table.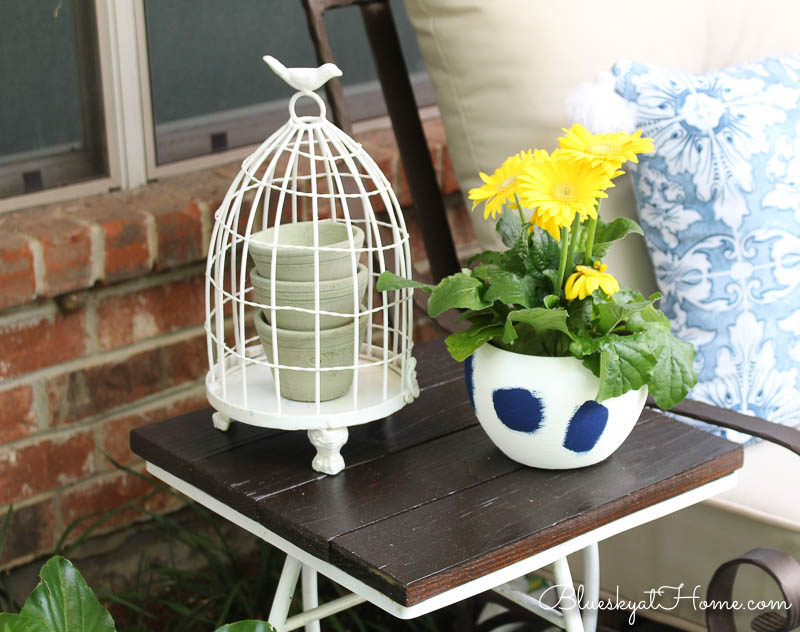 Is there anything wrong with these four DIY tables? No, the teak tops that I stained and sealed have held up perfectly to the elements. The tables were basically free.
We knew, with a new covered patio and surfaces in our future, we wanted nicer looking tables. Also, we wanted four tables that were the same rather size and material.
Because the patio coffee table had a dark metal base, we wanted dark metal for a consistent look. We also wanted a table that would be easy to maintain over the years.
Here was my choice.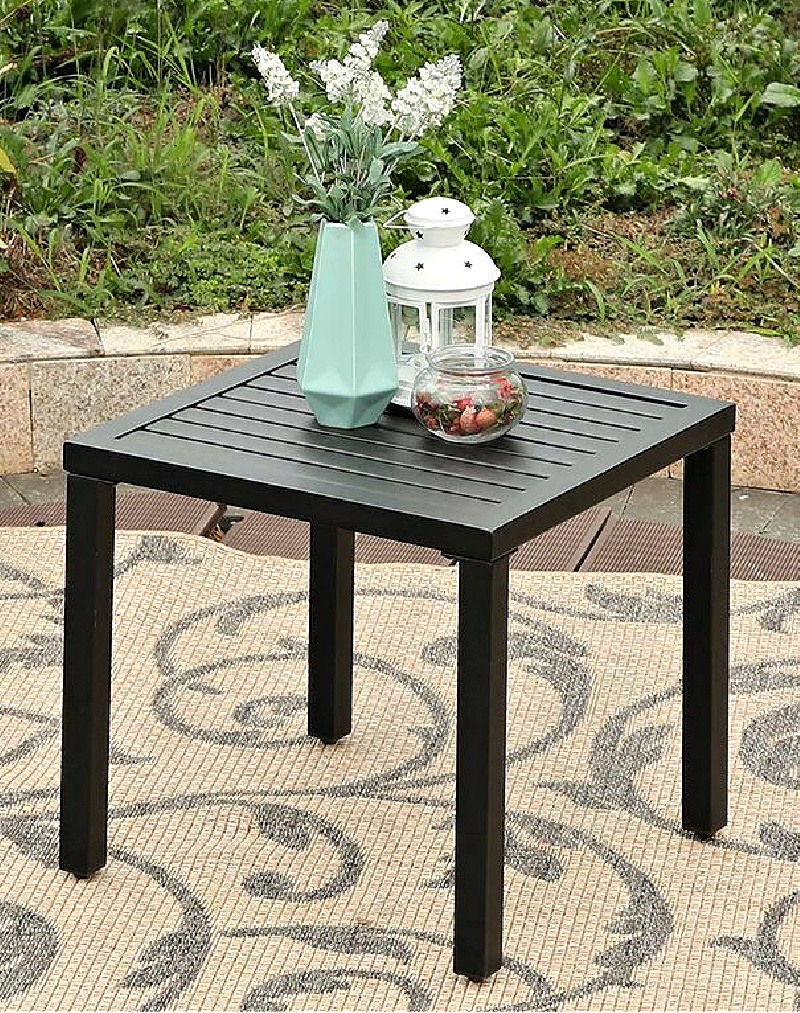 Since we needed four tables, price was also a consideration. I thought the value was awesome. At the time I bought the tables, they were $55.99 each.
We now have four tables in the same finish, the same size, and the same height. These tables are almost 19 inches square. The seating area looks more cohesive.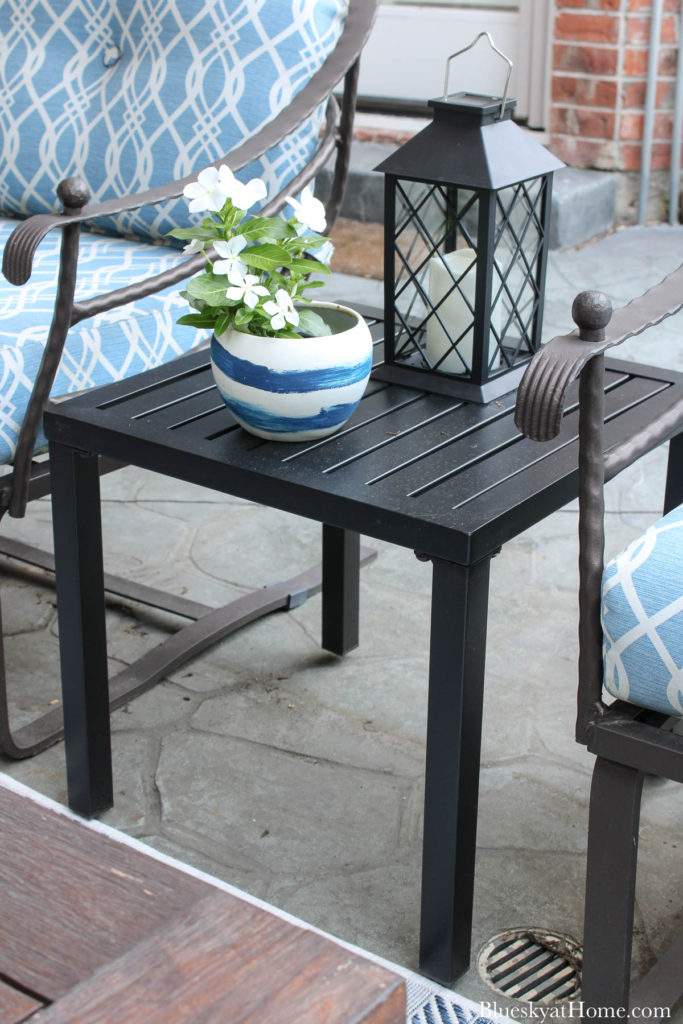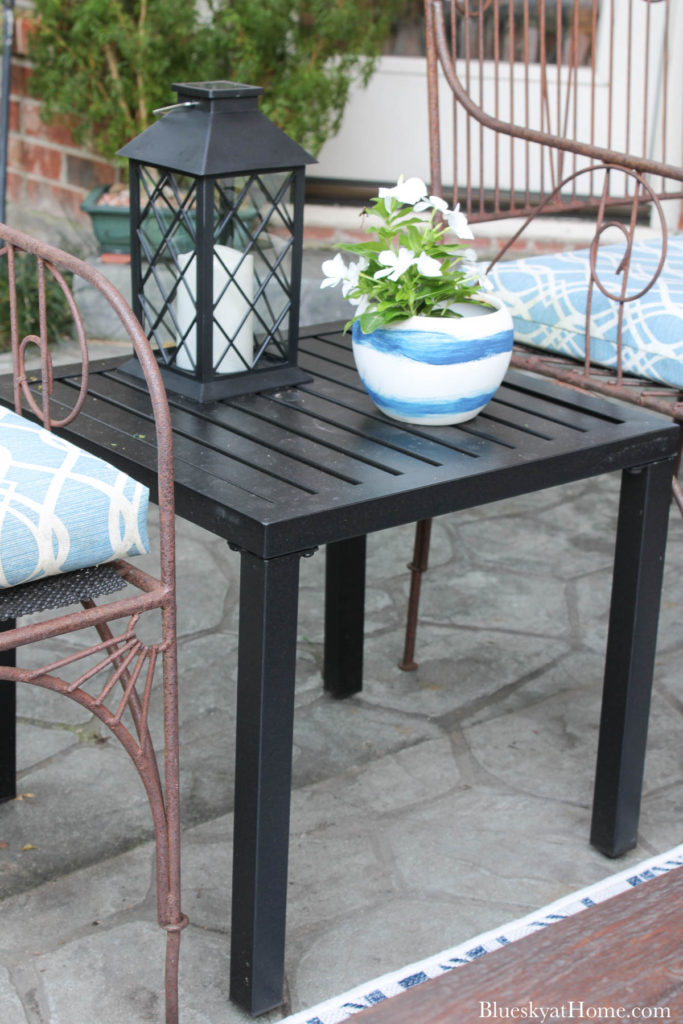 PATIO ACCENT LIGHTING
We plan to install a ceiling fan with a light kit in the covered patio. We will also hang string lights for more overall lighting.
Pops of accent lighting can be so pretty in an outdoor setting. With four new side tables, I wanted four new lanterns for our seating area. These solar LED lanterns with a candle inside immediately attracted me. They come in a set of two.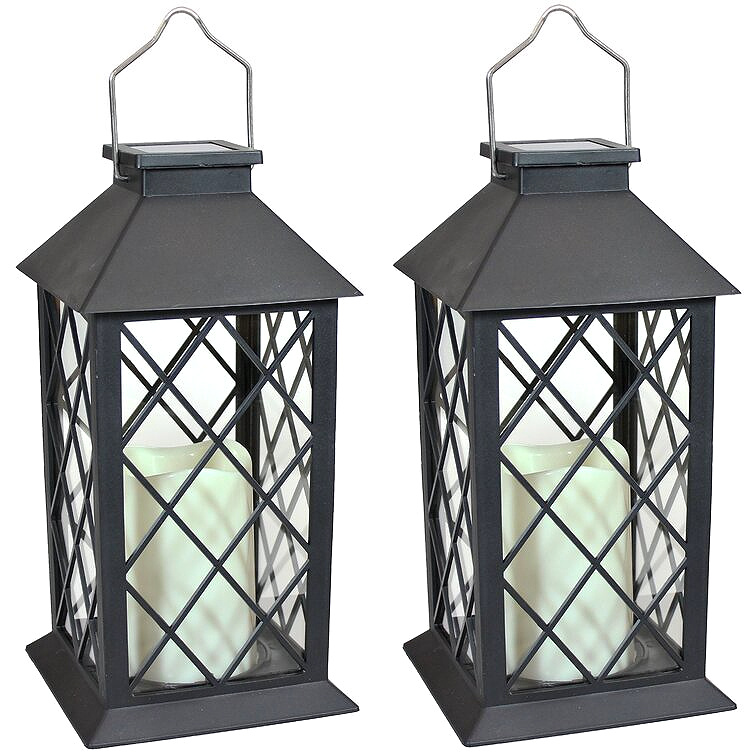 I loved the black finish. It matched the black side tables. It also comes in white. Unfortunately, these solar lanterns are currently out of stock. Here is a similar style with a different finish.
I ended up putting two of the lanterns on the patio coffee table and one each on the center side tables.
The lanterns add a decorative element during the day, but the magic happens at night.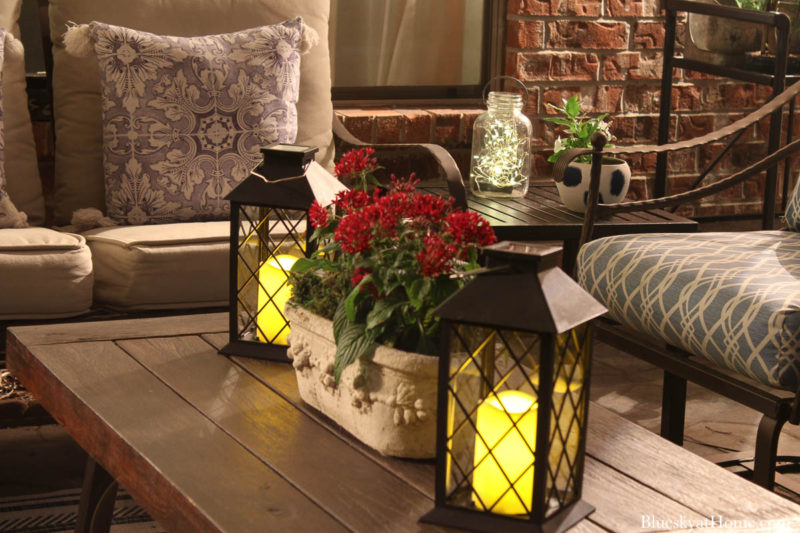 It's amazing that just 3 new patio items made such a nice impact for our backyard seating area. The area is prettier, more cohesive and has more lighting.
I think these new patio items will be even more impactful when the outdoor area is renovated.
What do you think of our new patio items? I think they show that it doesn't take much to give your patio an updated look. We are so enjoying the added lighting, our new tables and our pretty new outdoor rung.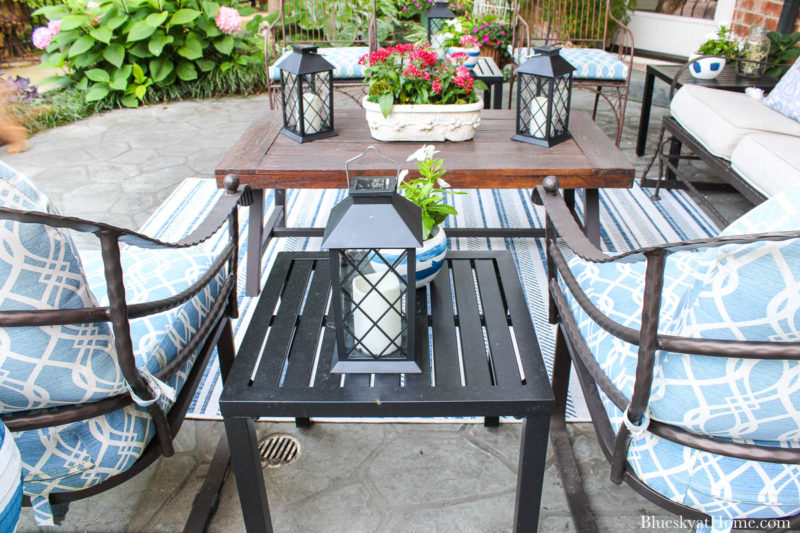 Want to keep this post for future reference? Be sure to PIN it.