How to Make a Flower Garden Sign for under $10
This time of year we are all working to pretty up our outdoor spaces. I've used signs inside our home, but I've never had an outdoor sign for our patio and yard, although I've wanted one. Recently I made a stenciled sign to add some rustic whimsy to our patio. So let me show you how to make a flower garden sign.
It was so easy I bet you can make flower garden sign too. Whether you live in an apartment with a balcony, a small patio, a large backyard or acreage, springtime makes us want to add seasonal color, cozy sitting areas and decorative accents to make our time outdoors more lovely and comfortable.
And it's the perfect time to share how to make a flower garden sign because today is Ten on the 10th under $10 ~ the perfect little DIY project you can make to add character and fun to your outdoor space. Our little band of 10 bloggers is sharing our projects with you again.
How to Make a Flower Garden Sign for under $10
This sign has a story ~ of course! A couple of weeks ago I joined several other bloggers for a fun afternoon of idea sharing, cupcakes, and a stencil project. Hosted by Joyce from At Home with Jemma and Carole from Garden Up Green, this Sunday Brighten Workshop gave us the opportunity to visit and create a project to take home. Carole provided the supplies to paint cedar wood fencing that she brought from her homestead. Carole loves wood and painting with stencils and she gave us several tips. I have definitely stenciled before, but it's always good to hear tips and tricks from other people. And that was how my flower garden sign was born.
Garden Sign Painting Supplies
pieces of wood of needed length
stencil paint
stencils of choice
painter's tape
paint brush with short bristles
cardboard or scrap wood to "offload" paint
Carole provided several stencils for us to choose from. These stencils were from Donna at Funkie Junk Interiors, who Carole said is her favorite stencil designer and supplier. Donna's stencils can be found at Old Sign Stencils. All the words on the stencils were large with a vintage, farmhouse feel: flowers, market, farm, garden, home. Knowing that I would put my sign in our back yard, I chose "flower" and "garden. Carole also supplied black stencil paint, painter's tape and extra pieces of scrap wood.
Step 1
Tape your stencil to the wood using the painter's tape.
TIP: be sure to find the center of your stencil and place your word in the center of the wood from end to end and top to bottom.
TIP: tape over any cut~outs that are near your letters so that you don't accidentally paint where you don't want paint.
Step 2
Pour out a small amount of paint on to a piece of cardboard or scrap piece of wood. Dab your brush in the paint and then "offload" ~ brush off ~ most of the paint before dabbing the paint into the stencil.
TIP: the less paint, the better!

I lined up the second piece of wood below the flower board so both words would be in the center.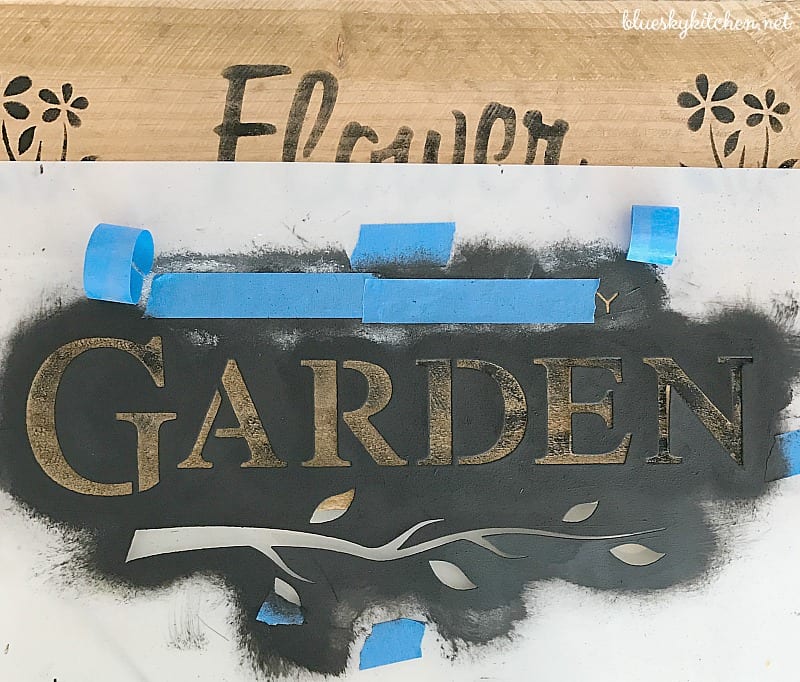 Step 3
Remove the painter's tape and carefully remove the stencil.
TIP: don't slide the stencil sideways, but lift it straight up to avoid smearing any paint. If you haven't overloaded your paint brush, you shouldn't have a problem.
You've finished your stenciling. My flower garden sign turned out better than I thought it would, with not too much paint and no smears. I love this one that someone else painted.
Hanging My Flower Garden Sign
The way to hang your sign depends how you want to display it. At first, I tried to find a place in one of our flower beds for it. Then I thought about hanging it on the fence, but we already have 8 hayracks and 2 large planters and I decided that was enough. At the end of the day, I decided to hang it on the brick next to our back door, for 3 reasons:
we would see it coming and going to the patio
we already had a nail in the brick from a previous planter
it was partially protected by the overhang and gutters
Supplies
I thought separating the 2 pieces of wood would give it a nice look. That meant that I would need:
hooks with screw eyes
cording, twine or wire to attach the wood boards and the sign
At Jo~ann's, I found black suede cording. I thought the black would pick up the black in the paint and the suede looks a bit like leather for a rustic look. Here are the  supplies I would need:
Step 1
On the "flower" sign, I measured 1 1/2 inches from the ends on the top and bottom and marked with a Sharpie.
On the "garden" sign, I measured 1 1/2 inches from the ends just on the top and marked with a Sharpie.
Step 2
I hammered a small nail to get my screw hole started.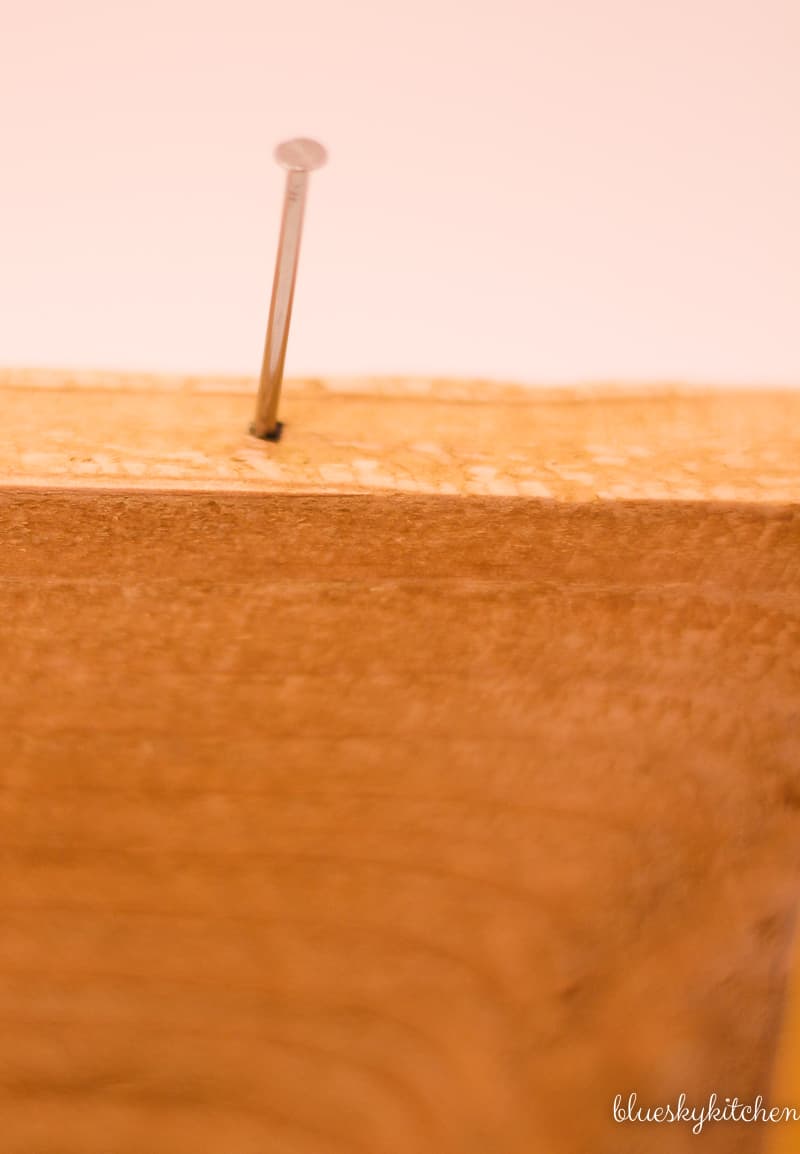 Step 3
Start crewing in the hook.
TIP: I found that using a screw driver to turn the hook made the job really easy.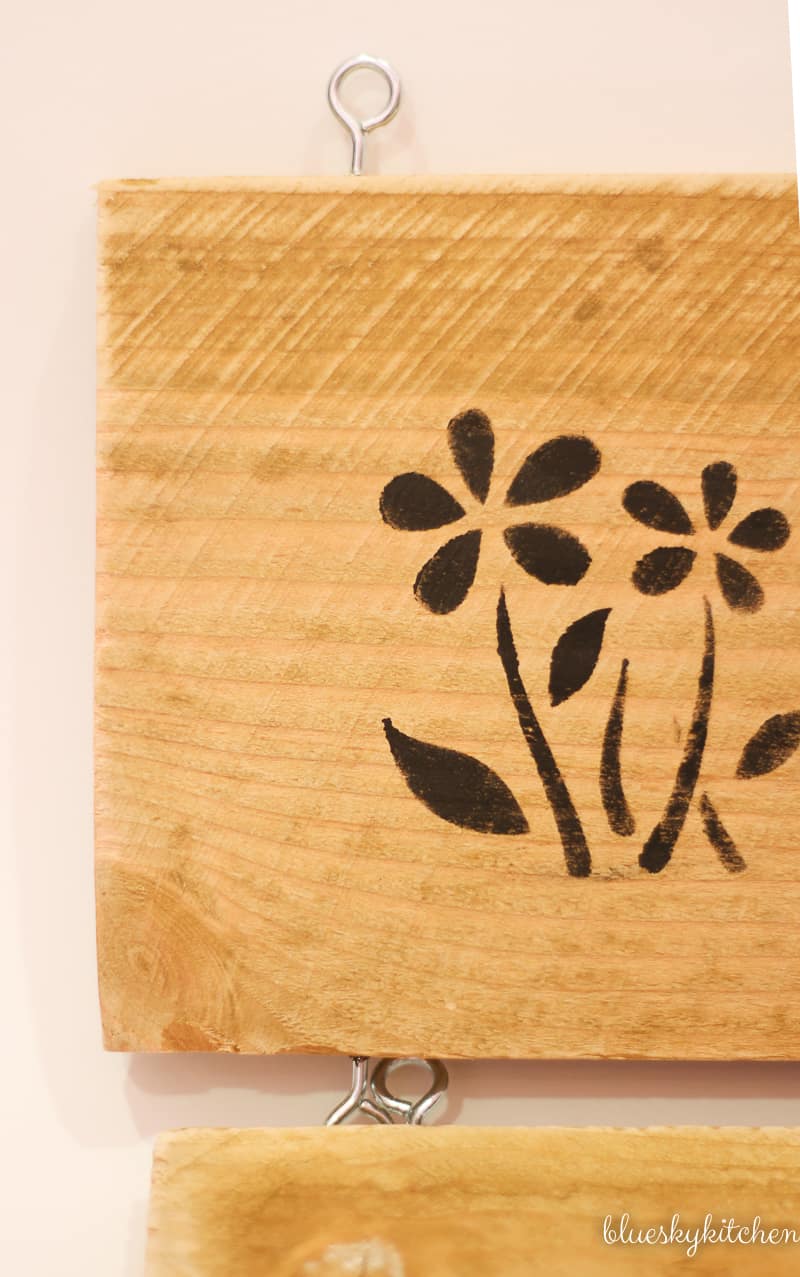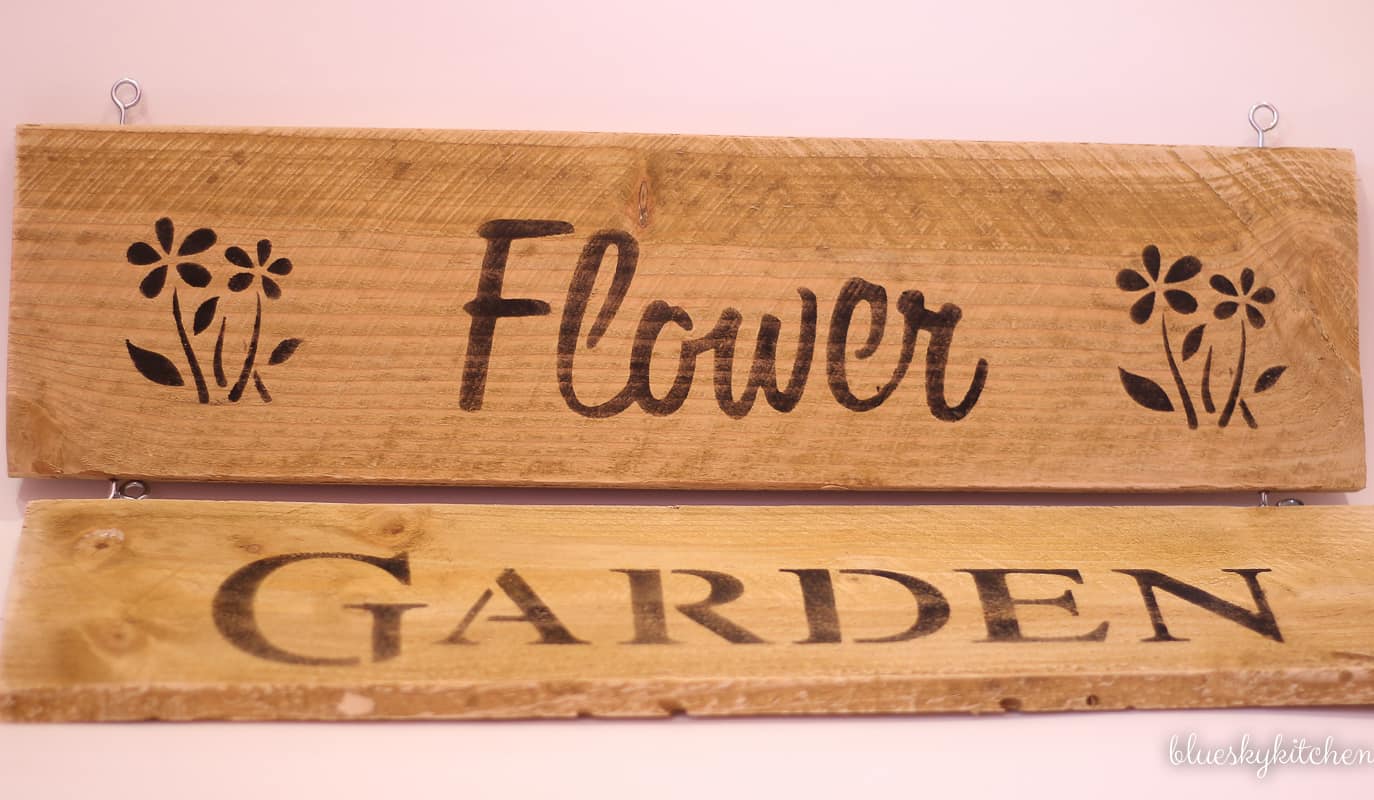 Step 4
Measure and cut 2 pieces of the suede cord the length you want between the 2 pieces of wood. I wanted my signs close together, so I cut my cording about 3 inches long. I double knotted cording on the top hooks (on the bottom of the "flower" board) and then measured down to the hook on the top of the "garden" board. I drew up the cording until both sides were 1 1/2~inches in length, double knotted on the hook and cut off the excess cord.
Step 5
I double~knotted the cording to one hook on the top of the "flower" board. At this point I took the sign outside and held it up to the brick wall to decide how far down I wanted to hang it. I pulled the cording through the hook on the other side of the board until it hung where I liked it. I held the cord where I wanted the sign, took it down and cut the cording, leaving plenty to double knot the cording. The last step is to cut off the excess cording.
Step 6
Step back and admire your new flower garden sign!
This flower garden sign is a nice addition to our patio. Even though it's not in the flowers, it's near them.
Wood ~ free
Stencil ~ free
Paint ~ free
Hooks ~ $1.24 for package of 6 at Lowe's
Suede cording ~ $3.49 for package of 2 yards at Jo~ann's I used exactly 2 1/2 feet.
Total cost: $4.73 + tax
Time: Painting the boards took no more than 20 minutes. Hanging the sign took me ~ all by myself! ~ about 15 minutes. So this is a project that costs less than $10 and takes less than 1 hour.
TIP: I have actually gone to the wood~cutting area in Lowe's and asked if they have any scrap pieces of wood. About 50% of the time, I've been able to get pieces of wood. It's always worth a try when you need something small.
You can do this project, right? Sure you can.