Some New Ideas for Coastal Decor
Do you ever find things when you are least expecting them?
Discover a new, really cool place to shop you usually don't thing about?
Find the perfect thing that you didn't know you were looking for?
Well, all those things happened to me recently when I found ~
Some New Ideas for Coastal Decor
A few weeks ago I had to travel almost an hour north for a tennis match ~ if you play league tennis by any chance, you know sometimes that happens. Afterwards our team went to lunch and someone noticed a Home Goods across the parking lot and suggested that we do a little shopping while we were "out of town". I had some time to spare, which is so unusual, so I joined the group shopping experience.
I have shopped the Home Goods store closer to my house before ~ I bought some wash cloths and hangers ~ but I had never really spent time perusing aisles and the home products they offer. I was thrilled, especially with the beachy, coastal decor and accessories I saw. And, just in case you are wondering, this is not a sponsored post or an affiliate marketing post. I just wanted to share with you what I found.
Now, Dallas, isn't anywhere near a beach or an ocean. We do have several beautiful lakes that are close, but let's face it ~ a lake is not the beach. I love the ocean (send me on a beach vacation any day) and colors of the beach ~ pale blue, sky blue, aqua, and white with creams and pale greens ~ and most of our home reflects that vibe. I never thought of our decor as being coastal, but several guests have told me that's exactly what it feels like. I guess that's why I liked what I saw at Home Goods so much.
So let's start the coastal tour
Now if you do live on a lake or near the ocean and want a really casual beach look, you might like this items:
Let's dive right in!
Paddles with hooks for towels and wet bathing suits. The baskets could hold flip flops or goggles.
These hooks are really cute, too. I love the color and the shell motif.
Decorative fish in case your favorite fisherman lost his catch.
Can you ever have enough shells or sailboats? I love the sentiment on the painted sign.
More signs in case you are so relaxed that you forget where you are or where you've been.
If you love the idea of beach critters joining your decor, these cute fellows would be great to invite home.
We all need a mermaid or two to keep the fantasy of the water sparkling our toes.
Now, if you are like me, you may want a more casual, but sophisticated look. We all know how much color and pizzazz pillows can add to any room. Here you have a "boatload" of choices ~ teals, turquoise, aqua, deep blue.
I love the soft greens of these pillows and the textures that resemble netting or a cable sweater. My very favorite pillow is right here. I'll tell you later which one it is.
I thought the rope embellishment here was fun and definitely made me think of being on a boat.
This blue glass ball would be pretty sitting on a coffee table or on a tray with shells and other coastal accessories.
Some of these glass jars and vases would make a beautiful arrangement filled with flowers, shells or a pretty candle. They remind me of sea glass. I love the thick twine around the tops of some of the jars. I think that may inspire a future project.
If you can't make it to the beach to collect the real thing, these shells are a good substitute.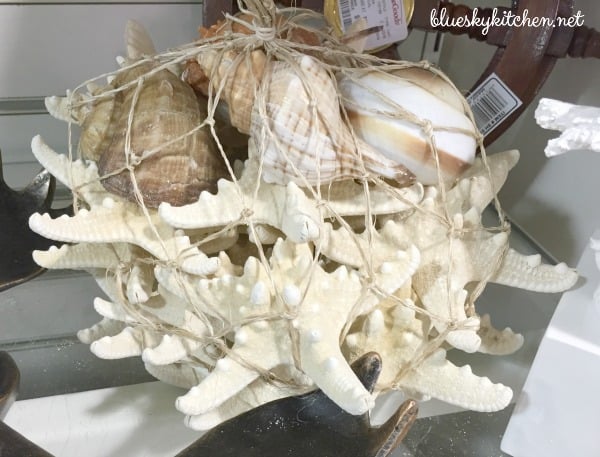 This wall hanging could also be a tray.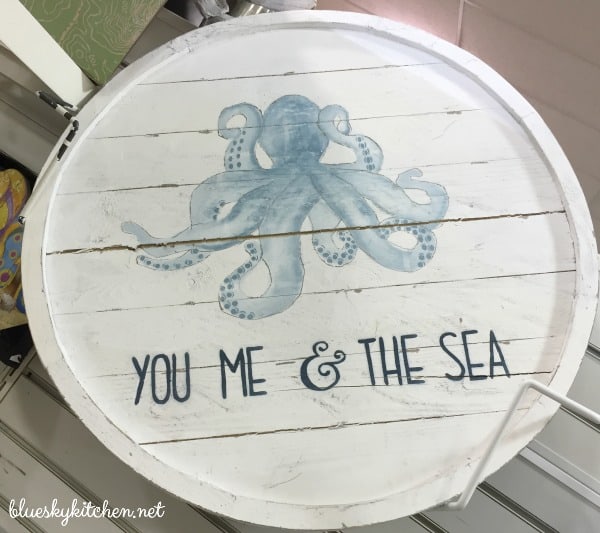 If you want to set a pretty coastal table, these dishes are just right. Add some beachy napkins, shells and candles and you'll be all set.
O.K., what was my favorite thing? Drum roll, please.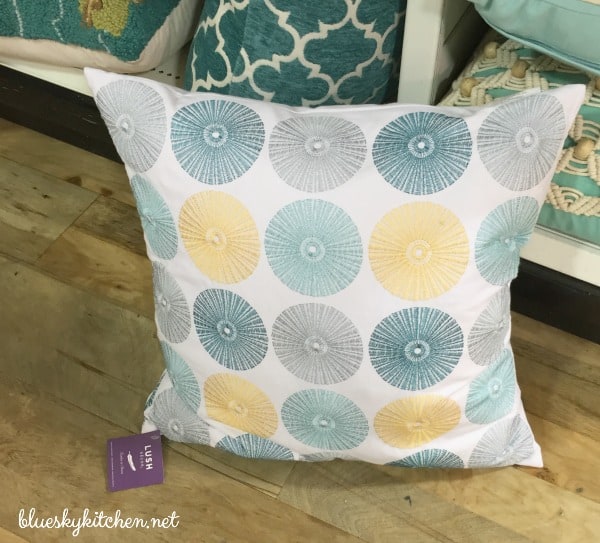 I love the colors and design of this pillow. Since there was only one, I debated about purchasing it, but in the end, one was better than none. I couldn't resist. I thought it would add some pop on our aqua sofa. The design made me think of the sun and sand dollars. The colors tie in with my other fabrics and drapes.
I like the contrast with the 3 patterns of cream pillows that I made a year ago. I also like how the pillow picks up the colors and circle motif of the fabric balls I made last summer.
I hope these pictures gave you come coastal inspiration. As the weather becomes more spring and summery, I'm sure we'll see more coastal decor in stores and online.
It's my favorite time of year and my favorite colors. Now if I could only step outside to the beach ~ "feel shells in my pockets and sand in my shoes".