My Road Trip to Magnolia Market
Welcome to the first week in April.
Isn't it amazing how once the calendar turns the page from March to April, the weather seems to know to change from the end of winter to the beginning of spring? April 1st started out cloudy and chilly, but by the afternoon, the sun was shining and the temperature hit 73. And we had a beautiful weekend ~ crystal clear blue skies and temperatures in the 70's ~ boy, I love Texas in the spring!
Last Wednesday, March was on its last leg ~ cold, dreary, and wet ~ and that was the day my older daughter and I had designated to make the road trip south to Waco. She and my granddaughters had flown into Dallas and, in spite of the weather, we were on our way to see the new Magnolia Market and Silos. We had made the trip last August that you can see here.
Magnolia Grounds
The grounds outside are very nice. The Market is separated from the Silos by a gravel courtyard and behind the Market is a soccer field! How nice of Jo and Chip to provide balls and a field for kids to play
Behind the soccer field are picnic tables and food trucks, but no one was out there since the weather was so bad. See the cute little girl with blonde pigtails? That's my younger granddaughter.
Remember the couple who own the coffee shop that JoAnna and Chip fixed up? They have a shipping crate that has been converted into a shop to the left of the soccer field. It was a great day for hot coffee or hot chocolate.
To the right of the soccer field are the silos. You can't go inside, but they certainly make a statement and are visible from blocks away.
The Magnolia Market
Although I had seen the store before construction and the site during construction, I was not prepared for the massive transformation that has taken place. If you had ever been to the old Magnolia Market, you know how small it was. The new store is huge ~ maybe 10,000 square feet on 2 levels. Wood walls, tall ceilings, industrial lighting and people ~ people everywhere. This was in the middle of the week, on a raining, yucky day. I can't imagine how crowded it would be on a beautiful weekend. My advice: get there early.
The first thing I noticed was this beautiful hanging arrangement.
JoAnna and Chip have a welcome message.
And if you are thirsty, you can purchase Magnolia water.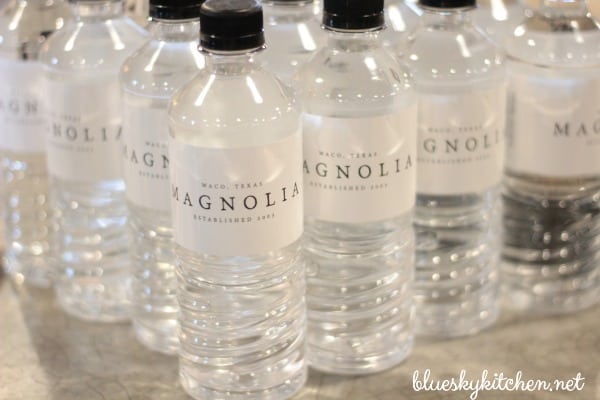 Tables are everywhere with items for sale. As you might imagine, lots of baskets.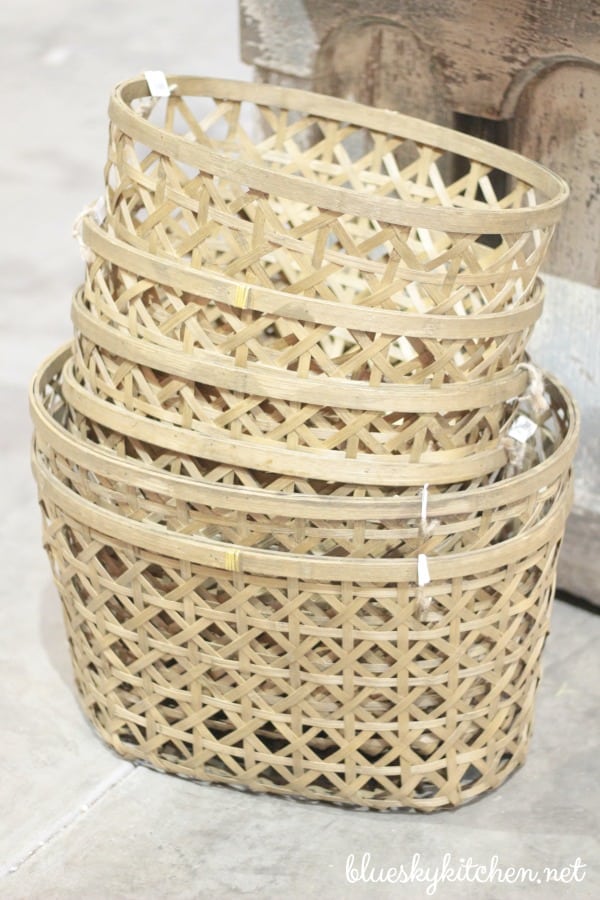 Letters. large and small.
White, white, white ~ vases, plates, soap, bowls, pillows, and tulips.
These vases reminded me of the beameister vases I bought at Flea Style a few weeks ago.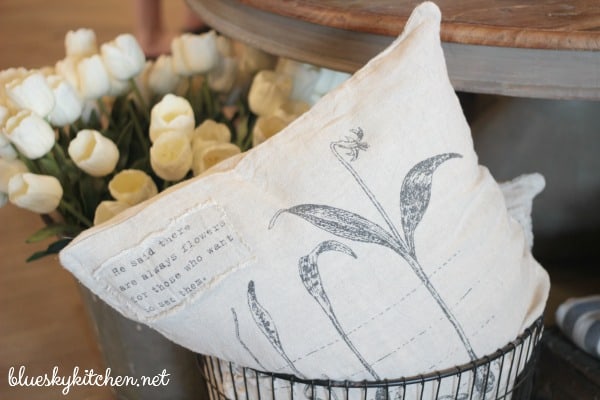 I did love this blue patterned tea pot.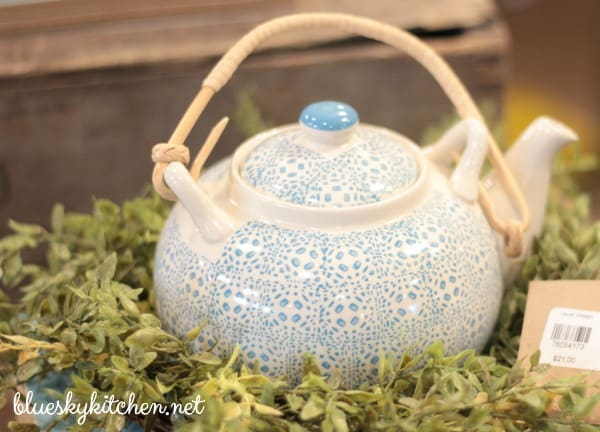 I can't get enough mercury glass and the selection here is really nice. I also love the galvanized cake stands.
Clear glass vases and bottles.
I loved these kitchen scales.
And what would a Fixer Upper store be without shiplap somewhere?
One thing that surprised me was the large amount of artificial flowers available and an area that I think you could have an arrangement made.
I told you there was a crowd. I can't imagine more people. Someone told me that when there are lines to get in, that people are let in as room allows. Again, get there early.
Here is a view looking from the upper level main market down to the lower level. You can see more of the artificial flowers plus large lanterns and vases.
I know that I drove 1 1/2 hours to get to Magnolia Market, but these girls get the prize for distance traveled ~ they have T-shirts to prove it! Thanks, Minnesota for bringing those tax dollars to Texas ~ we love you.
I'm sure you are wondering what did I buy… Not a thing! I saw several things I already have ~ white vases, bowls and plates, wire baskets, mercury glass ~ but nothing that I couldn't live without. Plus I love to buy at flea markets and antique malls, rather than buy new at retail. I can tell you, I was in the minority ~ most people left with Magnolia bags and the lines to check out were long.
Outside behind the silos is a pretty herb garden and a building that I'm sure houses garden products. By the time we were leaving the Market, the rain started coming down and we opted not to venture over there.
It was a fun visit. I'll be back to visit the Market again, as my son lives in Waco. Waco also has some good antique and flea market shops, but most are only open Thursday ~ Sunday. We did stop at the Junky Monkey on LaSalle Avenue and both Jennifer and I found some great items. It truly is a hunt~and~peck type of place with great stuff, but that story is for another time.
Now I can watch the Magnolia Market and Silos big reveal that I recorded. At least, I can say I was there.