5 Ideas for Handmade Valentine's Cards
Do you love receiving a card from a family member or friend? Opening an envelope and seeing a pretty card that someone selected just for you is a wonderful feeling. Valentine's is an especially nice time to receive a handmade Valentine's card.
A handmade Valentine's card is an extra special way to express your affection for those you love. Think it's hard to make a DIY card? It's not, it's fun and satisfying.
As we know, giving is better than receiving, so let me show you 5 ideas for homemade Valentine's cards.
I'm giving you 5 ideas for making your own Valentine's cards. Pick one style and duplicate it or make all 5.
Today's project is the first of our monthly Creative Craft Blog Hop, hosted by Andrea of Design Morsels.
Our choice of projects is wide open, which is great timing for my handmade Valentine's card. Everyone did choose a valentine's theme project this month.
If you are joining me from Purple Hues And Me, then welcome and join the fun.
5 Ideas for Handmade Valentine's Cards
This post contains links to products used in these projects. If you should order any product from this site, I may receive compensation, but you will not pay a penny more.
I will give you the complete list of supplies for all the cards at the end of the post.
The first thing you need to make these Valentine's cards is a folded card with good~quality paper. When A Makers' Studio came out with a set of lovely cards and envelopes, I started thinking about making my own Valentine's cards for Sweet Shark and our grown kids.
This cards are 5 X 7~inches in a pack of eight.
I would also use GetArt Ink as my paint medium. This paint was designed to be used on fabric and paper. I am using three colors: Pink ~ Pretty as a Picture; Red ~ Bless His Heart; White ~ Well, I Declare.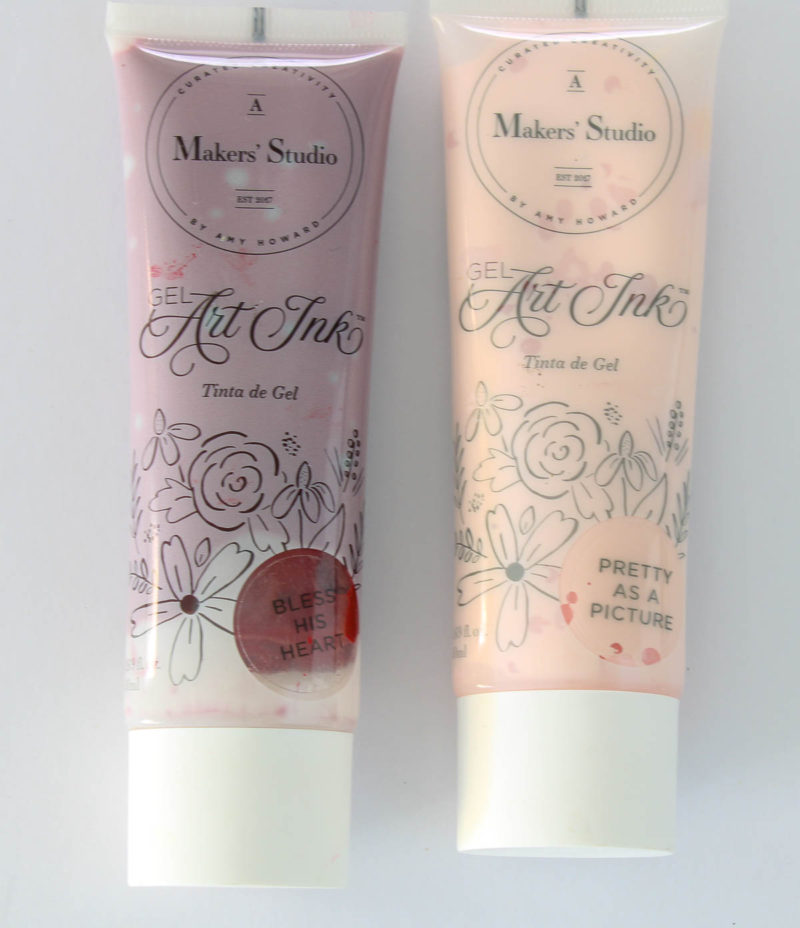 Although I made all 5 handmade Valetine's cards using an assembly~style process, I'm showing each one from beginning to end.
Valentine's Card Number 1
For my first card, I used one of my favorite Valentine's stencil, Love Love Love. With this stencil, you can make multiple designs. I used this stencil last year to make my Valentine's plates.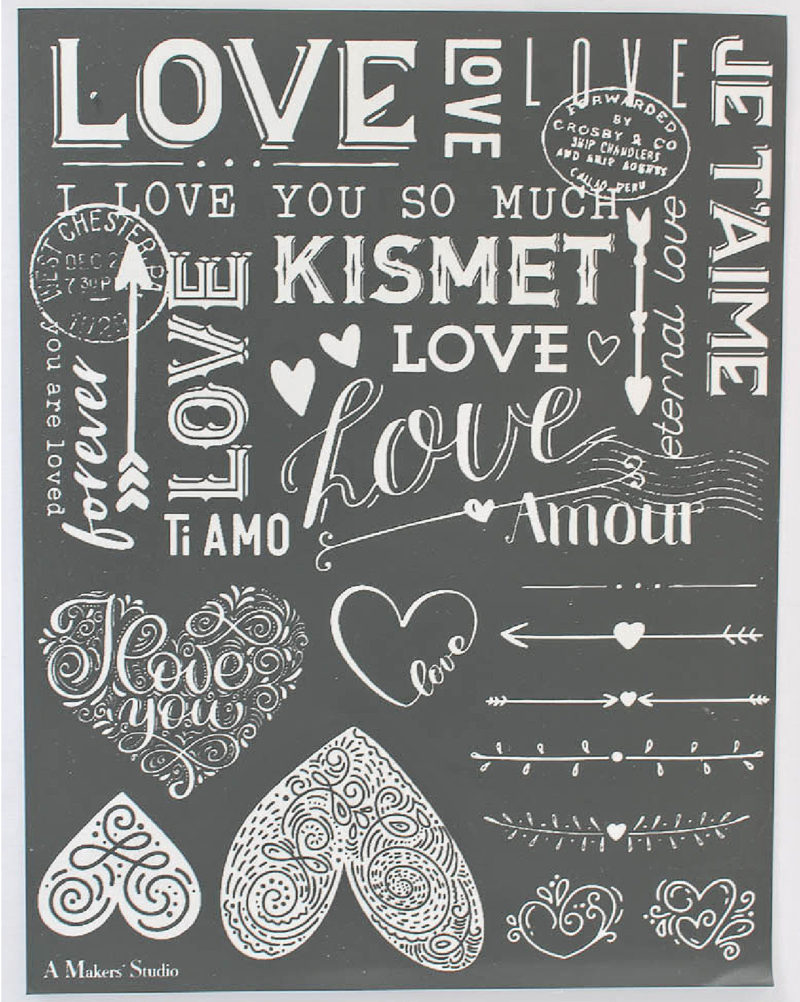 For this card, I used the large heart~shaped design at the bottom of the stencil. I cut out the stencil and applied it to the center of the front of the card.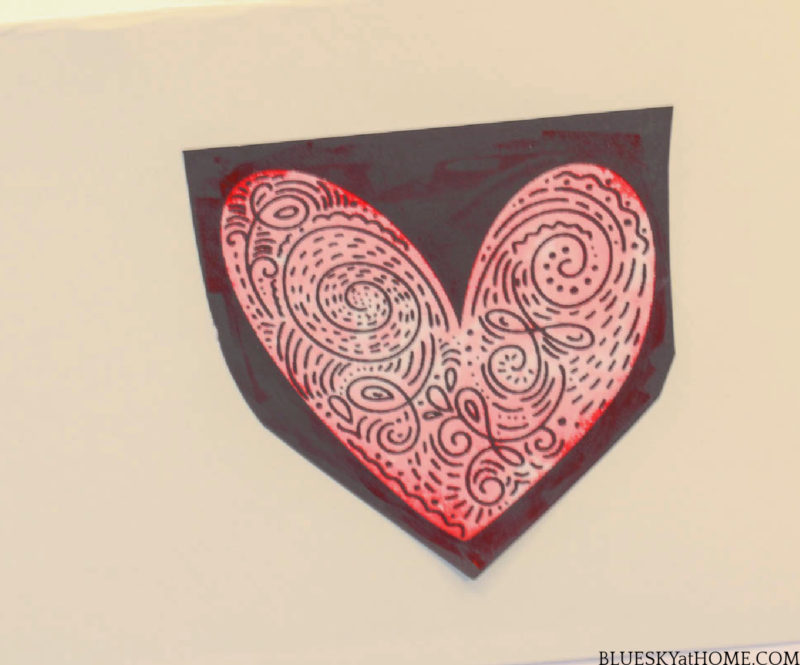 I used the plastic scraper to apply the red GelArt Ink.
On the inside of the card, I used my heart~punch and metallic red vinyl from Cricut to add some small cute hearts.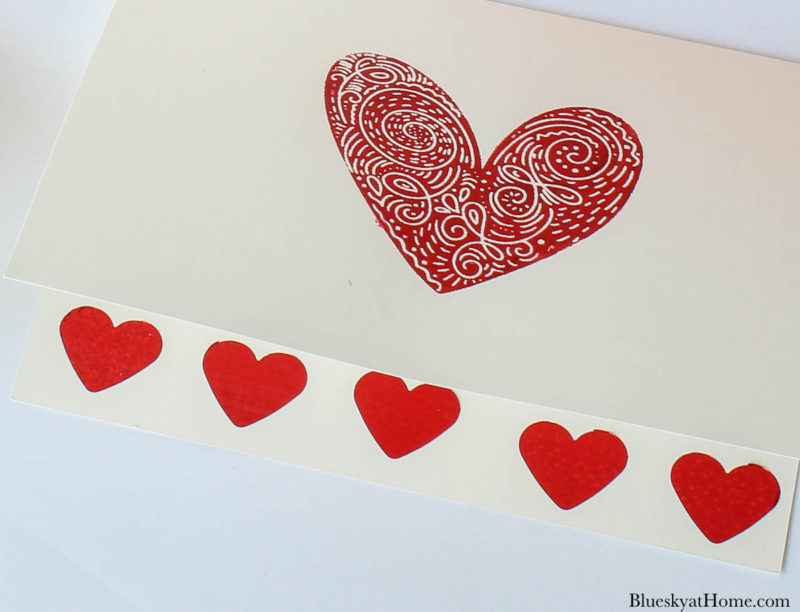 Ombre Painted Card Number 2
Did you know that GelArt Ink can be diluted to make watercolor? I am not an artist, but I decided to try this approach for the first time.
I decided to try a slightly ombre effect. You need some brushes, a container for the GelArt Ink, and a small container of water. I squeezed each of the GelArt Ink colors into the container. You dip the brush into the water and add enough to get a water~color consistency. You can easily mix colors.
I started at the top of the card with a mix of white and pink. Then I added more pink, and then a mix of pink and red.
I allowed the GelArt Ink to dry for several minutes. Then I added the same heart design (from the Love Love Love stencil) that I used for the first card. Again, I used the red GelArt Ink.
Gold Leaf Moon Number 3
For my next card, I used a different technique and different tools: Gold Leaf and Gilding Size.
For this card, I used a different stencil: Angels and Moon. It contains multiple designs. I'm going to use the "I Love You to the Moon and Back".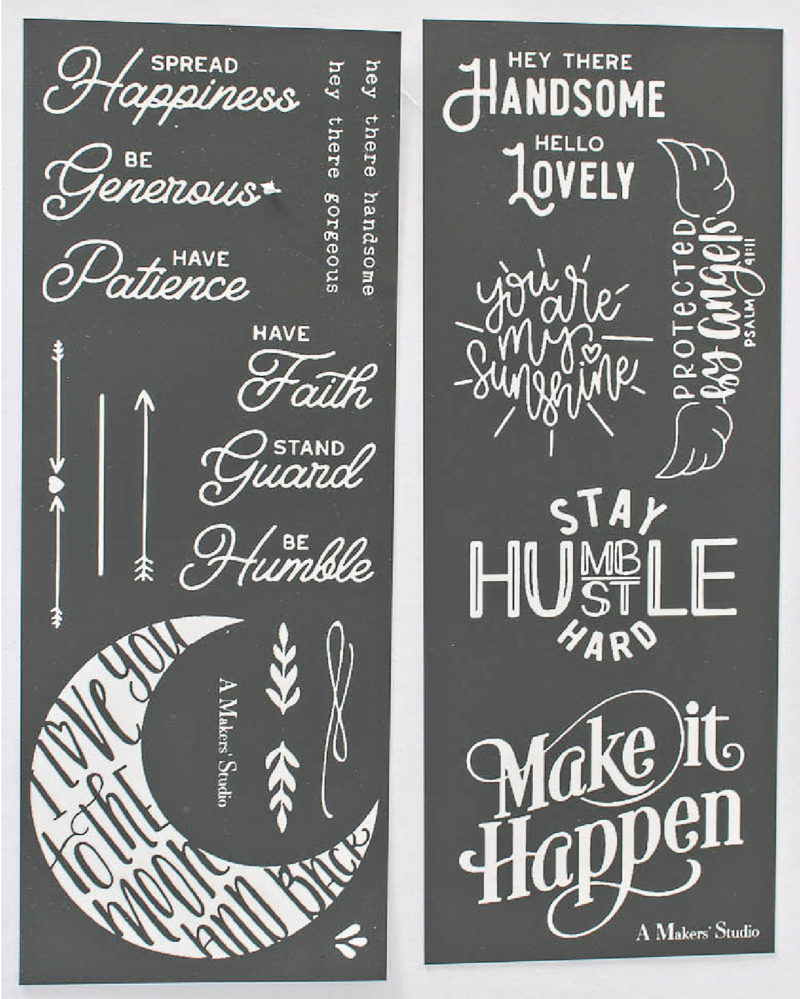 I cut out the stencil and placed it a little off~center on the card.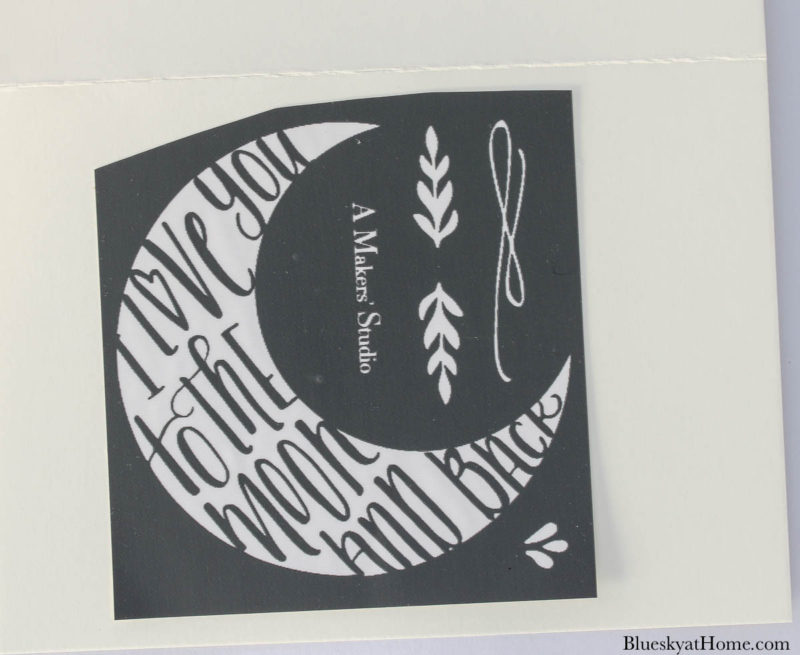 I applied the Gilding Size using a small paintbrush all over the stencil. The Gilding Size will be white when you apply it.
Remove the stencil from the card.
TIP: Immediately wash the Gilding Size from the stencil.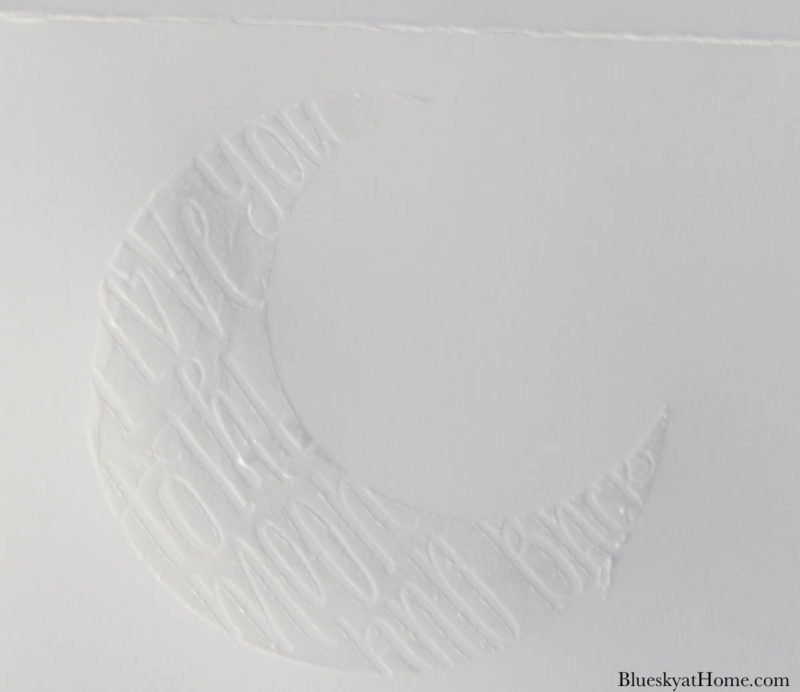 You want to let it dry for about 10 minutes. As the Gilding Size dries, it will turn clear. Let it sit until it becomes "tacky". Check by touching your ring finger to the Size. If it feels slightly tacky, it's ready to add your Gold Leaf.
Now, you can place a sheet of Gold Leaf over the stencil. Rub over the Gold Leaf with a sheet of the orange tissue paper to burnish the Gold Leaf.
Use a paintbrush to brush across the Gold Leaf in one direction, pressing down on the Gold Leaf. Then go across the Gold Leaf in the opposite direction, removing the excess until the design is clearly visible.
When you have removed all the excess Gold Leaf, you burnish the Gold Leaf with another piece of tissue. You are done!
Since I had a moon, I decided to add some stars, using one of the gold washi tape rolls I had handy.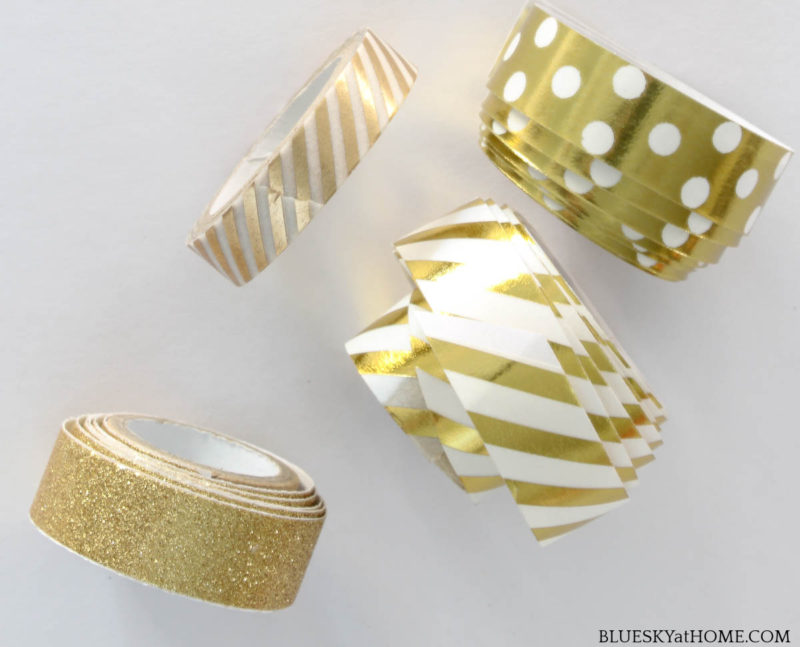 I taped three 2~inch strips of washi tape together. Then I used my small star hole punch to make 3 stars.
I think this Valentine's card will be for Sweet Shark.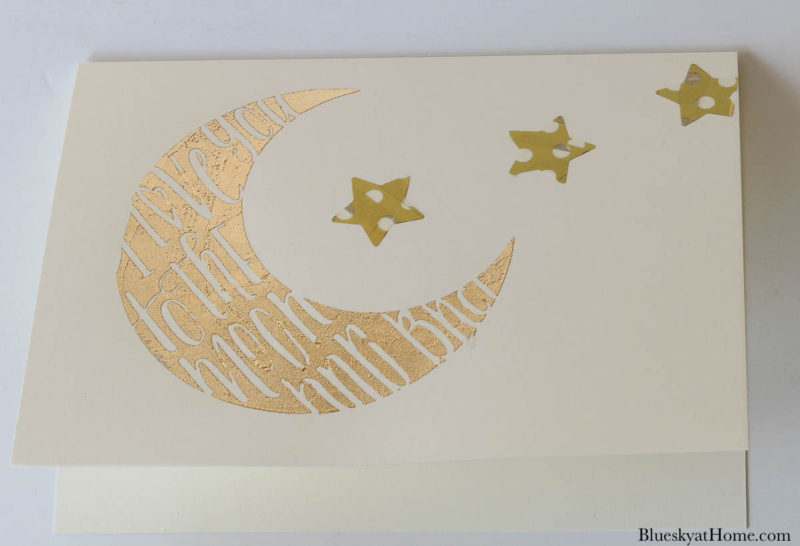 Valentine's Card Number 4
For this card, I used the top of the Love Love Love stencil to cover the entire front of a card. I squeezed out a little GelArt Ink on a piece of cardboard.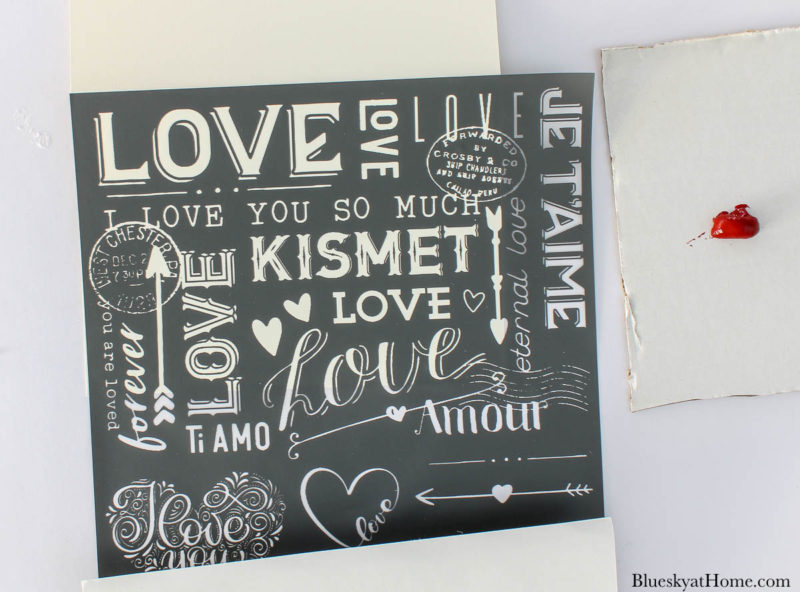 Again, using the same technique, I applied the GelArt Ink to the entire surface.
Here's how this card turned out. I let the card dry for a few minutes. See the two small red hearts in the bottom center? I decided to add a little bling to them using Gold Leaf.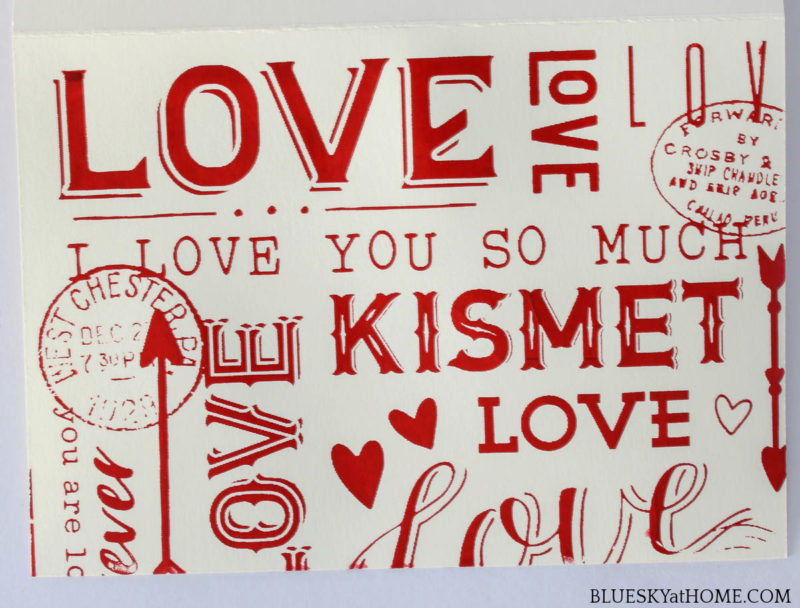 I cut out the stencil for two hearts and place it over the red hearts on the card. Then using an artist's brush, I applied Gilding Size.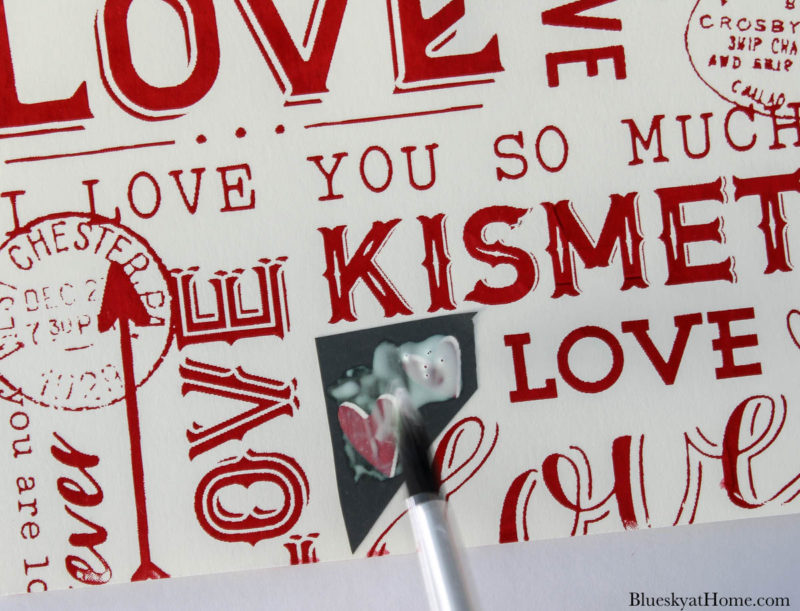 I removed the stencil and let the Gilding Size sit for about 10 minutes until it comes to "tack" ~ just slightly tacky.
Then I placed a small piece of Gold Leaf on the heart. Again, you want to use a piece of the orange tissue to burnish the Gold Leaf.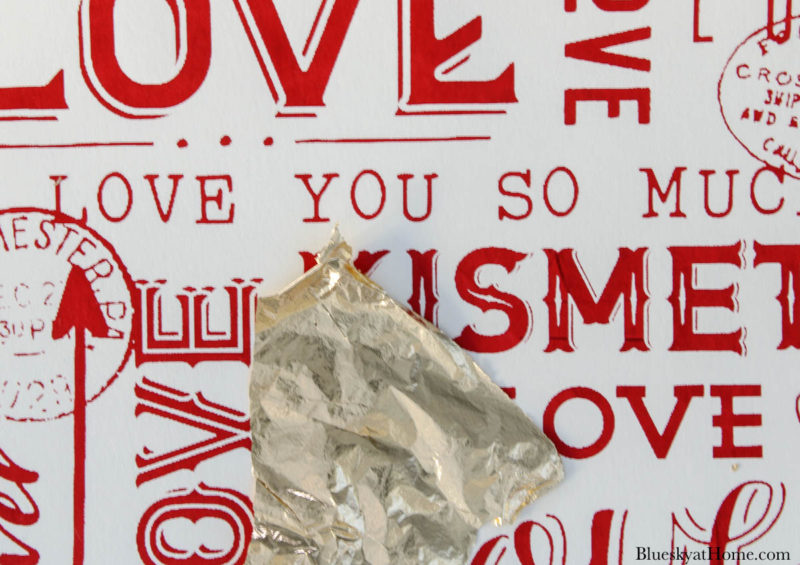 Finally, use a dry paintbrush to remove the excess Gold Leaf. Now you have a little sparkle on your handmade Valentine's card.
Valentine's Card Number 5
I had one more stencil I wanted to use ~ this LOVE design from the same stencil.
After adding the GelArt Ink, I thought some embellishment was in order. I had some red felt hearts recent Valentine's wreath.
I used double~stick tape to attach the felt hearts.
This final handmade Valentine's card was super easy.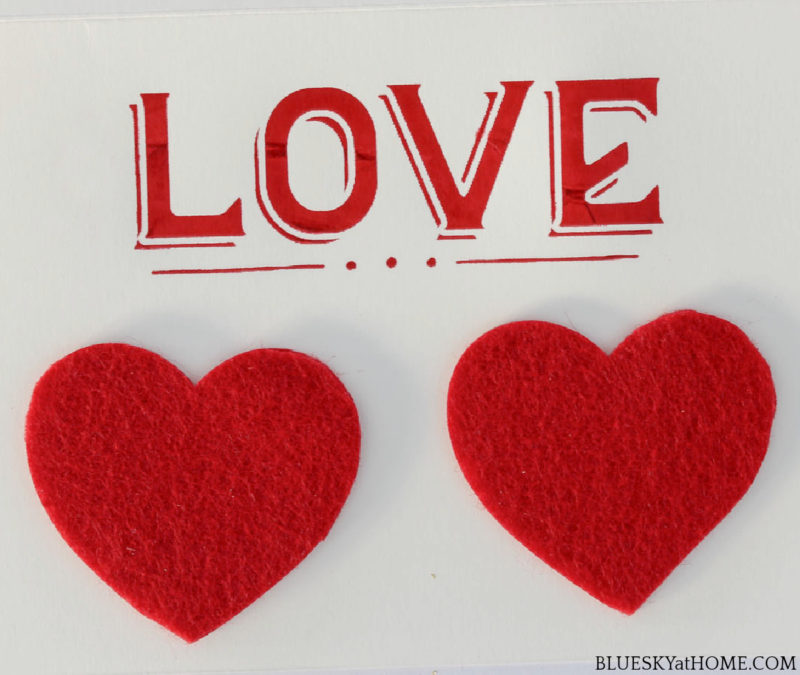 Here's the reveal of 5 handmade Valentine's Cards.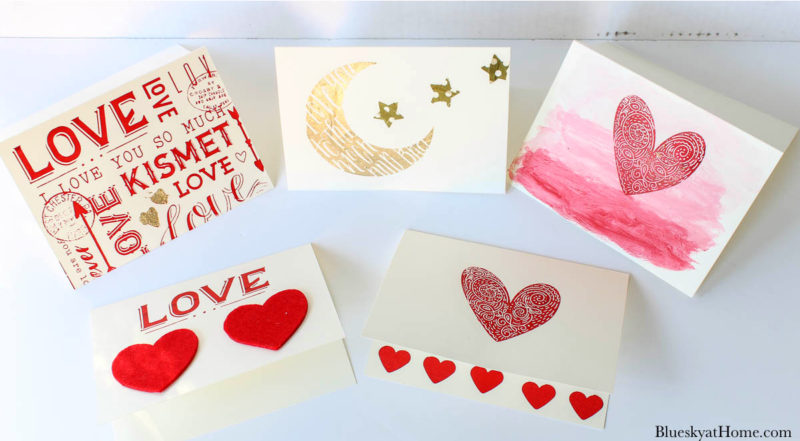 Do you have a favorite?
Supply List
Here is the total list of supplies for all 5 cards.
Heart Punch
Red Felt Hearts
Are you ready to visit my Creative Craft Blogger friends. Start with Rachelle at My Hubbard Home.
But, first, be sure to PIN this post so you'll have idea, tutorial and supply list at your fingertips.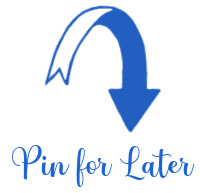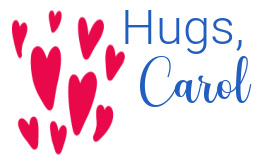 Visit our Craft Challenge Bloggers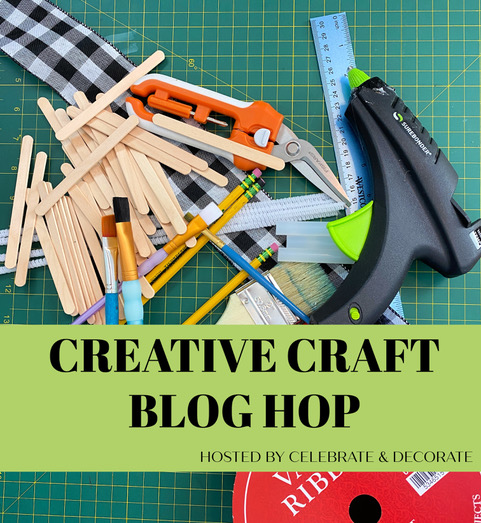 Celebrate & Decorate
Design Morsels
Sustain My Craft Habit
B4 and Afters
Home Is Where The Boat Is
Purple Hues And Me
Bluesky At Home
My Hubbard Home
Chas' Crazy Creations
The Painted Apron
My Thrift Store Addiction
Raggedy Bits