Dining Room Makeover Design Decisions ~ ORC
Thanks for visiting the One Room Challenge Week 3 reveal. I'm sharing the dining room makeover design decisions that I have made since last week. And I've been oohing, aahing and Pinning all the fabulous projects from my fellow guest participants. I can tell you that in a few weeks, the homes of America and beyond are going to be so much prettier.
After prepping and painting our window frames and baseboards, I took a little trip to Atlanta to visit my daughters and grandkids, a visit that was planned back in early February before the ORC was a twinkle in my eye. I was worried that I wouldn't make any progress on our dining room makeover, but being away for 6 days allowed me time to do a ton of research for the design elements that will transform the dining room into the welcoming space I invision.
I tend to just jump into home decor projects without creating a specific design plan. I just keep everything in my head. Since I'm not a professional working for a client, I don't have to create a mood board or write down specific areas to cover. I decided that for this makeover that I would do that. I would go through a more deliberate process to identify the dining room makeover design decisions necessary to make this project look and feel that way I wanted it to.
Dining Room Makeover Design Decisions ~ ORC
The main elements in the room are the vassilier, the dining room table and chairs and the bar cart, which will now go in front of the bay window. Since I knew I needed to be more intentional with the rest of my design vision, I shared with my older daughter the words that came to mind when I thought of how I want my dining room to look to me and guests to our home. If you would like to see how this process started, please see Week 1 (Dining Room Plan Overview) and Week 2 (Paint Preparations).
Design Description Decisions
light
bright
airey
modern fresh
colorful
elegant
crisp
soft
classy
Those adjectives helped me focus on the style, feel and esthetic of the items I need to make my dining room makeover design decisions. So here are the things I found and the decisions I made (with some help from my daughter and Sweet Shark. (When I returned home, I caught him up on my design vision and "decisions". He was a little sceptical because the look I'm after is a different direction than what he is used to me liking. (Sweet Shark: "I think the dining room looks just fine." Me: "It needs more life, more color, more current style." Sweet Shark: "I didn't think you liked modern." Me: "Well, I don't usually; let's use the word Fresh instead." Sweet Shark: "Who's going to paint the room?" [This was after he had already complimented me on how great the window frames and baseboards looked.] Me: "me." Sweet Shark: You're going to paint these 10 foot walls?" Me: "Yes, sweetheart." )
So now that Sweet Shark is on board (with one foot), here are the design decisions for Week 3 of the One Room Challenge.
TIP: writing down the design esthetic you want your room to project will help you define the things you need for the room and keep you focused on creating that look. It also helps when describing what you are looking for when working with other suppliers.
Paint Color
The first week I showed you a few of the colors I was considering. All are in the gray family, but I didn't want the room color to be dark or gray~gray. Just a hint of gray undertone. I started with 3 colors on the wall.

They were all nice, but too dark and not as clear as I wanted. Several readers gave me color suggestions (Thank you so much.). After a trip back to the Benjamin Moore store and a discussion with one of the paint guys, I brought home 2 more colors to try.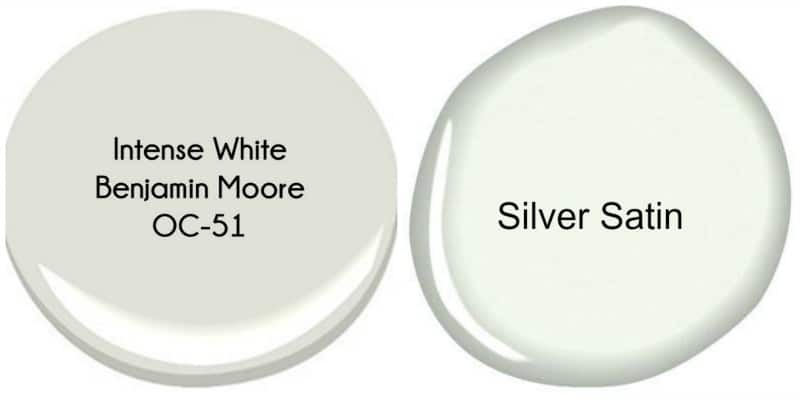 TIP: sample pots are your best option, both in amount of paint and cost.
Here's where I made sure Sweet Shark was in on the decision. In the end, our choice was a color not originally on our radar. It was light, clear and soft. We chose it because it seemed to have just a tint of gray and wasn't didn't appear to have yellow or blue undertones. And the winner is: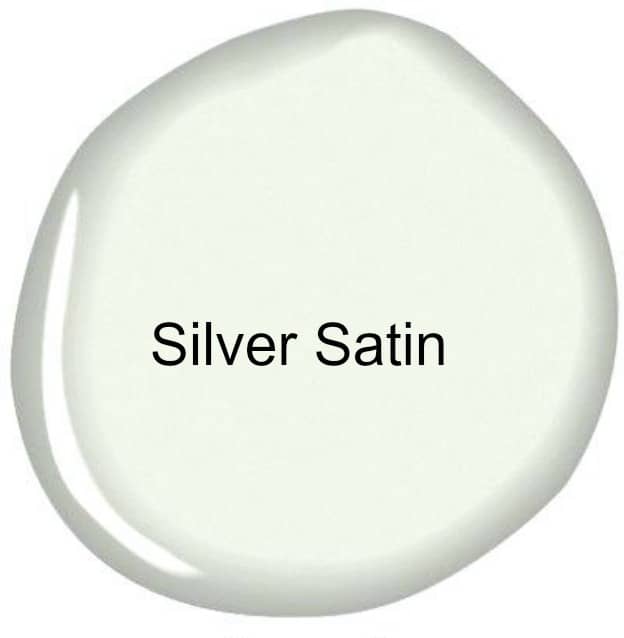 Window Treatment
I had to get this choice right. I decided to call on the expertise of a designer from one of our local design stores who had been highly recommend to me. (Remember the home tour of my friend Valerie that I shared in March?) Amy came to the house and we discussed the look I wanted (That's where the list of design adjectives comes in handy.). In the end we decided that shades would be too casual and that light, unlined drapery panels with pinch pleats and metal hardware would be the best option. Like this: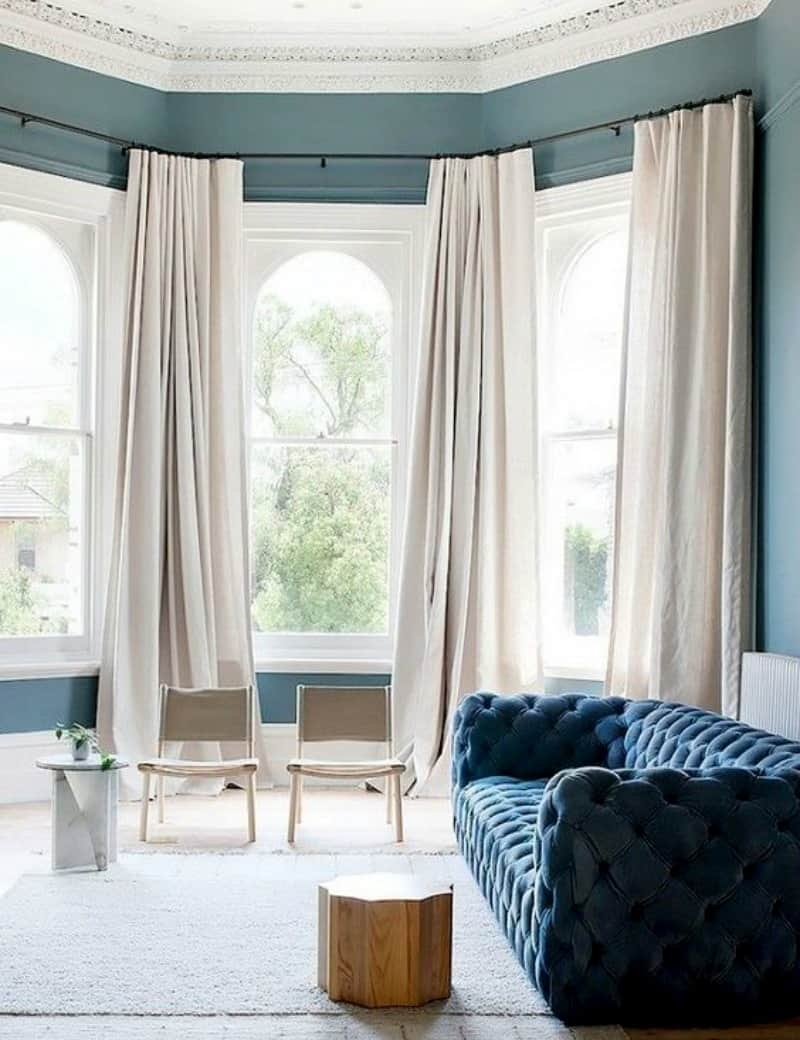 Then I went to her store (Phelan's) and she showed me 2 fabrics that she knew would work. I brought them home and Sweet Shark and I agreed easily on one fabric. We chose the fabric on the right because the embellishment was prettier and more visible.
While at the store, Amy showed me her suggestion for drapery hardware: a gold finish (compliments our chandelier) with a lucite finial for a modern fresh and light look.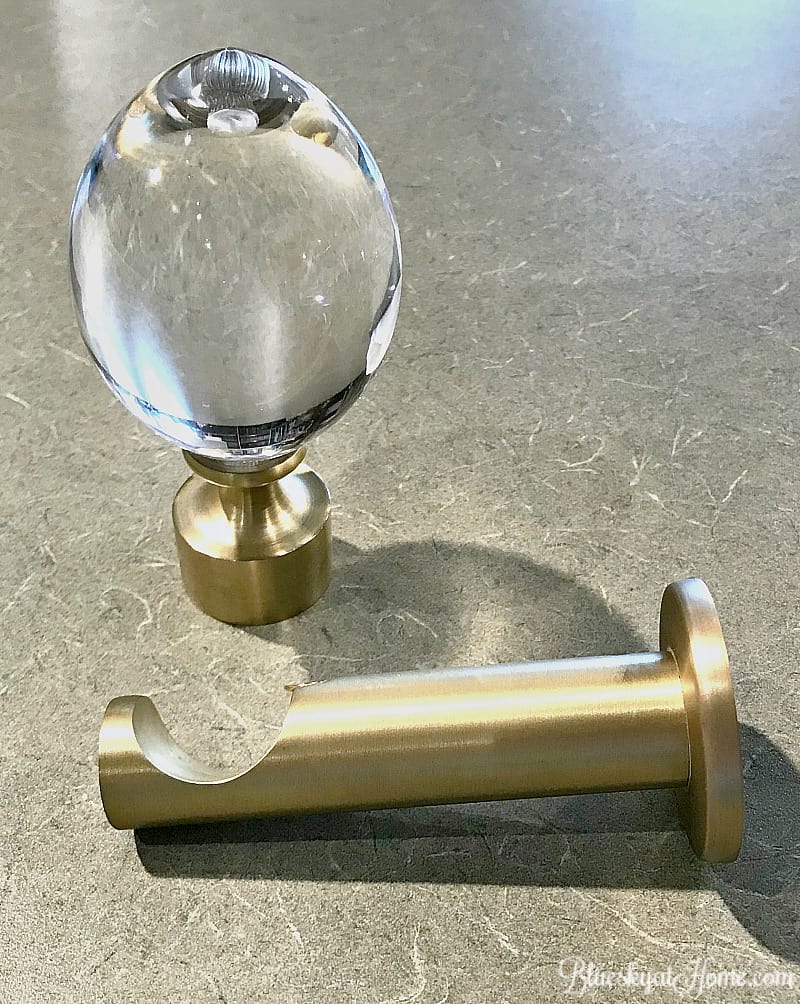 So the draperies are being made as we speak. (I've made draperies and valances before, but this is a formal dining room and I wanted the window treatments to look professional and done correctly. And time is critical right now. Besides the ORC deadline, our Kentucky Derby party is on Saturday, May 5th, so I want the dining room to be finished by the party. No pressure.
Area Rug Decision
While in Atlanta, I search the web for rug options. Here's what I was looking for:
gray/white color
8 X 10 size
has pattern
some plushness
I went to several websites and ended up finding the best options at Joss & Main, Wayfair, and Birch Lane. I have to be honest: I have only ordered one home decor item online and that was the mirror for our powder bath from Ballard. We have so many design resources locally that I've been hesitant to order major purchases online. (We did order our bathroom tub, sinks and commodes online during our remodel.) I like to see things up close, touch, and feel them. Over the past few years, I have done searches for items more for inspiration than actually purchasing. For the One Room Challenge, I decided to take a leap of faith and be very open to actually ordering home decor items online.
So I was thrilled when I found several rug possibilities. I have to admit that searching and filtering for size, color, style and materials was really easy. A rug to go under the dining room table will ground the space, be a focal point and provide a major design element. I want a rug with a gray/ivory/white color combination, traditional but with a fresh feel. First we narrowed the choices to 5 and then to 2. That's where we are right now. The rug on the left is called Shoals Silver from Birch Lane and the one on the right is Becontree from Joss & Main. If you have an opinion, I'd love to hear it, so don't hesitate to comment.
Art for the Walls
Let's talk art for the walls. We have 2 spaces that I want to place some large prints. Currently we have a sconce on each side of the vaisselier which are too small in scale and don't do anything for the space. I want to replace the scones with 2 complimentary pieces that are colorful, soft, whimsical, almost an abstract feel. (This is where I'm really jumping outside of my usual design esthetic since I usually go for still life or landscapes.) I have 32 inches on each side of the vassilier so I decided that 24 inches max for the art. I searched Pinterest, Ebay and websites. Then I found the perfect pair of prints at Joss & Main. I'm in love with this pink, lavender, blue watercolor prints of peonies. They are called Pink Peonies II and Pink Peonies III. They come in several sizes (I'm ordering the 24 X 24-inch size.), are framed.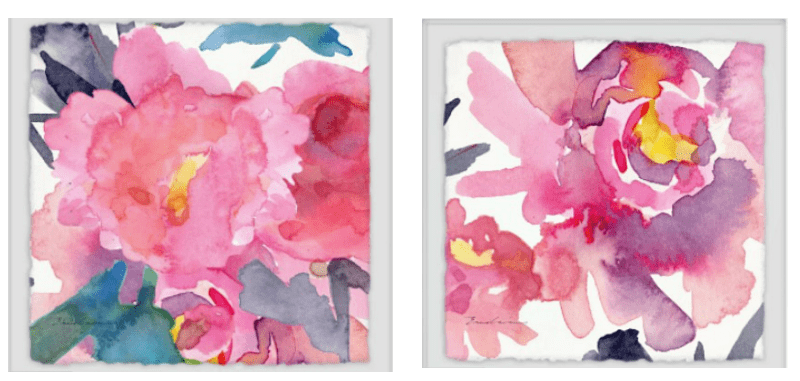 On the other large wall, we have hung 2 tapestries that we bought in Venice 3 1/2 years ago. They are really pretty, weren't expensive, but they just don't fit the look I'm after now.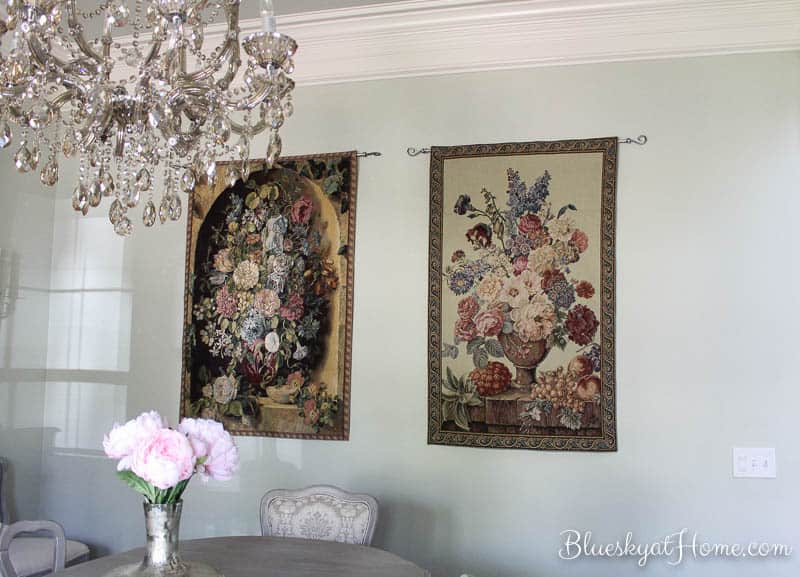 Again, I've spent hours searching for other art that would be dramatic on this wall but follow the same esthetic as the other prints I found. The challenge is finding 2 complimentary pieces that are large (at least 28 X 40). here is what I've found online so far, all on Etsy. Again any opinions would be appreciated.

When I showed Sweet Shark what I found online, he asked me if I remembered the abstract prints that he had in his house when we met. I honestly didn't. He thought they were in the storage room at his office (where they have been along with some other pieces for 20 years). Sure enough they were there and I went to his office to see them. Two compliment each other and one (my favorite) is a large pink rose. They would need reframing. We looked up the artist Nancy Dennison and her other work. This may be a possibility. I'm going to take one to the framer to get an estimate before we make any decision. I would love to use them, but only if they would really work in the space.

Pillows
In the 2 dining room chairs that sit on each side of the vassilier, I want to have pillows for pops of color; similar to what my friend Valerie did in her dining room.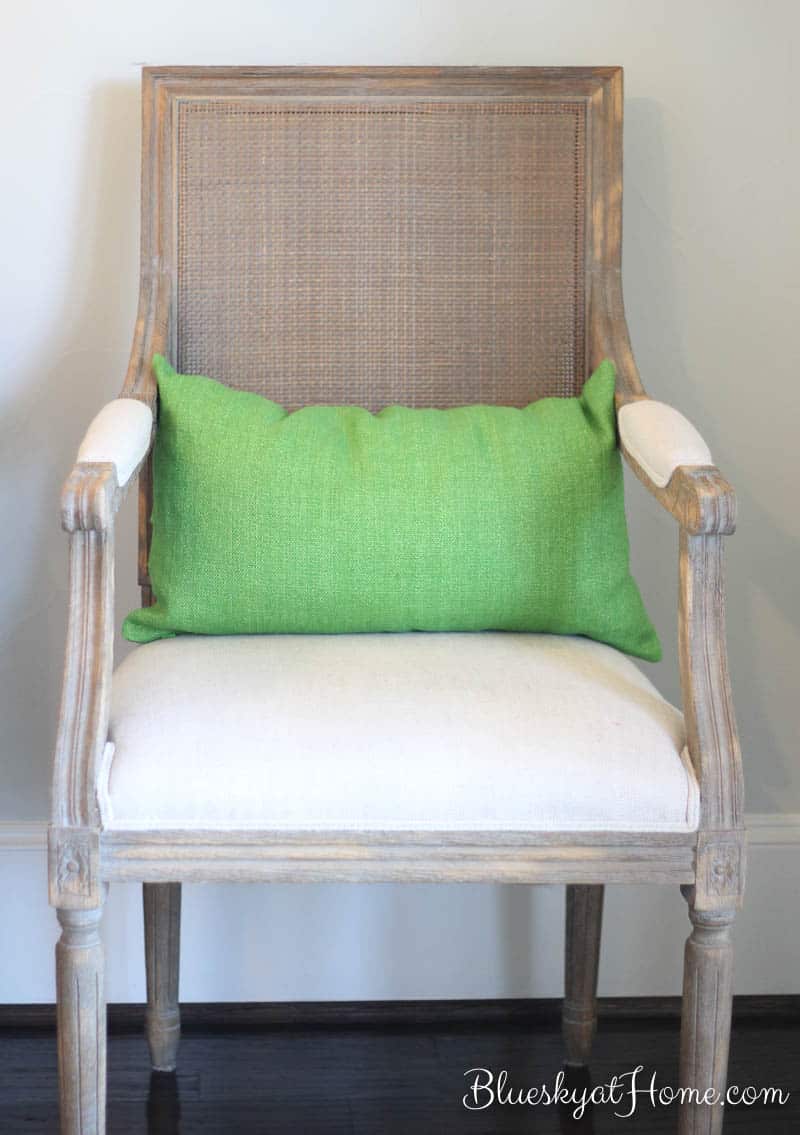 So far I've found a few fabrics that would work. I found the 2 chevron fabrics on the remnant shelves ~ $5.00 a yard. That was just too good to pass up. Would you chose a solid or a pattern? I'm going to wait until the art comes in to make a decision.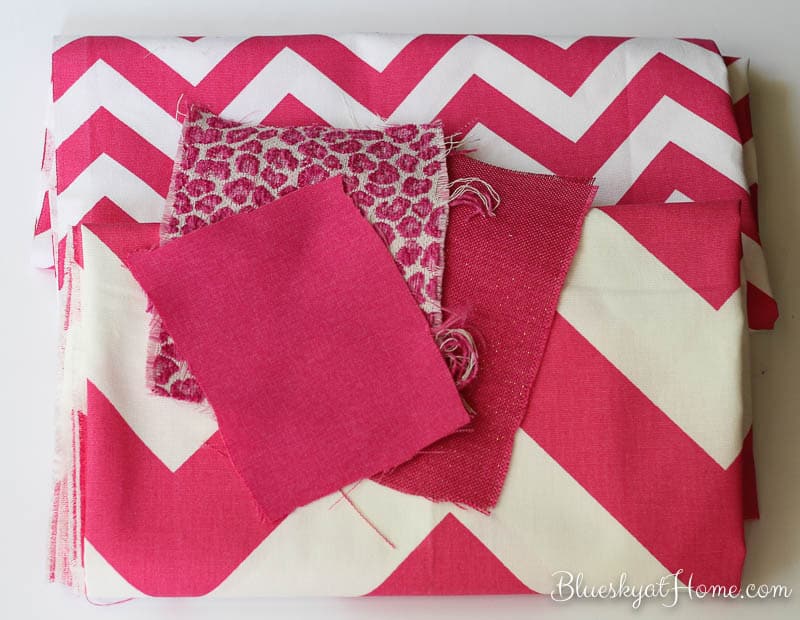 I guess that by now you've figured out what my pop of color is for the dining room. Hot Pink! Besides my office, this is the one room that is separate enough to have its own color. It won't take away from all the blues and greens in the rest of the house and it will make a happy, bright statement at the entrance of our home.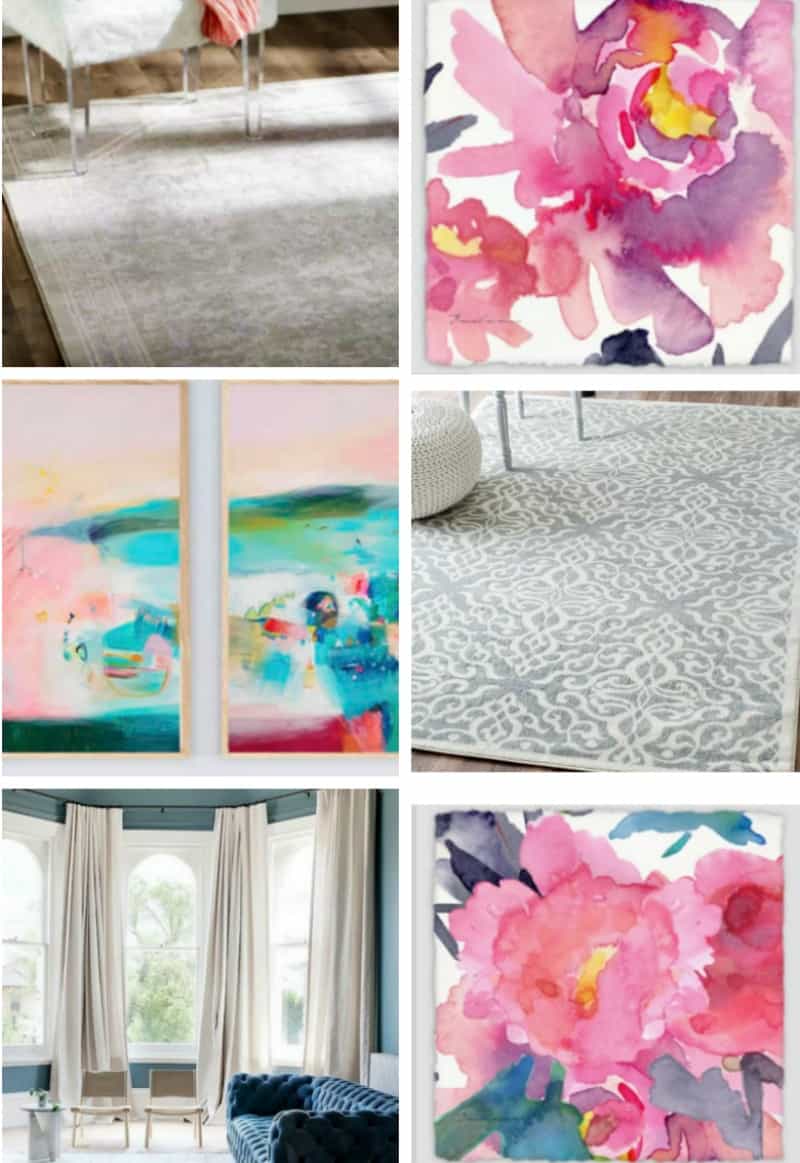 Well, that was the week that was. I feel so much better now that most of our dining room makeover design decisions have been made. We'll decide on the rug this week and order it. And then the decision about the 2 large pieces of art for the focal wall and then the fabric for the pillows. The rest of this week will be spent painting the walls of the dining room. But I have a "friend" who arrived a few days ago to help me. Stay tuned.
I really appreciate the comments that so many of you have left about our dining room makeover. I love hearing your thoughts and suggestions. I've been amazed at all the projects of the ORC and I hope that you are visiting them for inspiration and ideas.