On our Tuesday Turn About Link Party the past 2 weeks, my hostess friends and I have been sharing blogger tips and stay at home tips. Everyone is loving the blogger tips, so I decided to share a list of 13 important blogging tasks you can do now during social distancing and stay~at~home time.
These important blogging tasks are ones that I have done in the past year, the past month and the past week. Some are one time tasks, but most are ongoing, monthly, weekly or quarterly. This list is for me as well as you. I love lists and I need them to help me remember important blogger tasks.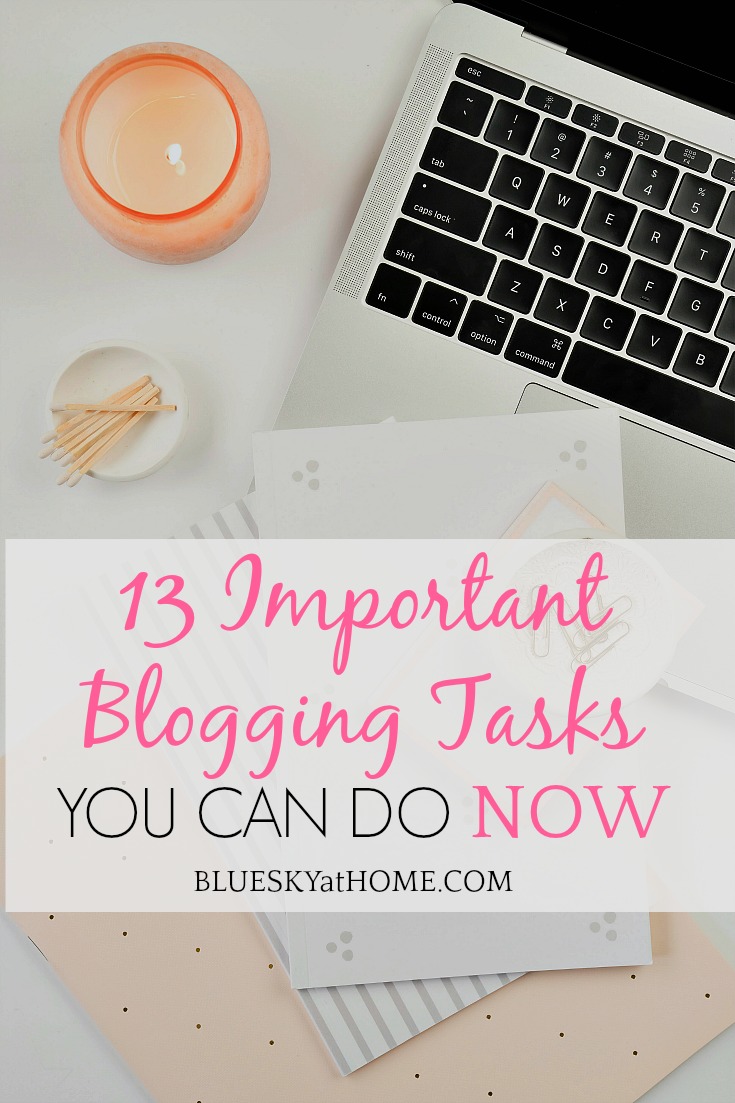 These 13 important blogging tasks are in no particular order; I have tried to group them when applicable. Depending on your blog, you may want to do all or just a few, or maybe you are all caught up and can save the list for later. Some apply directly to your blog, some to social media, and some to other blogging related tasks.
13 Important Blogging Tasks You Can Do Now
Each one of these tasks could be a separate article; I've tried to be concise and just give you the list here. I have included links to previous posts that should be helpful and to outside resources.
Number 1 ~ Update Your Pinterest and Instagram Profiles
Just FYI, so many of the changes I've made to my Pinterest account in the past 9 months is a direct result of my following Kate Ahl of Simple Pin Media and being a member of her Simple Pin Media Collective. I cannot say enough about this resource. Kate is a pro and her team is so knowledgeable. My Pinterest account and therefore my blog has grown because I've followed much of what she teaches. If you want to check out SPM and the collective, here is information. (Affiliate Link)
Also, a few weeks ago, one of Kate's team did a critique of my Pinterest account; some of the things I'm suggesting to you are a result of that critique.
Are your profile descriptions up~to~date?
Is your profile image current?
On Instagram, is your contact information correct?
Number 2 ~ Clean up Your Pinterest Boards and Descriptions
Why is this an important blogging task? Pinners may find your account through searching for a particular topic. If they like your PIN, they may want to check out your Boards and follow one or all.
Clear Board titles: nothing cutesy. When I first started my Pinterest Account, I had titles like Sweet Stuff and Scrumptious Seafood and Amazing Accessories ~ can you tell that I like alliteration? Over the past months, I've been changing them to more accurately describe the Board content: Dessert Recipes, Seafood Recipes, Accessory Ideas.
Consistent Board titles ~ I have been changing my Board titles to all capitals so that they stand out.
Board Descriptions  ~ Are your descriptions accurate, concise, clear? They should be clear and concise, but conversational. Just a couple of sentences. NO hashtags because they are not searchable from a description, but contain keywords.
Here's a couple of examples of my Board Descriptions: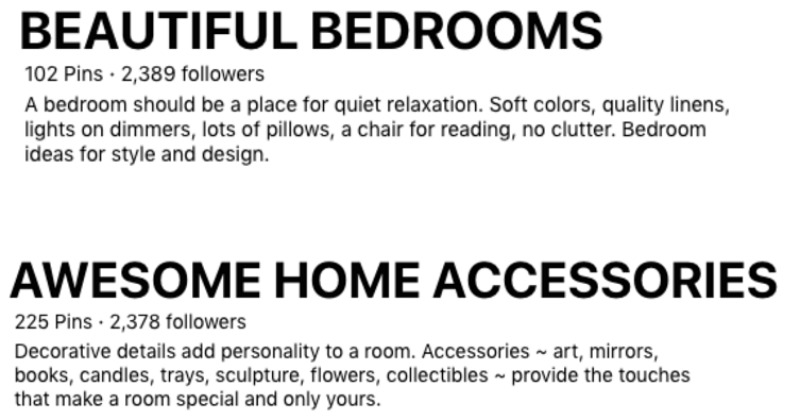 Number 3 ~ Update Older Evergreen Posts
What is evergreen content? It's content that doesn't go out of date. It revolves around a topic or theme or event that's always relevant to readers, regardless of the *current news. For example, Easter decor, Christmas decor, patio ideas, home decor is evergreen.
*Next year, posts about the coronavirus probably, we hope, won't be evergreen.
If your post on DIY Easter projects was good 1 or 2 years ago, it's still good. You can look through your Google Analytics to see which posts were especially popular and update those. Look in your Pinterest Analytics to see which posts were most popular on Pinterest. I will look in my posts a year or 2 back during the same time of year and pick a few to update.
What to update? Here are just a few suggestions:
check spelling and grammar
edit for clarity
include a new introductory paragraph
update images/add a couple of new images
improve your SEO/keywords
add a Call to Action
add new Pinnable images ~ see below
Once you have updated an older evergreen post, you can repin it from your blog or republish it as a new post. I do this a few times a month when applicable. This important blogging task will give you additional posts to publish and increase the reach of older posts.
Number 4 ~ Update Posts with New Pinnable Images for Fresh Content
Pinterest loves fresh content. Is "fresh content" always a brand new post? Not at all.
"What is fresh content"?
SPM explains: "Simply put, it's a brand new pin image that is visually different enough from any other PIN you've created that links to the same URL." That being said, there's no better time than now to make it a priority to constantly create new pins for your content. Making it a weekly or monthly task is not a bad idea at all.
What does this mean for you? After you have updated old or popular posts in Number 3 above, create 1 or more brand new Pins for that post.
Here are 2 examples: the image on the left is the original Pinnable Image for older evergreen posts. I wanted to repost them so I created new Pinnable Images with my current Pin style.
Did you notice that the number changed from the earlier blog title to the second? I realized that I had miss counted in the first post!!
These PINS can either be repined or republished.
I try to update older posts several times a week, especially when I am linking to an older post from a new post. Either way, Pinterest thinks it's all fresh content and that makes Pinterest happy. Pinterest will show that fresh content to your followers first, and then hopefully, they will Pin and share. The magic of Pinterest in action!
You might like this article on 5 Reasons I Pin Your Post.
Don't forget: When you write new posts or update evergreen content, make sure that your PINs have PIN Titles and PIN Descriptions.
Number 5 ~ Purge Your Email List
I know we hate to get rid of those hard~earned subscribers. But let's face it. Some people subscribe to our email list and then fall off, rarely or never opening a newsletter. Don't take it personally; things happen. Most email subscriber services charge based on the number of subscribers or some variation of that. It also looks bad to potential brands if you have a low open rate. It's better to have fewer subscribers who are loyal than 1ooo's who never open your emails.
Last spring, the number of my subscribers bumped me up to a new pay rate on my ESP. My open rate had also decreased. I did a search of "opens" and discovered I had ones who had either never opened a newsletter or had not in a long time.
First, I picked a time~frame ~ the past 6 months.
Searched for subscribers who had not opened a newsletter in the past 6 months.
I saved that list of subscribers.
I sent out an email to that group explaining that they could do nothing and I would unsubscribe them or reply not to be unsubscribed. Thankfully, I had a large number who did reply "please don't unsubscribe me"
I deleted/purged any subscriber who did not reply.
It hurt at first, but then it was like cleaning out your closet. My monthly fee went down for my ESP and my open rate went up.
This is a task bloggers should do periodically.
Number 6 ~ Unsubscribe from Unneeded Emails
On the flip side of Number 5, do you have emails that you have subscribed to? Freebies, webinars, articles that you thought would be beneficial or interesting.
After a while, you realize that you are not utilizing the resource. I was spending way too much time just deleting, deleting, deleting emails that I never opened from sources that didn't apply to my blog level or needs. A waste of my time.
These are almost 100% business to business emails. We don't need to be taking up space on someone else's email list and we don't need to let those emails sit in our inbox.
So periodically delete ones you don't need. This is an easy task to do while waiting in line at the grocery store or getting a pedicure ~ when we can do those things again
I rarely ever unsubscribe from a fellow blogger.
Number 7 ~ Update Your Plug~Ins
WordPress is driven by plug~ins ~ those extra software add~ons that give our blogs better efficiency, capabilities, and customization in so many areas. However, some plug~ins don't work well together or you may have duplicate plug~ins that serve the same function. Some plug~ins are no longer updated and are no longer beneficial to your site.
Too many plug~ins can slow your site down. It may be time for a clean~up. Last December, I had Grayson Bell of iMarkInteractive and the Facebook group Blogging on WordPress take a look at my plug~ins. (If you are on WordPress and say Grayson, everyone knows who you are talking about.) He gave me a list of ones to delete and why. I couldn't believe the duplicate functions or ones that just weren't needed. After I followed his advice, the load time of my site immediately was faster. It was well worth the reasonable fee.
Number 8 ~ Update Your URL
Is your URL structure formatted correctly? Is it optimized for Google Analytics? I wrote a post about this (one of those that still gets a lot of traffic because I periodically update it). See the example of the updated Pinnable Image above. Take a look at the tutorial and see if you can benefit from it.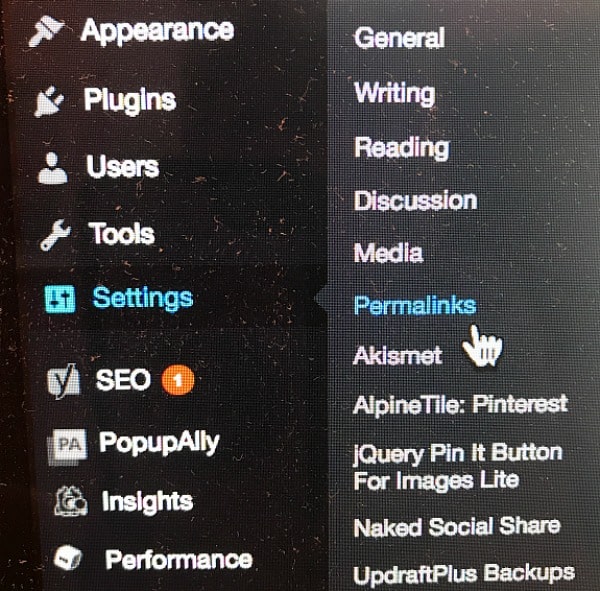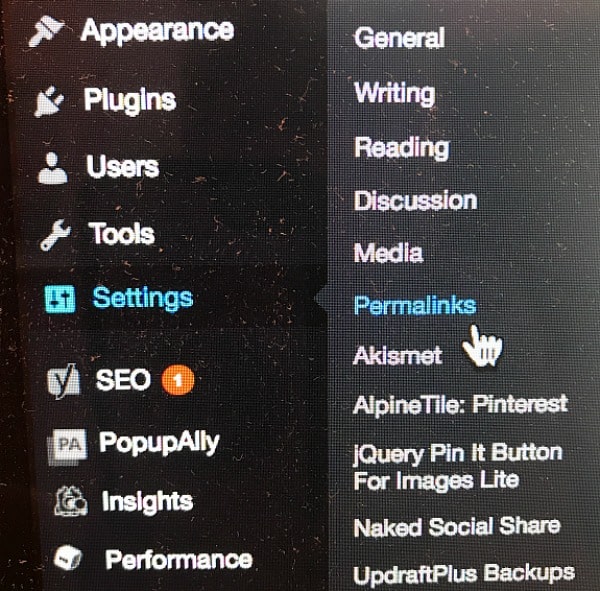 Number 9 ~ Find 5 New Link Parties
Link Parties can be a great way to expand the reach of your posts. It's also a great way to "meet" new bloggers and find new content for your Pinterest boards or inspiration.
I host a weekly link party with 2 blogger friends and it is fun and brings new bloggers to our sites. Check out Tuesday Turn About every Tuesday at 5 PM CST. Shameless plug here. I link my posts to about 20 ~ 25 link parties every week. (See my list below.) It's especially good when a post you linked is featured on that link party  Great exposure for you
TIP: See what parties other bloggers are linking to, check them out and add them to your list.
Number 11 ~ Join a Blogger Facebook Group
I'm not a big fan of Facebook (don't tell Mark) except for my Facebook Groups. This is the place to interact with other bloggers and experts in a particular area of blogging. Most are free, but you have to ask to join. Many others are membership (subscription) based and you pay a fee. This is where live or recorded tutorials take place, members ask questions, share information and act as a support for others.
There are thousands of FB groups and you can search for ones that meet your needs and interests. I currently belong to about 20 groups.
Three of my favorite FB groups that are open to anyone and pertain to most bloggers:
Blogging on WordPress ~ all about WordPress
Simple Pin Media ~ all about Pinterest
Instagram Support Group ~ all about Instagram
Tailwind ~ not a group, but their FB Page with all the resources they share is very helpful
If you have FB Groups you love, please share in the comments.
Number 12 ~ Try Tailwind for 30 Days
I've mentioned Tailwind many times. I first became acquainted with Tailwind when Alisa Meredith, Pinterest Product Specialist for Tailwind, spoke at Haven Conference in 2018. She was so knowledgeable about Pinterest that I started using it as soon as I got home. I was amazed at the time I saved and the increased growth I experienced using the platform. The resources and support are amazing.
Later I added Tailwind for Instagram. Again the time and efficiency are my favorite features. They keep adding more features all the time that do so much of the guess work for you, such as when to post and hashtags to use.
I don't know why anyone would not want to try Tailwind. For the price of a cup of coffee a week, you will gain hours of productivity and tons of information. I promise, I'll be your BBF and you'll thank me.
Here is a post that I wrote about Pinterest and Tailwind:
16 Easy Ways to Increase Your Pinterest Traffic ~ this one includes a Pinterest Checklist.
Here is my affiliate link. Again. Just.try.it.
Number 13 ~ Listen to Podcasts
For my last blogging task, let's talk about Podcasts. I discovered Podcasts a little over a year ago and now I'm a little addicted. I have found several that are most beneficial for bloggers in general. Although I'm not driving in my car much these days, I do listen to them while I'm working (like, right now) on other things.
Search your iTunes or the Podcast app for these Podcasts. If you have some of your favorites, I would love to know about them. Share in the comments. I've been planning to write a post on my 10 favorite Podcasts, but I'll share these 4 for now.
Simple Pin Media with Kate Ahl ~ focuses on all things Pinterest. Engaging with occasional expert guests. Never miss an episode. Kate is straightforward and a complete professional.
Boss Girl Creative with Taylor Bradford ~ Taylor addresses a variety of blogger topics. She is clear, concise and has your back.
Food Blogger Pro with Bjork Ostrom ~ don't let the "food" distract you. Bjork knows the ins and outs of all things blogging and social media. Bjork is the technical side of Pinch of Yum, one of the top food blogs, run by his wife Lindsay.
Visual Marketing with Tailwind ~ covers both Pinterest and Instagram with the experts from Tailwind. These podcasts are the audio of the Tailwind webinars.
Originally, I had about 20 tasks bloggers can do at this time on my list, but I think 13 is plenty for now.
TIP: Pick the 3 ~ 4 tasks that you think would benefit you the most and complete those first.
I sincerely hope that this list will encourage you and give you information to help you. I know I need all the help I can get from my blogger friends.
Would you like a PRINTABLE CHECKLIST to help you complete these tasks?
These important blogging tasks are not hard or too technical. Some take a few minutes, others will take longer. Some are more tedious and some are fun ~ for instance, I absolutely love creating Pinnable Images (If you need some help, let me know.) so that is a task I enjoy.
Please, please let me know if you have any input. Did I get anything wrong? Have a question or clarification? A tip you want to add? I'm all about sharing.
And, please don't forget to PIN this post for your benefit and others.
Link Parties April 6 ~ April 12
All About Home   Anything Goes Pink Saturday Beautifully Made  Celebrate Your Story   Creative Muster  Creatively Crafty   Flaunt It Friday   Funtastic Friday  Grace at Home  Handmade and Otherwise   Happiness is Homemade The Happy Now  Home Matters  Inspire Me Monday Inspire Me Tuesday Keep in Touch  Love Your Creativity    Party in Your PJ's   Saturday Sparks  Share Your Style  Silver Pennies Sundays  Thursday Favorite Things   Vintage Charm Party   Waste Not Wednesday   Wednesday Link Party  Wonderful Wednesday  Wow Me Wednesday