21 Steps to Get Ready to Host Thanksgiving Dinner
Thanksgiving Day is coming up soon. Are you hosting the celebration this year? If so you need a game plan. I have 21 steps to get ready to host Thanksgiving dinner.
Whether you are hosting friends, neighbors, or family members, you want to have everyone enjoy the experience and the meal. And you don't want to wear yourself out and be exhausted on the big day.
If this is your first time hosting Thanksgiving or your 20th, you want to be prepared.

You have to give yourself plenty of time to complete all the tasks necessary. Putting together such a big feast on the biggest eating day of the year should be fun and satisfying.
Are you hosting a large crowd, just your whole family, or a few friends? Regardless, there are a lot of moving parts to host Thanksgiving.

These 21 things (steps, tips) to do to get ready for Thanksgiving will help you be a calm, collected, and celebrated hostess.
A few weeks ago, I shared 23 Things to Declutter before the Holidays. Assuming that you took my advice, here are 21 steps to get ready to host Thanksgiving dinner.
I always do as much as possible ahead of Thanksgiving. That includes making dishes ahead and freezing them, if possible.

After you have completed your grocery shopping, you can start your mise en place (prepping your recipes). The more you can do ahead, the happier you will be.
I tried to arrange these 21 Thanksgiving tasks in semi-chronological order.
Would you like these steps as a PRINTABLE LIST? See the end of the post.
Plan your Thanksgiving Menu 
It's never too early to write down your Thanksgiving menu from "soup to nuts". Gather all the recipes you plan to prepare. Depending on the number of people you will be hosting, adjust the recipes for servings.
If you are in need of some menu suggestions for Thanksgiving dinner, here are some great ideas:
Make your Guest List
This may seem strange, but you only have a certain amount of space. You may not be able to host the entire family or all your friends. People you might like to include may already have travel or dinner plans.

The earlier you make a list, the earlier you can make plans. Same, too, for your potential guests. You can also make adjustments as you have people accept or decline your invitation.
Inventory Your Cookware and Kitchen Tools
Do you have all the utensils and tools that you will need to prepare your Thanksgiving menu (roasting pan, instant-read thermometer, casserole dish, carving knife and fork, aluminum foil, plastic wrap, extra storage containers for leftovers)? 

If not, either purchase them or borrow them from friends and family who are not hosting this year.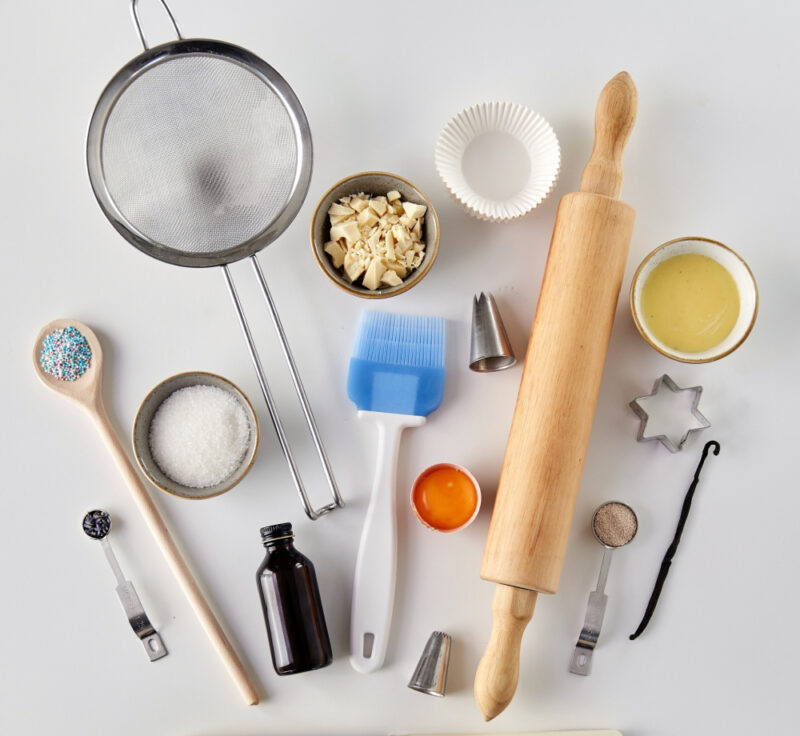 Order Your Turkey 
Did you know that there is going to be a turkey shortage this year? Even restaurants are adjusting their menus to accommodate this problem. Our local Central Market sent out a turkey order option a couple of weeks ago and we took advantage of it. Today, I'm also going to order our spiral-cut ham.
Read these important posts about preparing your turkey:
Make Your Grocery List
Once you know the number of guests to expect, you should take all your recipes and make your grocery list. For easier shopping, arrange items by dry goods, dairy, and refrigerated items. Don't forget extra butter, oils, salt, pepper, flour, eggs, and dinner rolls.
BIG TIP: When you are ready to start recipe prep, gather the ingredients for each recipe on a sheet pan. Measure and prepare individual ingredients. This is called mise en place and makes food preparation faster and more efficient.
Check If You Have Enough Table Space and Chairs
You may be hosting more people than normal for Thanksgiving. Thanksgiving is not the meal to have people eat off their laps; it's definitely a sit-down dinner.

If you are hosting more people than can be seated comfortably at your dining room table, then now is the time to plan where to put them.
I'm praying that the weather is nice enough that we can set up tables outside to accommodate 11 people. If you need extra tables or chairs, then order rentals to be delivered the day before Thanksgiving.
Check Your Table Linens
You will need tablecloths, placemats, and napkins. Do they need to be laundered, sent to the dry cleaners, or ironed? Don't wait until the last minute for this task. Rather than use your vintage or treasured linens, you might want to order bulk polyester napkins online.
Check Your Silverware
Count the number of place settings to accommodate the number of guests. It's O.K. to mix and match if needed. If you are going to use sterling, do the place settings need to be polished? 
Count Dinnerware, Serving Pieces, and Glassware 
Do you have enough dinner plates, bread and butter, or dessert plates? I use my salad plates for appetizers and desserts.

Do you have enough glasses for water, iced tea, or wine? Check platters and bowls for the turkey, ham, and side dishes. Again, mixing and matching is a great option. 

Decide where will you set up the dishes. Will it be a buffet or will serving dishes be placed on the dining table and passed?
Where to Thaw your Turkey?
If you order a frozen turkey, do you have a place to thaw your turkey? When I used to order frozen turkeys, we used our largest ice cooler and placed the turkey in it. We covered it with ice and kept it in the garage. If you thaw your turkey over several days in the fridge, place it on the lowest shelf and make sure it's wrapped securely.
Today, we order a fresh turkey from our local Central Market. Although we pick up the turkey just two days ahead, I still use th ice cooler method to keep it chilled until I start the brining process.
Order Desserts
If you are not a baker, it's not too early to order your pumpkin or pecan pie from a favorite bakery.
What are Guests Going to Bring?
If guests are going to bring dishes to share, now is the time to ask them and suggest what they can bring.

Make a list of what you would like them to bring and then what they volunteer to bring. You don't want to end up with 3 green bean casseroles and no sweet potatoes.
Decide What Will Be Your "Drink of the Day"
In addition to a seasonal cocktail, be sure to include non-alcoholic options, sodas and bottled water.

Set up a drink station so you don't have to play bartender. I like to have a big punch bowl full of ice.
One of our favorite Thanksgiving drinks is the Pumpkin Martini, but we like this lighter Apple Cider Martini, too.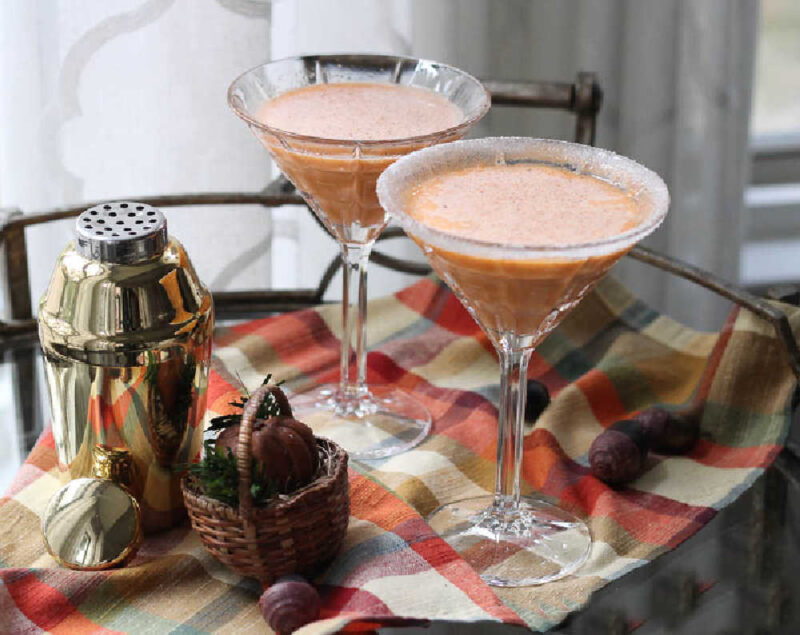 Clean Out the Fridge and the Pantry
You will need every extra inch of space to store the groceries you are buying. As you prepare dishes, most will need to be refrigerated or frozen. 
Clean Off the Countertops 
Put away any appliances or decorative items that are taking up space. You'll need as much space for prep as possible. When guests bring dishes to share, you will need space for their offerings.
Check the Guest Bathroom 
Make sure you have extra toilet paper (Let's be real.), tissue, and towels. This is a great time to put out pretty paper guest towels.
Set the Thanksgiving Table
I like setting my Thanksgiving dinner table at least a week ahead. Then we can enjoy looking at it for several days. This also really lets you see if you don't have enough dishes and silverware. (See Numbers 6 and 7 above.)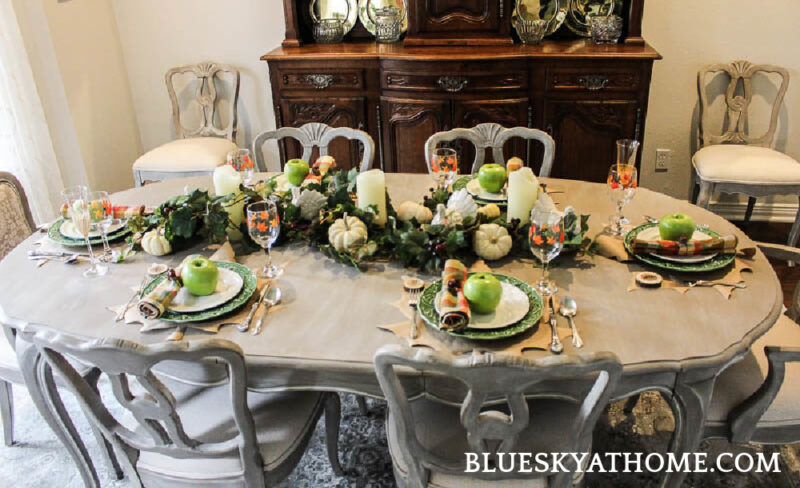 Set Up a Dishwashing Plan
Let's face it – there are going to be a ton of dirty dishes. Is there a place outside the main kitchen sink area where dirty dishes can be scraped, rinsed, and stacked?

Large plastic tubs are perfect for holding dishes until they can be thoroughly washed and dried. I put a large trash can in our laundry room. I fill the sink with hot soapy water, and cover the countertop of our washer and dryer counter with old towels for drying.
Make a Timeline of Tasks to Complete
Starting on Thanksgiving morning, work backward to include all you need to do. Include a cooking schedule – when to put dishes in the oven, baking time, and rest time. Don't forget to give the turkey time to rest (depending on the size of the bird, 20 – 40 minutes) and time to make the gravy. Then check off each task as it is completed.
Thanksgiving Day Entertainment
If there isn't a football game on TV to keep people entertained before Thanksgiving dinner, have some games, a jigsaw puzzle or a movie available, especially for young kids. Recruit older kids to play with the younger ones.

I used to love watching the boys play tag football in the front yard.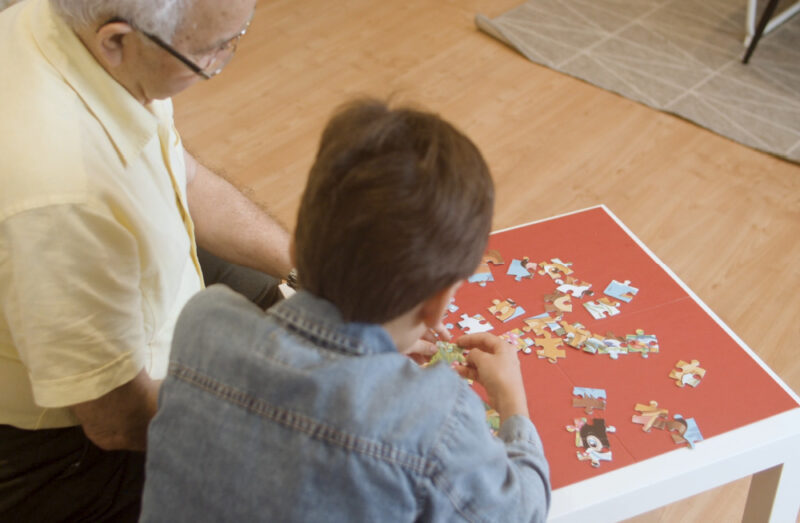 Relax before The Party Starts
Give yourself time to rest before your company arrives. You don't want to wear yourself out to the point you can't enjoy Thanksgiving dinner with those you love.
Thanksgiving Day Tasks
After you've completed your 21 steps to get ready to host Thanksgiving dinner, here's a quick list of things to do before guests arrive; these are tasks that guests can help do:
turn the heat down or the air-conditioning up; with extra people in the house, it can get uncomfortable if the temperature is too high
turn the ovens on to the appropriate temperature
take butter for rolls out of the fridge to come to room temperature. (TIP: although you should always use unsalted butter for baking and cooking, use salted butter with rolls and bread. It tastes so much better.)
put out ice and drinks
fill water glasses
designate someone to say grace. Do you have a Thanksgiving tradition? We have everyone share what they are most thankful for.
decide who will carve the turkey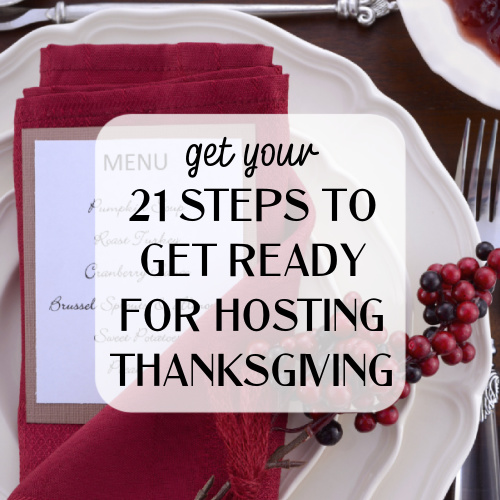 I hope that you will PIN this list of 21 steps to get ready to host Thanksgiving dinner. They are very helpful.
I'll be following my list. I know it will make my life easier and allow me to enjoy the preparation. Most importantly, it will allow me to spend as much time as possible enjoying time with my family.