Fun Thanksgiving DIY Wood Block Decoration
I have a holiday decorative project for you. You will have fun making this Thanksgiving DIY wood block decoration for the coming holiday.
This DIY project will be fun for family, friends and kids to use while you are putting the final touches on your Thanksgiving feast. This Thanksgiving DIY wood block decoration is an attractive accessory and a way to pass the time.
Do you ever buy an item at the craft store or thrift shop not knowing exactly what you will do with it? I do, and most of the time I find a way to use that item as a home decor or tablescape accessory.
With the Thanksgiving season upon us, a fun DIY project came to me. How about something that would not only be nice sitting on a table, but would be a fun and interesting accessory.
Fun Thanksgiving DIY Wood Block Decoration
This post contains affiliate links to products used in the creation of this project. If you should order any item from this site, I may receive compensation, but you do not pay a penny more. Your purchase is greatly appreciated as it helps support the continued publication of this site.
Several weeks ago, I found some wood blocks at the craft store. All the wood items were 40% off. There were only 6 blocks, so I thought it was a good idea to purchase them. I knew an idea to use them would come to me.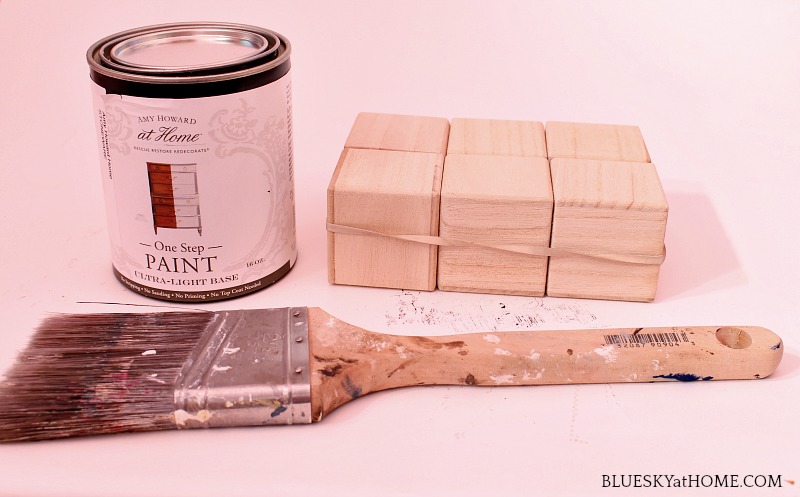 The blocks sat in my wood stash until I turned my thoughts from Halloween to Thanksgiving.
What could I do with 6 2~inch blocks? Make a Thanksgiving~theme puzzle. How, do you ask? Well, let me show you how to make a Thanksgiving DIY wood block decoration that you can use as an accessory or game.
I've seen other wood block puzzles used as an accessory, which I thought would be a fun project. If my grandkids were here this year for Thanksgiving, I would give them this project to keep them busy.
Supplies for the Wood Block Puzzle
the number of blocks you want to work with. You will need enough to form a square or rectangle. I used 6 2~inch blocks.
large rubber band to hold wood blocks together.
paint to paint the blocks. I used One Step paint from Amy Howard at Home in Stoneware, a soft white. You could also use a chalk paint or acrylic paint.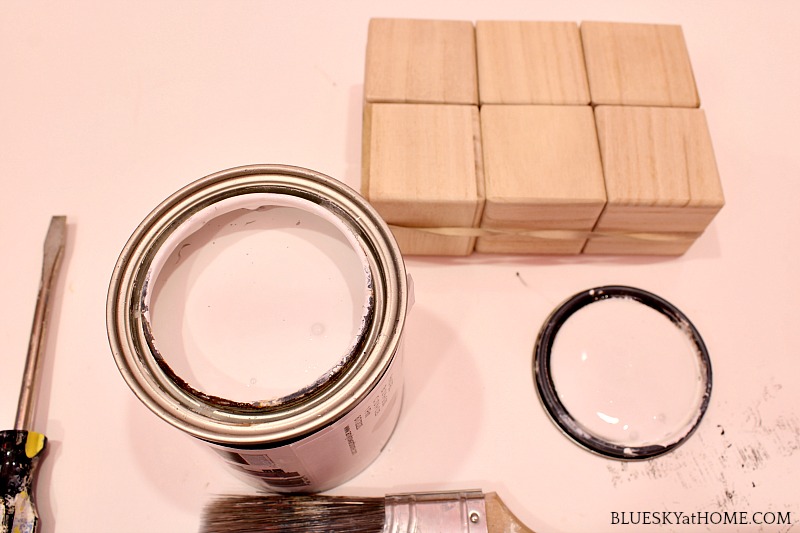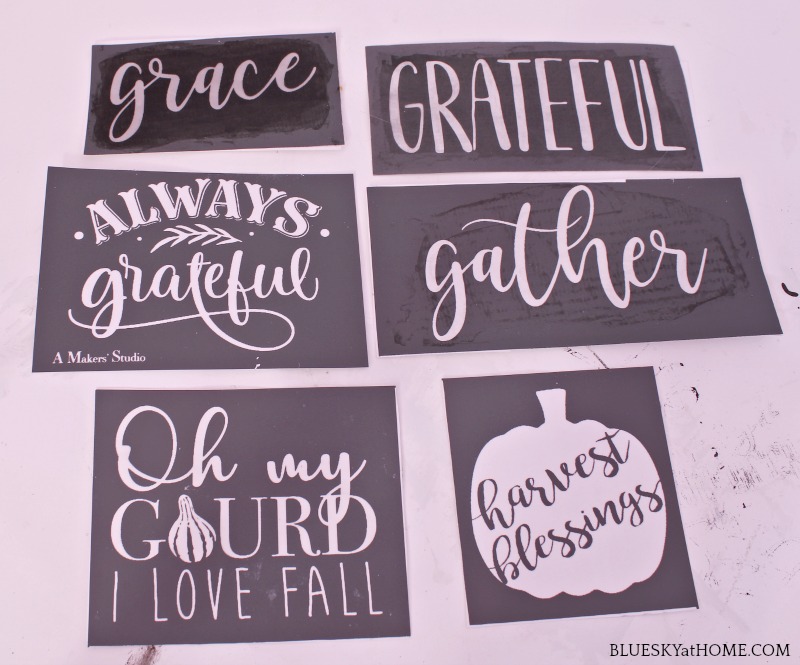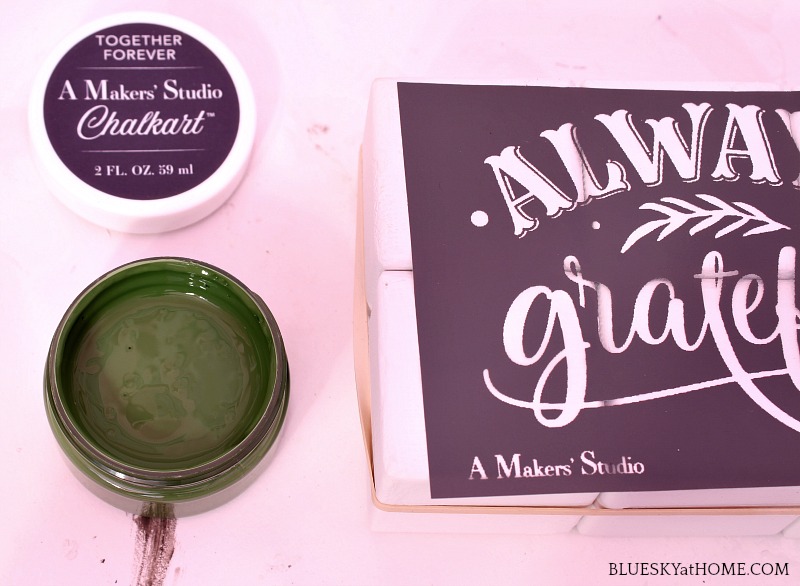 plastic scraper applicator.
The Plan for the Thanksgiving DIY Project
Step 1 ~ Paint one coat of paint on all sides of your block and allow to dry.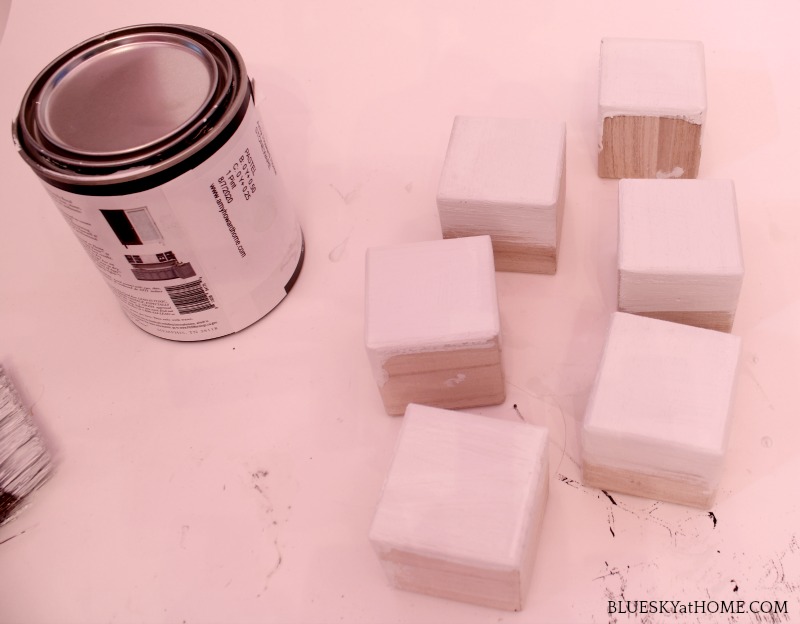 Step 2 ~ Lightly sand your wood blocks. I used a 220 grit sandpaper.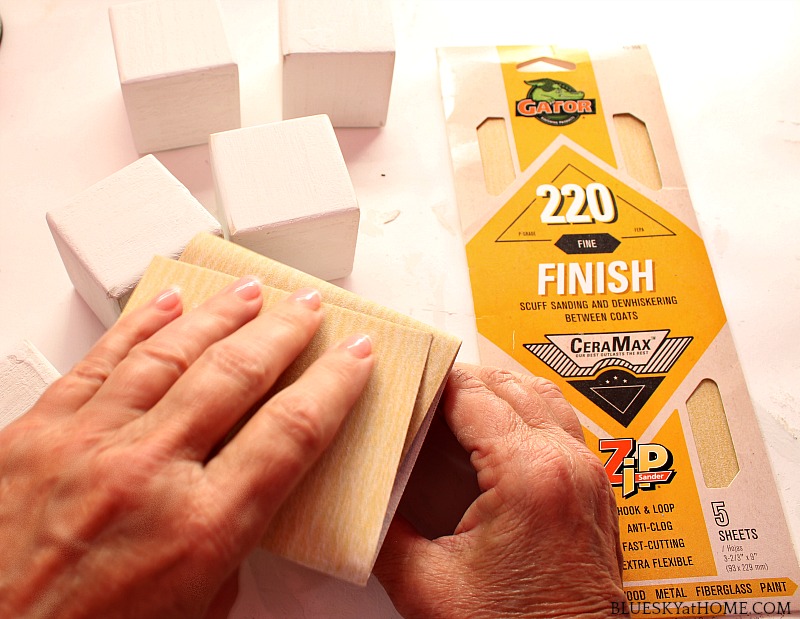 Step 3 ~ Apply a second coat of paint and allow to dry.
Step 4 ~ Place the rubber band around the blocks and make sure that your blocks are aligned.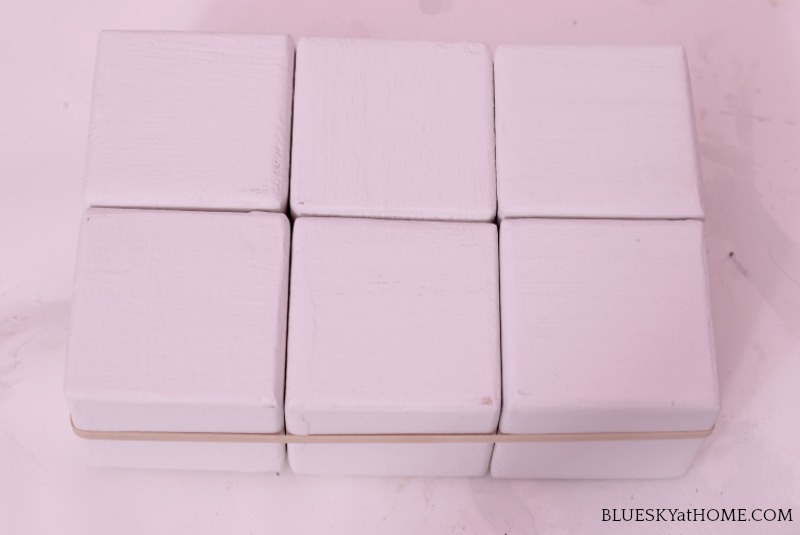 Step 5 ~ Place your first tri~mesh stencil on the top of the blocks and smooth down.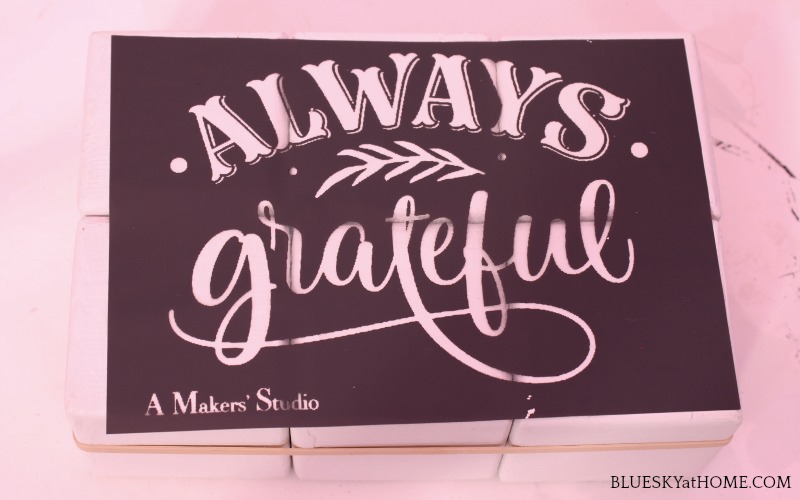 Step 6 ~ Apply your ChalkArt to the stencils, remove the stencil and allow the ChalkArt to dry for about 15 ~ 20 minutes.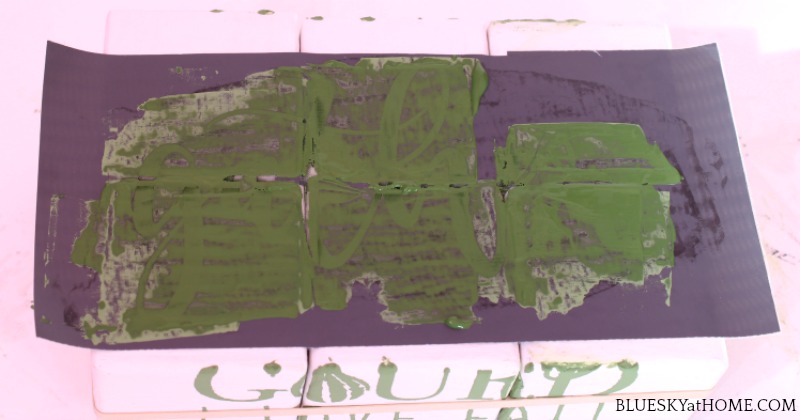 NOTE: See these posts for more tutorials on using stencils.
Step 7 ~ Turn your blocks to a blank side and reapply the rubber band.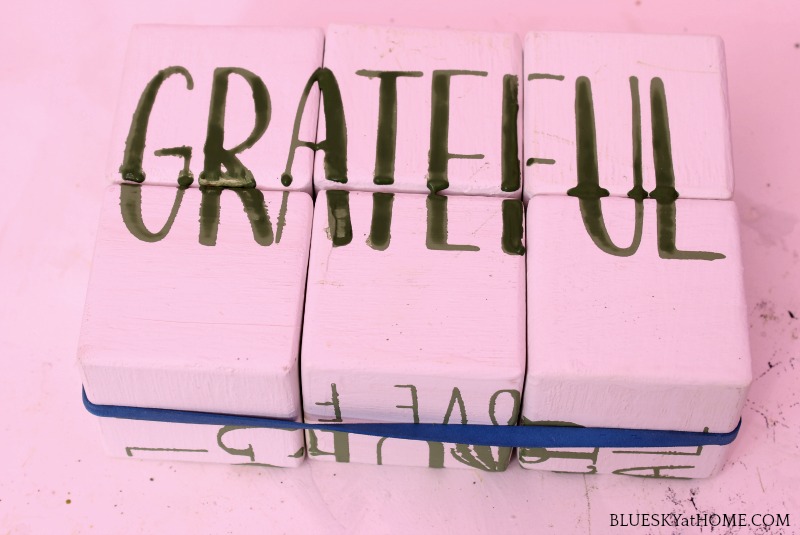 Repeat the steps with the rest of your stencils on all sides of the blocks. I covered 5 of the 6 sides of my wood blocks.
Sealing the blocks is optional. That's all there is to making this Thanksgiving DIY wood block accessory/puzzle. You will actually spend most of your time waiting for paint to dry. This project is still under 2 hours total, most of drying time.
Displaying the Thanksgiving Wood Blocks
You can place the wood blocks on a table, on a tray, in a basket. Let your guests know that the set is not just for looks, but also as a puzzle for fun.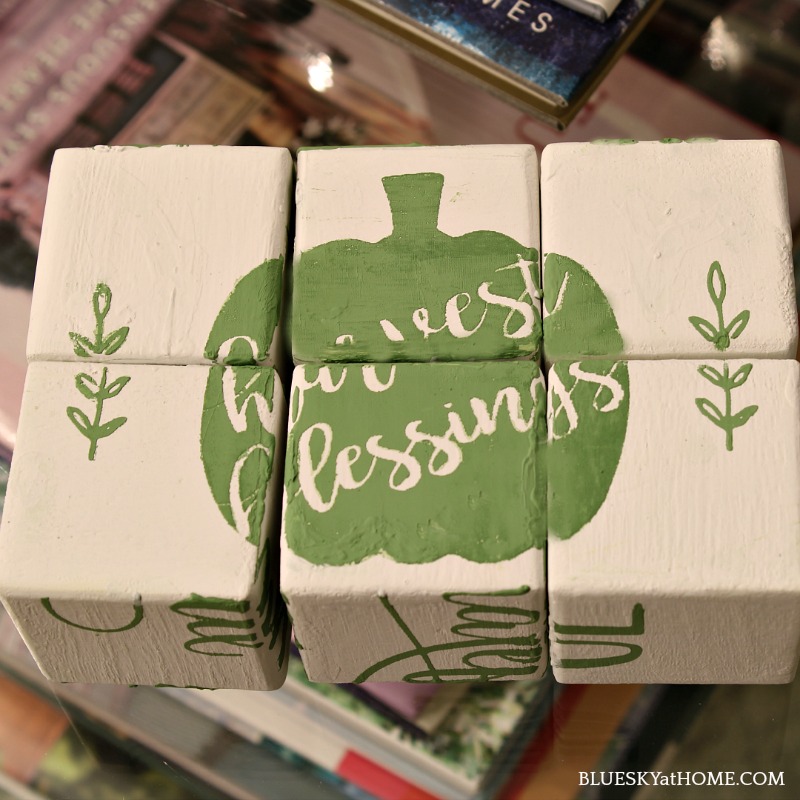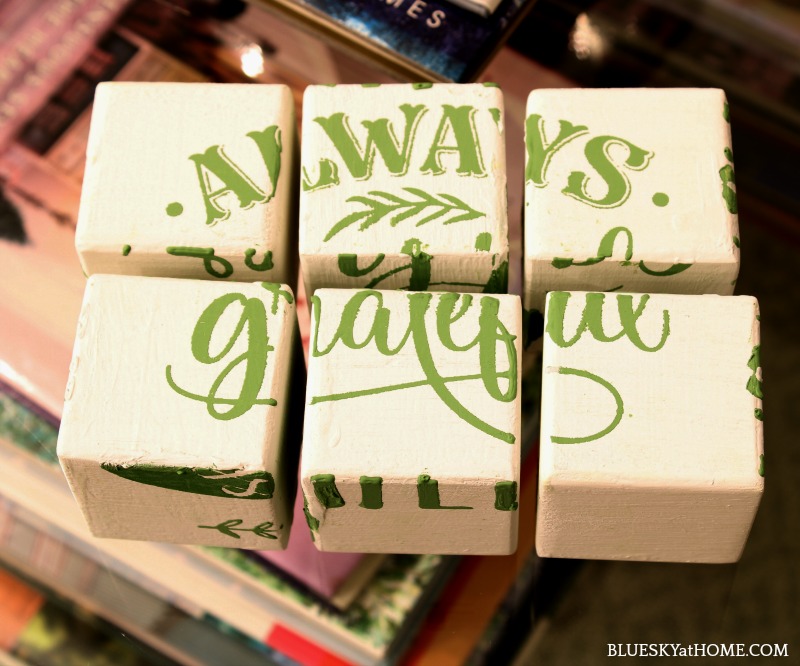 I hope that you like this fun DIY Thanksgiving project. Your kids, grandkids, even grown~ups will enjoy it. And don't forget to PIN it for your holiday decor.