Pecan Rum Tart Is the Perfect Thanksgiving Dessert
What is one of the most popular Thanksgiving desserts? It has to be pecan pie. This Pecan Rum Tart is the perfect dessert for Thanksgiving and fall.
Are you a pecan pie, pumpkin pie or apple pie person? I love all three, but for Thanksgiving and fall, pecan pie wins hands down. If you love pecan pie, you will love this Pecan Rum Tart. If you are on the fence about pecan pie, this pecan rum tart will convince you.
Whether you are hosting or taking a dish to someone else's house, this is the time to put your best foot (or should I say dish) forward. I love all the sides – cornbread dressing, cranberry sauce, green beans or Brussels sprouts, and creamy mashed potatoes with pan gravy. If you need more ideas for Thanksgiving side dishes, you absolutely need to check out this list.
But for today, let's talk dessert. No Thanksgiving meal would be complete without a show~stopping dessert and I have one: Pecan Rum Tart is the perfect Thanksgiving dessert.
I'm so excited to share this amazing Thanksgiving dessert with you.
Normally, I would be sharing some Thanksgiving home decor ideas or a Thanksgiving tablescape or a Thanksgiving DIY project or ideas for holiday entertaining. But since I already have shared those things with you, I decided it was time to share one of my very favorite Thanksgiving desserts.
Now I know that depending on where you live, dessert might be pumpkin pie, apple pie, chess pie or something else entirely. An article in Southern Living Magazine a few years ago focused on traditional Thanksgiving pies in the southern states. Very interesting article with a bit of history and, of course, recipes.
I was not one bit surprised which pie got star billing for Texas: pecan pie and I've got an extra special one. This Pecan Rum Tart will beat the pants off any contenders. I promise.
In Texas we love pecan pie; in fact, (trivia question here, folks), the pecan tree is our state tree. Other pies, such as pumpkin, chocolate or apple, may be offered, but pecan pie rules.
Several years ago, our friend Grant brought his version of pecan pie to a party and we all swooned over it. Grant and I made a deal. I would teach Grant how to roast vegetables and he would teach me how to make his pecan rum tart.
A few weeks later, Sweet Shark and I went over to Grant and his wife's house for a little cooking class. I can tell you that we ate very well that night. For Thanksgiving that year I used Grant's recipe and it was a super big hit. It's been my to~go pecan pie recipe ever since.
Five years ago I interviewed him for a magazine article about his pecan rum tart and sweet Grant said I could share his recipe, which he has been perfecting and tweaking for years. Everyone say, thank you, Grant!

The Perfect Dessert for Thanksgiving: Pecan Rum Tart
This post contains affiliate links to products used in the creation of this project. If you should order any item from this site, I may receive compensation, but you do not pay a penny more. Your purchase is greatly appreciated as it helps support the continued publication of this site.
If you've been reading Bluesky at Home for a while, you know that I was a cooking instructor for 15 years. I just can't give you a recipe. I have to show you the how~to and include lots of tips to help you make the best dish you can. So I have 10 TIPS to help you make this Pecan Rum Tart or any other tart.
The Pecan Rum Tart Crust
I've included links to a few of my favorite baking tools for your convenience. I may receive some compensation if you order a product from this site, but you don't pay a penny more.
Grant's dough is a pie crust, but he bakes it in a 15~inch tart pan. That's a hard size to find so I adjusted the crust amounts for a 10~inch tart pan. This crust is easy because it's made in the food processor and it doesn't require chilling unless you want to make it ahead of time.
TIP 1: Pay attention to how the recipe reads when it calls for sifted flour: 1 cup sifted flour means to sift before measuring; 1 cup flour, sifted means to sift after measuring.
I love this sifter because it only requires one hand to sift and you can mix ingredients in it, take off the plastic bottom and you're ready to sift.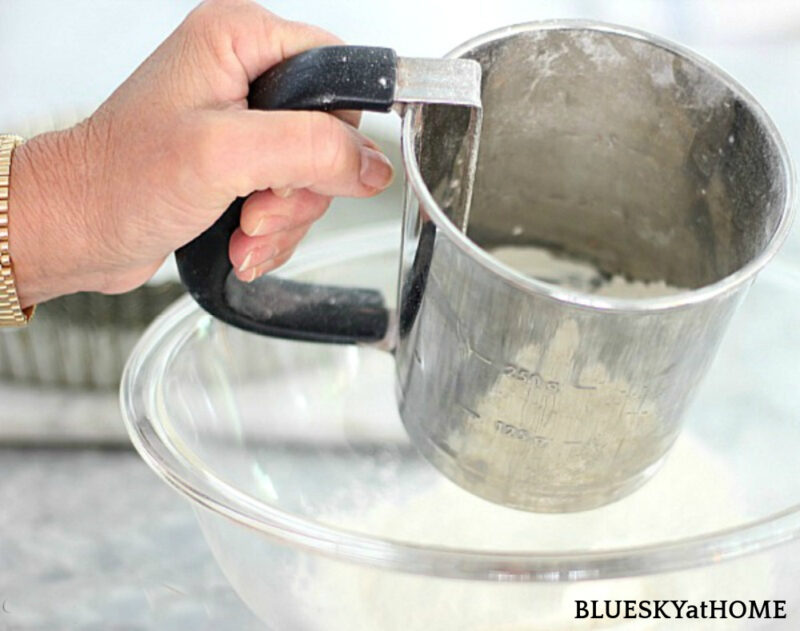 TIP 2: Make sure that your butter is very cold when you dice it on your cutting board. Use your sharp chef's knife.
TIP 3:  After you dice the butter, cover it and put it back in the fridge while you gather the other ingredients.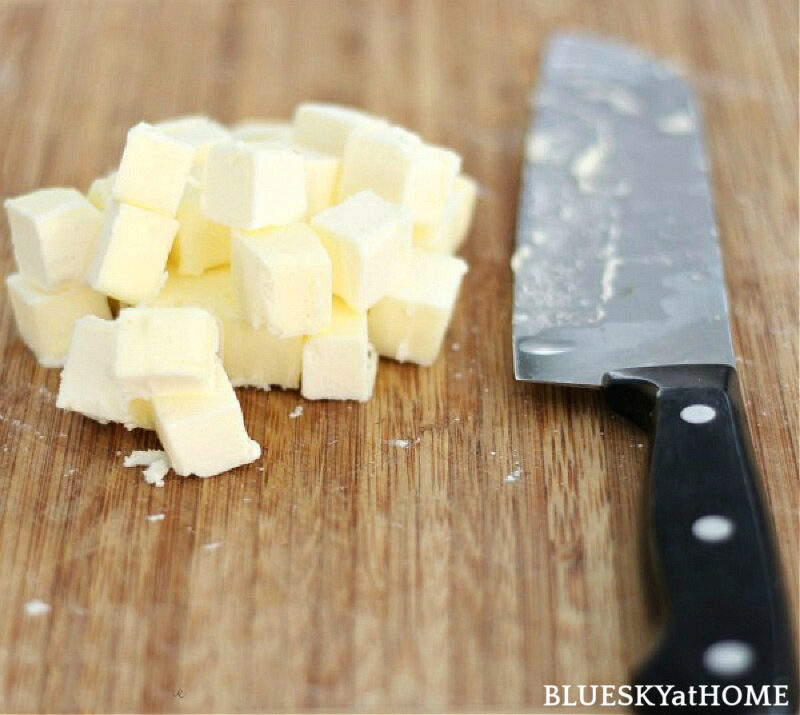 TIP 4: Put a few ice cubes in a measuring cup and fill it with water. Tap water is not cold enough.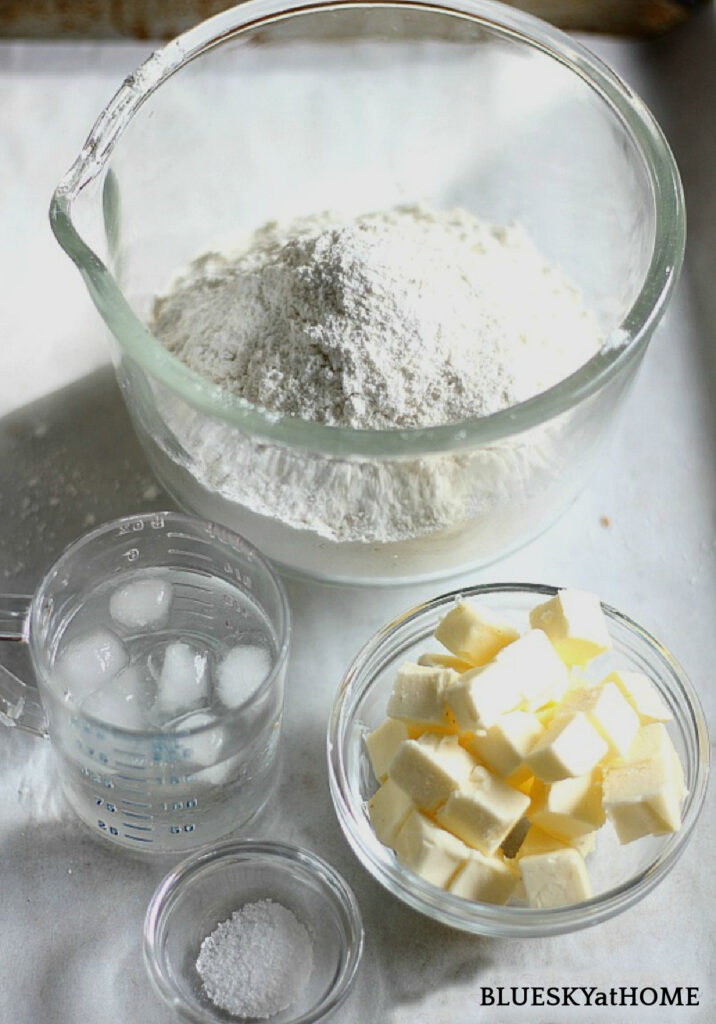 Add all the ingredients except the ice water to your food processor. Process just until thoroughly combined.
Add 1 tablespoon of water at a time and pulse the food processor. Continue until you can squeeze a small bit of the dough and it holds together – almost like cookie dough.
I love my Kitchen Aid Food Processor. I've had it for 20 years and it's a workhorse.

TIP 5: When you purchase tart pans, make sure they have removable bottoms! I have a set of 4~inch tart pans for individual tarts and the 10~inch tart pan.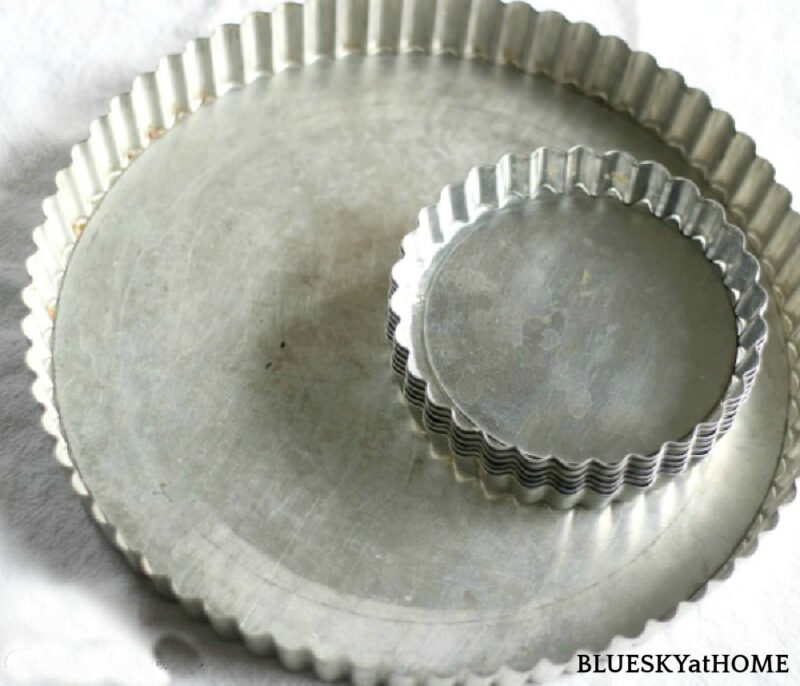 On a lightly floured counter, use a wood rolling pin to roll out the crust dough.
For a 10~inch tart pan, roll to 11 – 12 inches. For a 4 1/2 tart pan (I love mini-tarts!), roll out to 5 – 6 inches.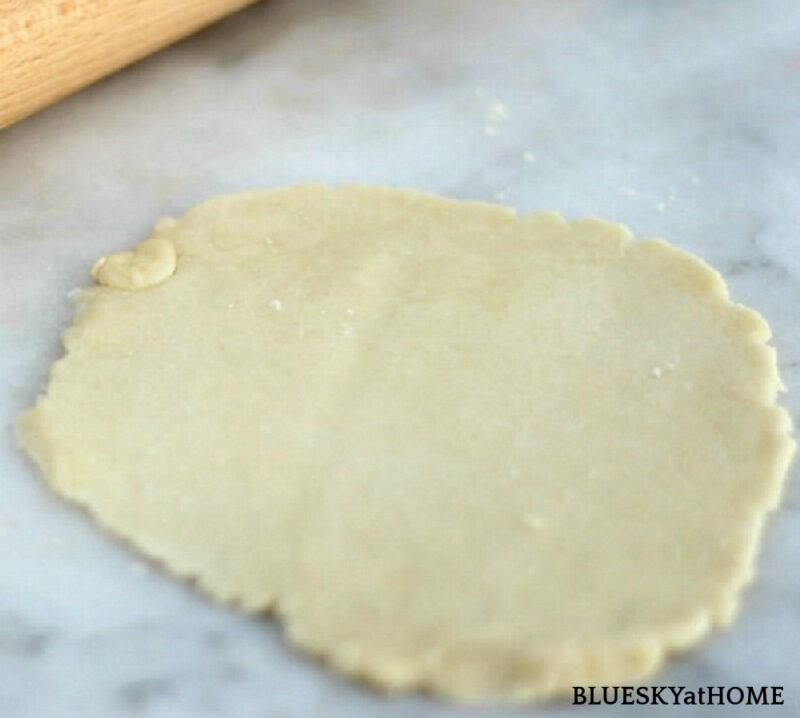 Place the crust in the tart pan and gently push into the edges and up to the top of the sides. Use pieces of dough to fill in where needed.
TIP 6: Roll the rolling pin across the top of the tart pan to remove the excess crust.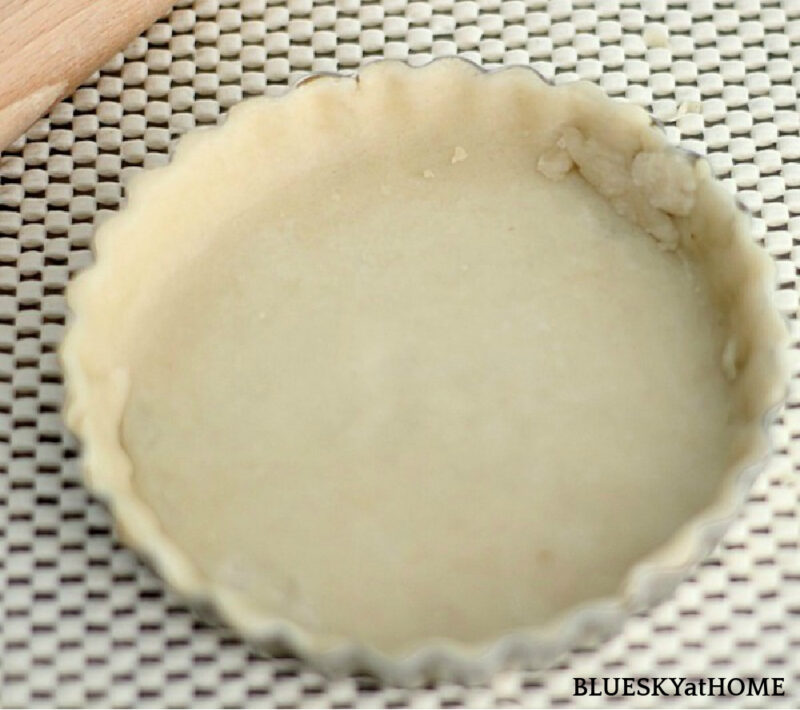 TIP 7: Place the tart pan on top of a piece of rubber shelf liner. It really helps keep the tart pan in place while you are working with it.
NOTE: You can prepare the tart pans ahead and put in the fridge until you are ready to add the filling them.
The Pecan Pie Filling
First, lightly whisk the eggs in a large bowl. I love a large whisk for this task.
Here's the secret to this tart: dark karo syrup instead of light and a good bit of dark rum.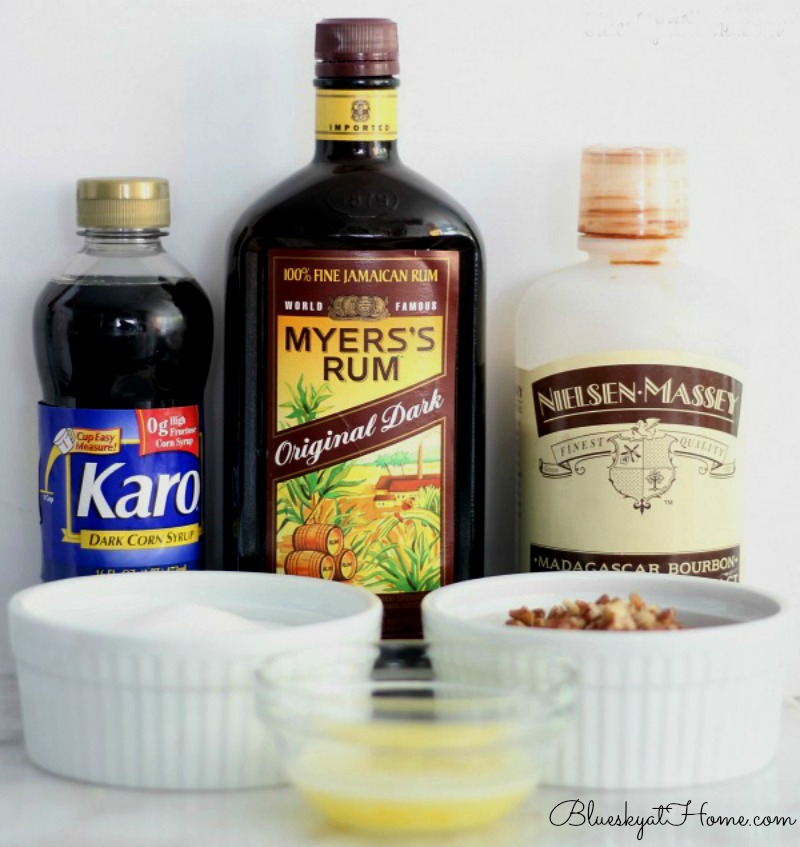 Next, add the rest of the ingredients to the eggs and be sure to thoroughly combine all until the mixture is a rich brown color. Then add the chopped pecans.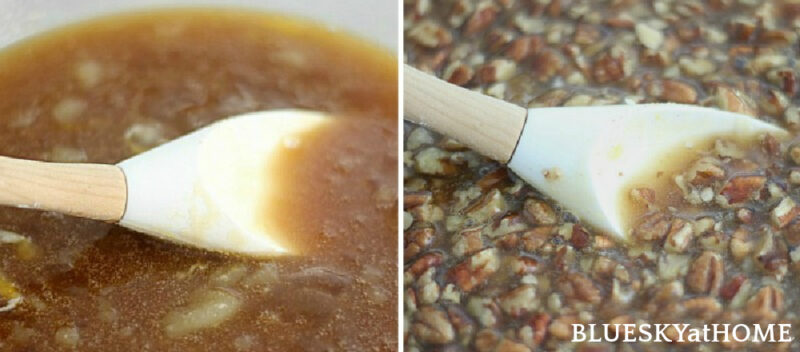 Fill the tart pans with the filling. If you are using several mini~tart pans, be sure to evenly divide the filling among them.
TIP 8: Before filling the tarts, place the pan on a sheet pan covered in parchment paper. This makes it much easier to place the tart pans into the oven. The parchment keeps the sheet pan clean in case any of the filling bubbles over.
The Garnish
What makes this tart so pretty is the garnish of whole pecans.
For Grant's 15~inch version, he has counted out precisely how many pecans are needed for each circle. I'm not that precise.
Just start in the middle of the tart with your first circle and continue around the tart until you get to the outer edge. You will need to break off pieces of pecan to fit in the smaller areas.
Now you are ready to bake. When the tart is done, the filling should be fairly firm, but a little wobbly in the center. It will firm up as it cools. Carefully remove the outer ring of the tart pan.
TIP 9:  A cake spatula makes it really easy to remove the bottom of the tart from the tart pan. Then you can slip the tart onto your serving plate or cake stand.
TIP 10: Tart pans can rust if any moisture is left on them after washing. After washing, place them in a warm oven for a few minutes until all moisture has evaporated.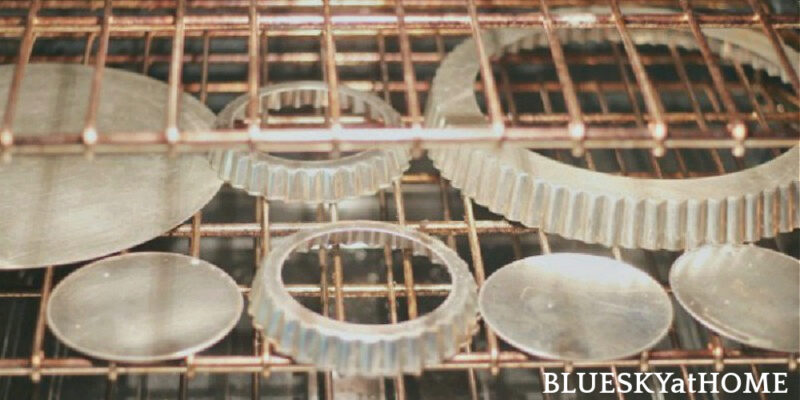 Essential Pecan Rum Tart (and other Baking) Tools
Enjoy the Pecan Rum Tart!
I like to add a dollop of whipped cream to my pecan pie. Vanilla ice cream is great, too; warm the pie in the oven or zap it in the microwave if you like. Pecan Rum Tart a la mode!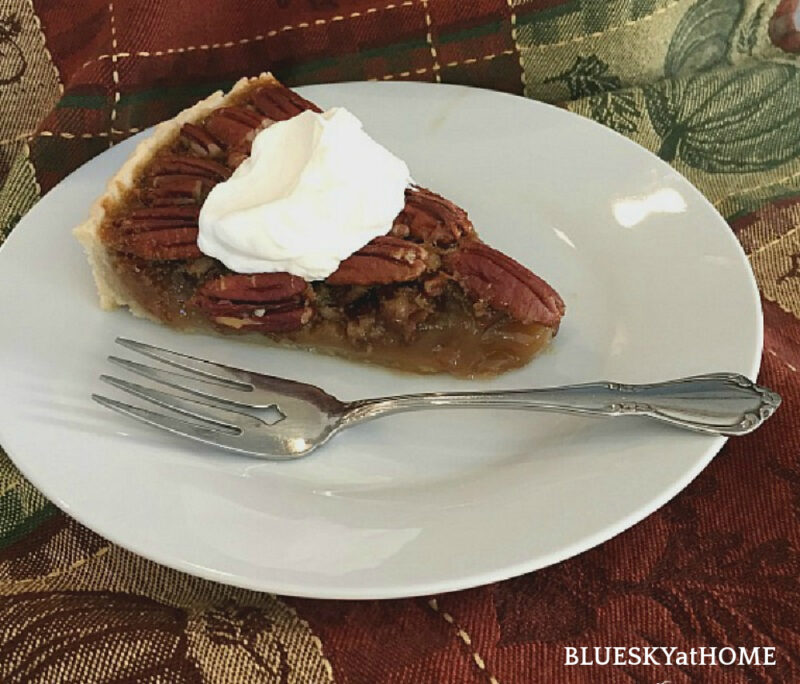 The Pecan Rum Tart Recipe
Before you begin to make the crust, be sure to preheat your oven to 350˚F.
Pecan Rum Tart
Delicious and impressive traditional dessert with the addition of rum for flavor at Thanksgiving.
Ingredients  
Tart Crust
2

cups

flour

sifted

1/4

teaspoon

salt

3/4

stick

cold butter

cubed

4 – 6

tablespoons

cold water
Tart Filling
4

large

eggs

slightly beaten

1 1/3

cups

sugar

1 1/3

cups

dark karo syrup

3

tablespoons

unsalted butter

melted

2

teaspoons

vanilla extract

2-4

tablespoons

dark rum

depending on taste preference

1 1/2

cups

pecans

chopped

1 – 2

cups

whole or half pecans

for garnish
Instructions 
Tart Crust
Combine all the tart crust ingredients in the bowl of a food processor, adding water by the tablespoon as needed, until the dough comes together.

Flatten the dough and roll out on a lightly floured counter to a 12~inch circle. Press the tart crust evenly into the bottom and sides of a 10~inch tart pan. 




Use a rolling pin across the top of the tart pan to remove excess dough.




If not making the tart immediately or while you are making filling, put the tart pan in the refrigerator.





Tart Filling
Place the tart pan on a half sheet pan covered with a piece of parchment paper. 




Combine all the filling ingredients in a large bowl and pour into the tart crust. 




Starting in the middle of the tart, lay out the pecans in circles, breaking off pieces as needed to cover filling to edges of the tart.




Bake the tart for 40 ~ 45 minutes. 




Allow to cool in tart pan until just warm. 




Remove the tart from the tart pan to a flat-bottom round platter or cake stand. 

Slice and serve with whipped cream or vanilla ice cream.
As we prepare for a safe and Happy Thanksgiving, may the blessings of family, friends, health and country be with you.
Enjoy a piece of pie for me. Be sure to PIN this so you don't forget the Perfect Thanksgiving Dessert.