How to Make a Cotton Stem Spring Wreath
I love a DIY project with a story. Let me show you how to make a cotton stem spring wreath that is definitely a #randomactofDIY.
This spring wreath is one that I didn't even think about making until it dropped in my lap. It was one that I just had to make because it didn't cost me a dime.
It is perfect timing because I bet, like me, you need a spring wreath for your front door.
You know I love DIY projects that require little expense but that deliver a big impact in my home decor.
Sometimes it's the easiest projects that turn out the best. The ones that you don't even plan on that make you happy. Ones that could make you sing and dance and do cartwheels.
I can't sing and I no longer do cartwheels, but I can dance up a storm. This cotton stem spring wreath DIY project made me dance. Fred Astaire and Ginger Rogers have nothing on this spring wreath.
What's even better? This cotton stem spring wreath has a story. As in, "once upon a time, there was a cotton farmer, who . . . (commercial interruption) stay tuned!
How to Make a Cotton Stem Spring Wreath
O.K., back to "once upon a time." Bare with me as I tell how I came to make this cotton stem spring wreath. It's a little complicated.
I could have started the story with "once about a time there was a man who sold dirt." What, you say?
Prologue: Sweet Shark sells dirt. Actually, he is in commercial real estate and most of his clients either have raw land to sell or they want to buy raw land. Sweet Shark is the guy who brings buyers and sellers together. He's a deal maker. He loves dirt. Dirt pays our bills.
THE COTTON WREATH STORY BEGINS
Chapter 1 ~ One of Sweet Shark's clients is a farmer, a cotton farmer, with tons of acres of land. We'll call him Farmer Jones. Over the years when he wants to sell some acres, he calls Sweet Shark. Farmer Jones has gotten rich off of selling his land. We like when Farmer Jones gets rich. We get to eat.
Chapter 2 ~ A parcel of land that Sweet Shark was selling for Farmer Jones was ready to harvest. The land deal wouldn't close until the cotton was harvested, but there had been so much rain that the cotton couldn't be harvested. Farmer Jones and the buyer were just waiting and waiting and waiting for the rain to stop, so the cotton could be harvested and the deal could be closed. (This is the suspense building!)
Chapter 3 ~ Farmer Jones and Sweet Shark were lamenting that the harvest couldn't take place. Sweet Shark mentioned to Farmer Jones that I am a blogger and use cotton stems in projects for our home decor. (I think it was just supposed to be a funny part of the conversation.) Farmer Jones, being the nice man that he is, remembered this conversation.
Chapter 4 ~ Unbeknownst to us (big word, I know), Farmer Jones goes to a Hobby Lobby (I kid you not!). Let me interject here that Farmer Jones is in his early 70's, does not use a computer, and is not into DIY, but somehow he goes to a Hobby Lobby and sees cotton stem wreaths. He remembers that Sweet Shark's wife is a blogger who uses cotton stems in projects, and he buys 3 wreaths.
Chapter 5 ~ A few months later (it is now April), Farmer Jones gives Sweet Shark one of the cotton stem wreaths. Sweet Shark brings it home and tells me the story of Farmer Jones buying the cotton stem wreath. I'm laughing. Sweet Shark says, "you have to do something with this cotton stem wreath since Farmer Jones bought it for you." No problem. I know exactly what to do.
Every word of this story, with a little embellishment, is true.
MAKING THE COTTON STEM WREATH
First, the wreath has a price tag of $59.99. I hope that Farmer Jones had a Hobby Lobby coupon or it was 50% off.
Step 1 ~ I lay the wreath on the counter and bend each cotton stem over to make the wreath more full and round.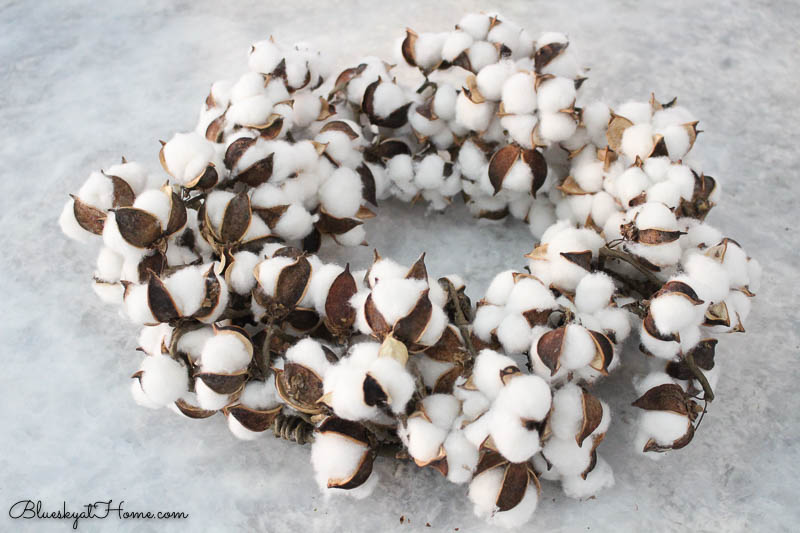 Since it's spring and I love peonies, I wanted peonies for my spring wreath.
A couple of weeks ago, I made an easy faux spring arrangement with peonies that I purchased from Pier 1 a couple of years ago and have used many times. I removed 5 large and 3 small faux pink peonies and 2 ranunculus from that arrangement.
AUTHOR'S NOTE: I really liked this arrangement, but #randomactsofDIY sometimes require sacrifices.
I had already cut the stems to about 6 inches with big yard clippers.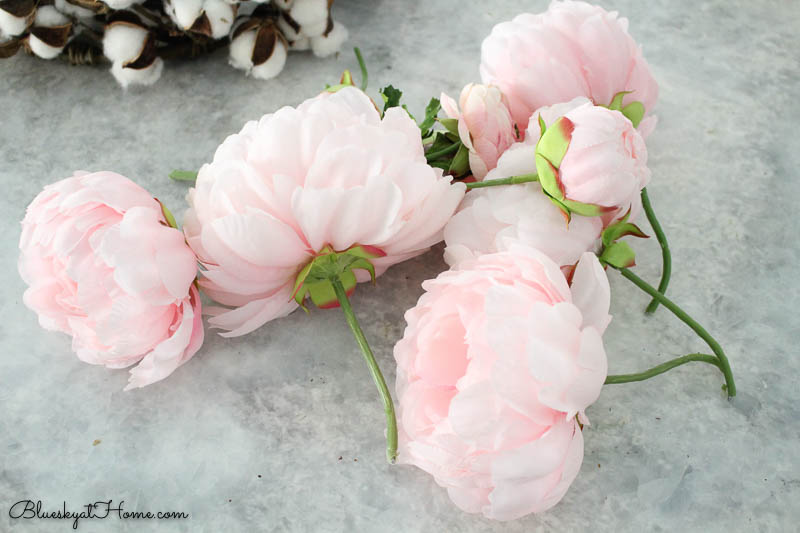 Step 2 ~ I pushed the stems of the 5 large peonies through the cotton stem wreath. For an asymmetrical look, I spaced them closely together on one side.
Step 3 ~ Next, I bend the stems over the wreath on the back to secure them. I wanted to be able to remove and reuse the flowers and the cotton stem wreath. No glue gun involved here.
Step 4 ~ I searched through my ribbon box and find three yards of sheer wire pink ribbon and a roll of narrower sheer pink ribbon. Now I make a big bow with the wider ribbon.
Step 5 ~ Then I use the narrow ribbon to tie the big bow.
Step 6 ~ I make tails for the bow with the narrow ribbon.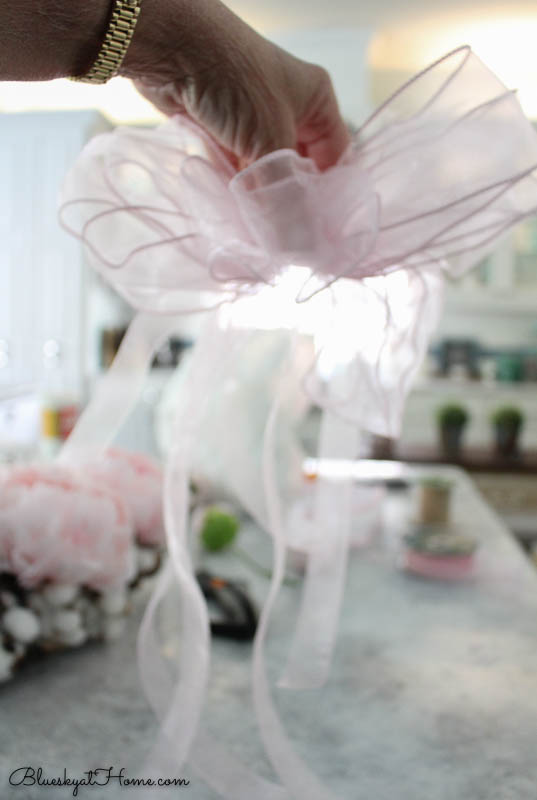 Step 7 ~ I tie the 3 small peonies and 2 ranunculus together with a twist tie.
Step 7 ~ I tie the small bunch of peonies and ranunculus and the big bow to the back of the cotton stem wreath with a short piece of narrow pink ribbon.
TaDa ~ The cotton stem spring wreath is done.
THE HAPPY ENDING
I hang the cotton stem spring wreath on our front door with a long piece of the narrow ribbon.
TIP: Always have a little nail in the top of your front door.
It's beautiful. (Background music is swelling and I'm dancing.) I'm so happy. Sweet Shark tells Farmer Jones that I made a beautiful wreath for our front door with his cotton stem wreath. Sweet Shark is happy. Farmer Jones is happy.
We all lived happily ever after.
And that, dear reader, is the story of my cotton stem spring wreath.
Aside: I want to thank Farmer Jones for the cotton stem wreath and text a picture of the spring wreath to him. Sweet Shark says he doesn't text.
End of story.
Have fun. And be sure to PIN this project.