SEO Tips ~ 10 Quick and Easy Fixes
Are you a blogger? If so, I'm so happy to share these top 10 quick and easy SEO tips. I've used them in my own blogging journey. They are easy to implement.
SEO is a constant learning process. We are constantly learning how to use it. Let's face it, blogging wasn't conquered in a day. That's one reason I keep reading, researching, and studying to learn new blog practices that will help me write a better blog, give more value to my readers, and grow that blog.
I first heard of SEO when I attended my first Haven Conference several years ago. I had never heard of SEO, but I understood that it was very important for bloggers to understand.
To make it very easy, I've gathered some of the SEO tips I've learned to one post. These SEO Tips are easy to understand and easy to implement.
NOTE: This post was originally written in August 2017. As you can imagine, I have SEO has changed and I've learned alot. This information was updated in January 2021.
These SEO tips should give you a boost no matter what level of blogging you presently are. Set aside some time and change a few things and you will see an improvement in a few weeks or months.
SEO Tips ~ 10 Quick and Easy Fixes
Oh, SEO, how do I love thee, let me count the ways. SEO (Search Engine Optimization) is the bane of our existence. It's a love~late affair. We would prefer not to think about you, but you're always on our minds.
SEO is how Google and other search engines find your blog. When I was new to blogging, I knew that Google and I were not on good speaking terms. When I attended Haven Conference 2017, the first class I attended was SEO ~ Begin with The Right Stuff ~ taught by Sabrina Snyder. Sabrina is actually a food blogger at dinnerthendessert.com with a huge following and she does know her stuff. (Sabrina no longer teaches SEO.)
I learned so much in two days ~ about photography, working with brands, how to make my blog look better for readers, how to do Facebook live.
On the plane flying home, I read through my notes, highlighted them, and decided to really focus on SEO. I made a list of the top 10 SEO tips I learned, specifically those SEO tips that I could implement quickly and easily. I thought you might like to learn what I learned. Bloggers love to share great blog tips.
You should also check out 10 Easy Ways to Make your URL SEO~Friendly.
*These blog tips are directed at WordPress users.

THE BACKEND
If you think in terms of a restaurant (I do since I've been to culinary school.), the backend of your site is like the kitchen, the place where the food is prepped, made and plated. If the kitchen is "in the weeds" ~ that's restaurant~speak for messed up, behind, think Gordon Ramsey ~ then nothing works properly. For a website, the backend is the dashboard, plugins, the "guts if you will. If your backend is "in the weeds", then your blog won't work to its maximum efficiency.
#1 ~YOAST SEO
One of the best SEO tools you can add to your WordPress site is Yoast SEO. It's a free plugin that acts as a checklist to guide you as you write your post. There is also a paid Premium option with more features.
It is divided into SEO and Readability sections. Obviously, the SEO side is more important. It lets you know if you have adequately used all the SEO practices necessary to get Google's attention.  Especially if you are new to blogging or SEO, Yoast SEO acts as an assistant as you learn the ropes.
I also recommend signing up to receive the Yoast newsletter. It contains valuable, up~to~date information.
SEO TIP
#2 ~YOUR PERMALINK SHOULD NOT HAVE DATES
Google wants to see your post title, not the date. Yoast recommends "using a simple and clear permalink structure. Ending your URL with the post name is the preferred method". This is another easy fix.
In your WordPress Dashboard, follow these steps:
DASHBOARD > SETTINGS>PERMALINK. Select the format for your POSTNAME. Click SAVE.
Yoast explains the reasons for not having a date in your permalink: 
"Using dates in your URL never had many benefits. When you add dates to your permalink structure, you automatically 'date' your posts. People will naturally look for posts with a more recent date, assuming that they contain the best information. However, sometimes older posts can hold very valuable information, but won't get the same amount of clicks due to their age."
That's so true. I know when I am searching for technical information I look for the most recent post dates. But as lifestyle or food bloggers, dates don't matter as much.
But for SEO purposes and Google, they do.
I've circled the original date on this post. You can see the slug, the updated snippet and the feature image.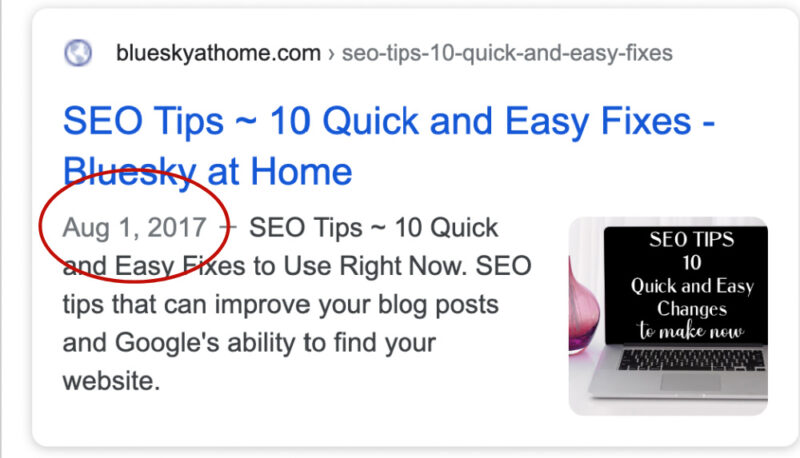 Here's what the slug and snippet look like after I updated the post.
SEO TIP #2 ~ CHECK THOSE PLUGINS

  
PLUGINS are those add~ons to WordPress that make your site more functional. There are thousands of them for all different applications, from making your site look prettier to e-mail marketing sign~ups to social media buttons to security. The list is endless.
But PLUGINS can have cliches and that's why creators are constantly updating them. When you are notified that a PLUGIN is available, check it out and then update with just a CLICK.
Only use PLUGINS that are absolutely necessary. PLUGINS slow down your blog's speed, which Google doesn't like. So delete any that are not actively adding value to your site. Check that you don't have multiple PLUGINS doing the same job.
One word of advice: if WordPress or a theme has an update, wait a week to make sure any update cliches have been worked out.
On your DASHBOARD, go to PLUGINS. You will see the list of all the PLUGINS you have. Just CLICK on the action you want to take.
NOTE: If you have further concerns about your plugins, you can try this fix suggested by Lauren and Lani at Restored316. During their class on Taking Control of Your Site, they said to DEACTIVATE all your plugins and then REACTIVATE them one at a time. I haven't done that, but I'm passing on the information.
# 3 ~ POP~UPS
Have you walked into a store and before you can take a breath, the saleslady has bounced on you? Don't be that person, the one that hits your reader smack in the face first thing when they land on your site.
The prevailing advice recommends scheduling an email marketing form or an offer to buy a product pop~up after your reader has been on your site for a minute or 2. If not, they may just bolt before reading your fabulous content.
# 4 ~ BACK UP YOUR BLOG
Let's face it ~ hackers are out there. Or some catastrophic disaster can happen and you could lose all your data. Lauren and Lani also recommend using a 3rd party to back up your site, not just relying on your hosting service. There are PLUGINS or other companies that do that.
I use Updraft Plus plug~in which was recommended by iMarkInteractive, to check my site's security and provide daily backup.
THE FRONT~END
Now we're in the dining room of the restaurant. The pretty part where you are greeted by a hostess, seated at a lovely table, given a menu of the delicious offerings, served water or wine, and a basket of fresh bread from the oven. You are loving your dining choice for dinner. You meet the chef who is going to prepare your meal. You feel really special and can't wait for the dining experience that you will have. That's exactly the way a reader should feel when they find your blog.
These SEO Tips are the ones you should follow as you are writing your post.
SEO TIP #5 ~ POST TITLE
The TITLE of your post must contain the exact keyword that your post is about. And it should be as close to the front of the title as possible.
For example, I started out this post with this title, Top 10 Quick SEO Tips to Improve Your Blog Now. It's a good title, but a simple adjustment makes it even better: SEO Tips ~ My Top 10 Quick and Easy Picks. Moving SEO Tips to the very beginning of my post TITLE will make the SEO bots and spiders see it more clearly. ( This title scored a 73.) This one SEO tip is one that I focus on for every post title.
It may take a few minutes to play with your title to get it just right, but it is so worth it. I use to use CoSchedule Headline Analyzer on every post title until I get one that scores "in the green".  Now, Yoast SEO includes a headline analyzer right in your dashboard so that's what I use now.
NOTE: You can use adjectives in your post title and on images, but not in your slug.
SEO TIP
# 6 ~ H1 HEADINGS ARE ONLY FOR YOUR TITLE
In my very early blogging days, somehow I missed that memo. I had been using H1 headings as the first heading in the body of my post. Google doesn't like that; shame on me. Fortunately, going forward that is an easy fix. And I'm slowly going back and correcting that error in previous posts.
SEO TIP
# 7 ~ USE H2 AND H3 AS SUBHEADINGS
Make it easy for readers to follow your content by using subheadings. Think of H2 Headings as Roman Numerals in an outline or chapter titles. Some H2 Headings should contain your keyword. (Yoast SEO will let you know if you have too many.)
If your post is long, you may want to use H3 subheads, which also break up content and tell readers this area is important. Google likes when you break up content with headings and images. 
NOTE:  Do not use Headings in place of a paragraph. Instead, use BOLD and/or Italics to emphasize a paragraph.
SEO TIP # 8 ~ USE GOOGLE TO SEARCH FOR KEYWORDS FOR YOUR POST
You can use keyword research apps, but Mike Futia of Stupid Simple SEO and others recommend using Google as your first search. It's now the first thing I do, before writing my post TITLE.  
See what variations of your keyword have ranked on the first page of Google. Check out those sites. See how you can make your post better.  Goggle also gives you a list of questions that people are searching for.
Currently, I use a Chrome Extension, Keywords Everywhere. It gives you detailed information about another site's keyword details when you hover over the site.
SEO TIP # 9 ~ WHERE TO PLACE YOUR KEYWORDS
You have found your keyword/keyword phrase. Now use it throughout your post in strategic places. As the Google bots search your post, your keywords tell Google (and your readers) what the post is about.
your post title

in the first paragraph of your post
sprinkled throughout your post
the alt text on appropriate images*
in some of your H2 headings
the meta description (see TIP #10 below)
This is where Yoast SEO will help you. It will let you know if you have used too many keywords (called keyword stuffing) or not enough.
*For alt images, here is what Yoast SEO recommends:
"When choosing alt text, focus on creating useful, information-rich content that uses keywords appropriately and is in context of the content of the page. Avoid filling alt attributes with keywords (keyword stuffing) as it results in a negative user experience and may cause your site to be seen as spam."
NOTE: When an image is used only for a design element, you don't need an alt tag ~ jsut leave it blank.
 #10 ~ THE META DESCRIPTION
Your Meta Description is a brief description of your post. It's the "snippet" of text you see on the SERP (search Engine Results Page) on Google. The Meta Description can be the first paragraph of your post or a variation.
Make sure that you include your keyword phrase in your Meta Description. You also want to have your post title in the Meta Description.
If you have the Tasty Pins plugin, which I highly recommend, it will automatically give you a place for your Post Title, your Meta Description, and your Alt Tag for every image in your Media Library. It will also place it in the Pin Description for every Pin.
Your ALT TAGS should have different variations of the Meta Description. Google is smart enough to pick up on synonyms. 
This is what you want your Yoast SEO Analysis to look like before you preview and schedule your post. All green lights are music to my ears ~ not quite the right analogy, but you get the idea. It's OK if not every category has a green light. Some lights can be orange, but I always try to fix what I can.
**Those 10 outbound links are actually NO FOLLOW links. I click on the "nofollow option" in the link box, but the links show up as regular outbound. 
THE FINAL WORD
I really hope these 10 SEO tips will help you make your blog found more easily by readers searching for your content. I have seen a slow, but steady increase over the years since I implemented these SEO tips.
Learning how to use SEO to your advantage is a long process. We would all rather be creating fun DIY projects and sharing home decor ideas. But implementing SEO best practices is well worth the time and effort.
How did you find this post? Did you Google SEO TIPS or Top 10 SEO TIPS or QUICK AND EASY SEO TIPS? If you did, and found this blog, then I'm doing something right.
SEO isn't learned in a day or a month. I've only scratched the surface, but every little SEO tip that I can apply makes my site better. So try a few and see what happens. It does take time for the fixes to take effect, so we have to be patient to see the results of our work.
Be sure to PIN this post so you can find and use the information. Good luck using these 10 SEO Tips.