Osso Buco ~ How to Make the Most Delicious Recipe
Osso buco is one of Sweet Shark's and mine favorite braising dishes. Knowing how to make the most delicious osso buco is a cooking lesson I hope you'll want to learn. This traditional and classical Italian dish is one of our favorite meals to make on a cold winter night. Its been awhile since I shared a recipe at Bluesky Kitchen and I thought this was a good time, with maybe a month of cold weather left before we start thinking about other cooking methods and ingredients.
Last week I shared the step~by~step of how to make osso buco on my newsletter. I've received quite a bit of positive feedback about the method and the recipe. It's just too delicious not to share to a bigger audience. Sweet Shark and I found this recipe several years ago and have made it multiple times, so it's not only tried and true, but our very favorite. The flavors are so well balanced and the seasoning is what makes this version the most delicious osso buco you'll ever have.
First, let's talk about osso buco. What is it? 
Traditionally, it is cross-cut veal shanks braised (I'll share that in a minute.) with vegetables, white wine and broth. It is a dish from the city of Milan, so it's known as a Milanese dish. The name comes from the Italian for "bone with a hole" in reference to the marrow hole at the center of the cross-cut veal shank. Often it is garnished with gremolata  (a combination of parsley, lemon zest and garlic) and traditionally served with risotto alla Milanese. Most modern versions include tomatoes and a mirepoix (onions, carrots, and celery). Although some recipes will use lamb or pork, among lovers of osso buco, veal is the only meat to use. Veal shanks are relatively cheap and flavorful. Although tough, braising makes them fall~off~the~bone~tender.
How to Make the Most Delicious Osso Buco
Step 1 ~ Mise en Place
I never get tired of telling students about mise en place and how much easier it will make your cooking/baking life. Just to make sure we're all on the same page, mise en place is French (now you can say you speak French) for "everything in its place". Practically speaking, it means to gather all your ingredients, measure as much as possible, then chop, dice, toast, wash, dry, preheat, capese? (that's not French.) before you ever start cooking or baking.
You'll need to make your mire poix ~ more French. Mire Poix is traditionally 2 parts diced onion to 1 part diced carrot to 1 part diced celery, but the ratios can vary to 1:1:1.
Then gather and measure your other ingredients.
Step 2 ~ Prep Your Veal Shanks
As I explained above, osso buco uses cross~cut veal shanks. They are meaty and the bone~in is what contributes to the flavor and the tenderness. The marrow inside the bone is really good, too. The fat on the meat is minimal so do not be tempted to trim it off. That is where the flavor and the juiciness come from. To make sure that the meat stays on the bone during cooking, it's a good idea to tie them with kitchen twine. Then season well with kosher salt and freshly ground pepper.
Step 3 ~ Cook Your Aromatics
This is the first step in almost all braising dishes, "sweating" the onions, carrots, and celery (Remember it's called mire poix). Some other aromatics are garlic, leeks or shallots. This is the first step in bringing out flavor. I have to be honest with you ~ this is why I don't use crock pots or slow cookers. I want all that flavored goodness that comes from sweating (sautéing) the aromatics first. Throwing all your ingredients into a crockpot or slow cooker without this step doesn't do anything for developing flavor in a dish. When your mire poix is soft and the onions are translucent, remove them to a bowl.
NOTE: use a large Dutch oven or other large pot with a lid. We use our large Le Creuset Dutch oven for this.
Step 4 ~ Sear the Veal Shanks
Add a little more oil if necessary and cook the shanks on both sides until nicely browned. Use tongs to turn the shanks over. Again, this step adds more flavor to the overall dish and locks in moisture. Remove the shanks to a plate.
Step 5 ~ Start Your Sauce
Return the mire poix to the pot and add the other sauce ingredients.
Step 6 ~ Add the Shanks to the Sauce
Not just the shanks, but also the accumulated juices on the plate. That's more flavor that you don't want to leave behind.
Step 7 ~ Cover the Pot and Place in the Oven
Place a piece of parchment paper on top of the Dutch oven and cover. Place in a 325 degree oven and cook for 1 1/2 hours.
NOTE: the parchment forces the moisture back into the pot and keeps your lid clean.
Step 8 ~ Season the Sauce
This should always be the last step. Taste the sauce. If it needs a flavor boost, add a little kosher salt and freshly ground pepper. Even a splash of lemon juice is a good idea.
Step 9 ~ Plate and Enjoy
I love to serve osso buco with polenta, but mashed potatoes or risotto also are great choices. A vegetable, such as roasted Brussel sprouts, broccoli, or broccolini balances this cold weather dish. Place a spoonful of your starch on the plate and top with one shank. Spoon about 1/2 cup of sauce over the shank and the starch. Place the vegetable on the side. If you are garnishing with gremolata, pesto or other herb, sprinkle it on top.
Now you probably want the recipe right? And a lesson "Braising 101"? They are both available as Printables on The Bulletin. Share your email address and they will be in your inbox in the morning. And, that will get you entered in my giveaway of this darling dish towel from North Detail.  I'll randomly choose one lucky winner. Contest runs through March 15th and I'll announce the winner on March 17th.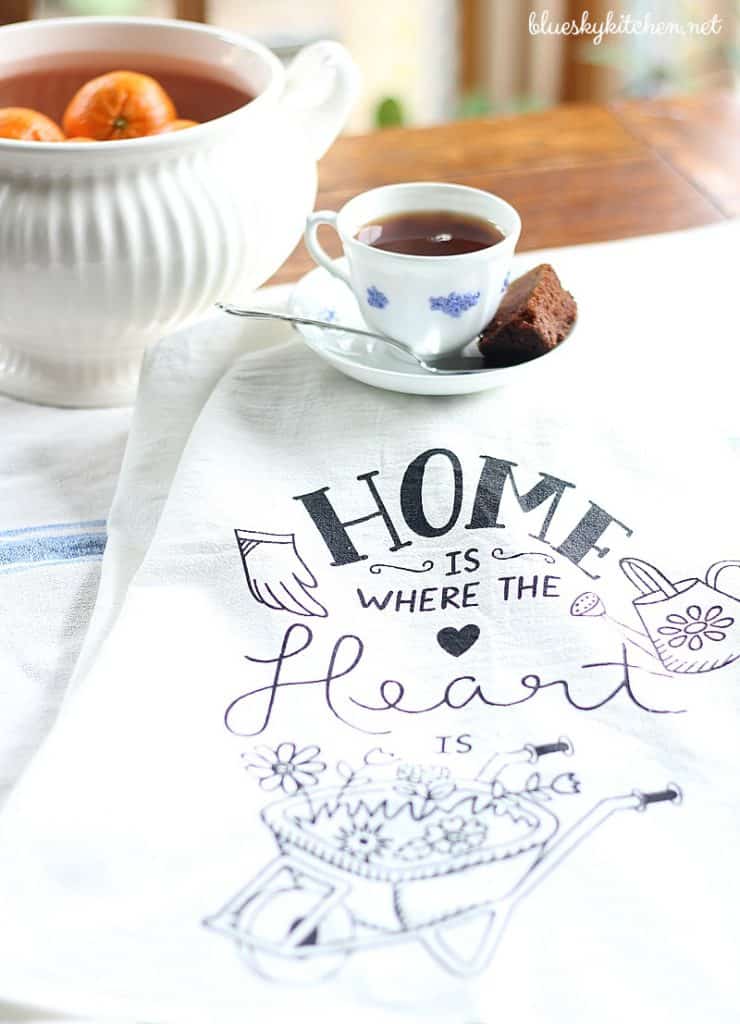 Here's a couple more great braised cold weather dishes:
Beef Short Ribs with Chocolate Rosemary Sauce
Mushroom and Onion Braised Chicken
Have a great weekend. I'd love to hear how your osso buco turned out.
On The Bulletin tomorrow, I share the technique for making polenta ~ the perfect accompaniment for osso buco and so many other dishes.
Thanks to Kathryn at The Dedicated House for Featuring my post How to Make the Cutest, Edible Party Favors.
Thanks to Chloe at Celebrate and Decorate for featuring my post Home Office Reveal.
Parties where I linked up this week (February 24 ~ March 2):
Celebrate Your Story    Create and Craft   Creativity Unleashed   Home Matters   Home Sweet Home     Inspire Me Monday   Make It Pretty Monday  Monday Social   Moonlight and Mason Jars    Over the Moon   Pin Junkie  Share Your Style   Sweet Inspiration   The Creative Circle  This is How We Roll   Thursday Favorite Things   Wow Us Wednesdays   Vintage Charm Party