How to Make the Most Delicious Osso Buco Recipe
When cold weather comes, what kind of dishes do you like to make? Our favorite cooking method in winter is anything braised. Osso buco is one of our favorite braising dishes. Knowing how to make the most delicious osso buco is a cooking lesson I hope you'll want to learn.
This traditional and classic Italian dish is is perfect on a cold winter night. With cold weather predicted for much of the country in the coming days, nothing will warm your tummy more than osso buco.
Sweet Shark and I found this recipe several years ago. I've tweaked it and we have made it multiple times so it's tried and true.

The flavors are so well balanced and the seasoning makes this version the most delicious osso buco you'll ever have.
The other reason I love to make dishes like osso buco is that once the cooking has started, you can go about your business while the cooking continues.
This delicious osso buco recipe would make a great Christmas Eve or Christmas dinner. It's also perfect for New Year's Eve. We have served it several times for dinner parties.
What is Osso Buco?
First, let's talk about osso buco. What is it? 
Traditionally, it is cross-cut veal shanks braised (I'll share that in a minute.) with vegetables, white or red wine, and broth or stock.
It is a dish originally from the city of Milan, so it's known as a Milanese dish.
The name comes from the Italian for "bone with a hole" in reference to the bone marrow hole at the center of the cross-cut veal shank.
Often it is garnished with gremolata  (a combination of parsley, lemon zest and garlic) and traditionally served with risotto alla Milanese.
Most modern versions include tomatoes and a mirepoix (onions, carrots, and celery).

Although some recipes will use lamb or pork, among lovers of osso buco, veal is the only meat to use.
Veal shanks are relatively cheap and flavorful. Although a tough cut of meat, braising makes veal shanks fall-off-the-bone tender.
Another reason I love this particular osso buco recipe is the earthy, meaty flavor of the sauce. The other flavor-adding ingredients are tomatoes and olives.
What is Braising?
Braising is a cooking method that focuses on low and slow. Meaning low heat and a longer cooking time.
Braising (from the French word braiser) is a combination-cooking method that uses both wet and dry heat.

Typically, the food is first browned at a high temperature, then simmered in a covered pot in cooking liquid (such as or red or white wine, stock/broth, coconut milk or beer). It is similar to stewing, but braising is done with less liquid and is usually used for larger cuts of meat.
If you have ever had a pot roast, coq au vin, short ribs, chicken cacciatore, or beef bourguignon, you have had a braised dish.
How to Make the Most Delicious Osso Buco
This post contains affiliate links to products used in the creation of this project. If you should order any item from this site, I may receive compensation, but you do not pay a penny more. Your purchase is greatly appreciated as it helps support the continued publication of this site.
Step 1 ~ Mise en Place
When I was teaching cooking classes, I never tired of telling students about mise en place. Following this standard practice will make your cooking/baking life so much easier.

Just to make sure we're all on the same page, mise en place is French (now you can say you speak French) for "everything in its place".
Practically speaking, it means to gather all your ingredients, measure as much as possible, then chop, dice, toast, wash, dry, or preheat before you ever start cooking or baking.
First, you'll need to make your mirepoix – more French. Mirepoix is traditionally 2 parts diced onion to 1 part diced carrot to 1 part diced celery, but the ratios can vary to 1:1:1.
NOTE: The original recipe (and the one I share below serves 8; I halved the recipe for this meal.)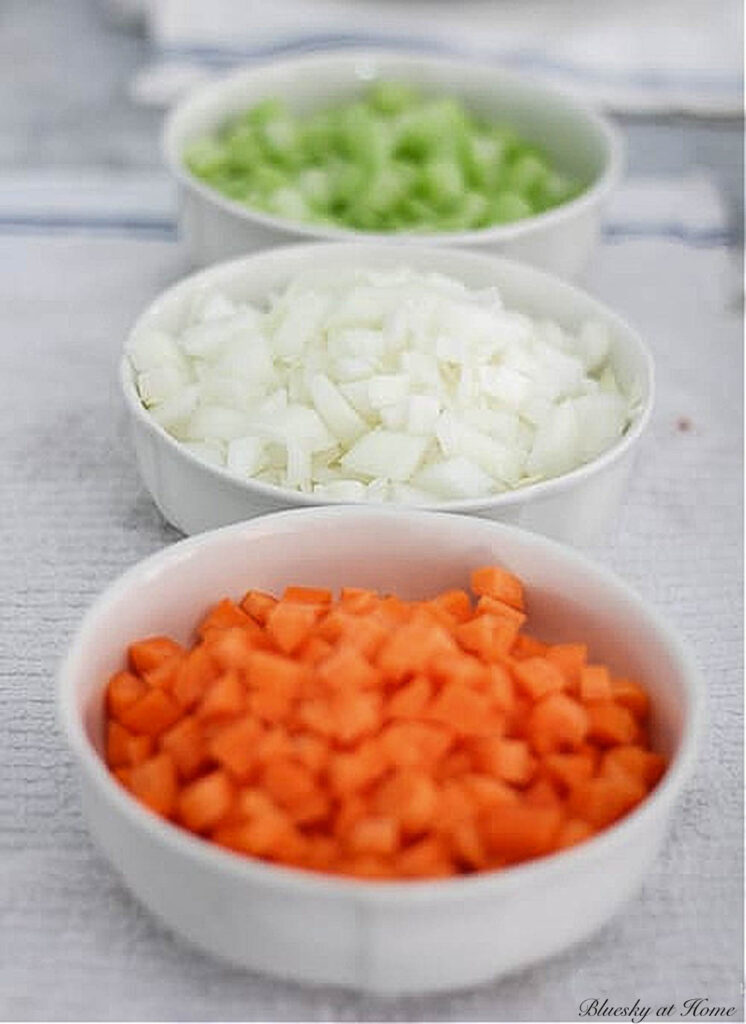 Then gather and measure the rest of the ingredients.
Step 2 ~ Prep Your Veal Shanks
As I explained above, osso buco uses cross-cut veal shanks.
They are meaty and the bone-in is what contributes to the flavor and the tenderness.
The bone marrow inside the bone is delicious, too.
The fat on the meat is minimal so do not be tempted to trim it off. That is where the flavor and the juiciness come from.
To make sure that the meat stays on the bone during cooking, it's a good idea to tie the shanks with kitchen string. Then season well with kosher salt and freshly ground pepper.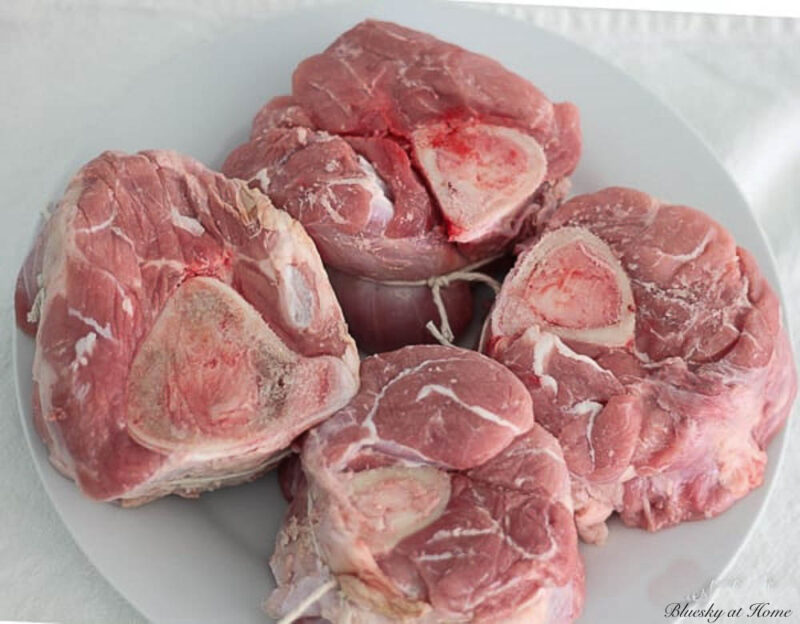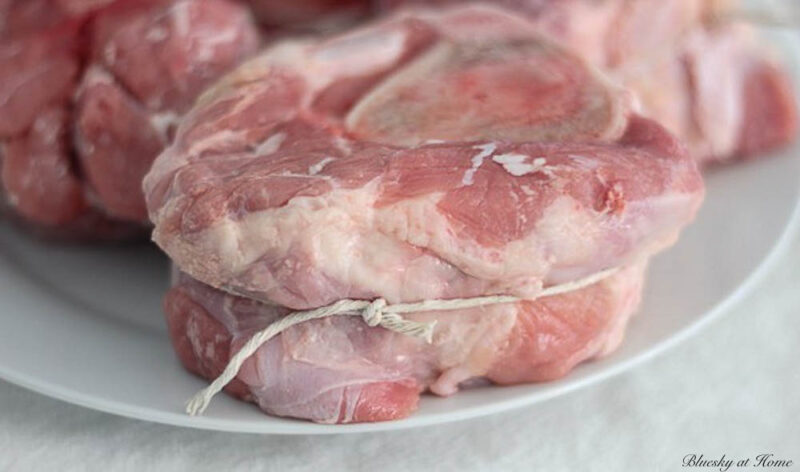 Step 3 ~ Cook Your Aromatics
This is the first step in almost all braising dishes, "sweating" the onions, carrots, and celery (Remember it's called mirepoix).
Some other aromatics are garlic, leeks or shallots.
This first step brings out the flavor of the dish.
I have to be honest with you – this is why I don't use crock pots or slow cookers. I want all that flavored goodness that comes from sweating (sautéing) the aromatics first.

Throwing all your ingredients, especially without browning the meat, into a crockpot or slow cooker without this step doesn't do anything for developing flavor in a dish.
When your mirepoix is soft and the onions are translucent, remove them to a bowl. You can also add garlic, which I highly recommend.
NOTE: Use a large Dutch oven or other large pot with a lid. We use our large Le Creuset Dutch oven for this.
Step 4 ~ Sear the Veal Shanks
Pat the veal shanks dry with paper towels.
Add a little more oil to the Dutch oven if necessary. Add the shanks and cook them on both sides until nicely browned. Use tongs to turn the shanks over.
Again, this step not only makes the osso buco more appealing, but it also adds more flavor to the overall dish and locks in moisture. 
Once nicely browned, remove the shanks to a plate.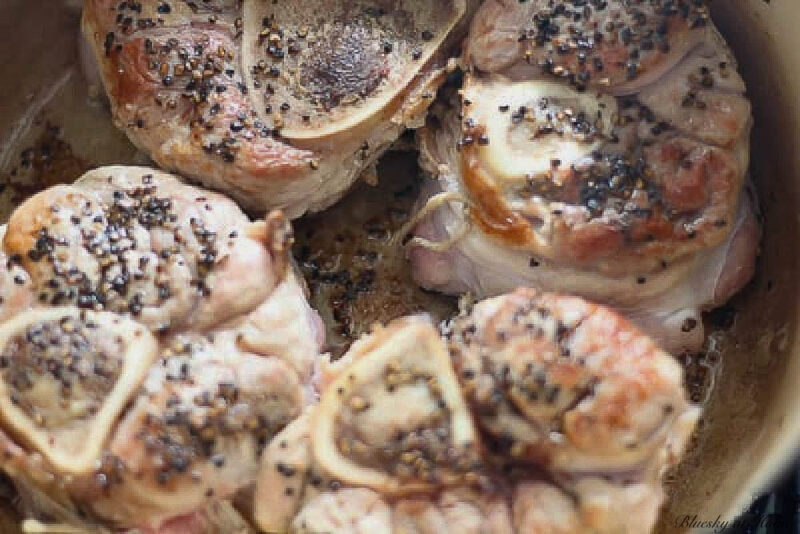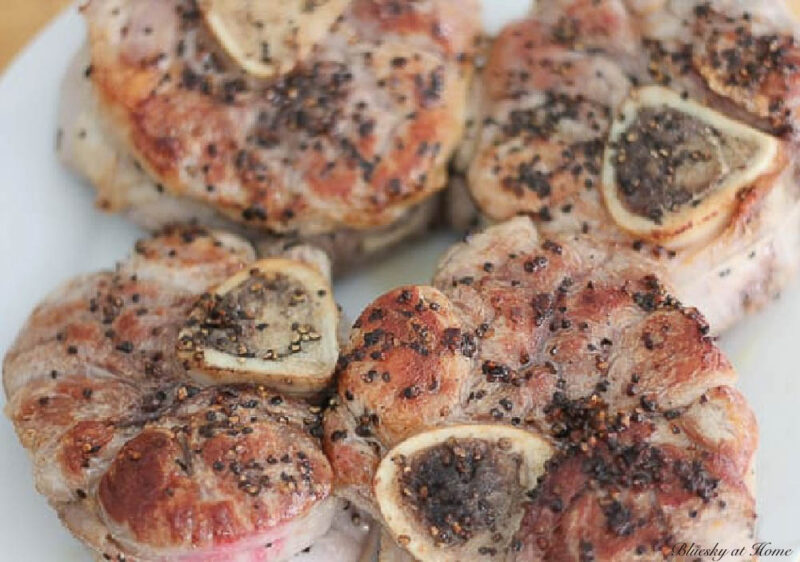 Step 5 ~ Start Your Sauce
Return the mirepoix to the pot and add the other sauce ingredients:
white wine
good chicken broth/stock
plum tomatoes with the juice
pitted Kalamata olives or green olives, such as Picholine or Castelvetrano olives, which are my favorites. If your local grocery store doesn't carry these meaty, delicious olives, you can order Picholine and Casetelvetrano olives online.
fresh herbs – thyme, parsley, and bay leaf
lemon zest strips
Over medium-high heat, bring the sauce to a boil, then reduce to a simmer.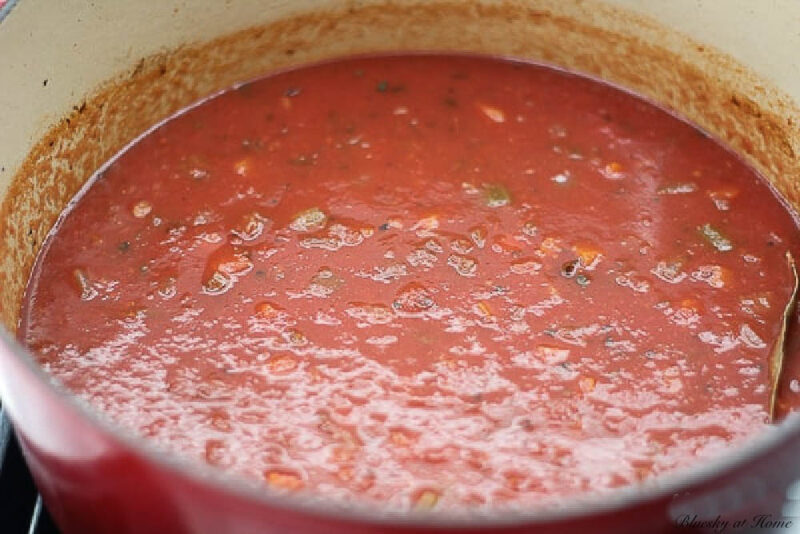 Step 6 ~ Add the Shanks to the Sauce
Add not just the shanks, but also the accumulated juices on the plate. That's more flavor that you don't want to leave behind.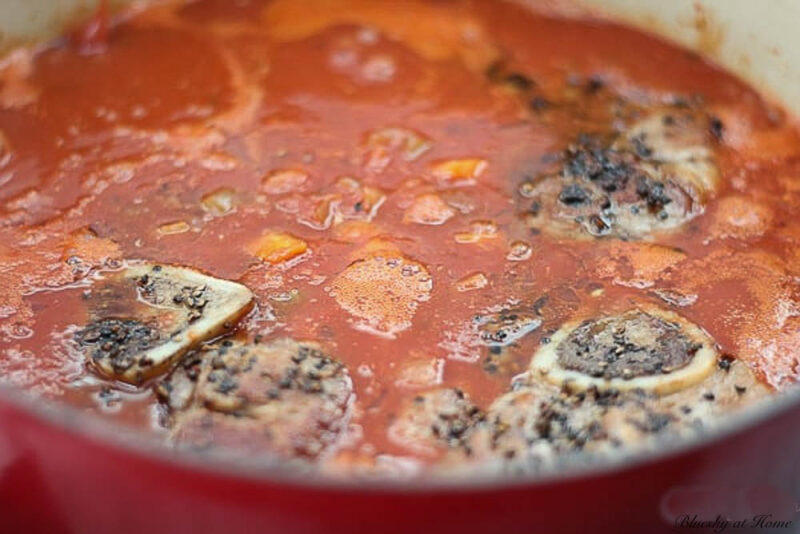 Step 7 ~ Cover the Pot and Place in the Oven
Place a piece of parchment paper on top of the Dutch oven and cover it. Place in a 325˚F. oven and cook for 1 1/2 hours.
NOTE: The parchment paper forces the moisture back into the pot and keeps your lid clean.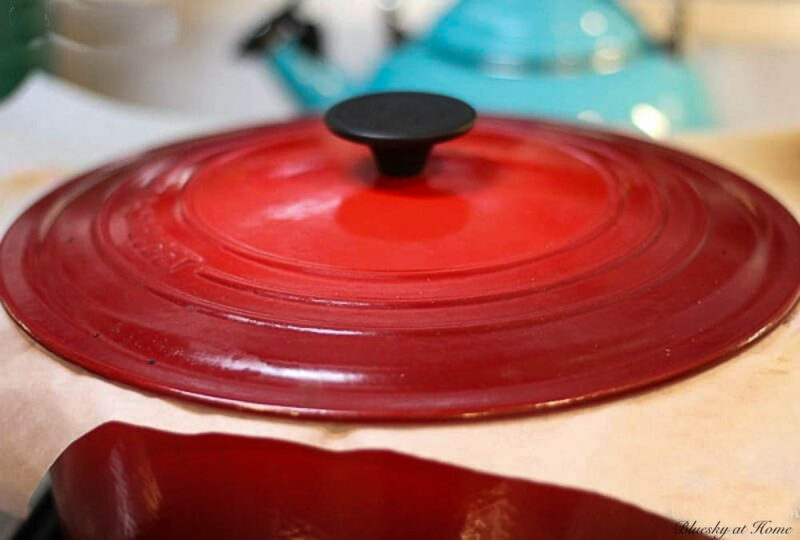 Step 8 ~ Season the Sauce
This should always be the last step. Taste the sauce. If it needs a flavor boost, add a little kosher salt and freshly ground pepper. Even a splash of lemon juice is a nice flavor addition.
Step 9 ~ Plate and Enjoy
I love to serve osso buco with polenta, but mashed potatoes or risotto also are great choices.
A vegetable, such as roasted Brussels sprouts, broccoli, or broccolini balances this cold-weather dish.
Place a spoonful of your starch on the plate and top with one shank. Spoon about 1/2 cup of sauce over the shank and the starch. Place the vegetable on the side.
If you are garnishing with gremolata, pesto or another herb, sprinkle it on top.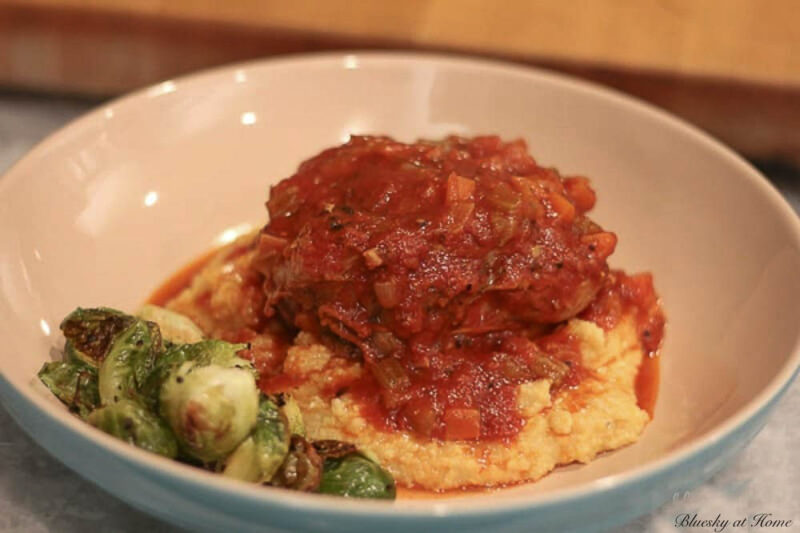 What You'll Need to Make this
Osso Buco Recipe
Osso Buco with Tomatoes, Olives, and Gremolata
A rich and earthy fork-tender braised dish with veal shanks and a sauce of tomatoes and olives.
Equipment
measuring cups and spoons

bowls for ingredients

tongs

large Dutch oven with lid
Ingredients  
8

meaty, cross-cut veal shanks

each tied with kitchen twine

½

cup

all-purpose flour

4

tablespoons

olive oil

2

medium

onions

small dice

1

small

carrot

small dice

1

celery rib

small dice

2

garlic gloves

peeled and finely chopped

1

cup

dry white wine

1

cup

chicken broth

1

28-32-ounce can

whole plum tomatoes with juice

coarsely chopped

1

cup

Kalamata, Picholine, or Castelvetrano olives

pitted

1½

teaspoons

fresh thyme leaves

2

fresh flat-leaf parsley sprigs

2

2 x ½-inch

fresh lemon zest strips

cut crosswise into fine julienne

kosher salt

to taste

freshly ground pepper

to taste
For Gremolata
3

tablespoons

chopped fresh flat-leaf parsley

1

large

garlic clove

minced

1

teaspoon

finely grated fresh lemon zest
Instructions 
Pat shanks dry and season with salt and pepper. Sprinkle flour over to coat all sides, shaking off excess.

Heat oil in Dutch oven over medium heat and add mirepoix and garlic. Cook, stirring until onions are pale golden, about 5 minutes. Remove to plate.

Add the shanks to the Dutch oven and sear on all sides to a golden brown. Remove to plate.

Return mirepoix to Dutch oven. Add white wine, chicken broth, tomatoes, and herbs to the Dutch oven. Bring to a boil, stirring, and then turn the heat down to a simmer. Add shanks in one layer and juices back to the Dutch oven.

Cover the Dutch oven with a piece of parchment paper and cover pot with the lid.

Place the Dutch oven in the middle of the oven. Braise shanks until very tender, about 2 1/2 hours.

Remove the twine from the shanks. Discard the parsley sprigs and bay leaf.

Make the gremolata: Stir the ingredients in a small bowl.

Place one veal shank on each serving plate. Spoon the sauce over each one, then sprinkle the gremolata evenly over each veal shank.
Notes
NOTE: This recipe is easily halved. NOTE: The osso buco can be made 1 day ahead. Cool completely, uncovered, then chill in the refrigerator, covered. Reheat, covered, in a 325˚F. oven, 30 – 40 minutes. 
Here are a couple more great braised cold-weather dishes:
Beef Short Ribs with Chocolate Rosemary Sauce
Mushroom and Onion Braised Chicken
Have a great holiday weekend. I'd love to hear how your osso buco turned out.
Of course, you'll want to save this lesson on how to make the most delicious osso buco recipe, so be sure to PIN IT.