Mushroom and Onion Braised Chicken is Perfect Fall Dish
After a week of fabulous fall home decor, I'm ready for a little cooking. Cooking for family and friends is such a wonderful way to celebrate the home you create. Chicken is good all year round (I can eat crispy chicken wings by the dozen.), but in fall I opt for braised chicken. And since it is officially fall now, I'm sharing a decidedly fall~ish dish, Mushroom and Onion Braised Chicken.
I say fall~ish because it's a braised dish which to me says fall (and winter, oh my). I love braising: it's a one~skillet or pot preparation that can be made and forgotten about for as little as 30 minutes and up to a few hours. This one is easy and delicious and great for a mid~week family meal, but nice enough that you can serve it to company on the weekend.
Mushroom and Onion Braised Chicken, like all braised dishes, takes a little preparation at the beginning of cooking, but then all the work is done. That's one reason braised dishes are perfect for entertaining company.
Mushroom and Onion Braised Chicken
This post contains affiliate links to products that I use, love, and highly recommend. If you order any product through this site, I may be compensated, but you do not pay one penny more.
COOKING LESSON: What is braising? Technically, it's a wet cooking method where food, usually meat or vegetables, is first browned in fat (oil, butter or both) and then cooked, covered in a small amount of liquid, at low heat for a long period of time until the food is tender and done. (That definition is from Food Lover's Companion, I think a must~have book for every cook.)
Why is braising such a wonderful cooking method?
The slow cooking develops flavor.
The slow cooking method tenderizes foods, especially less tender cuts of meat (think pot roast).
Braising can be done on the stovetop or in the oven.
The Prep
Onions provide depth of flavor for so many dishes. For this dish you need 1 medium yellow or white onion. You can chop or slice it or do a mix.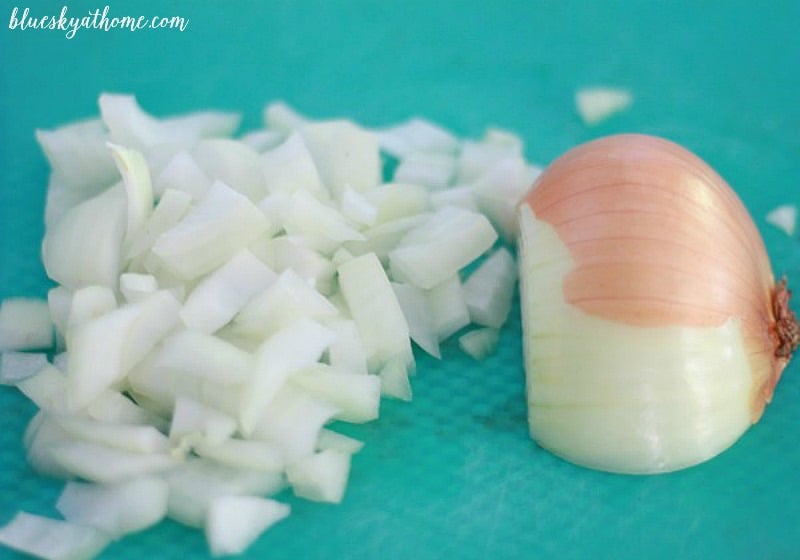 Wash and slice 1 pound of mushrooms into thick slices. You can use any combination of mushrooms you like, but I used cremini for this recipe. You want to end up with about 1 1/2 to 2 cups.
Peel and chop 1 or 2 garlic cloves.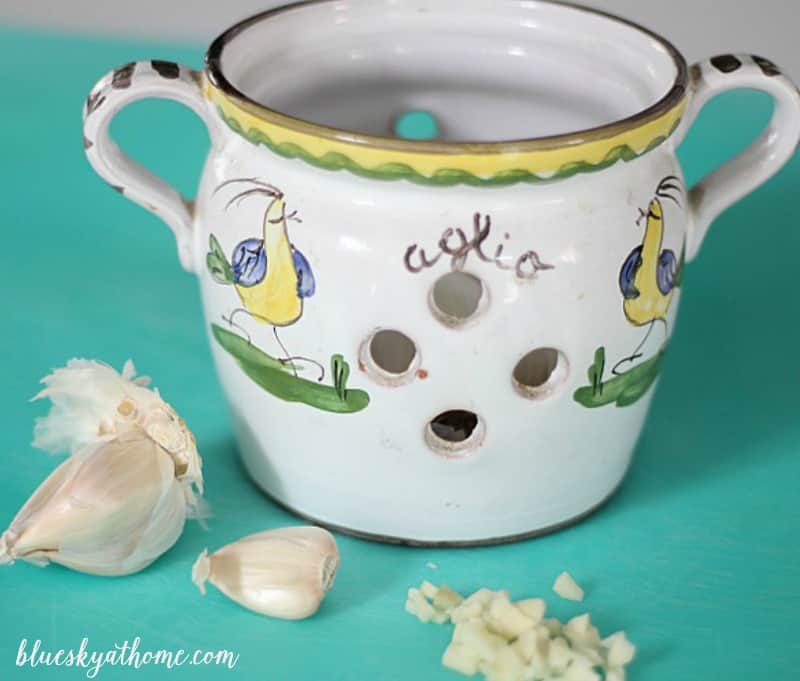 Chicken Thighs
I use bone~in, skin~on chicken thighs for this dish for a couple of reasons. First, they are so big these days that one is perfect for a serving. Second, they are a little fatty and perfect for braising. The bone and the skin retains moisture and adds flavor.
Chicken thighs have excess skin and some fat that you will want to remove. I like to wear disposable kitchen gloves when I'm working with chicken ~ it's more sanitary.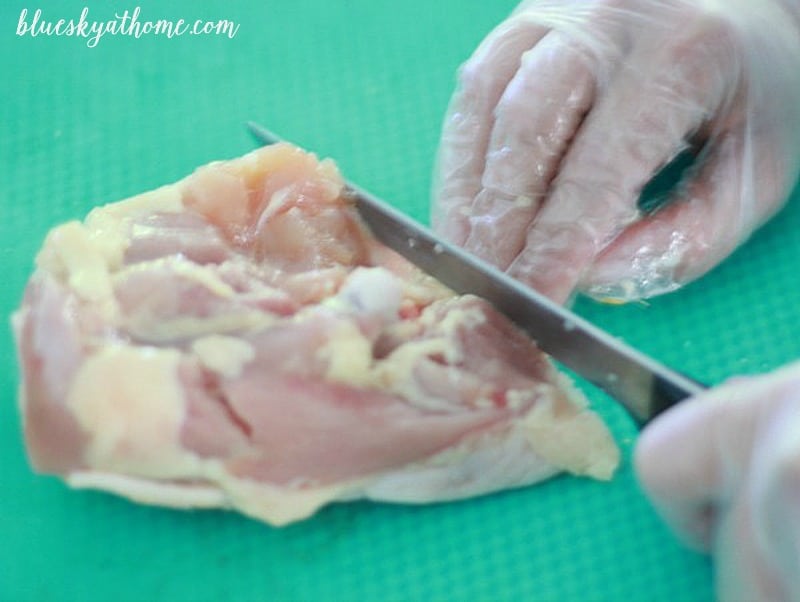 Place the chicken thighs on a plate and liberally season with kosher salt and freshly ground black pepper. At this point, you can place the chicken in the refrigerator for 15 minutes or up to a few hours. The chill actually increases the "crispability" of the skin when you cook it.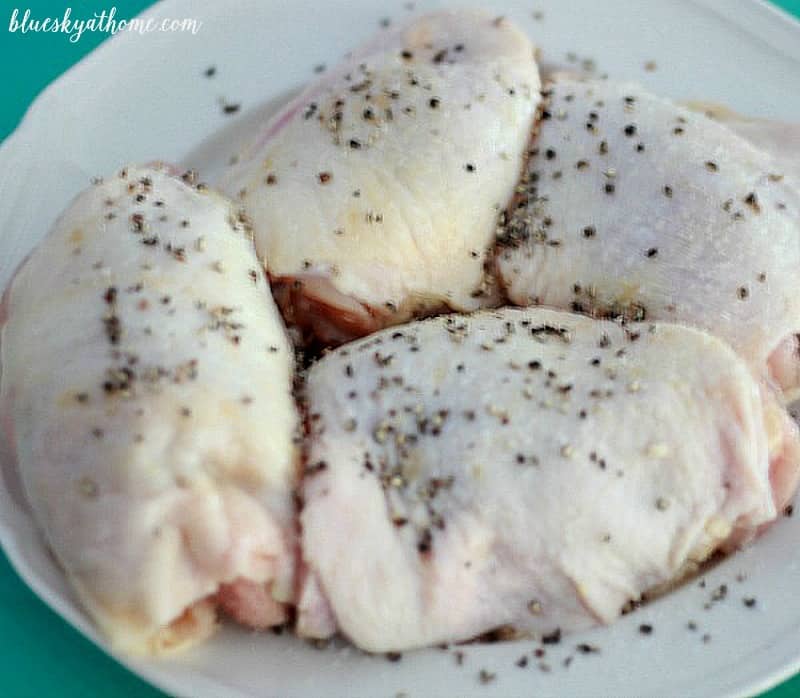 TIP: Prep your chicken last; that way you only have to wash your cutting board once. Also, I use my plastic cutting boards for working with chicken, pork, beef or fish. You can put them in the dishwasher.
Liquid Ingredients
You will need about 1/2 cup dry white wine and 1 1/2~2 cups stock, either vegetable, chicken or beef. I used beef stock for this dish because that's what I had on hand.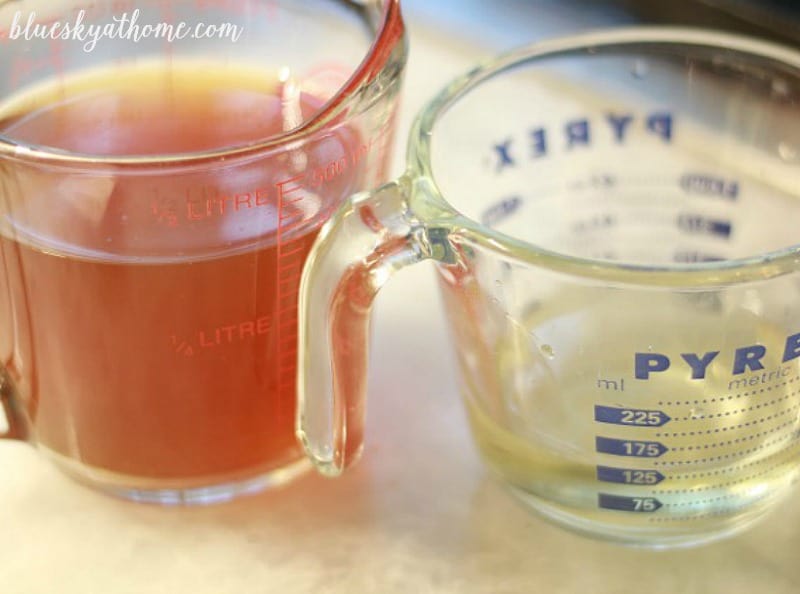 The Process
The key to getting the rich flavor that onions add to any dish is to slowly caramelize them. I use a deep~dish skillet for braising dishes. Add about 1 tablespoon of unsalted butter and 1 to 2 tablespoons of olive oil and warm the skillet over medium~low heat until the butter has melted and stopped foaming.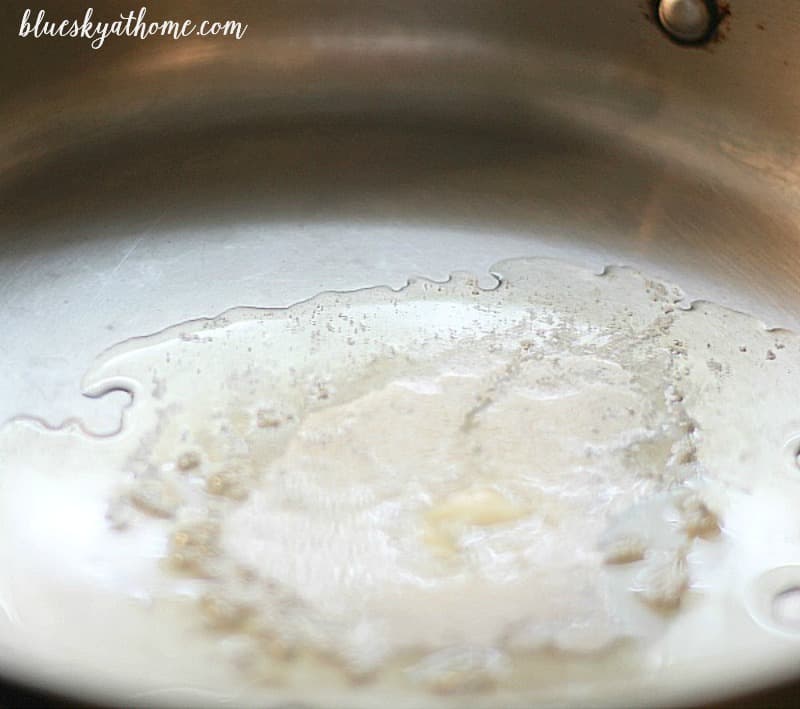 Add the onions and cook slowly, stirring occasionally until they start to soften and become golden brown. Stir in the garlic cloves when the onions are almost done.
Push them to one side of the skillet and add another pat of butter. Add the mushrooms and cook until them have become brown and released some of their moisture. I like them almost crisp.
When the mushrooms are done, remove the mushrooms and onions to a bowl and set aside. Add a little more oil (either olive or canola) to the pan to warm over medium heat. Add the thighs, skin side down and cook until golden brown, about 5 ~ 7 minutes. Using tongs, turn them over and cook another 5 ~ 7 minutes.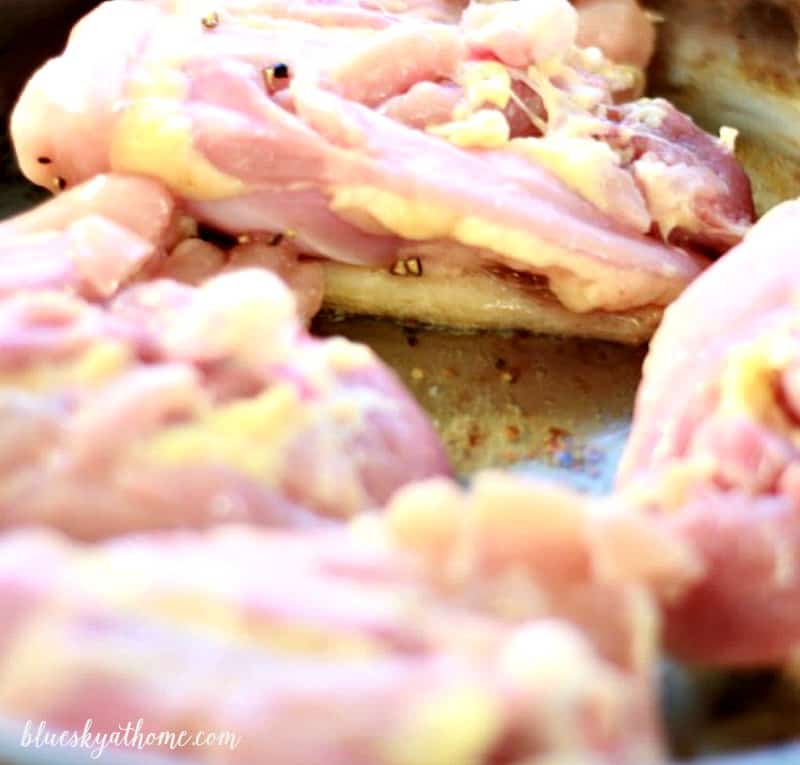 Remove the chicken thighs to a plate and set aside.
Pour the white wine into the pan and using a spatula or wooden spoon, scrape up the bits of fond in the skillet. (Fond is the bits of meat and fat that accumulate in the skillet.) This is full of flavor. Cook until all the fond is incorporated into the liquid and the liquid has reduced by half. Season with a pinch of kosher salt.
NOTE: If there is any excess fat in the pan, pour it out before adding the wine.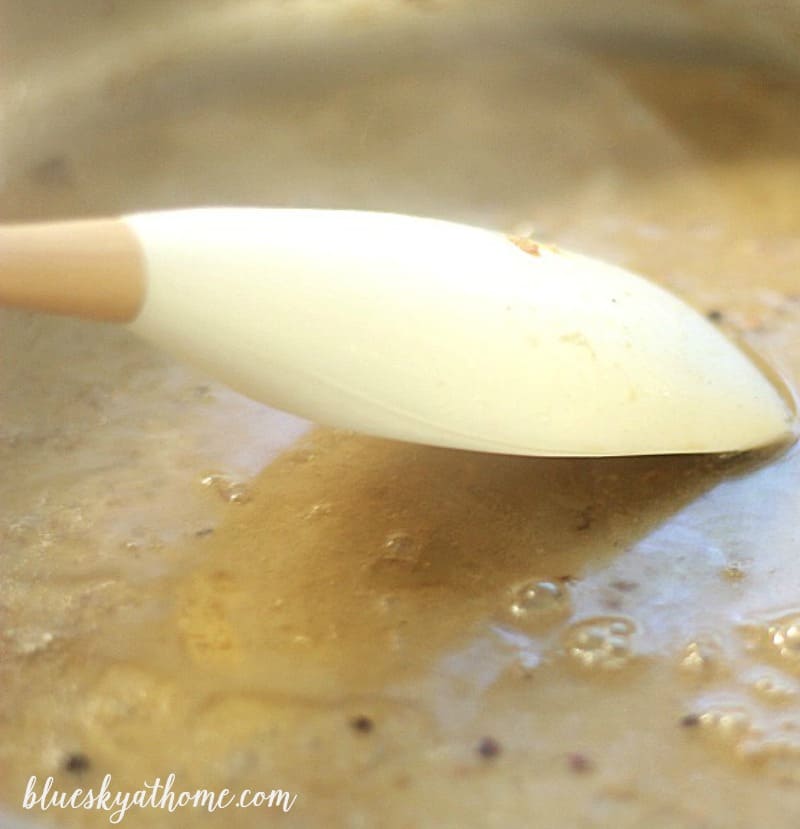 Return the chicken to the skillet, skin side up. Add the mushroom/onion mixture and spread it around the chicken. Pour the stock over the chicken.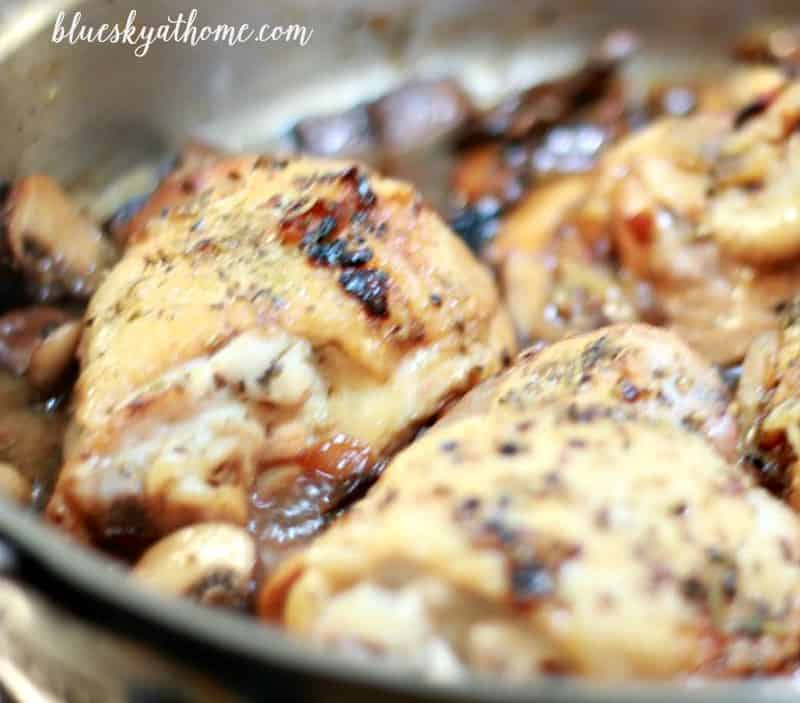 Turn the heat up to medium high and cook for a couple of minutes. Reduce the heat to medium~low, cover and cook for 35~45 minutes. If the liquid is cooking down too much, you can add more stock, turn the heat down or remove the lid. Use your judgment as to which method you use. Or use all three.
NOTE: While the chicken is cooking, you can
prepare your side vegetables
check your e-mail
have a glass of wine with the hubby (or by yourself)
check the kids' homework
do nothing
all of the above, if you are superwoman
Check the doneness of the chicken with an instant~read thermometer. The temperature should read 165 degrees.
TIP: when checking temperature, remember not to let the probe touch bone. It should go in the meatiest part of the thigh. If you are tentative about determining the doneness of any meat, I highly recommend that you have one of these in your kitchen tool box.
Place 1 chicken thigh on each serving plate. Taste the sauce for seasoning and season with salt and freshly ground black pepper.
TIP: a squeeze of lemon juice adds a punch of acidity and brightness to the sauce.
Spoon the mushroom/onion mixture and sauce over the chicken. Serve the chicken with your choice of vegetables. I served the chicken thighs with wild rice and roasted broccolini.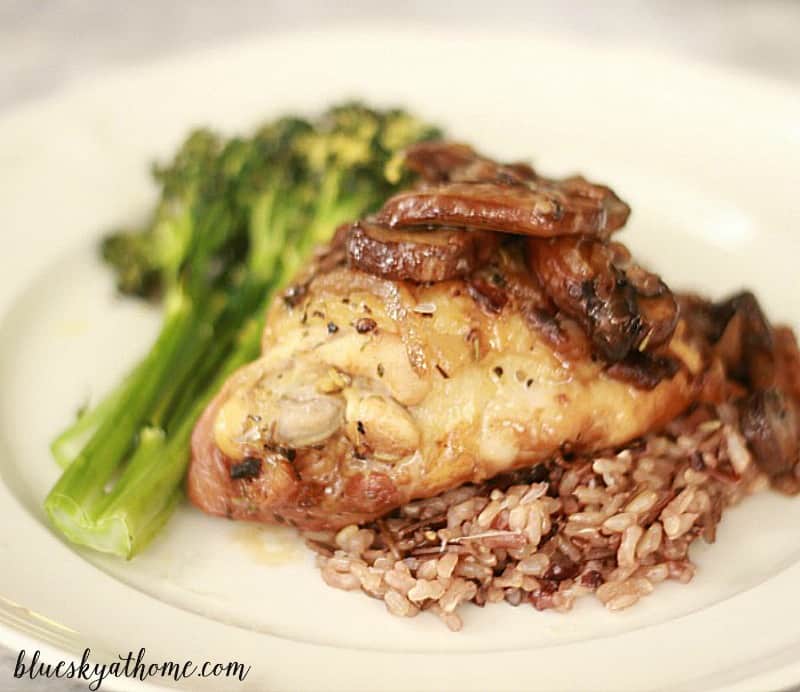 Wasn't that easy? And I promise, it's delicious. Don't be afraid to season with salt and pepper.
TIP: you can add fresh herbs, such as thyme or oregano to the skillet for even more awesome flavor. For dried herbs, I love herbes de provence, a blend of several herbs, such as basil, fennel, marjoram, rosemary, sage, thyme. (Yes, I know, I misspelled "herbes" on my little jar from Anthropologie.)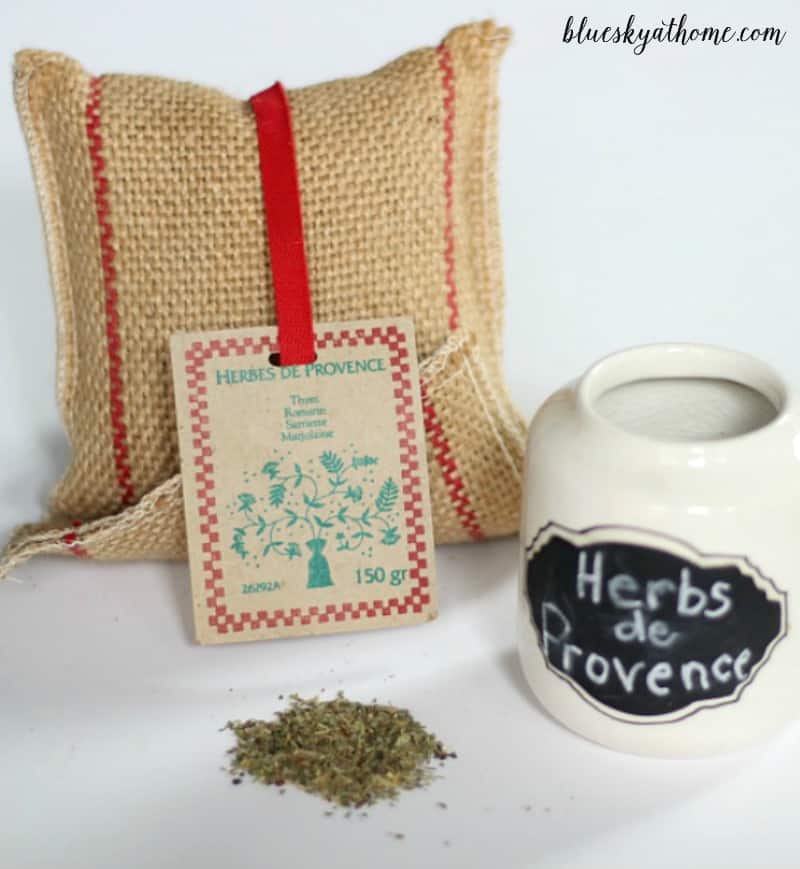 The Recipe
I know that you will love this Mushroom and Onion Braised Chicken. Let me know what you think.