3~Ingredient Healthy Delicious Dish For 2 Under $10
Do you like to find dishes that have just a few ingredients? I'm sharing a super easy, super good, super~fast 3~ingredient healthy delicious dish that you can make in under 10 minutes for under $10.
We are all so busy these days ~especially if you are a blogger or working mom (or dad) with kids and sometimes you don't have time to cook a full blown~out 3~course meal with a salad, entrée, vegetable, starch and maybe a dessert.
And, let's face it, we all (or should I say, some of us) don't need to eat a meal like that every night. What's the alternative? Take out? Fast food? Delivery? Popcorn? (O.K. confession here. I have been known to eat popcorn for dinner if Sweet Shark has an evening meeting, which is not often. I love popcorn with extra virgin olive oil instead of butter. Try it and you'll never go back to butter. But I digress.)
Some of our best dinners just happen ~ whatever is in the fridge. And that's how this 3~ingredient healthy delicious dish for 2 under $10 came to be.
Can you make dinner with 3 ingredients? Yes, you can.
I didn't plan this meal. It just happened on a weeknight a couple of weeks ago. It had been a busy day when I didn't even have time to think about going to the grocery store. I still had a couple of hours left of blogging work (creating fabulous content and eye~dropping photos) and I knew I didn't have time to stop a make a meal.
Usually when Sweet Shark gets home and he sees me still in my office, he knows the drill and suggests take out. But I felt a teensy bit bad about it, so I looked in the fridge and I had 3 ingredients that I knew would make a great quick meal. And to top it off, one of the ingredients was free, all were healthy and I knew the combination would work together.
It was so good that I knew I had to share it, so the next Sunday after church, I made it again.
Is it hard to make a meal with just 3 ingredients? No, and this 3~ingredient healthy delicious dish proves it. You may have to think outside the box. (I try not to cook with ingredients from boxes, cans or jars, except pasta, capers, panko, beans or tomatoes). I'll have to share in another post ingredients to keep on hand that lend themselves to 3~ingredient meals. Stay tuned.
3~Ingredient Healthy Delicious Dish For 2 Under $10
I'm really excited about not only sharing this dish with you because it's so good, but also because I've got 2 (yep, 2 ~ on my 2017 goals list!!!) cooking videos to show you. I think you will like them.
O.K., You Ask, What are the 3 Ingredients?
2 portobello mushrooms
2 farm~fresh organic eggs (that was the freebie, from our good friends Wende and Mike)
a pound of fresh asparagus ~ actually, I used 3 spears per serving so that's less than 1/2 a pound
Pantry Items
There are staples that you will need, but those don't count. These would be on the always~have~on~hand list.
olive oil
kosher or sea salt
freshly ground black pepper
Equipment
a cast~iron skillet or other heavy skillet
tongs
spatula
sheet pan
aluminum foil
3~inch cookie cutter or other round aluminum, such as a tuna can with both ends removed and washed
The Process for a 3~Ingredient Healthy Delicious Dish
This dish doesn't have a recipe. You don't need one. Just follow along. Oh, the 10 minute cook time? That doesn't include preheating the oven, heating the skillet, or prepping the ingredients. So, ready, set, let's cook.
Step 1
Preheat the oven to 400°F. Heat your cast~iron skillet over medium heat. Cover a half sheet pan with aluminum foil.
I just have to add that cast~iron skillets are my favorite, go~to, skillet. We have several. Every one, except for my 2 Le Creuset skillets, were passed down to Sweet Shark and me. Thanks, mom. If you don't have one, look at garage sales or buy a Lodge skillet.  I recommend a 8 to 10~inch one for most cooking needs. Here's 10 reasons why you should have a cast~iron skillet.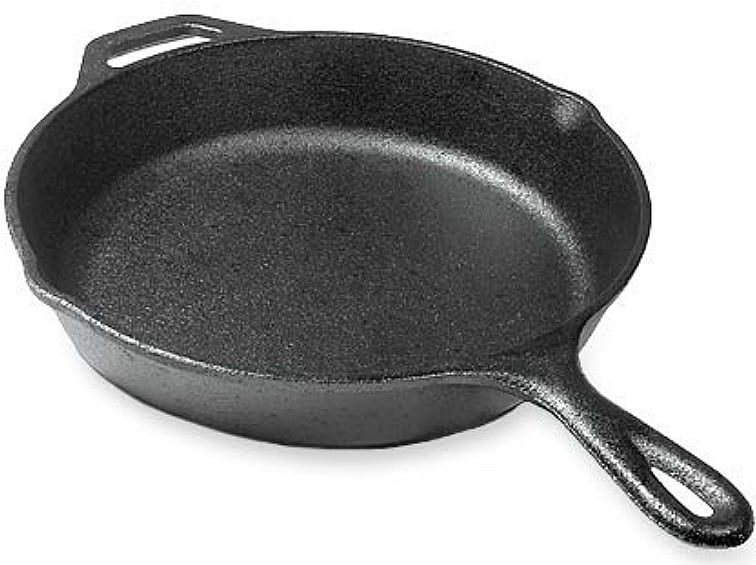 Step 2
While the oven is preheating and the skillet is getting hot, you can do the ingredient prep.
Prepare your asparagus: wash, trim off the woody ends, and use a vegetable peeler to peel off the thick skin from the bottom half of the asparagus spear.
TIP: Removing the peel helps the asparagus to cook faster and makes it easier to eat.
TIP: When shopping for asparagus, look for medium to thick spears. They are meatier, so much more flavorful, and much easier to cook.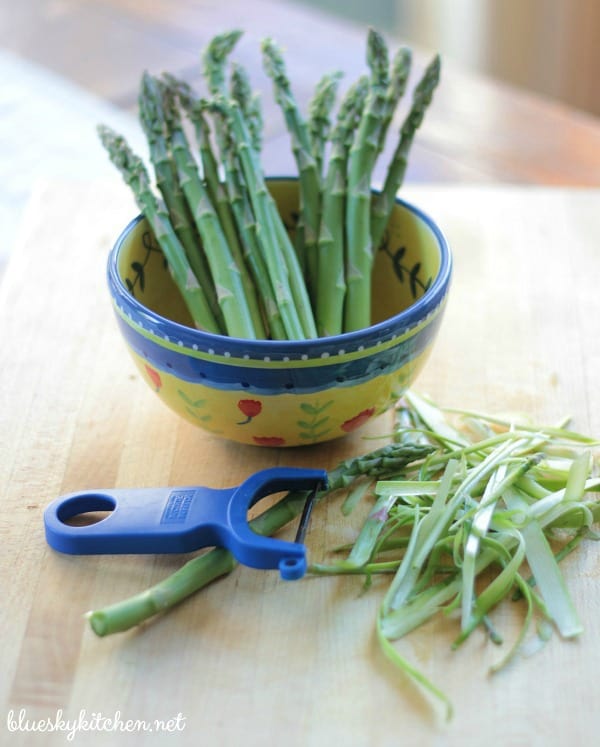 Toss the asparagus with some olive oil, salt and pepper; place in one layer on the sheet pan.
Place the asparagus in the hot oven. Set the timer for 10 minutes. You are basically roasting the asparagus, my favorite way to bring out the most flavor.
Prepare your portobello mushrooms: use a damp paper towel to wipe off the tops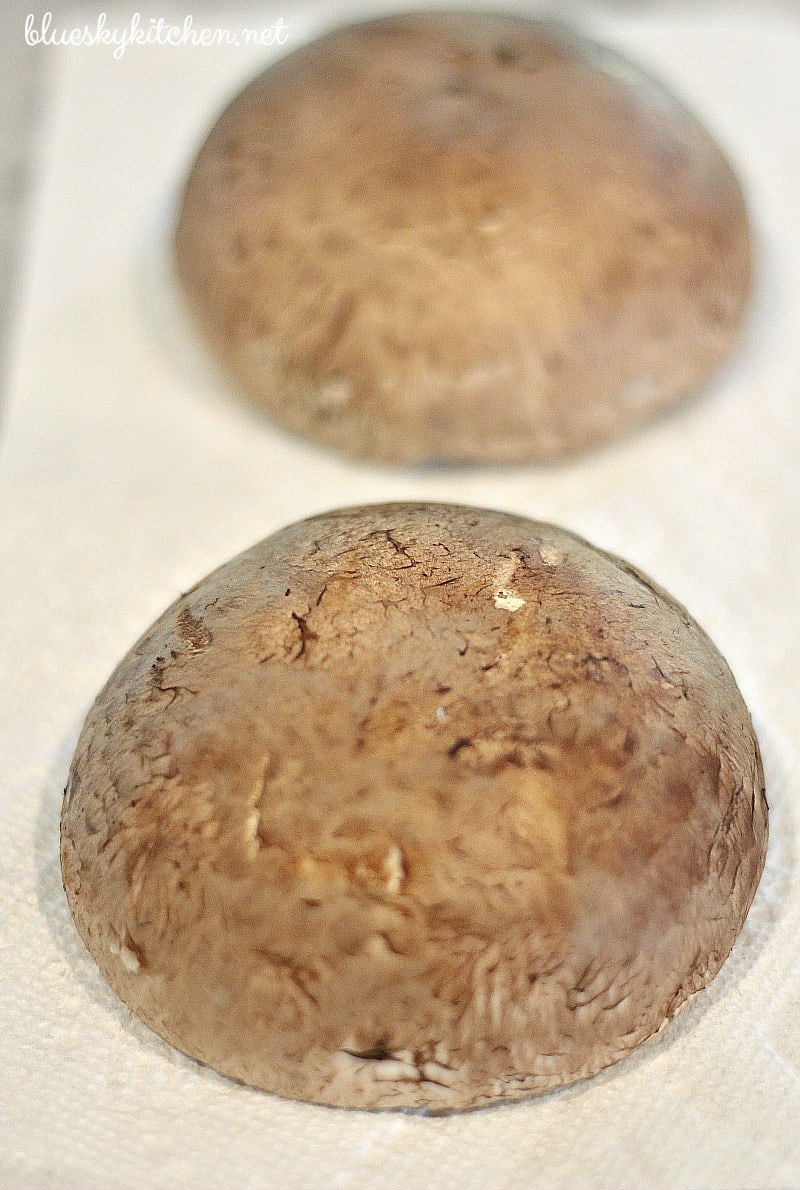 Always remove the stem and gills from the portobellos. The gills can turn dark when cooking. You definitely don't want them for this dish.
Here's how to remove the stems and gills from the portobellos.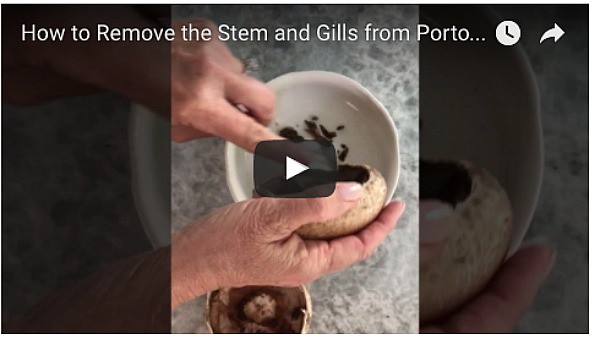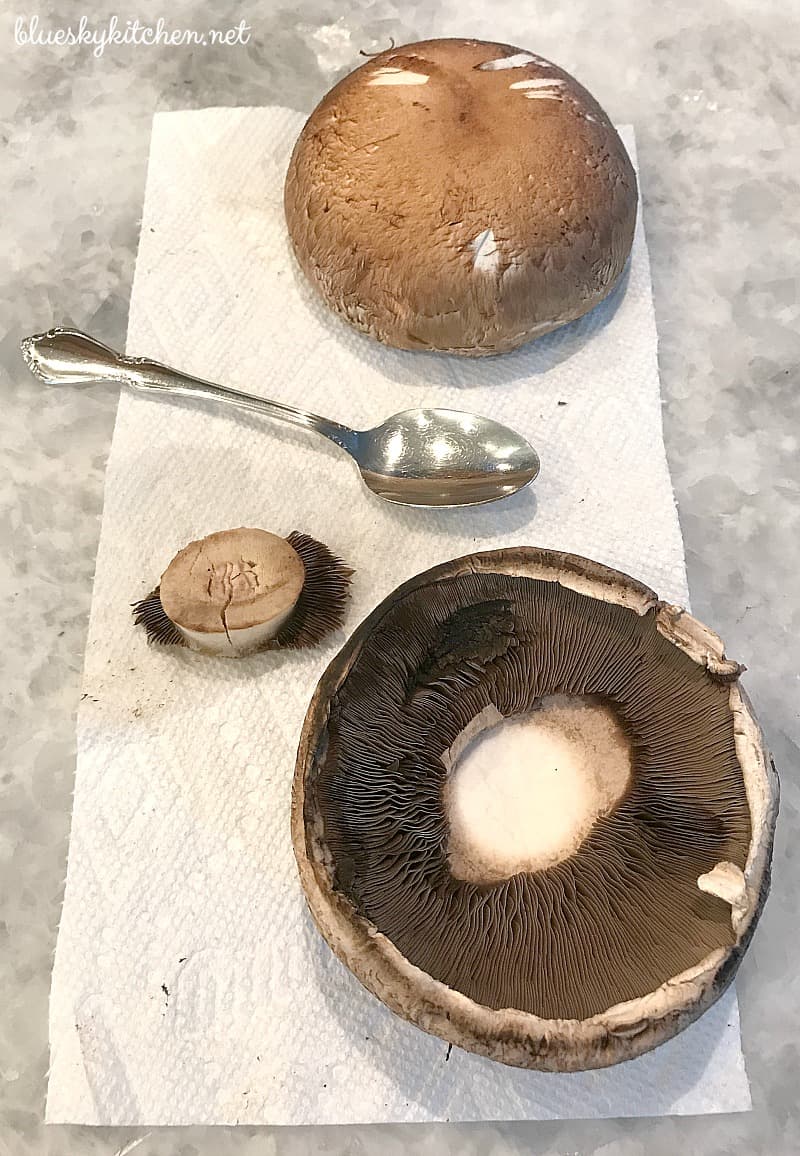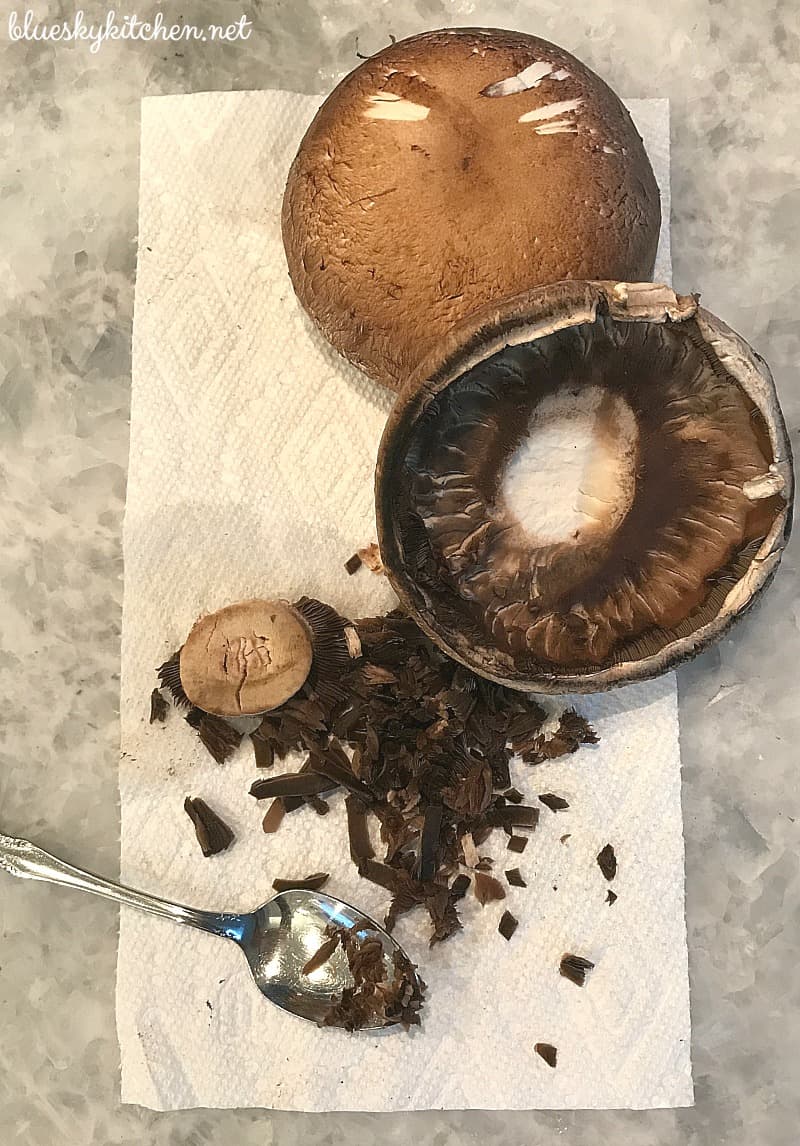 Step 3
Place about 1 tablespoon of olive oil in your heated skillet and swirl to cover the pan.
TIP: your cast~iron skillet will be hot. Don't forget to use a pot holder or dish towel.
Place the 2 portobellos in the skillet, tops down. Cook for 4 ~ 5 minutes until the bottoms are slightly brown. They will start to give off their liquid. You can turn them over once or twice, using your tongs.
Remove to a plate, pouring off any juices from the center of the mushrooms.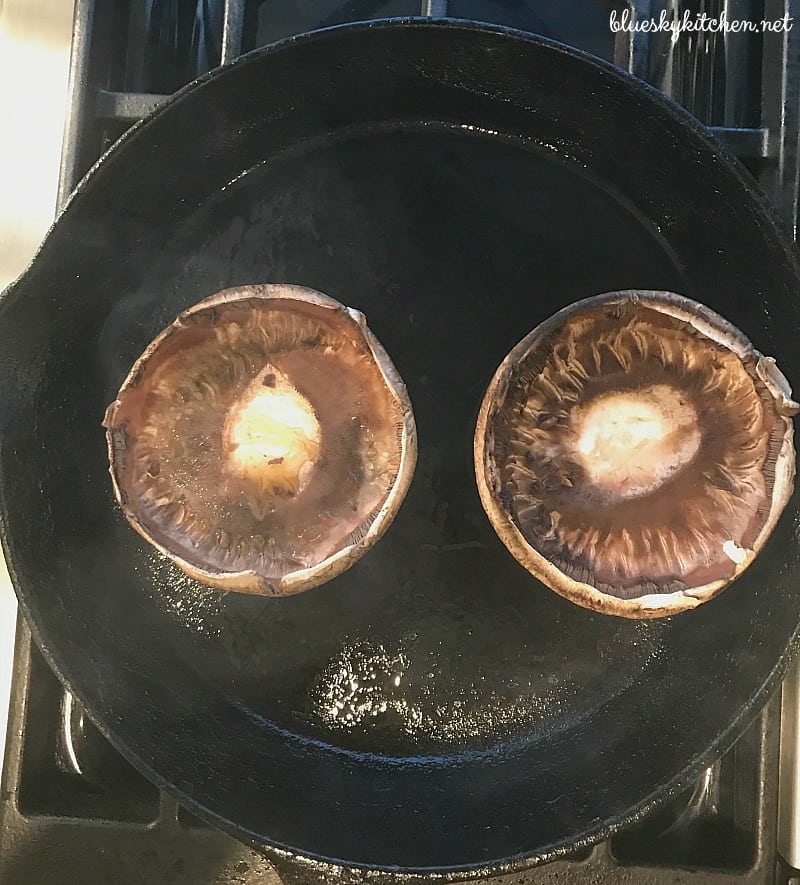 Step 4
The first time I made this dish, I just broke the eggs into the skillet. I decided there was a better way to cook the eggs so that they were nice and round to fit inside the portobello mushrooms. Here's what I came up with.
While the mushrooms are cooking, break one egg into a small Pyrex or ramekin. Have your other egg ready.
As soon as your mushrooms are done and removed from the skillet, turn down the heat to low. Your skillet will still be hot.
Place the cookie cutter in the skillet and carefully pour the egg inside. Lightly sprinkle the egg with kosher salt and freshly ground pepper. Cook for about 1 minute until the white is set enough to remove the cutter.
Place the cookie cutter back in the skillet and pour in the remaining egg.
Continue to cook the first egg for another minute until the white is just crisp around the egg and starting to brown on the bottom. Use your spatula (pancake turner) to peek under the egg. Flip the egg over and count to 10 (for very over easy) seconds or longer, depending on how you like your eggs. Use the spatula to remove the egg to the center of one of portobello mushrooms.
Finish the second egg in the same manner.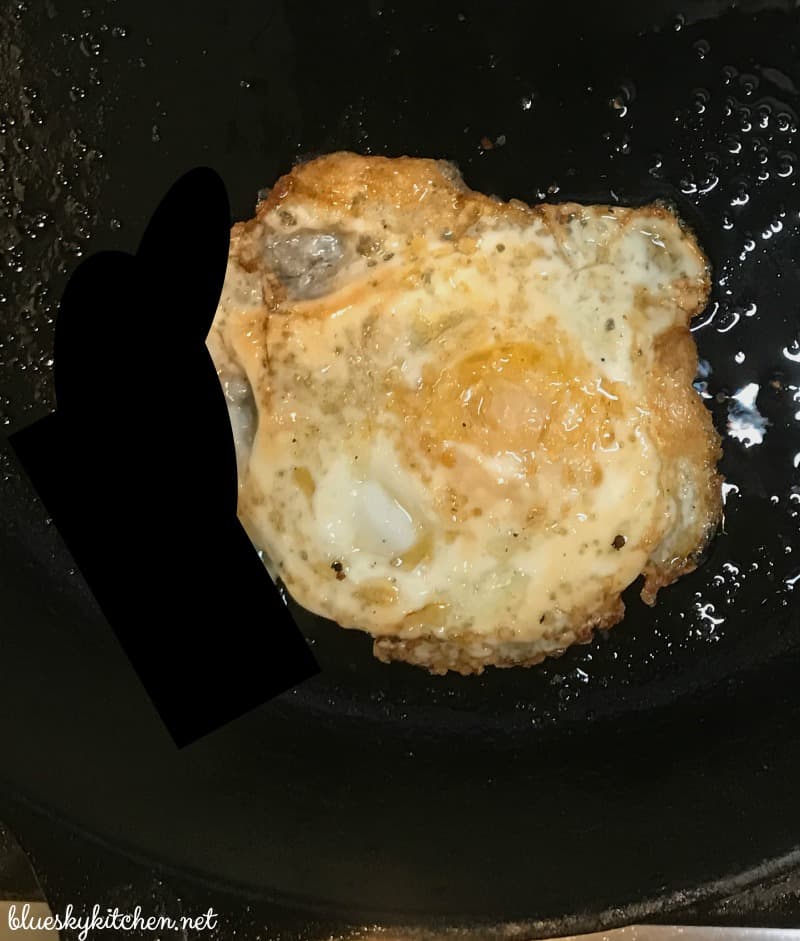 Here is a video of the complete process  I created for you. Just FYI, the white shoes you see in the video are attached to Sweet Shark's feet. He was taking the video for me.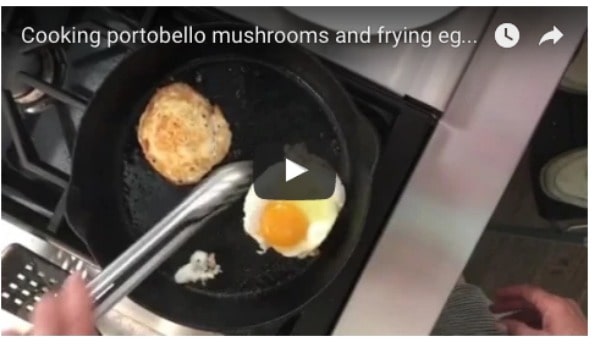 Step 5
Remove the asparagus from the oven and place 3 ~ 5 spears on each plate next to the portobello.
Eat while your eggs are hot. I grated a little Parmigiano Reggiano on top of the asparagus just because I had some ~ another ingredient that is always in our fridge.
Optional Ingredients for a 5~Ingredient Dish
In the fridge I also had a container of plain non-fat Greek Yogurt and a bowl of pesto from our local gourmet grocery Central Market. I combined about 1/2 cup of each to make a sauce to serve over the eggs. It was pretty and added color, but it's not necessary. You could also add some salsa, and guacamole (salsa and guacamole make everything better). I had plenty of sauce left over.
The Under $10 Part
Here's the breakdown of the cost of this dish:
6 asparagus spears from 1 pound brunch of asparagus estimated 1/4 of a pound ($2.98/pound) $.75
2 portobello mushrooms $2.16
2 large eggs ~ free from our friends
Total = $2.91 or $1.46 per serving
Optional:
1/2 cup plain Greek yogurt $.65 ($1.29 for 8 ounces)
1/2 cup pesto from deli bar $1.81 ($3.62 for 8 ounces)
Total = $2.46 or $1.23 per serving
Not bad for dinner, don't you think?
I'd love to hear what 3~ingredient dishes you have made. We can all use cooking inspiration, and I hope you enjoyed this one.