Healthy and Easy Pasta Primavera: A Perfect Spring and Summer Recipe
Do you enjoy making easy and delicious dishes for the warmer months? I have a classic recipe that is perfect for spring and summer dining. It's a healthy and easy Pasta Primavera.
Pasta Primavera is a classic Italian pasta recipe that is perfect for spring and summer. It's light and refreshing and packed with fresh, seasonal vegetables and herbs. 
To be honest, I hadn't made Pasta Primavera in years. Then last week, I saw a recipe in the Wall Street Journal that touted all the great reasons to make this dish.

One of the best reasons is that it's a great way to showcase all of the fresh produce that's available during this time of year.
So, of course, I made it for Sweet Shark and me earlier this week. It's a delicious pasta dish, and we remembered why it's such a classic.

Like, why don't I make this more often? I will now, and after seeing how easy it is to make, I hope that you will make this healthy and easy pasta primavera recipe, too.
Origins of Pasta Primavera
Just in case you are interested, The word "primavera" means "spring" in Italian, which is fitting since this dish is typically made with fresh spring or summer vegetables.
The history of Pasta Primavera is a bit questionable, but it's believed to have originated in New York City in the 1970s. The dish was created by Sirio Maccioni, the owner of the famous Le Cirque restaurant. (Sweet Shark and I went to the one in Las Vegas years ago.) 
It quickly became a hit with diners and was eventually featured in a 1977 article in the New York Times by Craig Claiborne and Pierre Franey. The article included a recipe for the dish, which helped to popularize it even further.
Over the years, classic Pasta Primavera became a popular dish in Italian-American cuisine from the 1980's – 2000's. I think it's one of those dishes that was forgotten. It's time to bring it back because it's so good.
Ingredients in Pasta Primavera
Pasta Primavera is a versatile dish that can be customized to suit your tastes and preferences. The ingredients vary depending on the recipe, but the dish typically includes a variety of fresh spring vegetables, pasta, and a light flavorful sauce. 
You can add any combination of vegetables that you have on hand. It doesn't take a whole lot of any particular vegetable which makes it a great dish for using up leftover vegetables.
Here are some of the most common vegetables used in Pasta Primavera:
Fresh Broccoli
Fresh Asparagus
Peas, Fresh or Frozen
Red Bell peppers
Fresh Mushrooms
Green onions
Zucchini
Fresh Sugar snap peas or Snow Peas
Tomatoes
You can use any type of pasta that you like in Pasta Primavera, although linguine and fettuccine are the most popular.  
The sauce for Pasta Primavera is typically a light cream sauce and that is what I made. If you want a lighter sauce, then you can use just olive oil. 
Flavoring enhancements can be garlic, lemon juice, or red pepper flakes. The addition of fresh herbs like basil, oregano, and parsley really helps to brighten up the dish and give it a burst of flavor.
Why is Pasta Primavera a Great Recipe for Spring and Summer?
As the weather warms up, I'm always looking for light and refreshing meals that showcase the best of seasonal produce. That's why I love Pasta Primavera.
Unlike heavier pasta dishes with red sauce or a meat sauce, Pasta Primavera won't leave you feeling weighed down and stuffed. It's a great way to enjoy pasta without feeling like you need a nap afterwards.
Easy to Prepare
Finally, one of the best things about pasta primavera is that it's easy to prepare. 
All you need are a few simple ingredients and about 30 minutes, and you'll have a delicious and healthy meal that's perfect for any night of the week.

Plus, you can customize the recipe to suit your tastes – add more veggies, swap out the pasta for a gluten-free option, or add some protein like chicken or shrimp.
The only thing that takes a while is preparing all your vegetables, which can be done ahead of cooking time. I always gather all my ingredients first – that's called "mise en place" – everything in its place.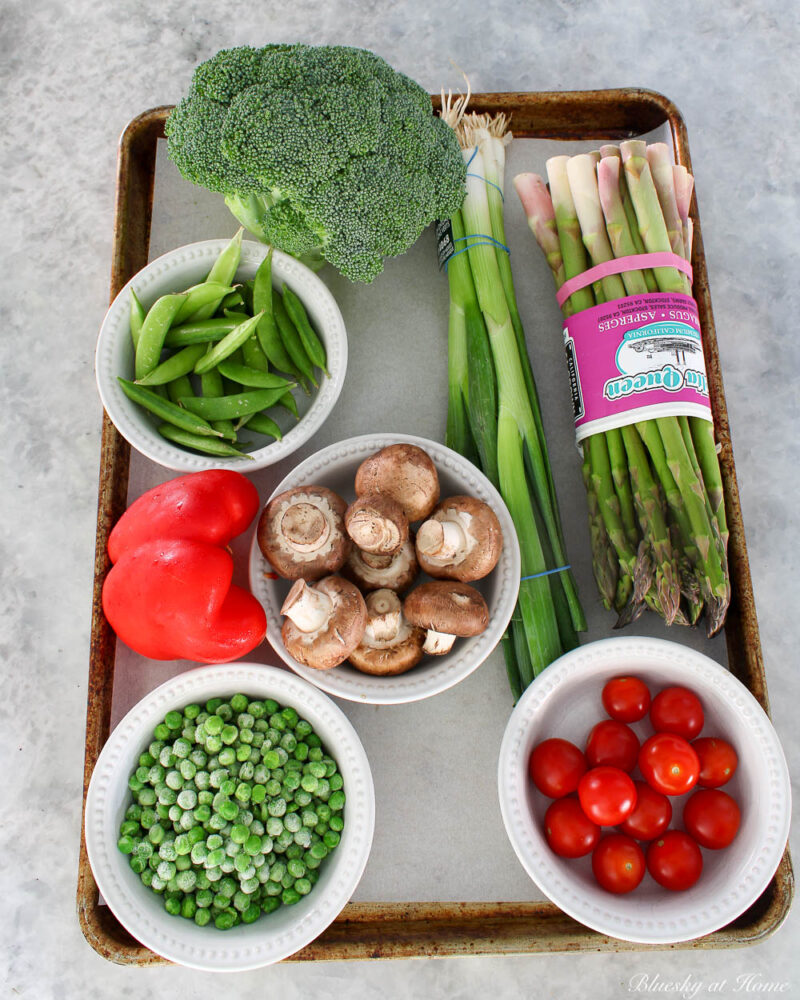 Then you chop, dice, peel, and measure all your vegetables.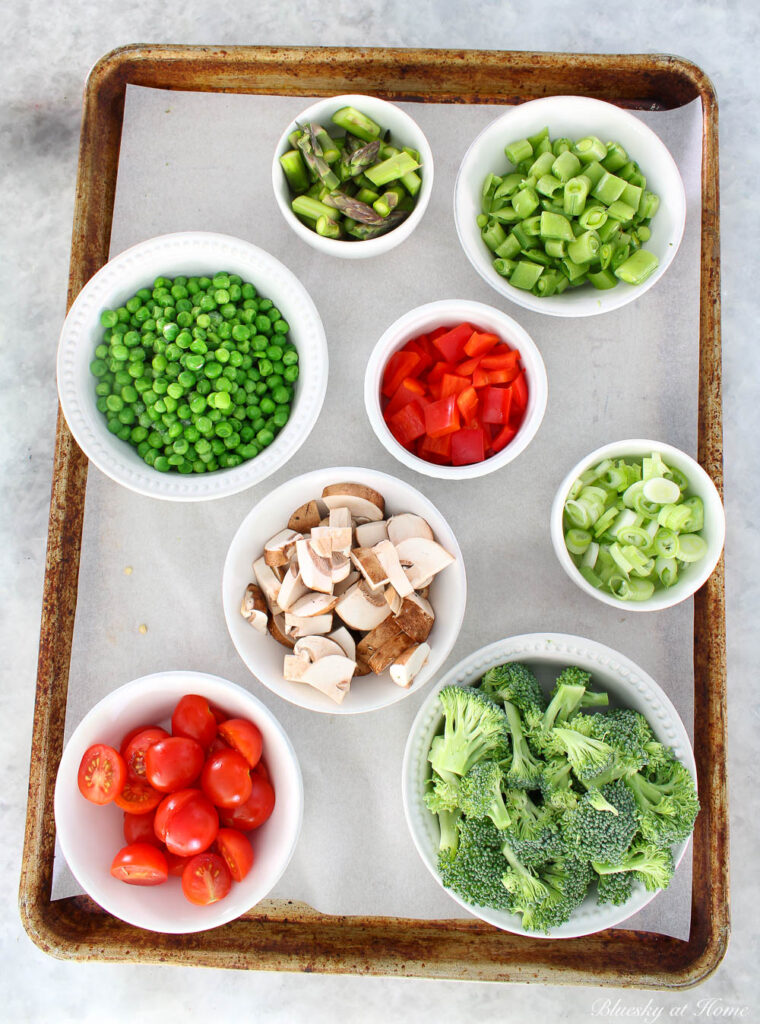 Next, gather your pasta, cheese, and cream.
How to Make Pasta Primavera
I rarely follow a cooking recipe exactly, and this one was no exception. I'll share the recipe, but show you what I did differently.
Step-by-Step Instructions
Making pasta primavera is surprisingly easy, and it doesn't require a lot of time or effort. Here's how I made it:
Gather all your vegetables.
Wash, chop, dice, peel, and measure your vegetables as needed.
I'm a stickler for peeling the tough stalks of asparagus.
3. Measure your heavy cream or half-and-half.
4.Grate your Parmigiano Reggiano cheese. I use a Microplane and put a piece of wax paper or parchment paper under for easy pick up.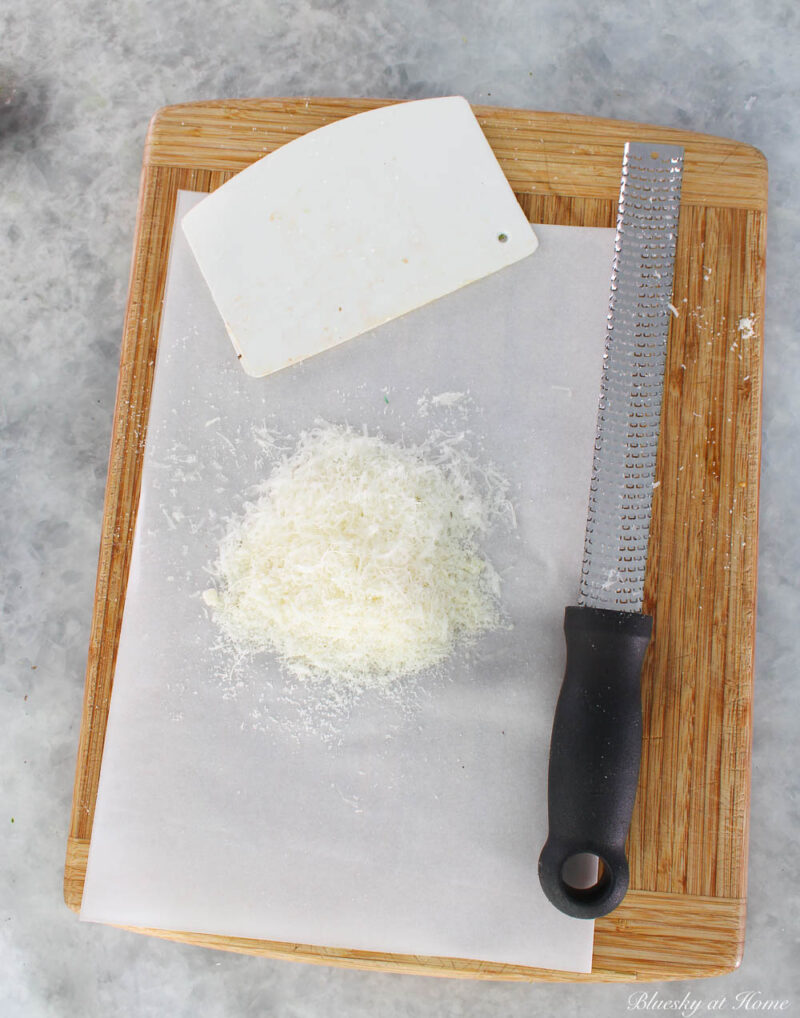 5. Measure or weigh your pasta. Or just eyeball how much you need. This recipe calls for a pound for 4 servings.
6. Bring a large pasta pot to a boil and add plenty of kosher salt.
7. Add the pasta to the boiling water and cook, according to the package instructions. Linguine or fettuccine will take 9 – 10 minutes to cook.
8. While the pasta is cooking, heat the olive oil over medium-high heat in a large skillet.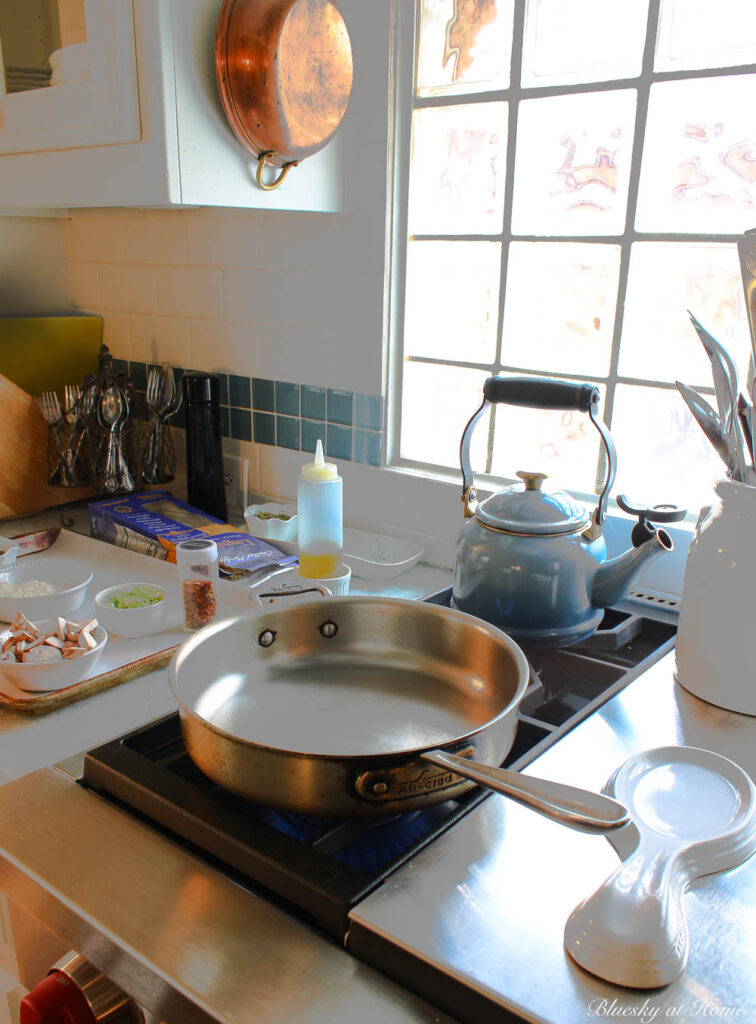 9. Beginning with the mushrooms (cook for about 5 minutes), then the sliced green onions (add a pinch of kosher salt), sauté your vegetables until they are crisp-tender. Stir in a pinch of red pepper flakes.
NOTE: You can add peeled and chopped garlic cloves when you add the green onions, if you like.
10. Then add the broccoli, asparagus, red bell pepper, and sugar snap peas. Stir the vegetables for about 7 minutes, until tender-crisp.

​11. Remove the vegetables to a large bowl and season with salt and pepper.
12. Over low heat, add the heavy whipping cream to the skillet. Don't let it boil. Stir in the grated cheese.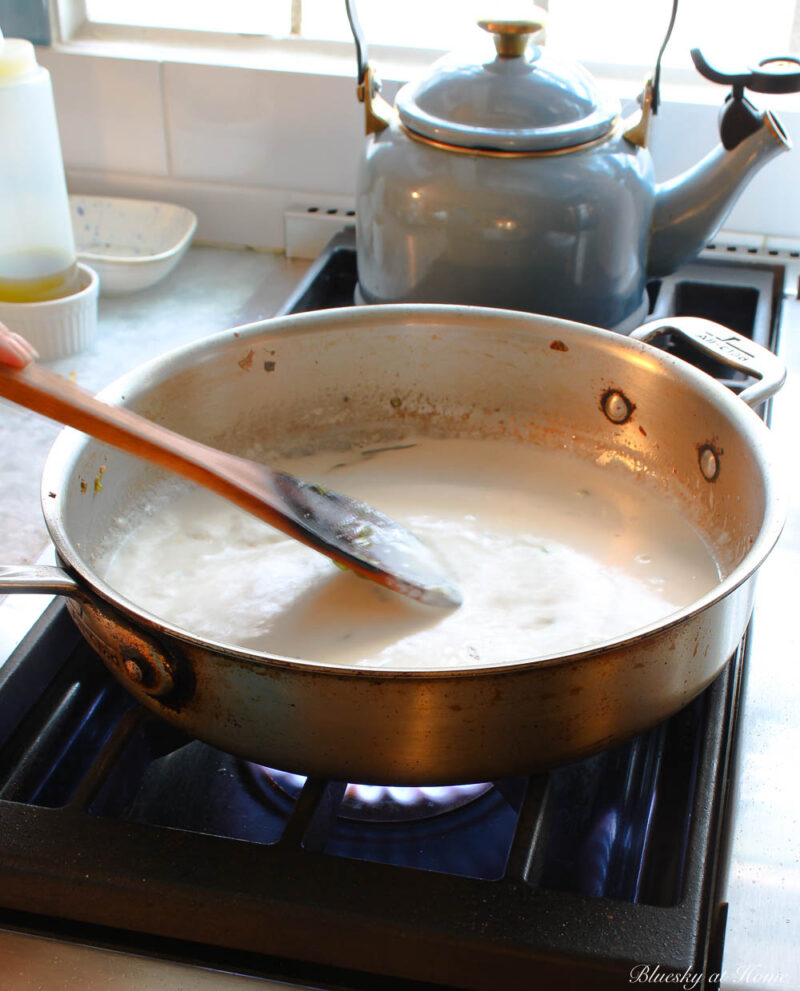 13. Add the halved cherry tomatoes and thawed peas, and stir to combine. 
13. Return all the vegetables to the skillet and stir to combine with the cream sauce.
14. Once the pasta is cooked al dente, drain it and add it to the skillet with the vegetables.
15. Toss everything together until the pasta is coated in the vegetable mixture. Taste the dish for seasoning and add salt and pepper and any other herbs or spices you like, such as fresh basil and oregano.
16. Add about 1/4 cup of pasta water to the skillet to help create a sauce.

17. To serve, divide the Pasta Primavera into serving bowls and garnished with Parmesan cheese and fresh herbs.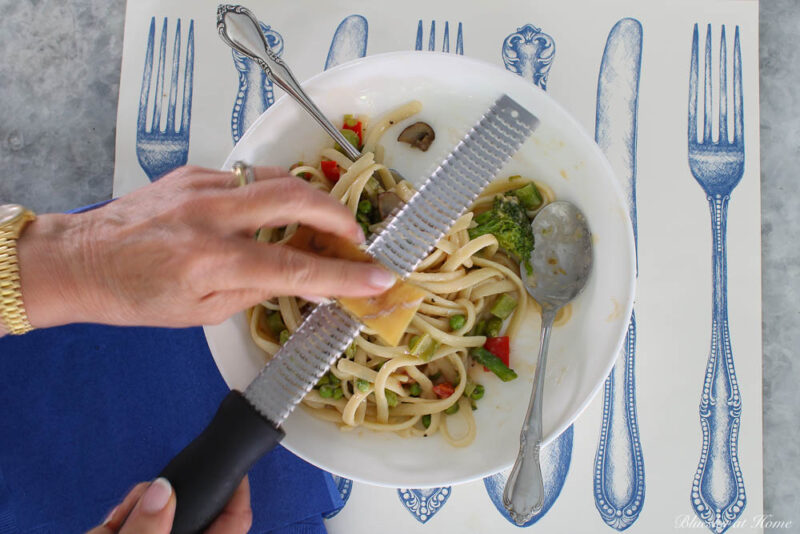 Tips for the Perfect Pasta Primavera
Don't overcook your vegetables. You want them to be tender but still slightly crunchy.
Use fresh herbs and spices for the best flavor. Dried herbs can work in a pinch, but they won't be as flavorful.
Don't be afraid to experiment with different vegetables. As long as they are in season, you can use pretty much anything you like.
Don't forget to taste as you go and adjust the seasoning as needed. Everyone's tastes are different, so feel free to customize this recipe to your liking.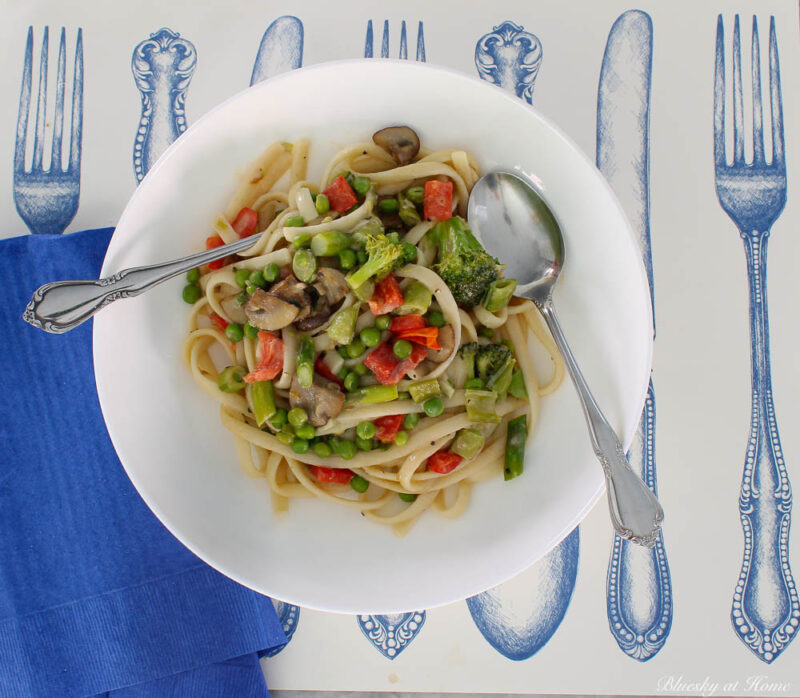 Variations of Pasta Primavera
As someone who loves to experiment in the kitchen, I am always looking for new ways to tweak a dish like Pasta Primavera. Here are some of my favorite variations:
Adding Protein
While pasta primavera is typically a vegetarian dish, adding some protein can make it more filling and satisfying. Grilled chicken or shrimp is a great option. Simply cook the protein separately and add it to the pasta and vegetables at the end.
Other Vegetables
One of the great things about Pasta Primavera is that you can use whatever vegetables are in season or that you have on hand. Some other great options:
Roasted red peppers
Artichoke hearts
Sun-dried tomatoes
Haricot Verts
Not typical, but if you have cauliflower on hand, you might as well try it.
Feel free to get creative and try out different combinations!
Using Different Types of Pasta
While fettuccine or linguine are traditional choices for Pasta Primavera, don't be afraid to mix it up with different shapes and sizes of pasta. Some options to try include:
Penne pasta
Farfalle (bowtie pasta)
Fusilli (corkscrew)
Gemelli (twisted)
Different pasta shapes can also affect the texture and mouthfeel of the dish, so have fun experimenting!
Pasta Primavera Recipe
Here is the original recipe that was the inspiration for this Pasta Primavera.

You'll notice that, except for the mushrooms and the green onions, the vegetables are cooked in the boiling pasta water. I'm not a fan of boiling vegetables, so that's why I chose to saute them – much more flavor and better texture.
The original recipe did not use red bell pepper, but I had half of one on hand, so I included it.
Pasta Primavera
Healthy and easy pasta dish that combines fresh spring and summer vegetables with a light cream sauce. A delicious recipe perfect for a weeknight or company dinner.
Equipment
bowls

for holding prepared vegetables

vegetable peeler

pasta pot

measuring cups

10-inch skillet

wooden cooking spoon

tongs

Mircoplane
Ingredients  
2

tablespoons

olive oil

1

cup

sliced cremini mushrooms

2

spring onions

thinly sliced

pinch

red pepper flakes

1

pound

fettuccine

½

head

broccoli

cut into florets, about 1 cup

1

cup

chopped snap peas or snow peas

4-6

stalks

medium asparagus

stalks lightly peeled, about 1 cup

1

cup

frozen green peas

⅔

cup

heavy whipping cream

½

cup

grated Parmigiano Reggiano Cheese

more for serving

12

large

cherry tomatoes

halved

handful basil leaves

torn, for serving

freshly cracked black pepper
Instructions 
Bring a large pot of salted water to a rolling boil.

In a 10-inch skillet over medium-high heat, heat the olive oil until it shimmers.

Add the mushrooms and a pinch and salt and saute, stirring occasionally, until pale brown, about 5 minutes. Add the spring onions and cook, stirring occasionally, until warmed through, about 1 minute. Stir in the red bell pepper flakes, and remove the pan from the heat.

Add the fettuccine to the boiling water and cook approximately halfway, until malleable but still quite firm, 4 – 5 minutes.

Add the broccoli snap or snow peas, and asparagus to the pasta pot. Cooking until the fettuccine is al dente and the vegetables are bright green and tender, 4 to 6 minutes.

Stir in the frozen peas and let them cook for 20 seconds.

Reserve 1/4 cup of pasta water. Drain the pasta and vegetables, but do not shake them to dry further. Immediately return them back to the pot.

Return the skillet with the mushrooms and spring onions to medium heat.

Stir in the cream, followed by the cheese, letting it melt.

Add the mushroom and cream mixture to the pasta and vegetables, along with the cherry tomatoes and reserved pasta water, and cook, stirring, until the sauce just barely coats everything.

Taste the Pasta Primavera and season with more salt, if desired. Add more cream and cheese, if you like.

Divide among 4 plates or shallow bowls, top with basil and black pepper, and serve.
​Equipment You Need to Make Pasta Primavera
I bet you have all these kitchen tools on hand. Here is my favorite pasta pot. It is a deep pot with an insert for pasta and one for steaming. 
With this pot, you don't have to drain your water and use a colander for the pasta. You use the insert to lift the pasta from the water. If it isn't quite done, you can set it back in the water.
Pasta Primavera is a versatile and delicious dish that can be customized to your liking. Whether you add protein, substitute vegetables, or use a different type of pasta, there are endless possibilities for this classic recipe.
Whether you're looking for a quick weeknight meal or a dish to serve at your next dinner party, Pasta Primavera is sure to be a hit.
I hope you'll PIN this post and make Pasta Primavera. Let me know how much you liked it.