How to Decorate Dollar Tree Candles for Christmas
Do you love using Dollar Tree supplies as the basis for cute Christmas decorations? One of the most popular Dollar Tree items are candles. I'm going to show you how easy it is to decorate Dollar Tree Candles for Christmas.
What can you do with Dollar Tree candles? Lots of things. I've wrapped them with ribbon and burlap. For this Christmas, I decided to decorate them with a Nutcracker theme.
How did I make them look like Nutcracker soldiers? With stencils, ceramic paint, and ribbon.
Then I included them in an easy Christmas vignette. My first of the season.
It's the last DIY Challenge of the year. Thank you to Terrie of Decorate and More with Tip for being our hostess this year. It's been a fun and productive year.
This post contains links to products used in this project that I highly recommend. If you should order any product from this site, I may receive compensation, but you do not pay a penny more.
You can turn these plain white Dollar Tree candles into something special in under an hour.
HOW TO MAKE DOLLAR TREE CANDLE DECORATIONS
SUPPLIES FOR THE NUTCRACKER CANDLES
You don't need too many supplies for this Christmas project:
PREPARING YOUR SUPPLIES
I already had three Dollar Tree candles that I had not used. In fact, I had all the supplies on hand.
First, I recommend making sure that you wipe your candles with a dry paper towel. You want them free of dust or fingerprints.
Cover your work surface with craft or wax paper.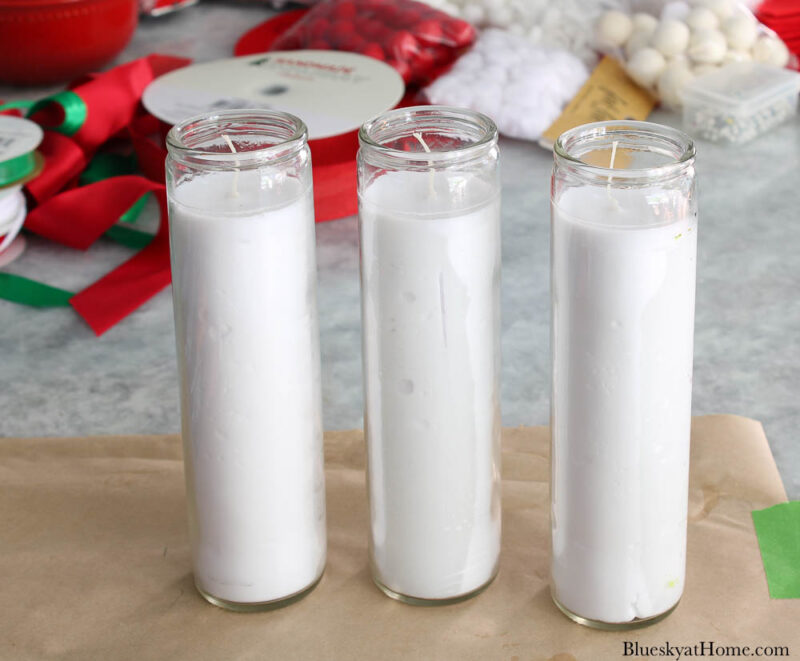 This Nutcracker stencil was the inspiration for this Dollar Tree candle decoration.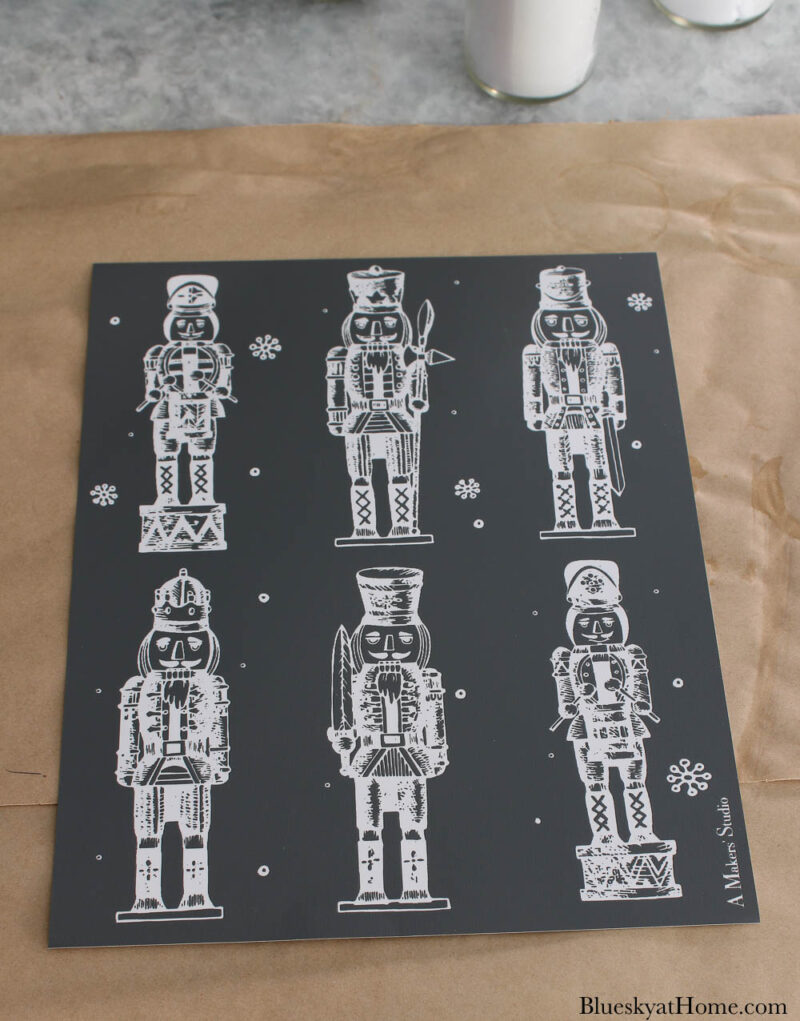 MAKING YOUR DECORATIVE DOLLAR TREE CANDLES
Using your scissors, cut the Nutcracker stencils apart.
Remove each stencil from its paper backing. Place the tri-mesh adhesive stencils on the candles and smooth them down on the glass.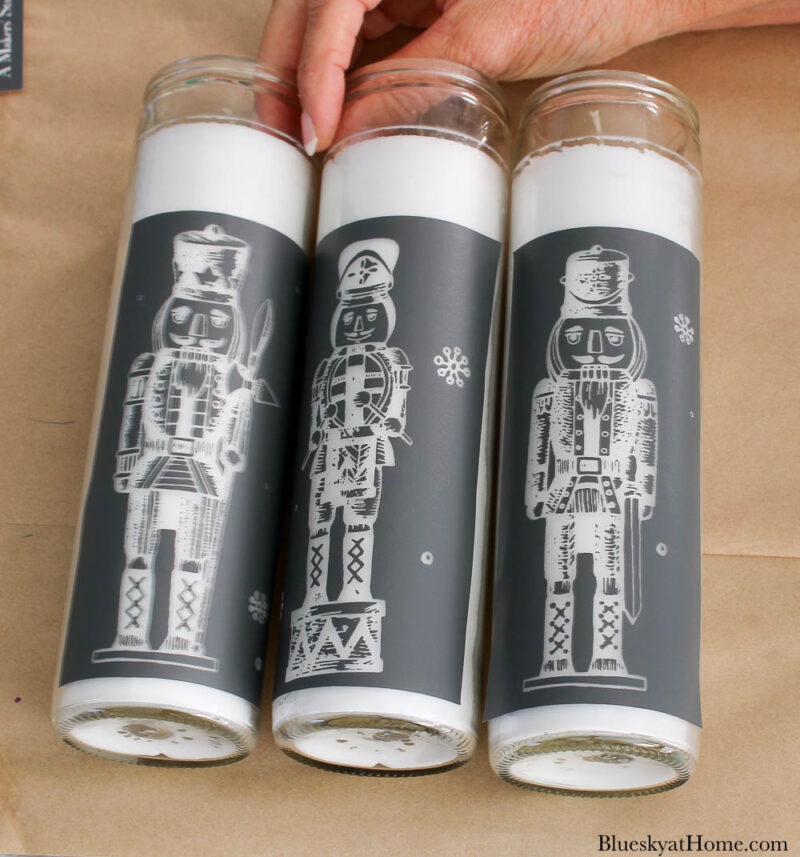 Squeeze a small amount of Ceramic paint onto a piece of cardboard. Use your plastic scraper or rubber scraper to apply the paint to the stencil. It doesn't take much paint to cover the stencil design. Scrape off any excess paint from the stencil.
Carefully pull back the stencil from the candle.
Your Nutcracker design will show on the candle.
I let the Ceramic Paint dry for about 30 minutes.
I put another Nutcracker stencil on the opposite side of the candle.
I let the second Nutcracker stencils dry for 30 minutes.
Wash your stencils in a container of water or under running water. Place them with the adhesive side face up on a paper towel to dry.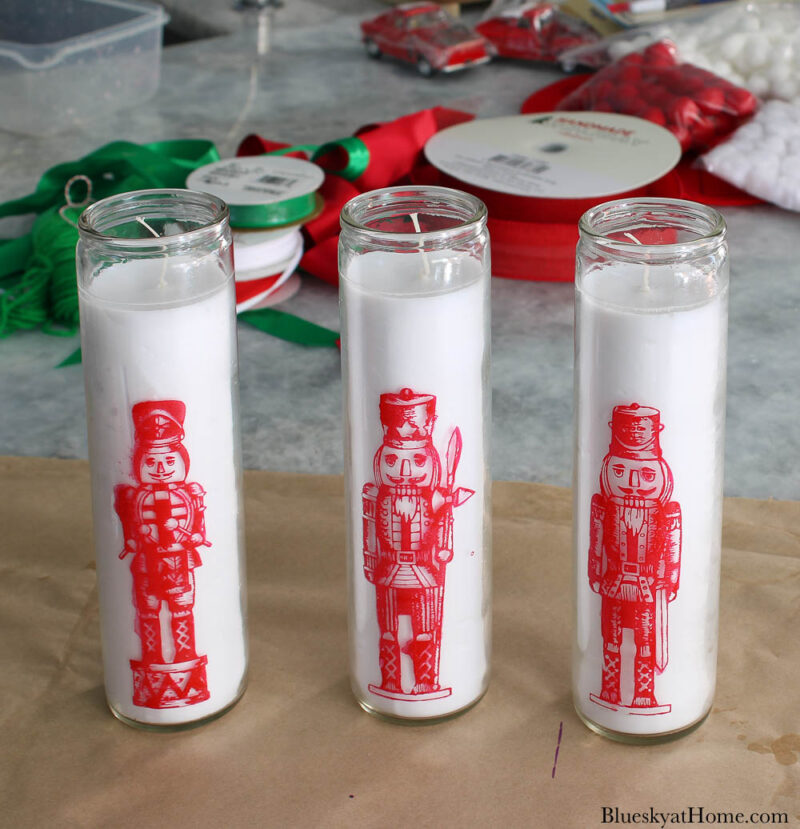 I got so engrossed in creating these Nutcracker Dollar Tree candles that I forgot to take more in~progress photos.
Want more ideas for using stencils to make Christmas decorations? Check these out:
USE YOUR DECORATED DOLLAR TREE CANDLES IN A CHRISTMAS VIGNETTE
First, I tied some green grosgrain ribbon from my ribbon box around the top of each candle and tied a bow. I used green to contrast with the red of the Nutcrackers.
Next, I placed my candles in one of my favorite oval wood trays. Then I added some faux greenery and small red and white faux Christmas balls.
It didn't take much to decorate this vignette. I placed it on the blue and white "chinoiserie" cabinet I made last summer.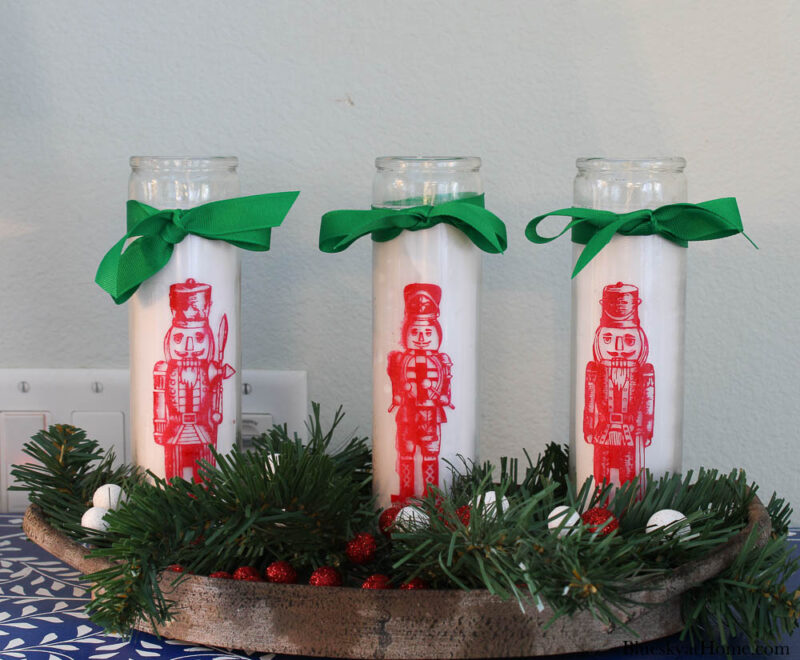 With the candles lit, the Christmas vignette takes on a lovely cast. Nothing like candlelight to brighten the holidays.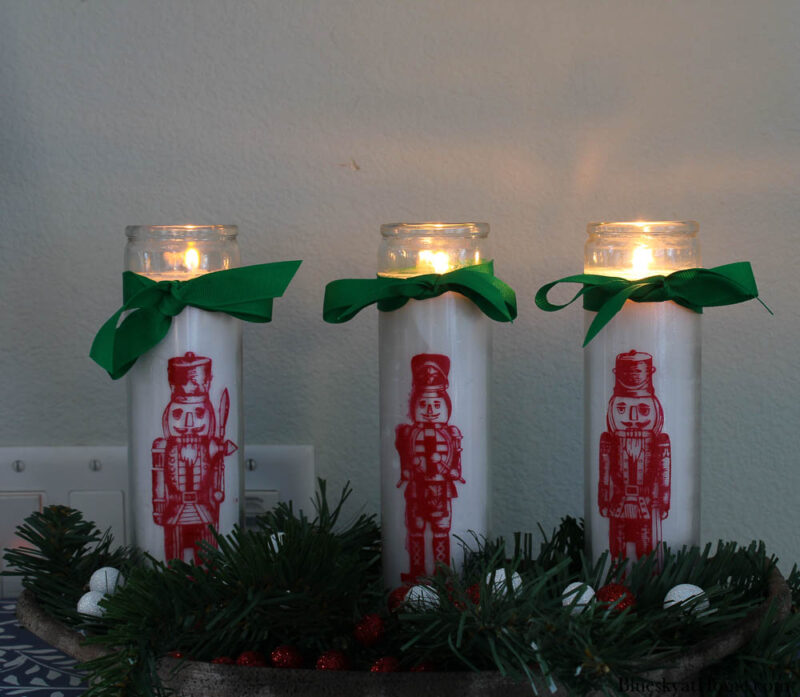 I think this will be a delightful Christmas decoration. I know that the Dollar Tree candles will burn for 50 minutes. Since we will only burn them for 1 ~ 2 hours at a time, they will last throughout the Christmas holidays.
Don't hesitate to make a trip to your local Dollar Tree or order them online. Grab some tall white candles and embellish them for some festive Christmas stencils of your choice.
Now please visit my DIY Challenge friends and see what ideas they are sharing.