Make a Plain Glass Jar into a Pretty Container
One of the main elements of any room decor can be flowers ~ whether fresh or faux. Flowers add color, texture and a sense of well~being in home decor. Like a frame, the container should never take away from the impact of the flowers but enhance them. Sometimes it easiest and least expensive option for a container is a plain glass jar. So I'm going to show you how easy it is to make a plain glass jar into a pretty container.
Flowers aren't the only decorative part of the flower arrangement. Flowers need a pretty container to add interest, color, and even a focal point. Think of a painting and its frame. They go hand in hand.
Our dining room table is a key piece of furniture in any dining room. I recently shared the story and the makeover of our dining room table. This transformation wasn't part of the dining room makeover for the One Room Challenge, but finding the right centerpiece for the table was.
If you remember, my color vision was white trim, barely gray walls with pink and gold accents. After some shopping that didn't deliver on the gold containers I envisioned, I did what all resourceful DIY bloggers do: I found what could be made into the container I wanted. That meant figuring out how to make a plain glass jar into a pretty container that would work.
Make a Plain Glass Jar into a Pretty Container
Every dining room table needs some centerpiece to provide a focal point for the room, a place for the eye to land, and as a place to add color and texture. This goal is fairly easy for the holidays or a special occasion when you have a theme to work with. But the everyday centerpiece, something classic in keeping with the decor of the room is more appropriate.
In the past, I've used my mother's silver coffee and tea service. It's lovely and obviously a special treasure, but leaving it out all the time requires constant polishing. I love polishing the silver service because it brings back wonderful memories of my mom. But every few weeks? Not so much.
And in our newly decorated dining room, my metallic of choice was gold, not silver. Knowing a couple of weeks into the ORC that I wanted a gold~themed centerpiece, I started looking for containers, trays, vases, and such that might work for the table. I brought a couple of items home, but it was hard to envision them on the table until we had finished painting and all the china and silver that until the table was cleared. Then I could see the space more clearly.
Vision for a Pretty Container
I realized that a pretty tray would be a great foundation for the centerpiece. Fortunately, I found just the right tray ~ a long one for our rectangle table at a local design store called Mary Cates and Company. Using some of the vignettes at this store for inspiration, I remembered the brass and glass lantern I already had from Pier 1. Now all I needed were 2 gold containers to fill the space on each side of the lantern (We all know the rule of 3's.) and I wanted short, tall, short on the tray. Now I started shopping for gold containers to hold the faux pink peonies I also had.
Something like this is what I had in mind.
Guess what? No such luck, Too big, too tall, wrong shape; the right gold container wasn't to be found. At Hobby Lobby, I passed by some pretty glass containers with gold "confetti" on them, but they were too tall.
That got me thinking (love when that happens) ~ what if I just made my own gold containers? I had just bought gold spray paint for my gold planter project. What if I did the same for plain glass jars? I found the plain glass jar aisle (It's over by the flowers and wedding supplies.) and immediately spied the exact shape and size I needed. And there were 2 of them.
Changing the Plain Glass Jars into Gold
After painting my ugly pot gold for the new plant in the corner, I started to paint the plain glass jars gold. But then I stopped. These glass jars were a perfect size. What if later I wanted to use them for another purpose? In holiday decor or for seasonal decor? If I painted the glass containers gold, they would stay gold. While thinking about an alternative way to use them, I remembered that I had a roll of gold Cricut vinyl that had never been opened.

Would there be a way to use it as a "just for now" to make the plain glass jars look gold? The centerpiece was the last element of our dining room makeover and I was down to the wire. A decision had to be made ~ and quick.
I unwrapped the package and unrolled the vinyl. Placing it around one of the glass jars, I thought I could adhere it to the outside of the jar.
N0w I thought: if I put the vinyl on the glass jar, would I ever be able to get it off? This vinyl is very sticky, so I was pretty sure it would never come off. The gold vinyl on the outside would be the same was gold spray paint ~ permanent.
But what if I cut the vinyl, left it on the backing and put it inside the glass jar. That was a possibility that would hopefully give me the same look I wanted, but allow me to reuse and redecorate the glass jars. So I measured the height of the jar and the distance around the glass on the outside. I used a paper clip to mark the spot, but you could mark it with a pen.
I pulled out my cutting mat and measured the height and length of the pieces I needed. I used my rotary cutter and ruler to make the cuts. Because the vinyl wants to curl up, I laid it down on my counter and weighed it down the jars and my stapler and tape measure and let it sit for an hour or so.
Assembling My Plain Glass Jars and Vinyl
Once my gold vinyl had loosened up a bit, I placed a piece inside the glass jar. I did have to cut some of the length off ~ about an 1 1/2″. Then I stuffed and arranged my faux peonies inside. Repeat with the second glass jar and I was done. The last step was to place the plain jars turned gold containers on the gold tray with the brass lantern.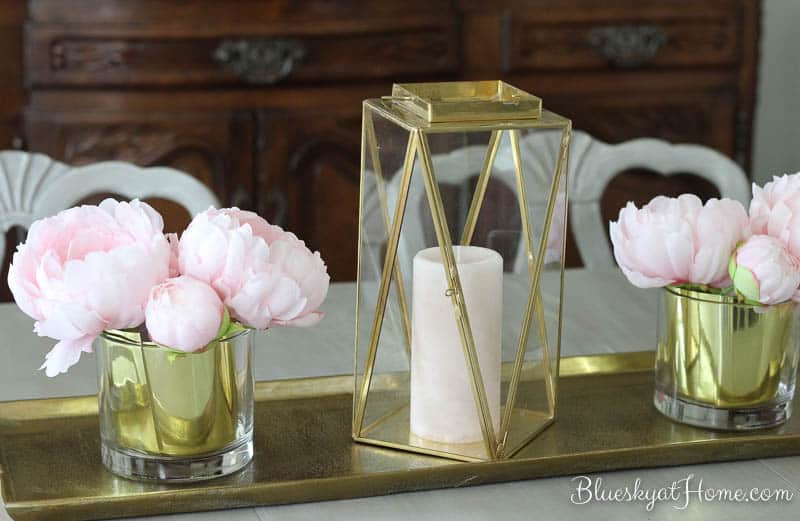 Not bad, I thought. I stepped back several feet from the table and looked real close. Now I knew that the containers were "faux gold", but would someone else? The ORC reveal was only 2 days away so I took my photos and waited for Sweet Shark to come home. When he did, I led him to the dining room and asked him what he thought of the finished makeover. He loved it and his first comment was, "I guess you found some gold containers, after all."
"No", I answered. "They're faux gold."
"What do you mean?", he asked.
"You know, it's the newest thing."
He didn't ask another question and just walked out of the room. He still doesn't know how I made the containers. I think they passed the test.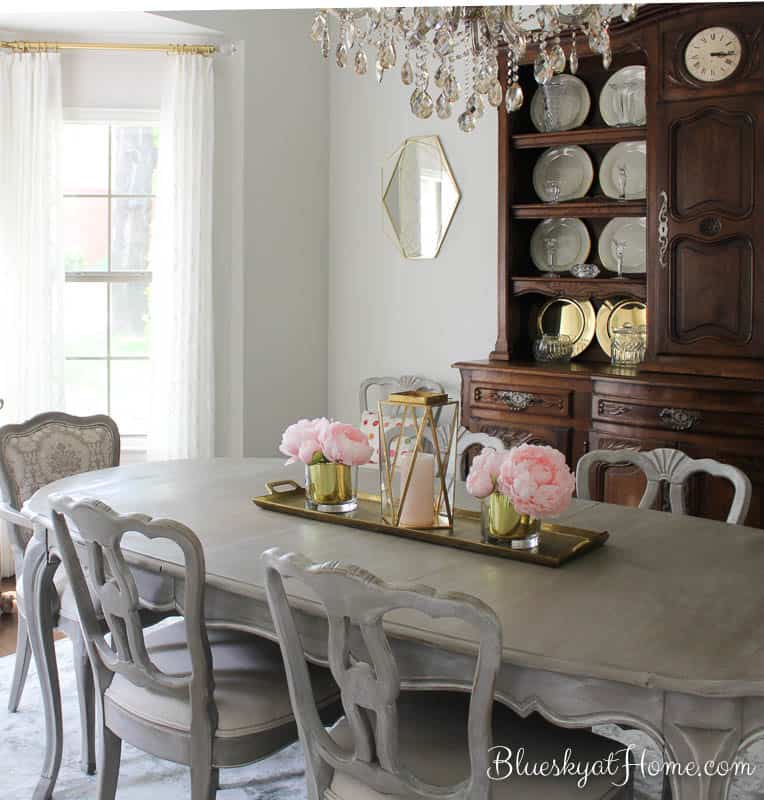 P.S. I did go back and trim them up a bit.
Now, tell me, isn't that the easiest DIY you've ever seen!
I feel like I've discovered a new way to change a plain glass jar into a pretty container, one that is adjustable when you need to create a certain look quickly and inexpensively using faux flowers. I will say that this method will work best with straight~sided jars and ones that are round. One day, I probably will use vinyl again to turn a plain glass jar into a pretty container ~ with the vinyl on the outside of the jar and fresh flowers on the inside.
Will I keep these containers on the dining room table forever? Probably not. I'm still looking for the forever gold pot.