6 Inspiring Ideas for New Bookshelves
Let's be honest. It's only mid~February and I see so many folks already thinking about spring. You might be thinking about flowers in the garden, a new spring wardrobe, organizing your kitchen or new colors for your home. I'm thinking home decor. Yes, that means spring color and pillows and new bedding and maybe a new paint color for our dining room. But what I'm really thinking about are new bookshelves for our living room. Specifically, a bigger, more substantial bookshelf for our living room. I haven't mentioned this to Sweet Shark, so don't tell him. When I start thinking about something new for our house, I start searching for ideas and I found 6 inspiring ideas for new bookshelves ~ ones that will help me decide if I really want to replace what I already have.
What made me start thinking about new bookshelves for the living room when last fall I repainted the ones we already have? First, everyday when I pass our bookshelf in the living room, I think about the things that don't seem quite right. And then, I saw an article in the Wall Street Journal about the trends in using books as decorative accessories and new ways to style book on your bookshelves ( I'll share that later.). My decorating hamster wheel started spinning and after a thorough search through Pinterest, I ended up finding 6 inspiring ideas for new bookshelves. I'd love to know what you think about these ideas.
6 Inspiring Ideas for New Bookshelves
First, here is our bookcase/bookshelf (Will someone tell me the difference between a bookcase and a bookshelf?) just after I painted it last fall, with its new paint color in Amy Howard Bauhaus Buff. Since then, it's seen fall, Thanksgiving and Christmas. And now it's just it's regular old self.
Considerations for a New Bookshelf
So, why am I ready to break up with this bookshelf and find a new one? For a few reasons.
It's not wide enough for our wall. The wall in the living room ~ our only wall, actually ~ is over 12 1/2 feet wide. The ceiling is almost 20 feet high, so the wall can handle a big bookshelf ~ it NEEDS a big bookshelf to fill the space. Of the 12 feet+ wide wall, 2 feet is where you pass into our kitchen, so that leaves a good 10 feet + of wall space.
Our current bookshelf is 4 feet, 2 inches wide, which leaves over 6 feet of wall space on each side. Although we have a large print and a planter on each side, the bookshelf still feels a little skimpy.
The actual shelves are 4 feet wide. You may not be able to tell from the photo, but they are starting to sag in the middle.
The wood embellishment that I used at the top of the bookshelf is more French motif than I would like now. I think I want a simpler, straighter molding.
We just need more display space for books, decorative items and picture frames. Another 2 feet per shelf would be helpful.
I think beause of the size of the wall, the bookshelf needs a heftier feel. Bigger moldings?
Would a cabinet style at the bottom of the bookshelf give us more storage space instead of display space?
Bookshelf Wants
There are lots of possibilities for a new bookshelf, but here are a few "for certains".
There are no backs to our current bookshelf and I think backs would give the bookshelf a cleaner, more built~in look.
A finished width of 6 feet
A finished height of at least 8 feet
Adjustable shelves
Shelves that are not as long (4 feet)
White finish
Divided bookshelf sections
6 Bookshelf Ideas
Here are the 6 inspiring bookshelf ideas I found. They have similarities but differences to consider. It's not so much about the styling and arrangements on the bookshelves, but the design of the bookshelves that I am focusing on right now.
I love this painted~backed bookshelf from Kate at Centsational Girl. Kate was my mentor group leader at Haven last summer and she is so talented. I actually thought about painting the back or using the grasscloth in a soft blue~green~neutral left over from some of our built~in bookshelves in the living room and kitchen. Her shelves fill full, but not cluttered and I love how the white accessories pop again the white wall paper on the back wall of the bookshelf. I love the heavy moldings at the top and bottom of the bookshelves. They seem in proportion to the bookshelves.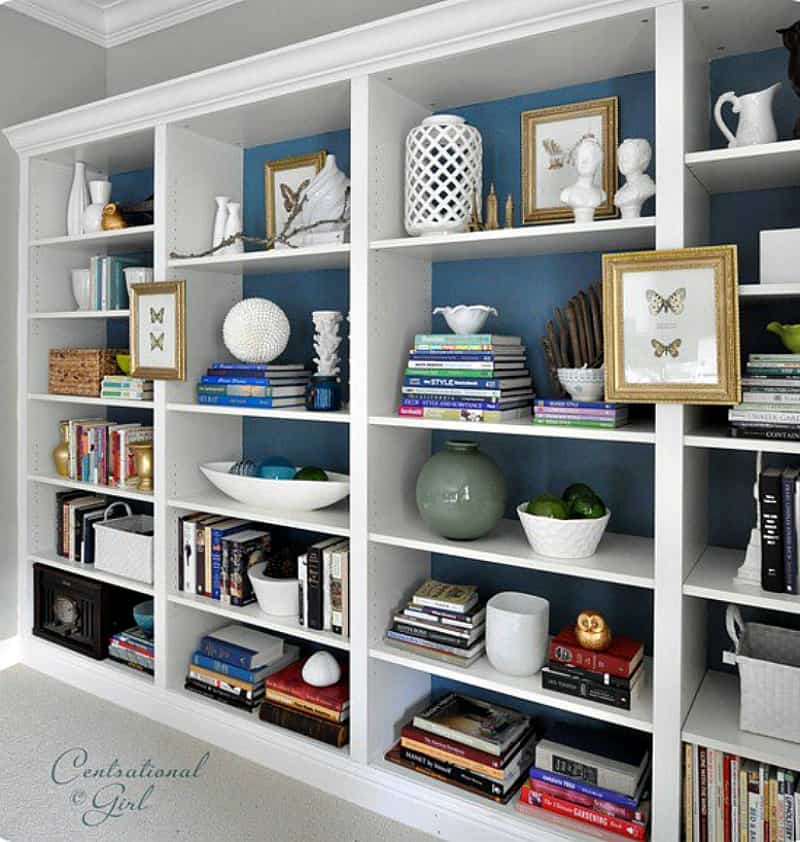 I know so many people use Ikea as the basis of their bookshelves and I think that is a great idea from a cost and finish standpoint. There are no added moldings top and bottom and it looks like 2 wide shelves on the outside and narrow one on the inside. I love the clean look, but I think I need more weight on the moldings and that a wide bookshelf in the center with narrow ones on the outside would look better in our space.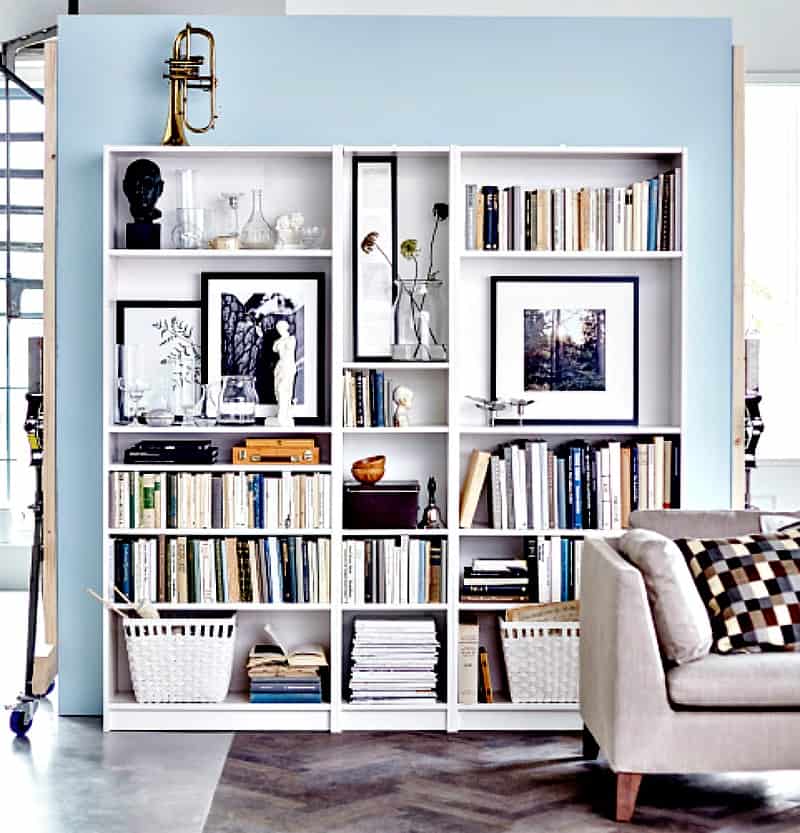 Instead of moldings on the top of the bookshelf, this design from Lily Pad Cottage used a metal runner at the top for a library ladder. I love the idea of a library ladder and I think our space could handle the extra embellishment, but I wonder how a runner at the top would work in our setting.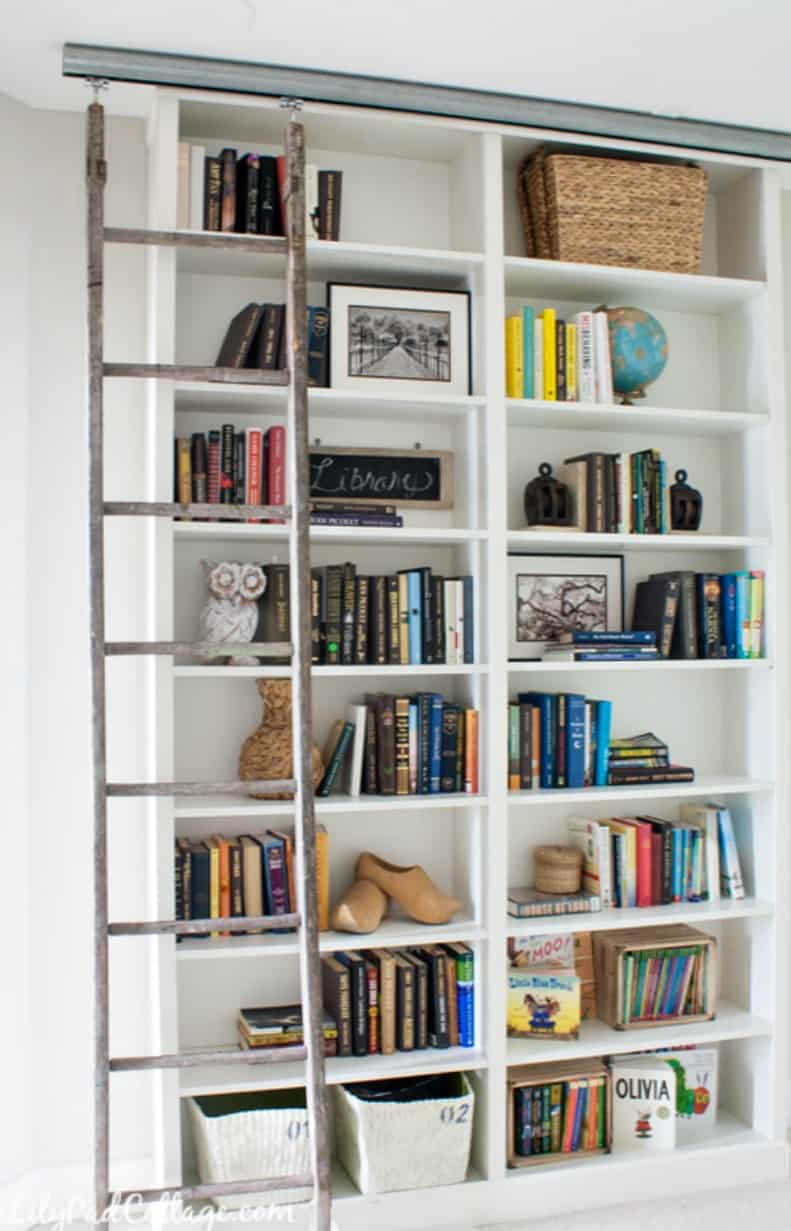 This is one massive wall bookshelf wall. It's hard to determine the actual width and height, but the impact is obvious. We could definitely fill that space with books, but the decorative elements (picture frames, accessories, art) are non~existent. I do love the straightforward simplicity of having just books and the symmetrical placement of the shelves. Everything is lined up and neat.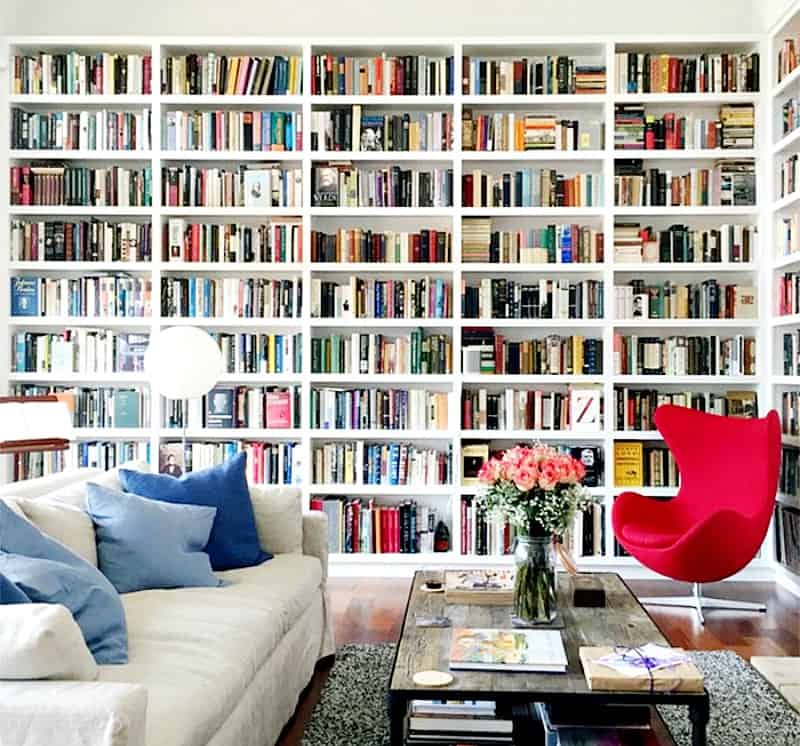 I wonder if a lower section with cabinet doors would give us additional "behind closed doors" storage. The area in between the lower cabinets and the upper open shelving would add some more counter space for additional display. I like the thicker depth of the shelves also.
I loved this bookshelf possibility for 2 reasons. First, the use of a library ladder, but this time with a wall bracket and rod on the front of a false front above the bookshelf. I love the contrast of the dark metal against the white painted wood. I also really like the addition of the fluted molding on the front of the bookshelves. It's a great way to hide the separation between the individual bookshelves. Since we already have fluted columns in other areas of our home, this would tie in with the existing trim.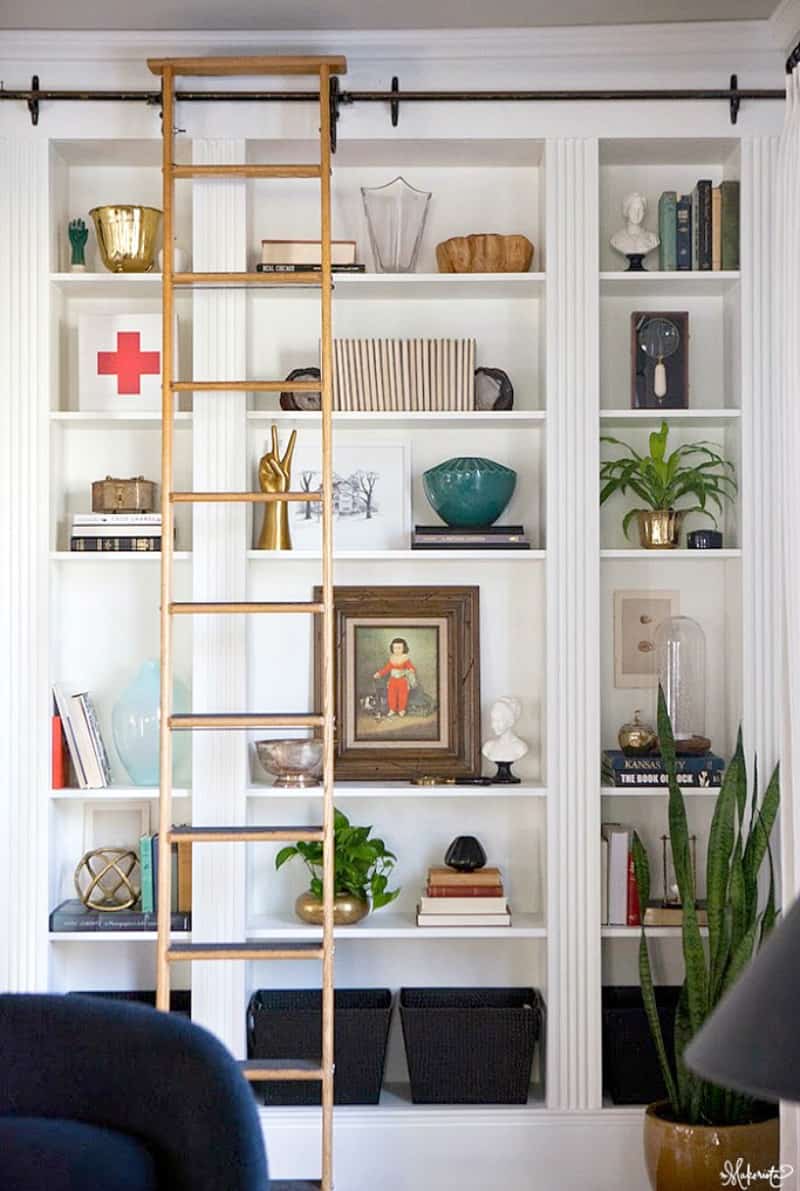 These 6 inspiring ideas for new bookshelves have me in bookshelf overload. It would be hard to choose just one that would offer the right style, scale and design for our bookshelf space. Maybe a combination of elements from each one ~ as long as a cohesive result is reached. First I have to convince Sweet Shark that this project is really necessary. I think it is, but we'll see. Which style do you like the best? Which elements do you like most? Help is needed.
I'm excited to announce my FEBRUARY 2018 GIVEAWAY. I just received my copy of KariAnne Wood's new book, The DIY Home Planner. It's a fabulous resource of DIY ideas and tips and it's a place to crete your projects. I want one lucky winner to have it. And I have one more copy of her first book, So Close to Amazing to sweeten the pot. It's a 2~for~1, so be sure to sign up to win. Click the IMAGE below to enter.
If you are a blogger who wants to learn about creating videos, I'm attending Food Blogger Pro's FREE One-Day Recipe Video Bootcamp on Thursday, February 22! I can't wait to learn how to shoot videos. Lindsay of Pinch of Yum and the Food Blogger Pro team will be teaching the classes. If you are interested, Sign up to attend here.