13 Beautiful White Living Room Ideas
Have you ever just known that your home decor needed an update? I've reached that moment. I really, really want more white in our living room. First, I needed inspiration. I found 13 beautiful white living room ideas to get me started on this update.
I do indeed love white. It's crisp, clean, fresh, and lends itself to any decor style.

It can be modern or traditional, farmhouse or southern, chic or classic. White never goes out of style.
Think of white jeans, a crisp white blouse or a soft cotton tee. A pretty white sundress or a soft white sweater.
These things never go out of style. They are timeless.
But, as you know, white isn't just white: there are a million shades of white.
And, you may ask, why the living room? Well, because it's the main room of our homes. For me, it's also the room that I like least. I want it to be the room I love best.
A new color palette, one that is adaptable and timeless, seems like one way to give our living room a new look. Hence, my search on Google and Pinterest revealed these 13 beautiful white living room ideas.
13 Beautiful Ideas to Use in a White Living Room
This is my initial search for white living room ideas. In the coming weeks, I'm sure I'll narrow down my likes to pinpoint exactly what I want our living room to look like.
In future posts, I'll share the issues I have with our living room and how I plan to address them.
With these issues in mind, I was ready to do a little research into white living room decor ideas that I could use in our living room.
WHITE LIVING ROOM IDEAS
My goal in researching new white living room ideas was not to find the perfect solution. It was to find pretty rooms where white was used to create a lovely atmosphere.
I am hoping to find ways to incorporate white into our living room while maintaining warmth and a comfortable, traditional vibe.
Although I'm sharing 13 white home living room ideas, I probably scrolled through hundreds of images and visited several dozen websites. These are the ideas that really attracted my attention.
These 13 beautiful white living room ideas are in no particular order. They just struck me as pretty and doable. You will see that they have similar characteristics.
WHAT WAS I LOOKING FOR?
what accessories to use with white
how are shades of white used together?
what materials and textures are used? wood, metal, fabric
what materials or colors were used with white
what wall and trim colors were used
I didn't necessarily love everything in each of these white living room examples.
But there was at least one thing that I really loved and thought about incorporating in our living room. I'll tell you what that one thing was for each room.
And don't forget: white isn't just white. It can be cool or warm. It can be oatmeal, wheat, flax, camel, mushroom, creams, and taupes.
FARMHOUSE TOUCHES
This very farmhouse living room is from Heather of Beauty for Ashes. Our home and our living are very traditional, even slightly formal. I do love farmhouse style, but only in small doses for our home.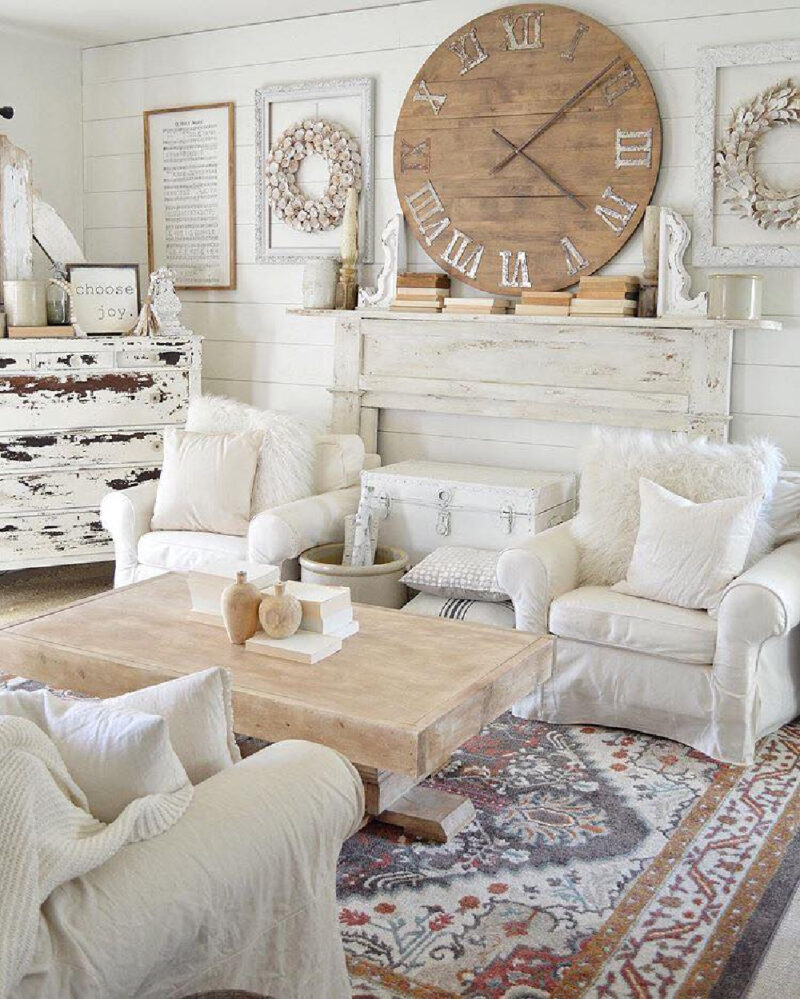 WHAT DO I LOVE IN THIS ROOM?
comfy white linen (?) chairs
shades of white
natural wood in the coffee table
symetry of the wall
natural accessories: books, corbels, frames, and the amazing clock
NATURAL ACCESSORIES
This living room with the pretty ottoman and accessories is from Lucy of Craftyberry Bush.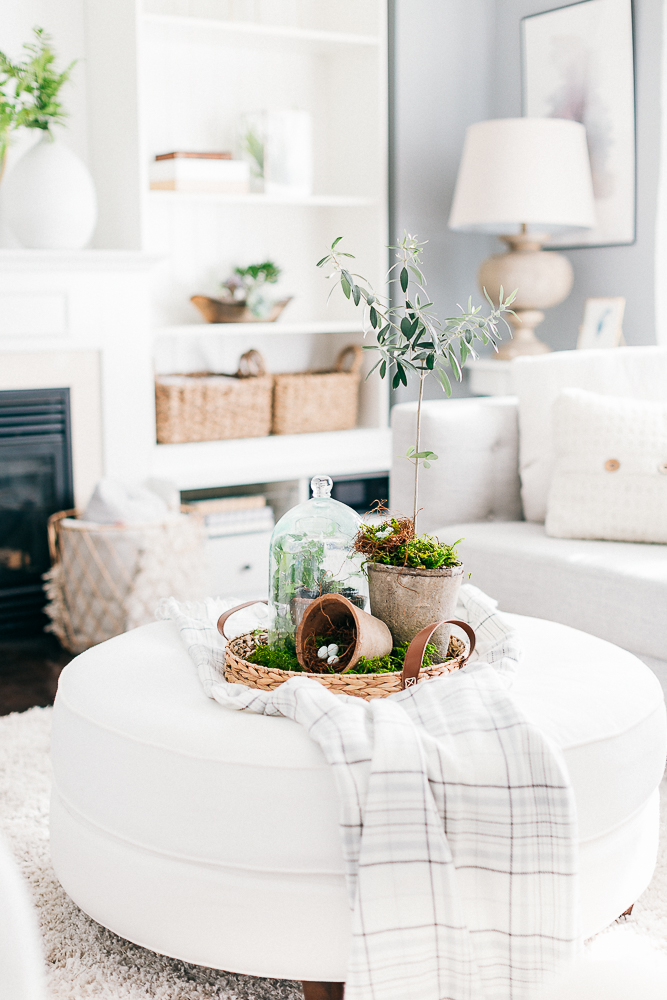 WHAT DO I LOVE IN THIS ROOM?
white sofa
woven basket with natural clay pots and moss (all of which I already have) on the white ottoman
woven baskets on the shelf
pops of green in plants
natural finish of the lamp and the wood buttons on the throw pillow
WHITE AND PASTELS
Like Summer of Summer Adams, I love pinks and it's such a pretty color to mix with white.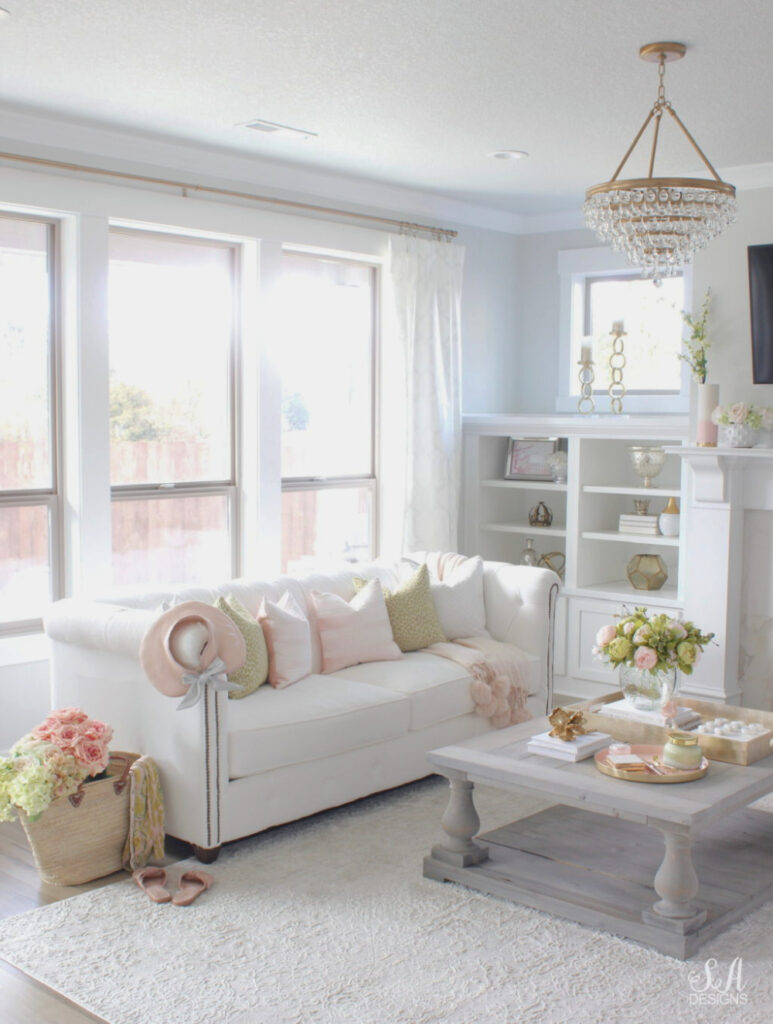 WHAT DO I LOVE ABOUT THIS ROOM?
pastel pillows
pastel flowers
spare arrangement on the bookshelf
mix of formal lighting with the casual woven basket ( I have a similar one.)
large picture window ~ like ours
TRADITIONAL AND CASUAL
This living room from Zvey Joy had several elements that spoke to me.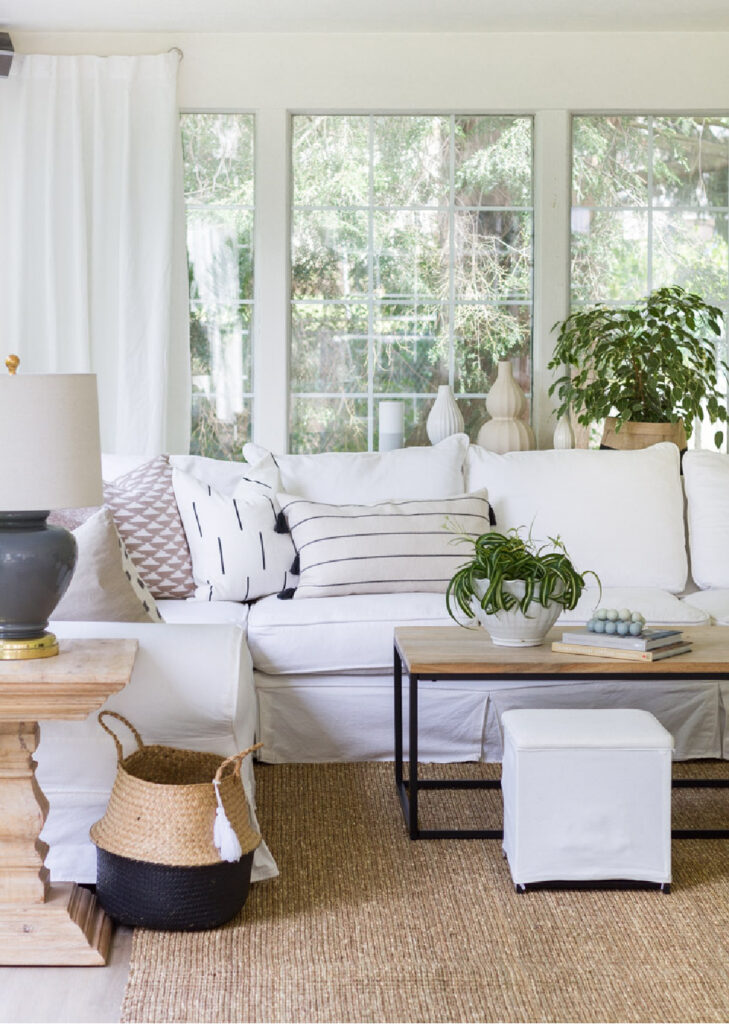 WHAT DO I LOVE ABOUT THIS ROOM?
love, love this sofa. It looks like it has a sectional end which is something I've considered in a new sofa.
sofa in front of a large picture window like ours
it appears that there is a sofa table behind the sofa, also like we have
green plants
woven basket
wood and metal coffee table and the wood side table
OH, THAT BERGERE CHAIR!
Sheila of Maison de Cinq provides a great example of a Bergere chair.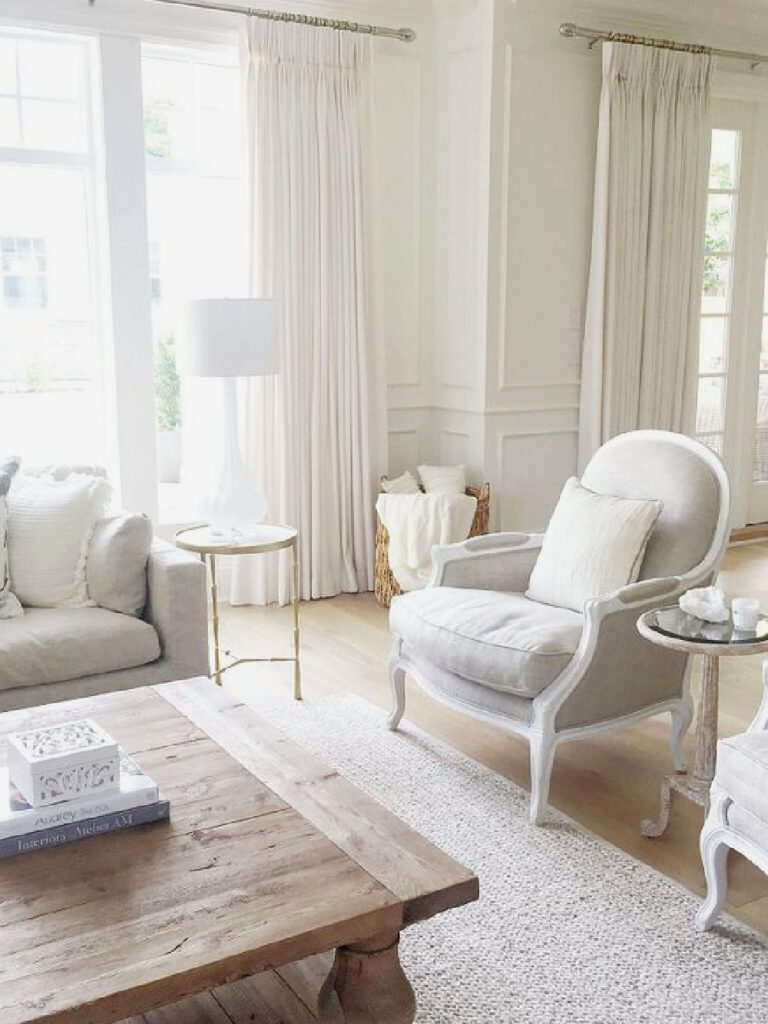 WHAT DO I LOVE ABOUT THIS ROOM?
of course, the Bergere chair. We have two that I want to refinish and reupholster.
arms on the white sofa
mix of finshes on the tables: natural woods, glass and metal
mix of styles in the tables to soften the formality of the room
STONEGABLE BLOG
I've always loved any room from Yvonne of Stonegable.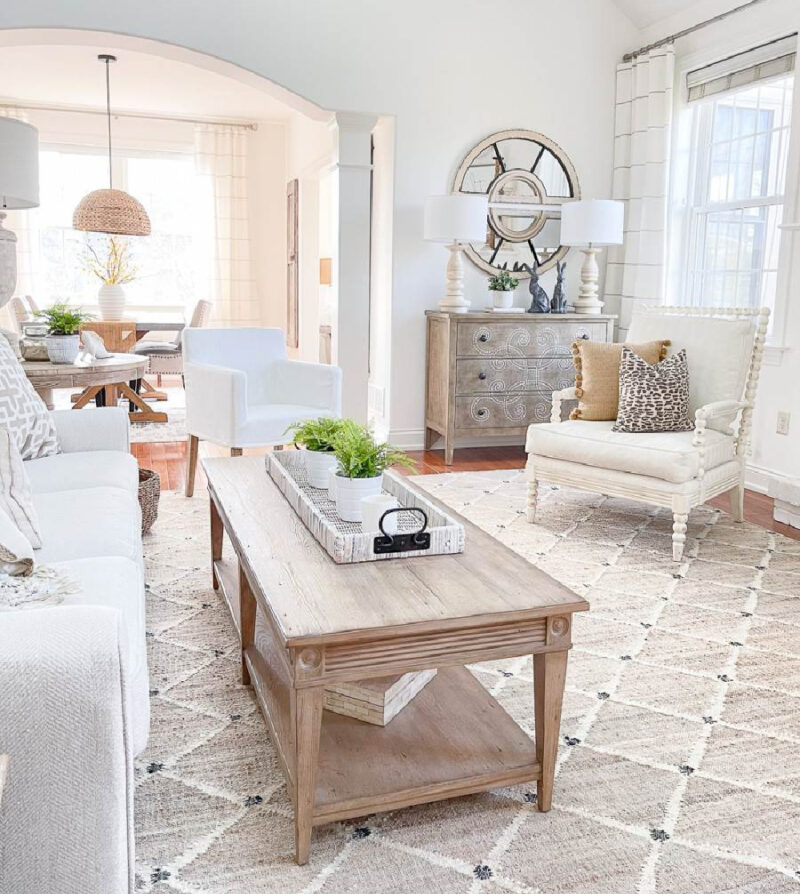 WHAT DO I LOVE ABOUT THIS ROOM?
shades of white used: white~white, taupe, oatmeal
mix of textures
mix of patterns in the pillows
natural wood in the chest, lamps, and mirror
long white basket
texture and pattern of the rug
pops of green
POPS OF BRIGHT COLOR
Christina of RemodelandaCasa definitely isn't afraid to use color with white.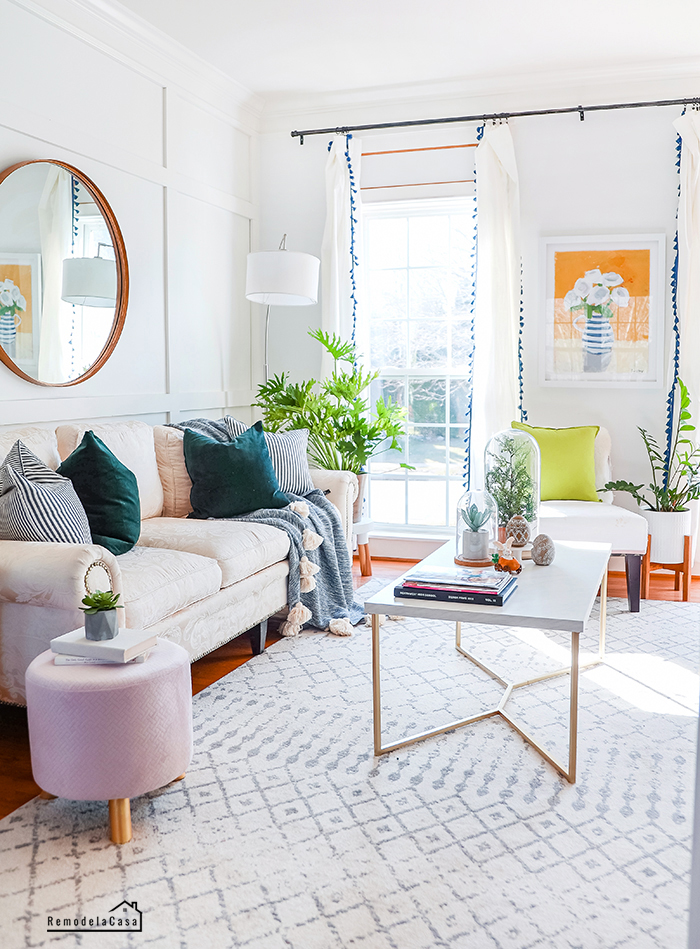 WHAT DO I LOVE ABOUT THIS ROOM?
the bright white walls
the board and batten accent wall
the bright pops of color in the art and pillows
the trim on the drapes
the large round mirror
green plants
metal and stone (?) coffee table
the small pink ottoman
METALLIC STYLE
This room by Kinsey of Kinsey Walsh uses great accessories.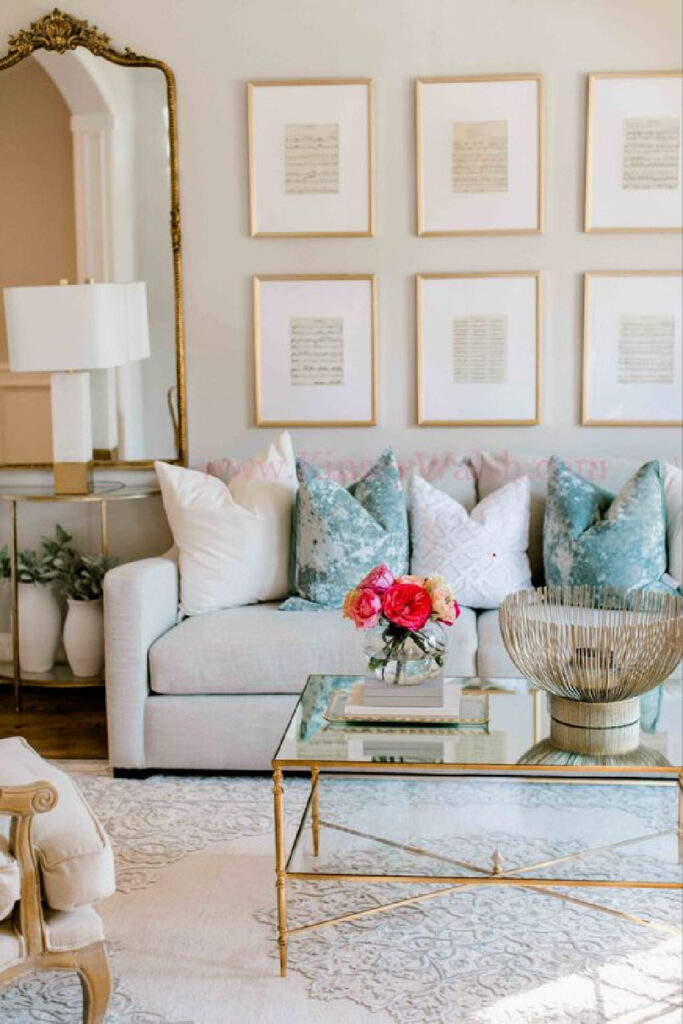 WHAT DO I LOVE ABOUT THIS ROOM?
style of the sofa
white fabric on Bergere chair
glass and metal coffee table (similar to ours)
gallery wall with gold frames and whtie mattes
white lamps and vases
CITRINE LIVING
I have featured Tamara of Citrine Living before because she is so good at mixing blue and white.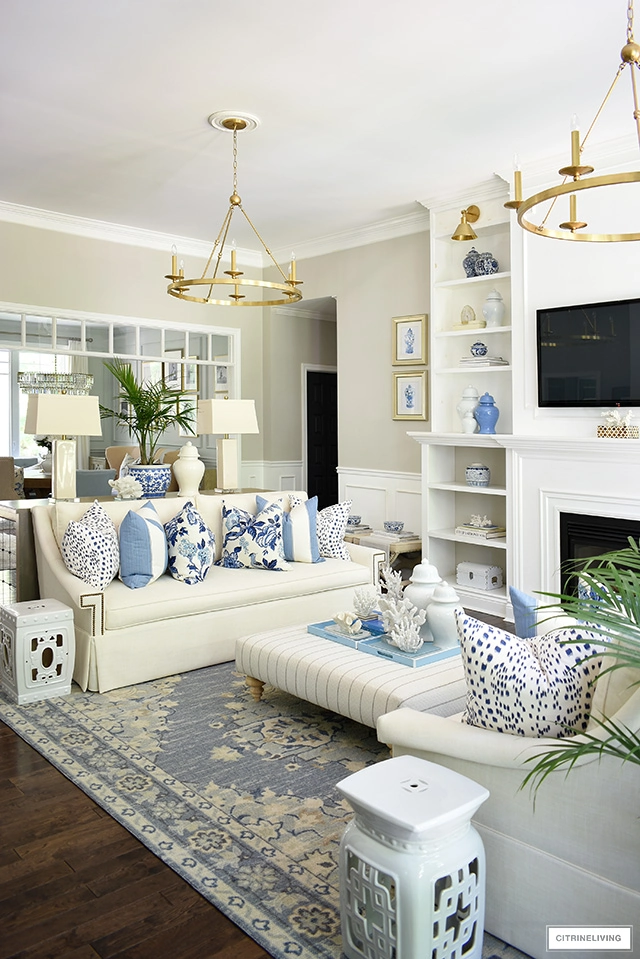 WHAT DO I LOVE ABOUT THIS ROOM?
classic style
beautiful use of blue accessories
use of gold/brass in the light fixtures and picture frames
white accessories: vases, garden stools, lamps
white paneled fireplace ~ similar to ours
white wainscotting
RANDI GARRETT DESIGN
Randi of Randi Garrett Design is one of my favorite designers and this room is gorgeous.
WHAT DO I LOVE ABOUT THIS ROOM?
lots of natural light
the white sofas
big picture window
symetrical arrangement
use of metallic gold
MINIMAL STYLE
Hanan of Halfway Wholeistic created a simple arrangement of furniture in shades of white.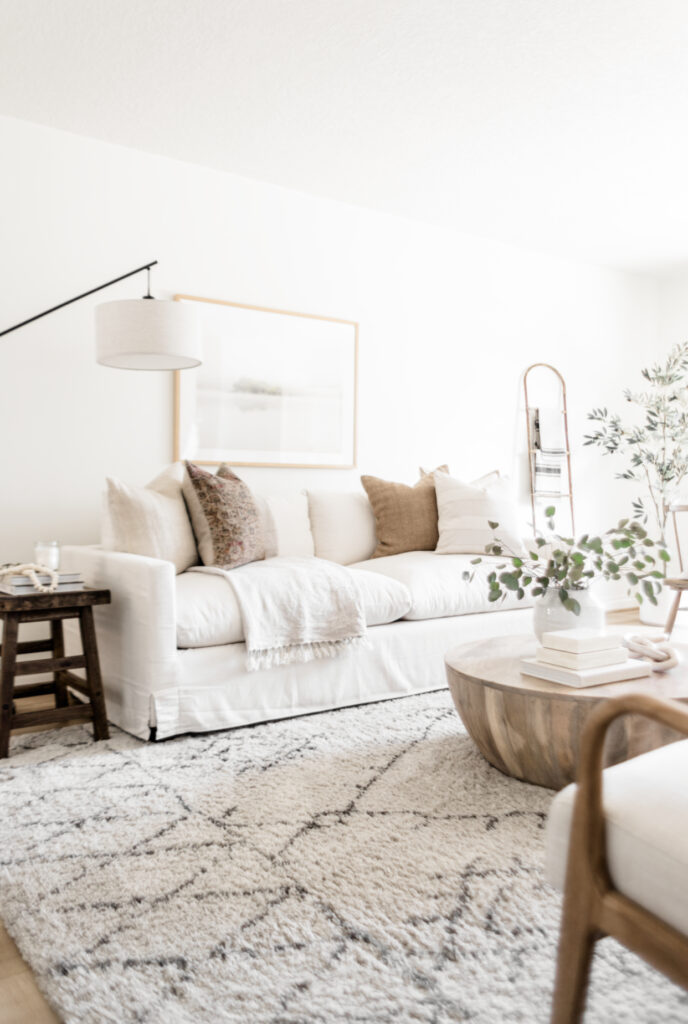 WHAT DO I LOVE ABOUT THIS ROOM?
the fabric and style of the sofa
the wood coffee table
mix of woods in the chair and table
the leafy plant
COZY SITTING AREA
Now granted, this scene is a small snippet of a living area and I certainly don't have a red barn in my backyard. Liz Marie has created such a cozy spot.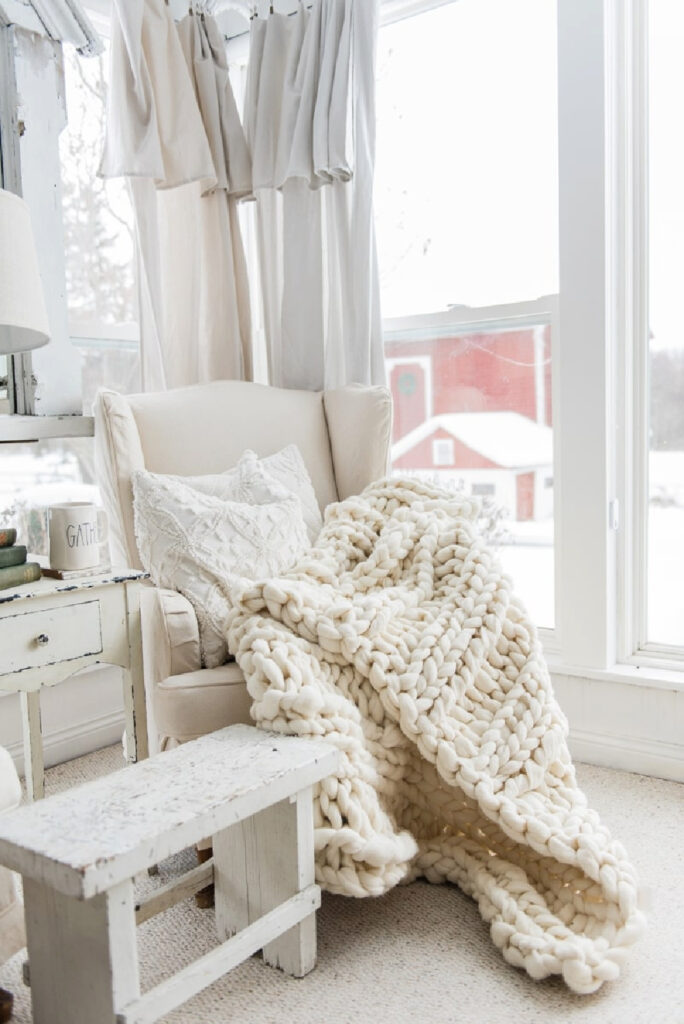 WHAT DO I LOVE ABOUT THIS ROOM?
the cream chunky throw
the comfy chair
the small cozy sitting area
the shades of white
different wood textures
different fabric textures
FARMHOUSE LIVING
Shelby of Farmhouse Living has created a light and airy white living room with farmhouse accents.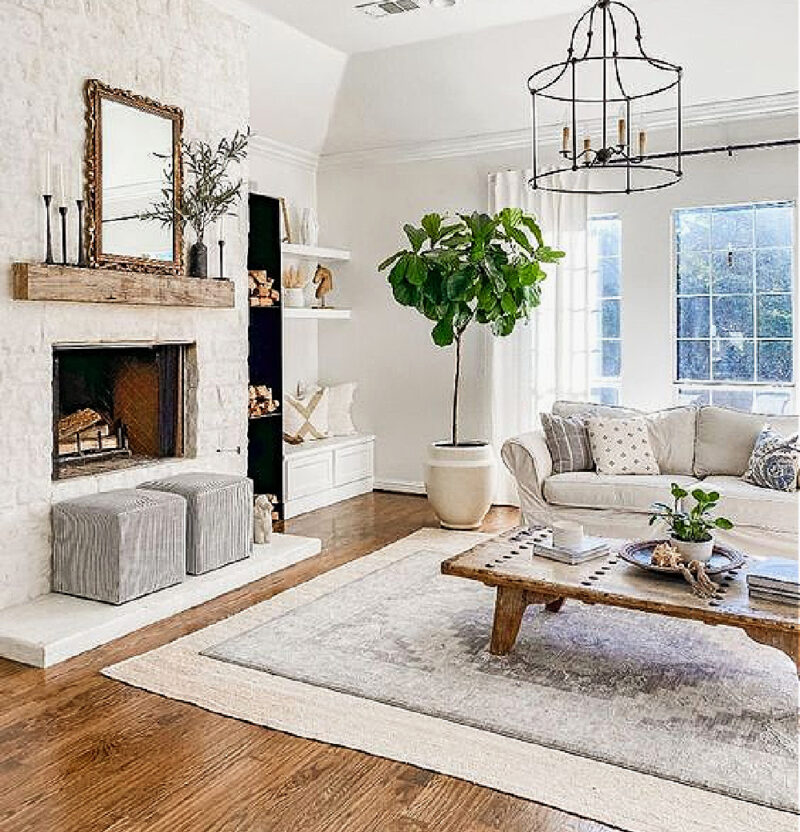 WHAT DO I LOVE ABOUT THIS ROOM?
white stone fireplace
natural wood mantel
layered rugs
large picture window with white sofa in front of it
accessories on the shelves
big green plant
wood coffee table
ottomans on the hearth
WHAT ELEMENTS WERE USED WITH WHITE?
What were my favorite white living room elements?
by far, white sofa and white chairs
lots of natural woods ~ tables, lamps, accessories, decorative items
glass and metal ~ especially gold and brass tones
woven baskets
mulitple shades of white
white accessories: lamps, vases, pillows, throws, decorative items
green plants
What are you favorite white home decor elements? And, what rooms did you like? I would love to know so please leave me your opinion in the comments.
As we go forward with plans for our living room, I'll focus on these elements. To save these and more white living room ideas (and ideas using white in other rooms), I created a new Pinterest Board White Home Decor Ideas. I hope you'll visit it.
I'll be adding this post to the Board and I hope that you'll PIN IT, too.