Our Kitchen Tour ~ Part 2
Our Kitchen Tour ~ Part 2
I hope you had a chance to visit our Kitchen tour yesterday.  If not, you probably want to see it here.  I know a kitchen, or any room for that matter, has to have walls, floors, ceilings, windows, the structure that we live in.  But I truly believe that it's the little things, the decorative accessories, art, memorabilia, the treasures that we gather and have stories to tell that make a house a home.  It's the details that make any space unique and I certainly have tried to find special pieces to make our kitchen our own. Most of the time, I wasn't even looking ~ these treasures just found me.  So in this episode of our Kitchen Tour ~ part 2 ~ I want to share with you my very favorite accessories in the kitchen.
My Favorite Things in our Kitchen ~ The Hard Stuff
I read that hardware is the jewelry in your home.  I found our chrome door knobs at Restoration Hardware.  I was able to buy them at 20% during a charity drive in Dallas that benefits a women's shelter.  I bought them in November right as we started the remodel so I guessed at the number.  I did have to purchase a few more when the cabinet plan was finalized, but I still saved a bunch.
I love the Gilmore pulls from Restoration Hardware.
One thing people always comment on is our granite.  It's very light, white with grey running through and bits of silver and blue.  It looks gorgeous at night ~ kind of sparkles.
Faucets are another piece of "jewelry" in the kitchen. Because our kitchen is completely open to the family room, I needed a low profile faucet. This one from Grohe switches back and forth between a spray and a blast of water and the nozzle pulls out. It's not as traditional as I would have liked, but its efficiency makes up for that. The water filter is on the right and the button in the center is for the garbage disposal. I like that it's hardly visible.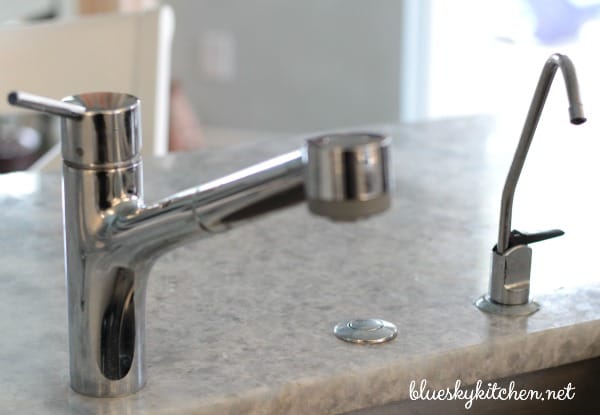 The button on the left is the sink drain.  I push it down and never have to put my hands in dirty dish water.
Kitchen Lighting
Lighting is really important in a kitchen for efficiency, but also as a decorative accent. We have three pendant lights over the island.  I think these are beautiful, but I can't claim credit ~ my decorator found these. Our overhead spot lighting and my under cabinet lighting are all LED.
Bar Stools
We needed 4 bar stools, counter height, and this was one of the hardest things to find on my list.  Finally, I found these Vintner stools at Crate and Barrel.  I had one shipped to see how I liked it. After it passed the test (comfort, looks and size), I ordered 3 more.  The cushions were custom made with the blue, yellow and green palette in mind.
The Decorative Touches
Let's start with the cabinets to the left of the cook top and work our way around the kitchen.
I found these fruit motif plates at an antique mall on sale for about $24 for the set.  Had to have them.  The French vintage coffee pot I ordered online from French Vintage
On the counter I keep these ceramic pieces that Sweet Shark and I bought in Florence, Italy, in 2006.  We spent 2 1/2 weeks in Tuscany, 1 week at a cooking school in the town of Greive-in-Chianti.  It was a magical trip.
I found this glass and wire caddy a few years ago at one of my favorite stores, Ballard and Blakely.  It was in my daughters' bathroom at our old house and I filled it with flowers when they came home to visit.  When I unpacked it, I decided it would be perfect for our everyday forks and spoons.  I love anything with a French flair.
On the griddle of our cooktop I keep my whisks, wooden spoons, tongs, and spatulas in this ceramic crock from Le Creuset.  I love the color called Fennel, which unfortunately has been discontinued. I love Le Creuset products and have quite a collection of cookware and bakeware. I know it's expensive, but it will last forever and it's also very pretty.  Le Creuset is dear to my heart.  The folks at our local Le Creuset store graciously let me use their kitchen for classes during the year that we were in an apartment.
Also on the cook top is my Caribbean Blue tea kettle from Le Creuset. Great for heating water to make iced tea, simple syrup or a cup of hot tea.
This cabinet to the right of the cooktop and vent holds many of my favorite things.  More fruit plates, from a different antique mall.  They are two sizes, but that din't matter, I loved the colors. The white bowl in the center is Le Creuset.  The blue tray was part of a set of 5 pieces that I bought at a flea market for $5.  The glass pitcher is from Nice, France.  My older daughter bought it for me when she visited a friend in Nice when she was in 7th grade.  Obviously, it's very special.
I found this ceramic set of mixing bowls in perfect condition at a flea market for $8.  The colors were one of my inspiration pieces for the color scheme in the kitchen.
At the same flea market I found this Williams-Sonoma "animal crackers" bowl for $6.  Too cute to pass up and I love the yellow color.
This Fiesta pitcher and glasses were another antique mall find.  One glass is missing, but that's O.K.  I love to serve lemonade or margaritas in them.
On the countertop sits these cute jars from Anthropology.  I love the colors, and the chalk board labels.  They really do have salt, sugar and Herbs de Provence in them.
I use cake stands to display this collection of cute bowls.  The polka-dot ones I found in McKinney, Texas, a shopping mecca for our area.  Great shops and restaurants on the old town square.  The lidded pots are Le Creuset Cocottes, small Dutch ovens for individual pot pies, casseroles, or soup. The pastel bowls are from Pottery Barn.  I went in the store intending to buy just 4, but couldn't resist the pastel colors.  We use them for ice cream. Don't they remind you of an old-fashioned ice cream parlor?
On the cabinet next to the cake stand is this really unique French grocery list I found ~ guess where? ~ the antique mall.  It wasn't expensive and I just had to have another Frenchy touch.  Last fall when Sweet Shark and I were in Aix~en~Provence, it became even more special.
In the niche above the refrigerator is our confit pots. We bought them years ago in New Orleans at one of our favorite shops, Antiques de Provence (623 Royal Street). I like this spot for them, seen, but out of the reach of grandkids. If drop in the store, tell Cindy I sent you.
On the counter across the kitchen is my collection of mason jars.  every one has come from an antique mall, a flea market or garage sale.  Most average around $18.  I especially love the blue ones.
On the floor is one of our very favorite things: our custom made rug from Louisiana Loom Works in New Orleans.  For years we have stopped in the workshop owned by Rhonda Rose and admired her beautiful rugs and hoped one day to have her make one for us.  Our first visit to New Orleans after we moved in the house (We go there every year after Christmas.), we stopped in and started picking out thread colors and talking about patterns and sizes.  I sent Ronda pictures of our kitchen and in April of 2014, our beautiful rug arrived.  You can wash it, but you have to take it to a Laundromat.  The rug really grounds the kitchen and gives the large area a focal point.
And the last thing I have to show you is our dough bowl, also from Antiques de Provence in New Orleans.  We use it for potatoes, onions, shallots.  I've never used it to let dough rise.
We've made a big circle of the kitchen and I think I've shown you all my favorite things.  This has been a fun stroll down memory lane for me, savoring each item, thinking about where I got it, and the story behind it.  I hope you find treasures here and there, useful and beautiful bits and pieces for your home. This kind of discovery, to me, is so much more fun and more meaningful that walking in a store and picking out brand-new sofas or chairs or tables.  Yes, they may be pretty, but there's no history, no story.  But wherever your things come from, make them your own ~ your home will thank you. And thank you for sharing this tour with me.