How to Reinvent a Lamp with Paint and Fabric
Do you love lamps? Me, too. Not just for the practicality of providing light, but for their value as a decorative item.  Lamps add warmth, color, and texture for any decor. This little project was one of my first lamp projects. Let me show you how to reinvent a lamp with paint and fabric.
You can find old lamps at garage sales, estate sales, and flea markets. As long as they are in good working order ~ be sure to test them ~ any lamp can be transformed to fit your or home style with paint, fabric, and trim. I especially love fabric~covered lampshades, which add so much color and personality to any decor.
Next time you are shopping at any resale opportunity, don't forget to watch out for lamps. Don't look for what they are, but what they could be. Knowing how to reinvent a lamp with paint and fabric will give you many design possibilities.
How to Reinvent a Lamp with Paint and Fabric
One June at a garage sale, I came across these 2 wooden lamp stands. In case you are wondering, I did check that they worked first!
Nothing special, but at $7.50 each, I couldn't pass up the possibilities.  And, isn't that what we DIY lovers love ~ the possibility of transforming something plain into something really pretty or useful?
I needed a small accent lamp for my "new" living room bookcase (You can read about the bookcase here.), so I decided to re-do the smaller of the two lampstands.
Step 1
First I taped off the cord and the light kit with Frog Tape.
Step 2
I used Annie Sloan Old White Chalk Paint all over the lampstand.  Instead of brushing on the paint, I dapped it on, which produced an effect that looked a bit like stone.  I really like it.
 Step 3
I went back on the "edges"  with ASCP in Paris Grey, but I thought it looked too cutesy, so I dapped over the whole lamp base instead, letting the Old White show through  Much better.
Step 4 ~ Adding Fabric
The next step was the lampshade.  I found a simple white shade at Wal-Mart ~ the simpler, the better. For fabric-covered shades, an overall pattern is best.  A pattern with stripes will look out of sorts when cut to fit the shade or a pattern that is too big will get lost on a small shade.  I prefer not to use a solid most of the time; it's the pattern that makes the shade distinctive.
Because this shade was not self-sticking, I used a general spray adhesive. I recommend that you buy the repositional type; it makes life so much easier. Now I know that I should do this project outside, but it was so darn hot that wasn't going to happen.  So I covered my kitchen island with my paint drop cloth and packing paper. And I was really careful where I pointed the adhesive spray because it does get really sticky.
I cheated a little on this project.
Instead of creating a pattern for the fabric, I lined up a vertical edge and started rolling the fabric around the shade, smoothing  and lightly pulling the fabric as I went.  It was really very easy.
When I finished going around the shade, I cut off the excess fabric, leaving a 1/2-inch allowance on the top and bottom and on the last vertical side, which I turned under to cover the first vertical raw edge.  Then I lightly sprayed on the inside edges of the shade, turning and pressing the fabric over the top and bottom edges.
Clips work well to hold the fabric in place. I found this fabric at Joann.  The grey color on the white background had contrast and movement and the scale of the pattern was just right for the size of the shade.
I let the shade sit for about an hour and then carefully removed the clips.
Step 5 ~ Adding Trim
Now I was ready for the trim.  I also found the trim at Joann and again the colors and the scale were a perfect match for the fabric and the shade.  Trim is the finishing touch, the detail that adds so much personality to the shade. I used fabric glue to adhere the trim.
Here is another shade I did for one of our guest rooms; the pewter wall sconces were in our master bedroom at our last house.  I thought they would look great in the new "adult" guest room with new shades.
I love the trim on this shade.  It was in a guest room at our last house.  On the bottom of the shade, I layered one trim with braid over the first trim for a more dramatic look.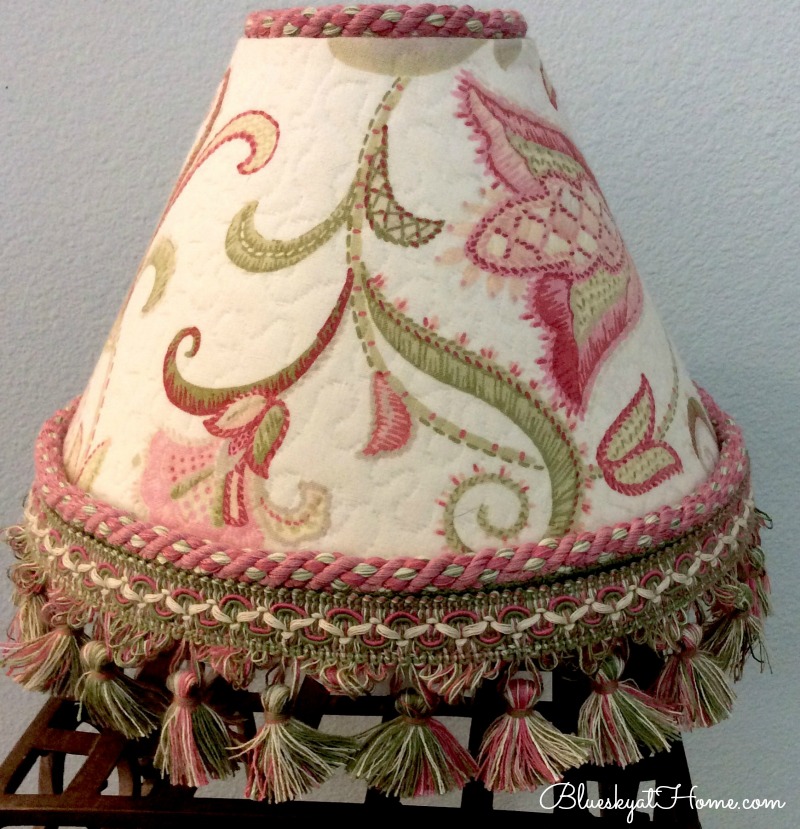 Here's the finished project; it's just the right size and the fabric gives a focal point to that area of the bookcase.  At night, it creates a pretty ambiance in the room.
If you can find Self-Adhesive Decorative Lamp Shades, that is the easiest way to go.  No messy spray adhesive and they come with a paper template for cutting out your fabric.  The Joann where I shop used to offer a large selection of shapes and sizes; they no longer carry the shades in store, but they do have them online.  I found a few at Hobby Lobby this week and snatched them up even though I don't have a project for them yet.
That's my DIY project to share for this week.  I started in the afternoon and by evening, my new lamp was in its place, the new star on the bookcase.  The moral of the story: if you see a lamp you like, but the color is wrong, paint it, add fabric and trim to a new shade and you'll have a wonderful new accessory for your home.
Here's another lampshade project that I made for our winter master bedroom.
Please PIN this post for future reference. I hope that you'll reinvent a lamp with fabric and paint. It's fun and affordable.