Fried Green Tomatoes with Polenta and Avocado Cream Sauce
Are you back to see how my fried green tomato dish comes together? I hope so because it is soooo good.
Tuesday I shared How to Make Fried Green Tomatoes.
Wednesday I shared a Yummy Avocado Cream Sauce.
Today, just in time for weekend dining and entertaining, I'm showing you how to bring it all together.
Southern Classic: Fried Green Tomatoes with Polenta and Avocado Cream Sauce
As I mentioned earlier, I like to serve fried green tomatoes on something and grits/polenta is one of my favorites. A few weeks ago I shared with my newsletter subscribers, my favorite grits recipe.
Remember these versions from our trips to Savannah and Charleston?
Here's one from The Olde Pink House in Savannah
Fried Green Tomatoes on Grits with Bacon and Pickled Onions
And this one from 82 Queen in Charleston.
Fried Green Tomatoes on Grits with Pimento Cheese and Tomato Jam, She~Crab Soup
And the best breakfast grits I've ever had from Another Broken Egg in Charleston.
City Grits with Smoked Gouda, Roasted Garlic and Onion, Topped with Bacon, Diced Tomatoes and Sliced Green Onion.
Now here is another version.
Making Polenta
Heat your milk or water or a combination of the 2 in a saucepan until very hot. Don't let it boil. Drizzle your polenta through your fingers into the liquid and start whisking. Turn the heat down to low.
Whisk until most of the liquid is absorbed. You can now start using a large spoon or rubber spatula to stir the polenta continuously so it doesn't stick or scorch the pan. This step will take about 10 ~ 15 minutes. Don't let the polenta get too thick. It should be creamy and smooth. You can add a bit more liquid if necessary. Keep the heat on the lowest setting.
When the polenta is done, spoon about 1 cup onto a plate. Top with 1 or 2 slices of fried green tomato. Top the slices with a large dollop of the Avocado Cream Sauce. If you like, garnish with finely chopped cilantro or as I did here, our homegrown little cherry tomatoes and basil from our herb garden.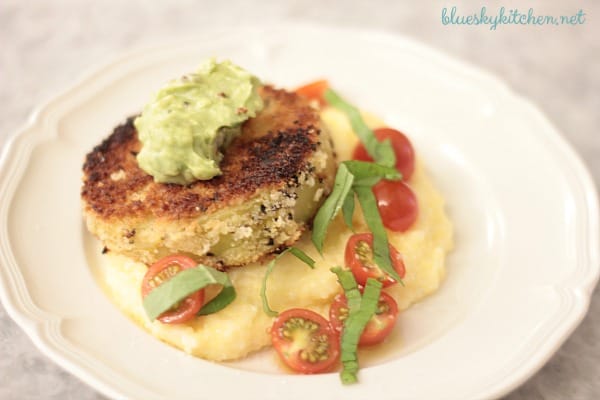 TIP: the best way I have found to clean the saucepan of the polenta is to fill the saucepan (after it has cooled) with water and let it sit overnight. The polenta will lift from the sides of the saucepan and you can just pour it out. Easy peasy.
Isn't this pretty? And so good. Crispy and creamy and summery and savory. Oh my!
Happy weekend. Please let me know if you make this dish and any variations you come up with. Be creative when you cook!