Best Amazon Prime Day Deals for You
Have you heard of Amazon Prime Day deals? Even though I shop almost daily on Amazon, I wasn't familiar with this summer event. Now I am so I'm going to share with you my favorite best Amazon finds.
Does everyone in the world shop on Amazon? As much as I love to shop in real life at my local stores, estate sales and antique malls, I love the convenience of ordering on Amazon. There is an Amazon distribution center somewhere in the Dallas metroplex, so most things get here faster than I can drive to Joann or Hobby Lobby.
Who doesn't want to take advantage of a sale? No one! So I've gathered a bunch of my favorite Amazon finds to share with you. Pretend we are on the phone and I'm telling you what I've bought and what I want to buy on Amazon.
First, let me share some really helpful Amazon Prime Day FAQ's with you.
This post contains affiliate links to products that I love, have used, or want to! If you should order anything from this site, I may receive compensation, but you do not pay a penny more.
What is Amazon Prime Day?
Prime Day is a shopping event with deals exclusively for Prime members. Anyone can participate in Prime Day by becoming a member of Amazon Prime. If you're not yet a Prime member, you can participate in Prime Day by signing up for an Amazon Prime free trial or paid Prime membership. 
Prime Day 2022 begins July 12 at 12:00 a.m. Pacific time and ends July 13 at 11:59 p.m. Pacific time. If there is a particular item that need or you are looking to make a significant purchase, now is the time.
NOTE: You do have to purchase within this 48~hour period to get the deals. No putting it off or into a wish list.
What is a Prime Membership?
Amazon offers a prime member subscription and for a monthly or annual fee, you can get additional benefits through Amazon.
FREE Two-Day Shipping on eligible items to addresses in the contiguous US and other shipping benefits.
FREE Same-Day Delivery in eligible zip codes.
FREE Release-Date Delivery on eligible preorder items delivered on their release date to ZIP codes within the continental US.
FREE No-Rush Shipping. Select No-Rush Shipping and earn rewards for future purchases.
Amazon Day, where you can choose a weekly delivery day for the items you buy throughout the week.
How Much Does Prime Membership Cost?
When your free trial (30 days) or membership period ends, Amazon will automatically charge for the next membership period.
Current Amazon Prime membership pricing:
$14.99 per month
$139 per year
Prime Video membership is $8.99 per month
Is Amazon Prime worth the membership price? I think it does. The shipping costs alone are worth it.
Just a couple of more things to be aware of:
If you miss a deal that's posted, click the "waitlist" button in case someone cancels or has it in their cart and doesn't make a purchase. If a deal opens up or it goes on sale again over Prime Day, you'll get a notification.
If you aren't in a rush with shipping, you can click no~rush shipping and Amazon will give you credits to your Amazon account. It's a great way to get additional savings. 
So make a list, check it twice, or just see the best Amazon Prime Day Deals I'm sharing. If you click on one of these product links and find something else you like, that's perfectly fine. BUY it now.
These Best Amazon Prime Day deals are ones from r products that I have bought or I would buy myself. I think you will like them, too.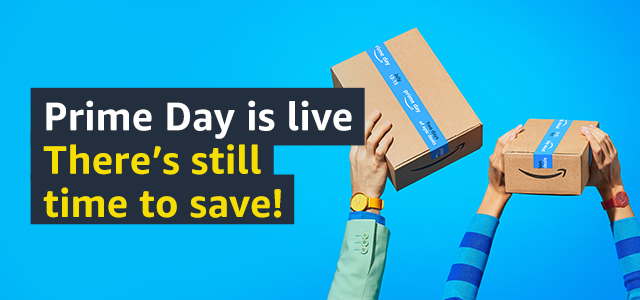 Best Kitchen Deals
I have all these items in my kitchen and can't do without them.
Favorite Organization Tools
When I organized my kitchen drawers a few months ago, I used some these items. I wish they had been on sale then.
Favorite Home and Outdoor Spaces
I have the comforter with the attached bed skirt in our bedroom. I wanted to get the twin size for one of our guest rooms. So I did!
All the Beautiful Blue Things
I have the set of chinoiserie planters. I'm buying the blue tray.
Best Amazon Prime Day Deals for Gadgets
I have most of these gadgets. They all are so useful ~ little things that make easier.
Best Amazon Prime Day Deals for Girl Stuff
I love my French ch tote bag. I discovered this serum and toner on our Alaskan cruise. I was so excited to discover I can reorder this skin care line on Amazon.
You might also want to check out these Amazon Prime Day Coupons.
I bought a few things in my search for finding the best Amazon Prime Day Deals for you. I hope you'll have fun shopping for yourself. Start with these links and go from there.