My Favorite Flea Market Finds in Atlanta
Happy Friday.
I returned home late Wednesday afternoon from a week in Atlanta visiting my daughters and grandkids.  Then yesterday morning I taught a Valentine's Dessert Class for a delightful group of 25 ladies in an non-profit organization. Monday morning is another cooking class; it's been a busy 10 days and my schedule isn't slowing down yet.
I always love going to Atlanta to see family, but also because Atlanta is a great place to shop antique malls and flea markets. By now, you probably know that's one of my favorite pass-times. Even if I don't see anything I need (or is that "a want"?) or something I would love, but can't bring home, browsing through an antique mall is a passion.
I wanted to show you a couple of the places we (my older daughter and I ~ you met her earlier this week) visited.  I took some pictures and bought a few things ~ ones that could fit in my suitcase or on the plane.
Simple Finds
The first place we visited was Simple Finds, half consignment store and half antique market. We headed to the back there the vintage booths display a treasure trove of accessories, collectibles, and furniture.
Right off, I spotted was this pretty cross.  Sweet Shark and I look for crosses when we travel for a small wall area we have.  This large, metal one was really pretty and I thought would be a great addition to our collection.  Although heavy, it would lay flat in my suitcase. I will need to rearrange a few of the other crosses to hang this one.
Then I found this cute 4-section basket caddy that turned.  Although I already had a silverware caddy on my kitchen counter, I love that this one had 4 sections and was light-weight.
Now that I have 4 sections instead of 2, I can separate the salad and dinner forks and the teaspoons and soup spoons. More efficient and I love the vintage flair. Since the French use wire baskets for everything, I feel like I hit the jackpot.
I loved these jars wrapped with heavy twine around the top. I definitely feel the inspiration for a future project. The lettered block is cute too.
Woodstock Market
Our next stop was Woodstock Market, which had been on my radar screen since last summer.  My friend and fellow Your Inspired Design Link Party member, Christine Leahey of Let's Get Crafty, has a booth there. Woodstock Market is located northwest of Atlanta in Acworth, Georgia, about a 30- minute drive. I love this antique mall. The booths are big and well-designed, the space is well-lit and the aisles are nice and wide.(We had a stroller and a 21-month-old with us.)
One of the first things I spied was this wall basket.  Boy, what I could do with that, but I'd have to ship it home.  I love the tin cups, but I already have 4 of those.  But I did really like the colored cups, so I put those in my maybe list.
Jennifer has a sideboard similar to this that her in-laws gave her. It's in the baby's room and is used as the changing table (hers is taller) and storage for diapers, wipes, socks and other baby stuff.  Presently it is stained about the color of the vintage suitcase below. I bet it won't stay stained for long. I see paint in its future.
With two girls, one almost 5, and an almost 2-year-old, Jennifer and I are always attracted to girly things. This painted make-up table would be precious in a little girl's room or in the playroom. We are not crazy about the pepto bismol color, but we all know what a little paint can do.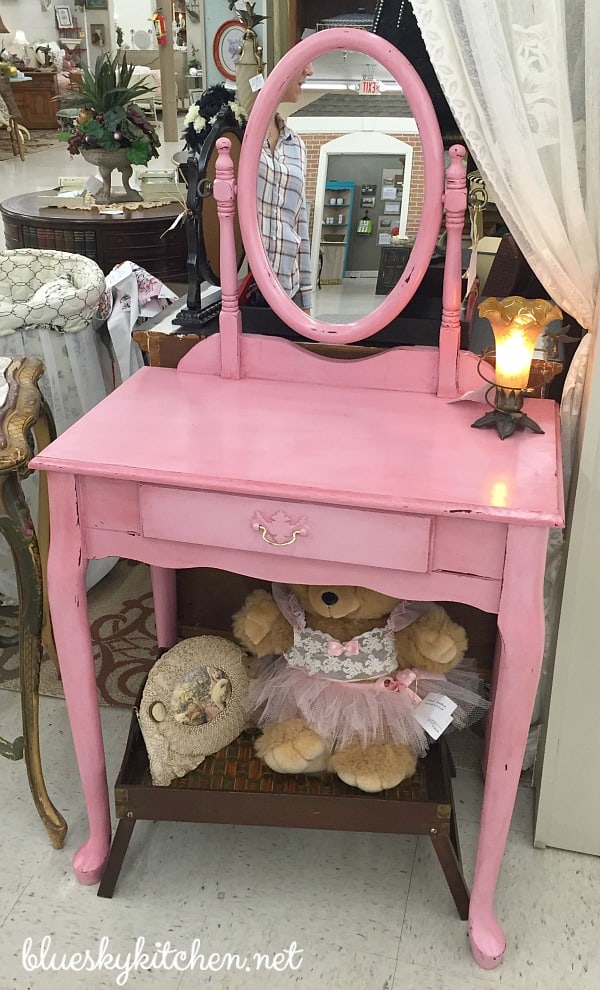 This pretty pale blue wardrobe has wonderful storage inside. Simple, but practical.
In a few years, this lighted wall would be precious for a middle schooler. But, let's not rush it.
Typography is so popular these days and this one would be fun in the laundry room. Too big to take home.
And here is another typography sign I liked.
I love old windows.  Although the glass in this Palladian window had been replaced, it still had a great vintage look and feel.
I have been on the lookout for some affordable cotton boll stems for several months.  These were only $8 a stem.  Definitely worth carrying home on the plane.
Who doesn't love a girly chandelier, and in white? Hanging over a nightstand in a little girl's room? Perfect.  Not vintage, but not expensive either. Maybe next time.
We found Christine's booth.
Remember the 4 colored ceramic glasses? They are the colors I use in my kitchen accessories, only $3.75 each, and fit in a suitcase.  Now they are sitting pretty on my kitchen cabinet.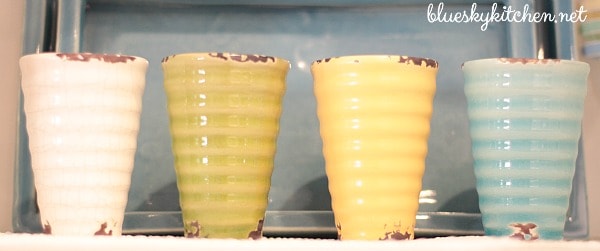 That was all we had time for. Can't wait for a trip back and more shopping.
Have a wonderful weekend.