A Garden in Georgia ~ Peace at the Lake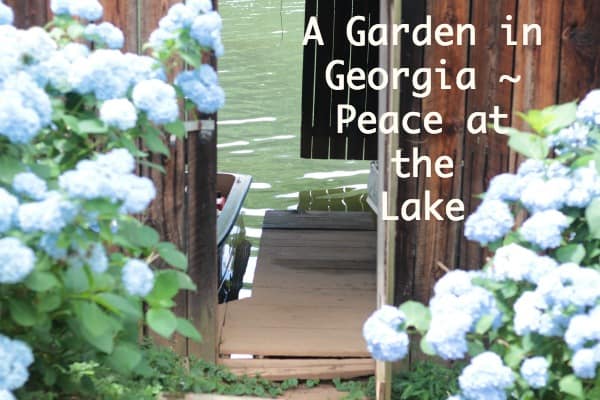 Do you have a spot where you can just totally relax? Let it go? Where it's quiet and peaceful and calm? No agenda, no schedule, no planned activities? No stress, no tension of your regular life? A laid~back place where the only "planned" activities are meals and happy hour?
I have the privilege of knowing just such a place. And fortunately, I'm related to it by marriage. Or rather, my daughter's marriage.
It's a Garden in Georgia ~ Peace at the Lake
Get ready for this explanation of family relationships. My older daughter's husband's (my son~in~law) mother's (that would be her mother~in~law) family  has owned about 400 acres of land in northern Georgia, about an hour and a half north of Atlanta, at the foot of the Appalachian Mountains since 1960. The land surrounds a 23~acre spring~fed lake, surrounded by pines, hemlocks, and other vegetation.
We'll call Jenn's mother~in~law MA and her father~in~law Big B, just to keep people straight. My son~in~law is named after his father and he is called Little B, which is ironic since Little B is much taller than Big B. We'll call the property P~~.
5 homes are spread out on one side of the lake, 4 of them owned by cousins and an aunt, and 1 by a dear family friend of MA's father. Each home is totally different.
When I first saw the property in 2005, MA and Big B had torn down the old lake house that had been built years ago by MA's father. Construction was underway on a log and stacked stone house nestled into the side of land that slopes down to the lake. 8 months later, returning for an engagement party, the house was complete and Sweet Shark and I spent our first night at P~~. Very little landscaping had been done as MA and Big B had just moved in. It's been amazing for me to see the transformation over 10 years to the surrounding grounds and how much everything has grown and filled in. Jenn's F-I-L is an avid gardener and you never know what new things will be coming up.
A week ago I was in Atlanta visiting my girls and we went to P~~ for the weekend. The weather was almost perfect and I couldn't resist taking as many pictures to share as possible. So let me share with you the beautiful outdoor grounds and gardens.
Unless you know exactly how to get to P~~, you'll never find it: after you leave the highway, winding roads and turns finally bring you to a gravel road that leads through heavily forested foliage to the 4th drive and you turn into the long driveway leading to the lake house.
This rooster is the first of many lake house 'animals' to greet you. You know that you are in a place of hospitality.
There are also pigs.
This is the front of the house. I actually took this picture in February, so it's a little bare. You can see that this is truly a log house with a green roof and green trim. There are 5 bedrooms on 3 levels with a lower deck leading to the dock, and a balcony overlooking the dock.
Up the front steps and another rooster greets you.
After some hello hugs, you might sit a spell on the front porch.
This farrier's box is now a planter. An old basket holds walking sticks. I love that there are random cool flea market finds through the house and grounds.
Off to the right of the front door is this pergola leading either down to the lower deck and dock or around to outdoor kitchen, gazebo, and deck with a hammock and views of the lake.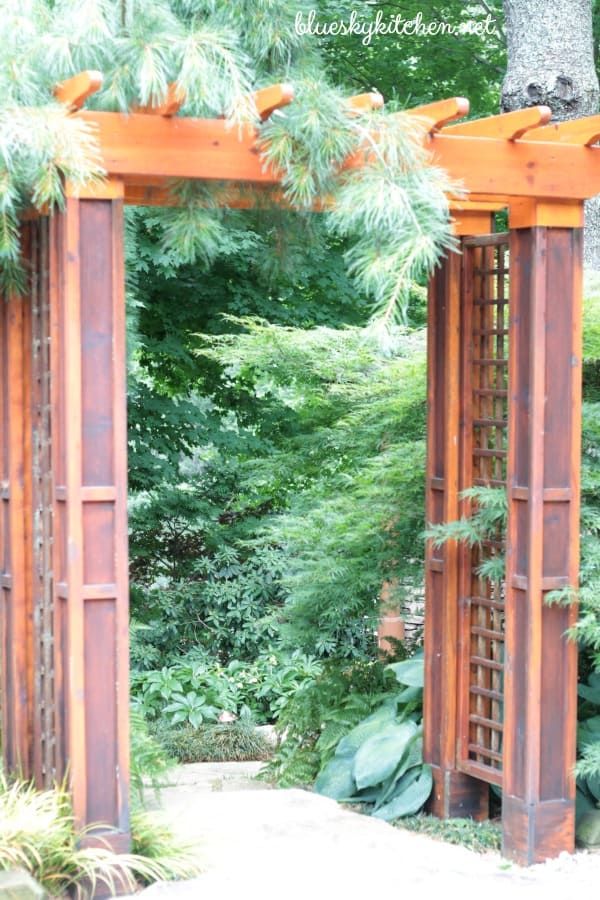 Step down the stone path with schefflera, wood ferns and vinca.
You'll pass by planters of flowers on stone ledges.
I love this concrete planter with the blue cast to it.
Soon you'll reach the lower covered deck. Down another stone path (There is a lot of stone!) and you'll reach the dock and kid swimming area.
On the upper level is a play area for the grandkids (6 of them). The swings were built by Little B's brother~in~law, the family carpenter.  The design was copied from a simple log built swing set the in-laws saw in Europe.  Here you can see the side deck, hammock and a bit of the lake. And more rocking chairs ~ I think there are 4 sets of rocking chairs.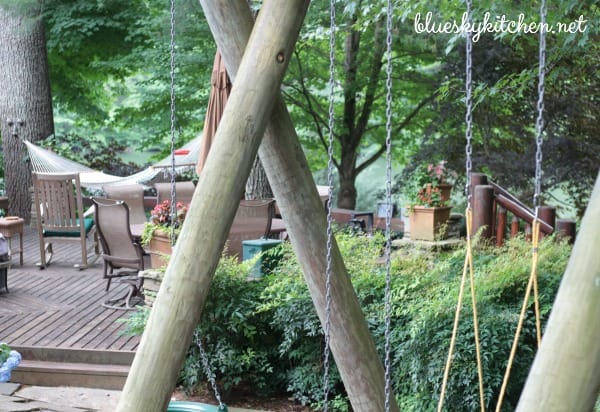 On the back of the upper level of the house, outside the family room, is the balcony. It's usually the first place I head to ~ beautiful views of the lake and wood~covered hills on the other side. At night the moon and the starts are super bright, the lake is like glass ~ that's the peace at the lake.
There's always a flag waving.
Looking down at the dock and the boat ~ used for kiddie rides, fishing and evening rides around the lake. One of the other cousins has the ski boat.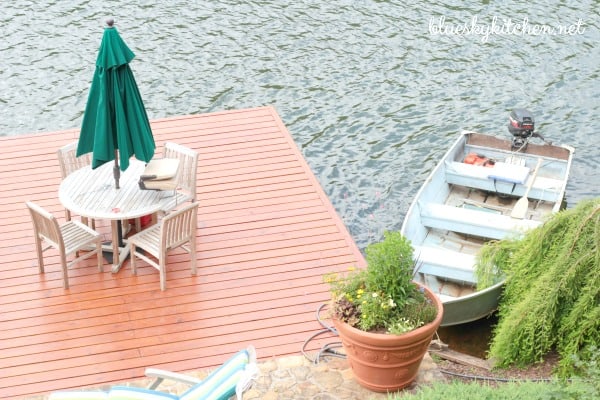 Also off the upper deck, outside the master bedroom is this secluded covered patio with a fireplace (one of 3) and a big~screen TV. Big B can be found here (hiding) watching sports and smoking his cigar. More rocking chairs.
I love this old weathered container on the hearth.
This really cool wind chime made of old tool pieces adds to the ambiance.
I love this lanterns used for exterior lighting around the house.
Also on the balcony is this old window made into a perfect spot for potted plants. Around the corner is the screened~in eating porch with a fireplace. You can access it from the family room and kitchen.
On the lower level are 2 bedrooms, a bathroom, a small TV area, an area for the little ones to play, the laundry room, and storage room. Outside Jenn and Little B's bedroom is this covered patio area. A quiet place to sneak off to read a book ~ I've done it.
One of everyone's favorite things to do is take a walk around the lake, about a 1 1/2 mile circuit. It's an easy walk through the woods and some fun things to see. Like this old dock.
And this old double swing.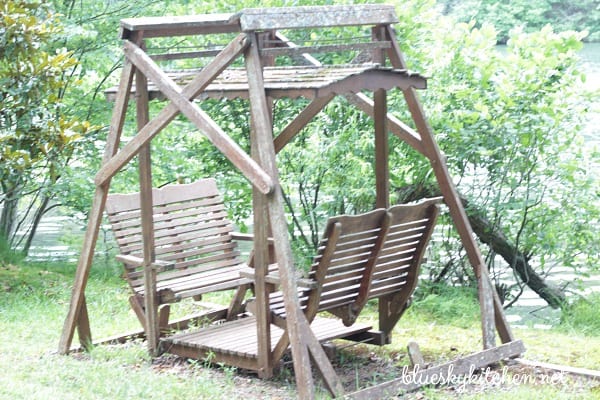 An overlook was built a few years ago to view the waterfall in the woods.
You'll cross one of several boardwalks ~ keep you above some of the low places on the path.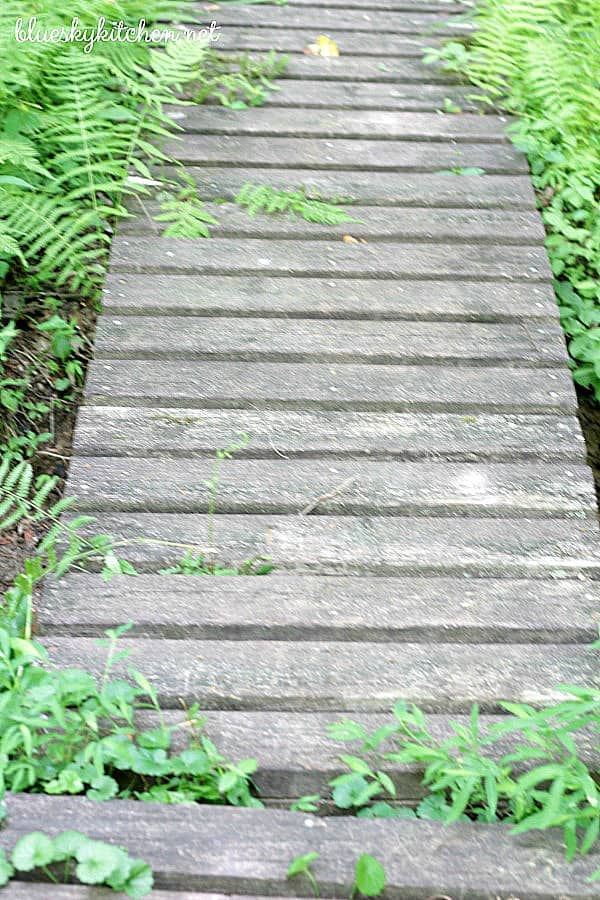 From the opposite side of the lake you can see the back of the lake house. This photo is from the boat in February.
You'll pass one of the cousin's boat houses. There are hydrangeas everywhere at the lake and most are blue.
After your walk, you have to visit the garden. The 40 by 60-foot garden is surround by a wood and chicken wire fence. This time of year it is full of several varieties of squash, zucchini, tomatoes, peppers, green beans, lettuce, corn and herbs. Right now, MA is harvesting zucchini and summer squash every single day! Lucky for me, we brought 2 bags full back home.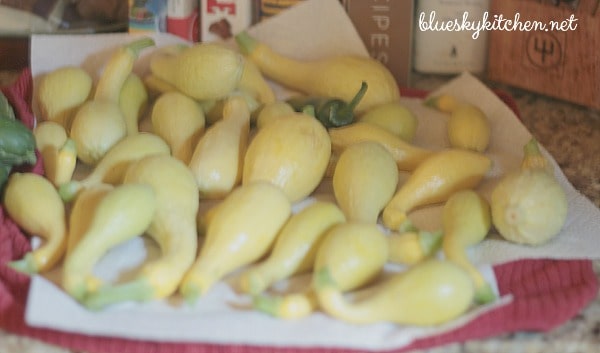 The tomatoes are just starting to ripen and our 5~year~old granddaughter picked the first ones.
In another area are the fruit trees: apple, pear, plum, fig, peach. Nothing is ready yet. I'm hoping when I return the end of July, the famous Georgia peaches will be ripe.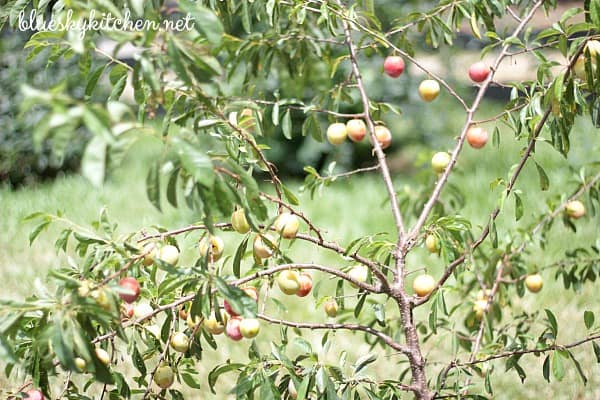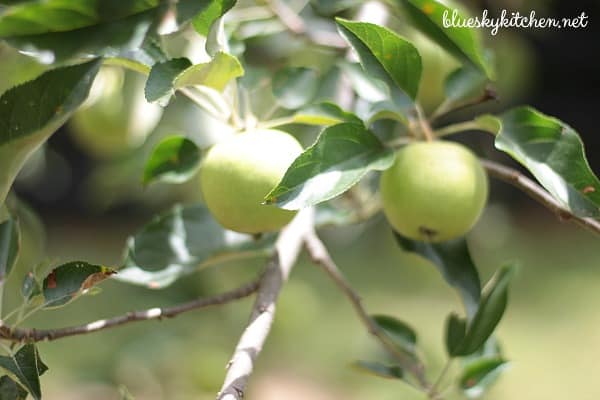 That's the tour of this most special place. I look forward to going there every time I visit Atlanta. I do have to admit that they have WIFI and MA and I will trade pictures of grandkids and vacations on our devices.
Thanks for joining me on this most recent visit to this beautiful garden sanctuary. It's always fun to think about special times at special places with very special people ~ especially when they are family.