Setting my Thanksgiving table
A few weeks ago I shared with you how I set my fall table which you can see here. It's been so nice to have a pretty table set most of October, but now it needs a little Thanksgiving tweaking.
See how I went about
Setting my Thanksgiving Table
First I added my 2 ceramic turkeys that I bought in Roundtop in September. I couldn't believe it when I found 2 more wrapped in the Thanksgiving decorations. I have no idea when or where I bought them. Did my 2 Roundtop turkeys multiply? I'm just happy to have 4 instead of 2.
I added this little brown turkey that was a gift from a friend a few years ago.
Next I removed my Lenox china and added my Thanksgiving dishes. Two pumpkin napkins at the host and hostess place settings and plain orange at the others almost complete the place setting.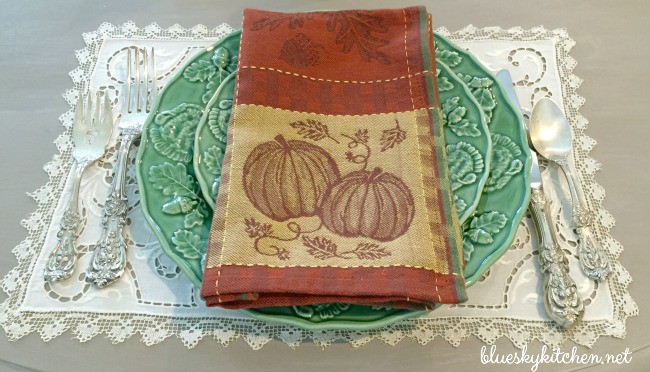 I bought these dishes a few years ago at Tuesday morning. Walked in the store for towels and walked out with this entire set. Eight place settings and a very large platter.  Turkey on turkey. It was meant to be.
I also removed the crystal candlesticks.  Since we eat Thanksgiving dinner in the afternoon and there is so much stuff on the table, I didn't think they were needed. But I did add a few of these fall "leaf" candles.
I replaced the first egg basket from Roundtop with the larger, shallow one and changed out the white hydrangeas for white mums. Aren't they happy? I hope they last.
Way back when I worked in the culinary department at Sur la Table I bought this beautiful tureen and gravy boat. They were on sale plus I had my employee discount. Couldn't pass them up.
Then last week I had to pick up some . . . . . . . .  (I'll share in another, later post about the . . . . . .) at my favorite antique mall. I was the first person in the store and I thought I was just going to run in, pick up my . . . . . , and leave. But, heck, I was there, it's across town, so I thought I'd just do a quick little walk about.  And then I saw these darling little ceramic pumpkins.  Only $2.50 each.  Too good to pass up. Just the thing to finish off the place settings.
As I was walking back to the front desk (I took the long way around the store.), I spied these guys.
They are made of wood, hand-painted and they asked me to take them home.
So here is my completed Thanksgiving table: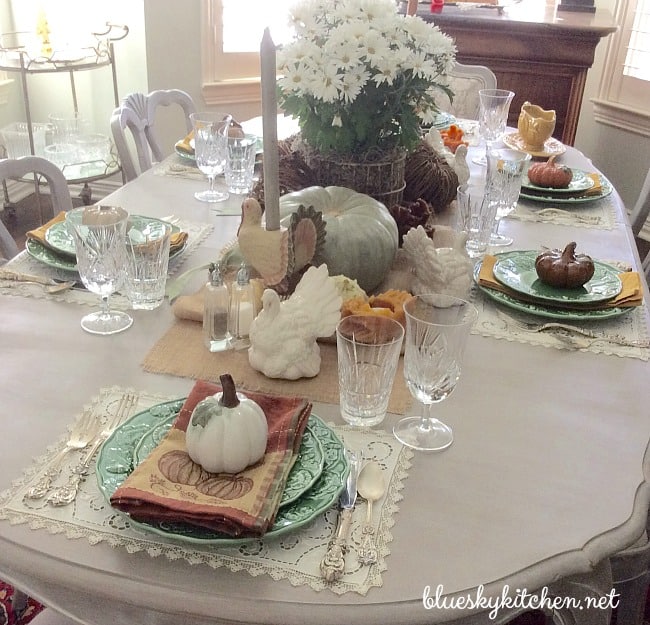 That didn't take long.
Remember I had 17 turkeys for my Thanksgiving decorations? If you missed counting, here they are. So add 7 more on the table for a grand total of 24.  Do you know that a group of turkeys is called? I looked it up; it's a rafter, but a really large group is a flock. I think I'm somewhere between a rafter and a flock.
Now I'm ready for turkey day. How about you? How do you set your table?