Luscious Shrimp Bisque Recipe
You've heard of Ikea hacks? And Pottery Barn hacks? And Restoration Hardware hacks? Well, I have a confession.  I'm a recipe hack. This Luscious Shrimp Bisque recipe is a recipe hack.
My hacking began over 15 years ago when I started teaching cooking classes out of our home.  I'd have an idea for a class and then search for recipes to fit that idea.  I'd find a recipe and test it and rewrite the directions (Hate to tell ya girls, but so many recipes are not clearly or correctly written, but that's another story.).
I'd tweak the ingredients and combine recipes until I ended up with something entirely different.  I worked with a chef once who said if you change 3 things about a recipe, it's yours. I abide by that advice.
In planning for our Christmas Dinner Party, I knew I wanted to serve soup because I love to use our little china cups with the silver holders and saucers.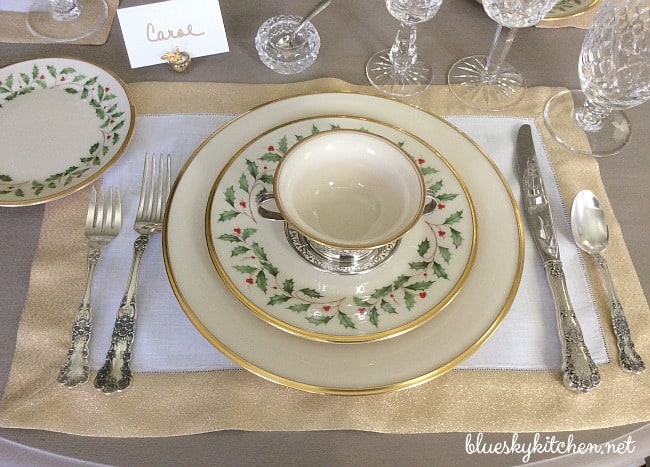 The most elegant soup I can think of is Lobster Bisque, but Shrimp Bisque is right up there.  I didn't have a recipe on hand, so the search began.  I looked in a few cookbooks and magazines, and then I went to Google and found two that sounded promising.  And here the hacking started.  I hacked here and there and came up with a great Shrimp Bisque.
Luscious Shrimp Bisque Recipe
One recipe is from Ina Garten and the other is from Bon Appetit, June, 2011. I love Ina's recipes, but her bisque is chunky and I like my bisque smooth and silky.  Also, her version used a roux which I wanted to avoid; she also didn't have a garnish and I was taught in culinary school that most soups should have a garnish. She used half-and-half and sherry and brandy which I liked.
The Bon Appetit recipe used a mirepoix which I just didn't want to hassle with.  It also used rice as a thickener ~ again, too complicated.  But I liked that there was no roux and the technique would produce a super~smooth texture.  And it had a pretty garnish. Both recipes used shrimp shells to enhance flavor and tomato paste and cayenne for flavor and color.
So let the hacking begin.  Here is the recipe that I created and I think the sum (result) is better than its parts (the two recipes that I started with. The process is easy, the texture is silky, it tastes great and is pretty. And you can definitely make it ahead.
TIP: allow time to peel the shrimp; you can buy shrimp that has already been deveined and the shells split.
TIP: the bisque is easily made ahead and kept in the refrigerator.  Add the half-and-half when you reheat the bisque.
TIP: bisque is a rich soup. I served 1/2-cup portions as part of a 4~course meal.  1 cup per serving should be max.
I hope you try this soup. It takes some time but is well worth the effort.  It would be lovely as part of a Christmas Eve meal. Next up is the Beef Short Ribs with Chocolate and Rosemary Wine Sauce.