Tomorrow is Christmas Eve. Are you ready? How do you and your family spend Christmas Eve?
Our church has 4 services, the first at 5:00 for the little children.  I miss those services.  Kids dressed in Christmas jammies or as a shepherd or a Wise Man.  My youngest was born on December 10th, so she was just a couple of weeks old on Christmas Eve.  It felt really special holding a baby in my arms. Those days are long gone, but the memories are still sweet.
Sweet Shark and I attend the 7:00 service and then go out to eat dinner at one of our favorite restaurants. You can always tell the folks who have just been to church or are going to a later service. We're the ones dressed up in red. I have a red jacket I bought 19 years ago.  It has a black velvet collar and cuffs and buttons and still looks new.  And it still fits!  I wear it once a year on Christmas Eve. Sweet Shark wears his best suit and one of his Christmas ties. Near the end of the service, the ushers help everyone light candles, we sing Silent Night, the lights are dimmed and on the last verse, we raise our candles high.  It's a beautiful, moving sight as several hundred voices proclaim the coming of Jesus Christ. And when you realize that the same thing is going on all over the world, it's an overwhelming feeling of peace, love, and joy.
Whatever your Christmas Eve traditions, I hope that you and your family experience the same feelings.
Until the last kids were grown, out of college and on their own, we came home after Christmas Eve services. For dinner, I prepared this Cheesy Potato Corn Chowder that I had found in Southern Living magazine. I would make it before we left for church, take it off the stove, and reheat it when we got home.  My kids loved it.  This year, only our older son will be with us on Christmas Day, and he specifically asked for the chowder and you can bet he is going to get it. So here is my gift to you: a hearty, comforting, make-ahead soup, perfect for Christmas Eve.
NOTE: put the bacon in the freezer for 30 minutes before chopping it.
TIP: as my kids got older, I would put in a few drops of Tabasco in the chowder.   Once I added chopped jalapeño and red bell pepper and I got called out on it.
TIP: serve with crusty bread, crackers, tortilla chips or even cornbread.
TIP: for garnish, you can reserve some of the cooked bacon and cheese. Sliced green onion or chopped cilantro is also a nice garnish.
(This is a stock photo, but it's pretty darn close to what mine looks like, except for the red bell peppers.)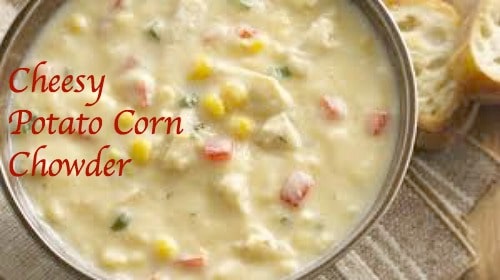 Print
Cheesy Potato Corn Chowder
Author:

Southern Living

Yield:

8 servings

Category:

Soup
Ingredients
10 slices bacon, chopped
1 cup chopped onion
1 cup chopped carrot
2 1/2 cups diced and peeled potato (russet or Yukon)
1 cup chicken stock
3 cups milk (whole or 2%)
1 17-ounces whole kernel corn(if from can, drain or if frozen, thawed), about 2 cups
3 cups shredded cheddar cheese
3 tablespoons all-purpose flour
kosher salt and pepper, to taste
Instructions
Cook bacon in a 4-quart Dutch oven until browned. Remove bacon with a slotted spoon to set aside on paper towels to drain.
In drippings, saute onion until tender over medium heat. Add the bacon, carrot, potatoes, and stock; bring to a boil. Reduce heat, cover and simmer for 20-25 minute or until potatoes are tender.
Stir in the milk and corn and heat thoroughly.
In a small bowl, combine the cheese and the flour, tossing, until combined. Add to the chowder, stirring until cheese melts and chowder thickens. Season to taste with salt and pepper.
I hope you have a Merry Christmas, a safe holiday and that you have all the blessings of  "peace on earth, goodwill toward men".
Thanks to Teresa at Keeping it Real for featuring me in the Holiday Celebration Link Party #3 and thanks to my fellow Texas girls at Monday Social for spotlighting my post. 
Parties where I linked up this week:
Creative Exchange  Holiday Sharing Recipe Party  Keeping It Real Holiday Celebration   Make it Pretty Monday    Monday Social    The Crafty Corner    Vintage Charm    Wonderful Wednesday    Wow Us Wednesdays   Your Inspired Designs