Vintage Dresser Re-Do with Chalk Paint
Sometimes you find a piece of furniture you just know needs a makeover with paint. Or maybe you have had a piece for years and just aren't sure what to do with it. Finally, I decided that a vintage dresser re-do with chalk paint was in order.
Have you ever debated whether to leave a vintage piece as is or give it a new look with paint? That has been the case with a dresser that I have had for years.
I'm sure you've seen similar dressers from the 1930's and 40's. They have a mirrored back, a ledge on top, upper drawers and lower cabinets.
After having this dresser for years, I decided it was indeed time for a vintage dresser update.
Today is our monthly Creative Craft Blog Hop. This month, Donna of Modern on Monticello is our hostess. The list of all the participants is below.
The Original Vintage Dresser
Here is the original dresser. You can see the brown stain and the rustic appearance.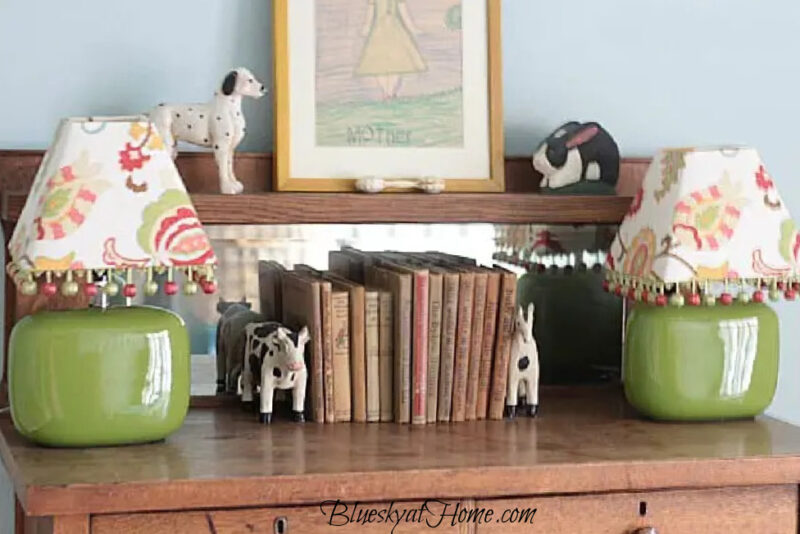 O.K. I know that this photo is blurry. One of those situations where I didn't check the photo for clarity before I started painting. Lesson learned, but you can see the finish and how the drawer pulls don't align.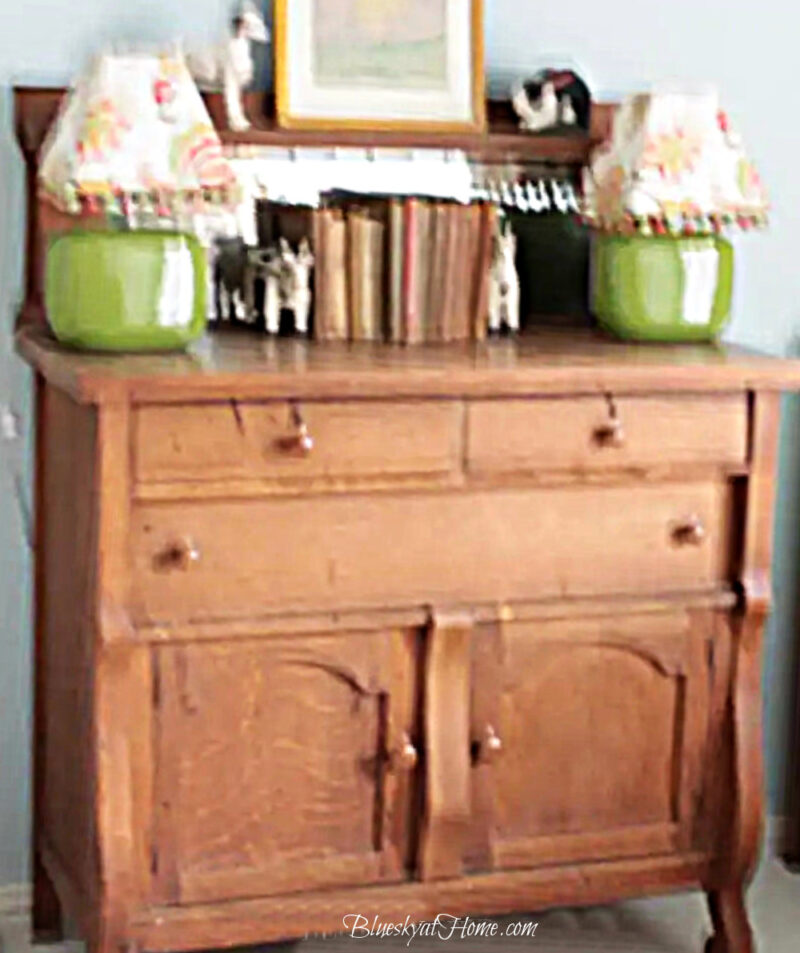 I bought this dresser (or chest) in Jefferson, Texas a million years ago. I think it was before my kids were born. It was in excellent condition. I have no idea what we paid for it.
This piece has been in many rooms in different homes: for years, it served as a hutch in the breakfast room, holding extra dishes and placemats and napkins.
Then it served as storage for games and cards in the kids' game room. After all the kids were grown, I moved it to our younger son's room to hold extra winter clothes.
When we moved to our current home, I placed it in the grandkids' guest room as a place for them to store their clothes when they come to visit.
This post contains affiliate links to products used in the creation of this project. If you should order any item from this site, I may receive compensation, but you do not pay a penny more. Your purchase is greatly appreciated as it helps support the continued publication of this site.
What Finally Convinced Me to Paint This Piece?
I was just tired of the brown-stained finish – which is no surprise since brown stain is my least favorite furniture finish – unless it's a beautiful antique. We do have several true antiques that Sweet Shark says I cannot paint. And he's right because painting them would devalue them and destroy the integrity of the piece.
I wanted to add a sense of fun and more color to the room.
I was ready for another project.
I saw a similar piece that Suzanne at The Painted Drawer did and that pushed me over the edge. Suzanne's piece has rolled top drawers, whereas mine are flat and the front of her piece has metal insets. Thanks, Suzanne for the inspiration! (I've followed Suzanne for years; she is an awesome furniture painter.)
My older daughter Jennifer and granddaughters were visiting. She loves a great paint project almost as much as I do. She was all in to get rid of "the dull brown" stain. (Remember, I made her DIY Metal and Wood Sign?)
The Color Selection
So once I decided that I was going to paint the dresser, what color? That was easy.
Before we first moved into our present home, I was focusing on the decorating: fabrics, furniture and accessories.
One of the first fabrics that I found was this one. I thought it would be perfect for the grandkids' guest room – neither boyish nor girlish, colorful, with a fun and funky somewhat paisley pattern and lots of bright colors to work with. So this is my inspiration fabric for the room.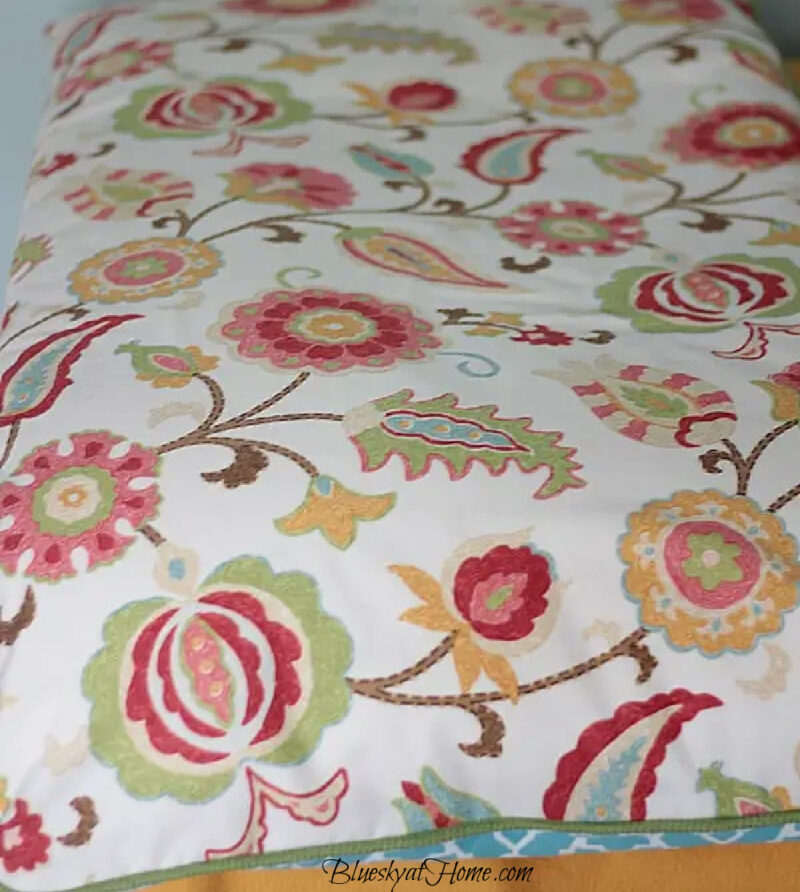 Here's a funny story: I was visiting Jennifer in Atlanta and I brought some of my fabric swatches with me. We made a trip to Lewis and Sheron and there was my fabric – at half the price of my fabric store in Dallas.
Not knowing how much fabric I would need, I bought 10 yards and carried it home on the plane. Well, I only needed 6 yards. If anyone loves this fabric as much as I do and wants 4 yards, let me know. I'll make you a great deal!!
I used that six yards to make valences for the window, Euro pillow shams, and a decorative piece to go across the foot of the bed. That's the picture of the fabric above.
Even before we moved into our home, I was painting a few pieces. This vanity stool belonged to my mother. It sat in front of her make-up vanity. I can remember her sitting at it, putting on her makeup before she and my dad went out for dinner. Great memory.
It is a French Provincial style and was white with gold trim. I was just starting my love affair with chalk paint so this was one of my first pieces to paint. At the time I was hooked on Annie Sloan paint.
I thought Annie Sloan Chalk Paint in Provence would look perfect with my inspiration fabric. I painted it first and then had it reupholstered in this fun pattern that paired beautifully with the paisley fabric. It sits in a corner of the guest room with a big stuffed dog resting on it.
Vintage Dresser Paint Preparation
So years later, I was ready to paint the vintage dresser. It made perfect sense to also paint the dresser using Provence to match the stool. Also, I had plenty of paint left from the vanity stool project.
As with any stained piece, I cleaned it first. At that time, I only knew to use mineral spirits. Now I use Clean Slate from A Makers' Studio with better results.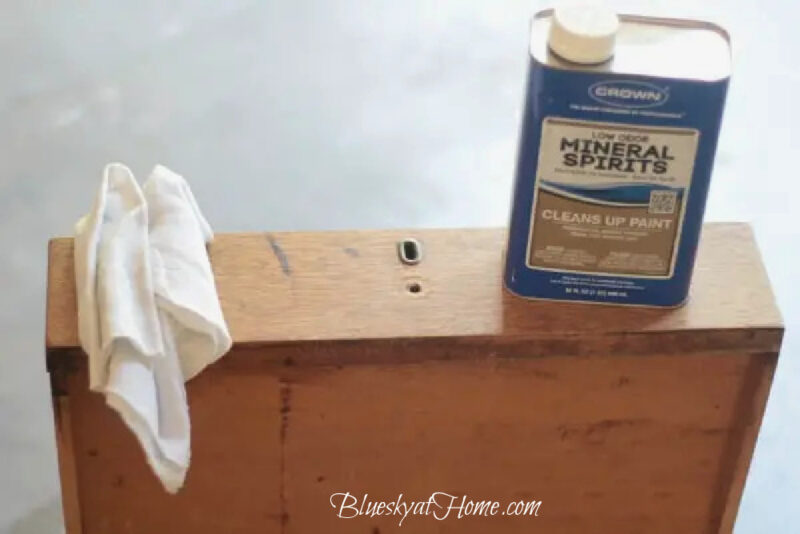 Then we gave the dresser a light sanding just to remove some of the varnish. Then I sealed it to prevent any bleed-though.
Furniture made from the 1930's to the 1960's often contained a tannin in the wood. Bleed-through happens when the tannins come through paint as a yellow or reddish tint. It doesn't matter how many coats of paint you use, the tannins come through.
Fortunately, with newer paint formulas, like Amy Howard at Home and A Maker's Studio, you don't have to use a primer.
The dresser has 3 drawers: 2 small ones and 1 large one below. One thing always bothered me was that the pulls on the large drawer didn't line up with the small drawers. Now was the time to fix that. I filled in the old holes with wood filler and drilled holes in the correct spot.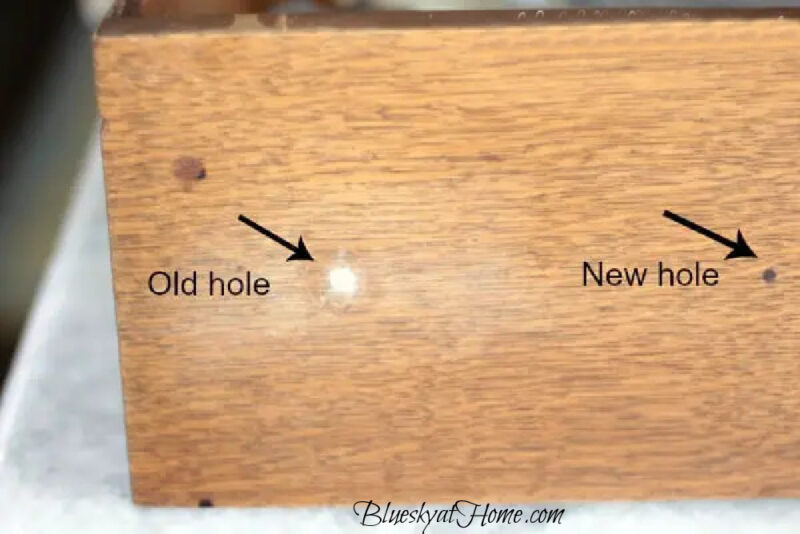 Because the dresser was upstairs, I brought the drawers downstairs to paint and painted the dresser frame in place upstairs. I decided that for now, I was not going to paint the insides of the drawers, but find shelf liner to compliment the paint color.
Fortunately, the chalk paint covered the stain and there was no bleed-through at all. I painted one coat full strength and then, using a wet brush and spray bottle to dilute the paint, applied a second coat. Using a wide, flat synthetic brush, I applied the paint with long, smooth strokes.
As you can see, I used Frog Tape on the edge of the mirror to prevent paint on it.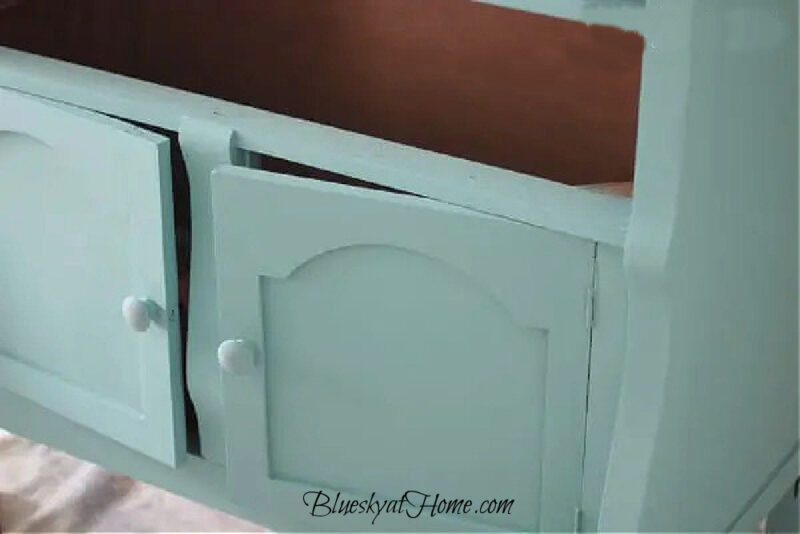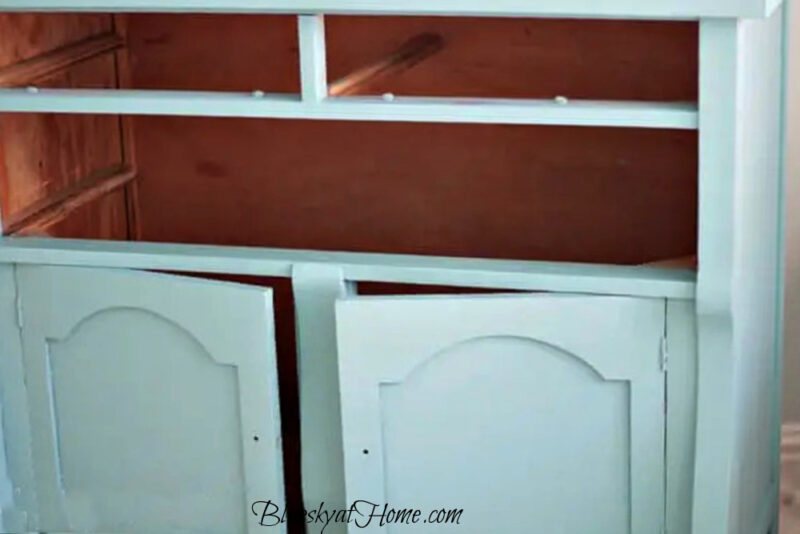 Sealing the Dresser
Since I wanted a more modern, sleek look for the dresser, there would be no layering of another color or distressing.
If you have used chalk paint, you know that it is usually sealed with wax. Jennifer and I wanted a shiny finish so I purchased a semi-gloss water-based sealer but I was a little dismayed to read that I needed to apply 3 coats, allow each coat to dry for 3 – 6 hours, and sand lightly between coats. That sounded like a lot of work.
I applied the sealer first to the drawers and it looked fine. However, when I sanded with 400-grit paper as recommended, some of the paint came off. So I repainted the drawer fronts, and resealed them, but didn't sand them. What should have taken me less than 30 minutes to apply the wax became an all-day ordeal.
While waiting for the sealer to dry on the drawers, I applied the sealer to the dresser base. Coming back later to check, the sealer seemed to have a yellow cast on the dresser. The flat top looked O.K., but all the sides and doors had little dribbles on them (Believe me, I scraped off as much sealer as possible from the brush.).
I had to sand them and that took some of the paint away. Really!!! I ended up painting over the entire dresser with another coat of chalk paint.
I decided just to go with a wax finish on the dresser base. Within 24 hours, I had the dresser waxed and buffed. I couldn't tell any difference between the waxed base and the sealed drawers. I use a buffing brush, which produces a shine. (A lot of elbow grease helps, too.) So for me, for now, wax is the way to go.
The Finishing Touches
The next step was to find the right drawer pulls and liner for the drawers and cabinet. I found the perfect pulls at Hobby Lobby – a cute, fun pattern that reflected the colors in the fabric. I used a Dremel to cut off the excess screw and put on a small cap on the back to cover the rough screw edges.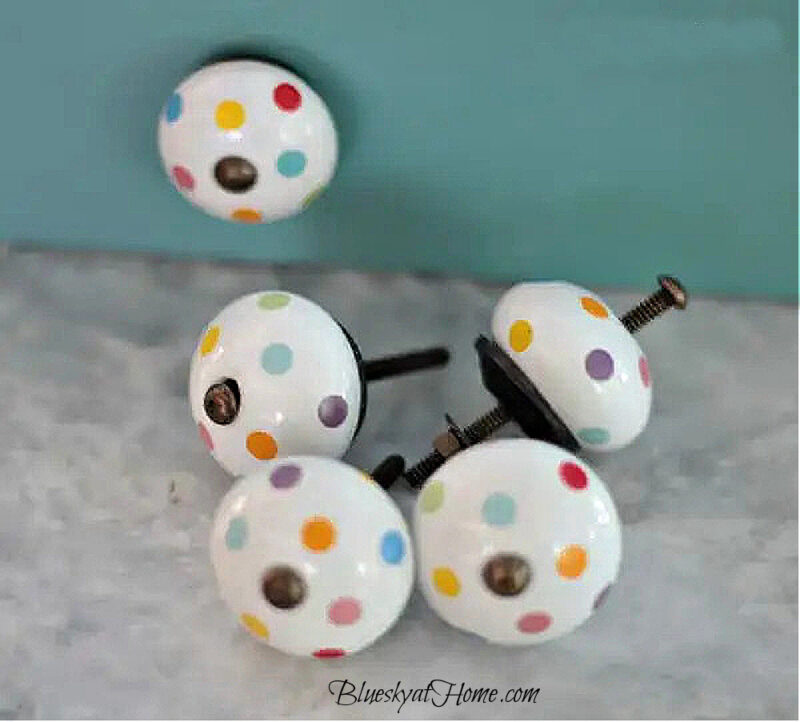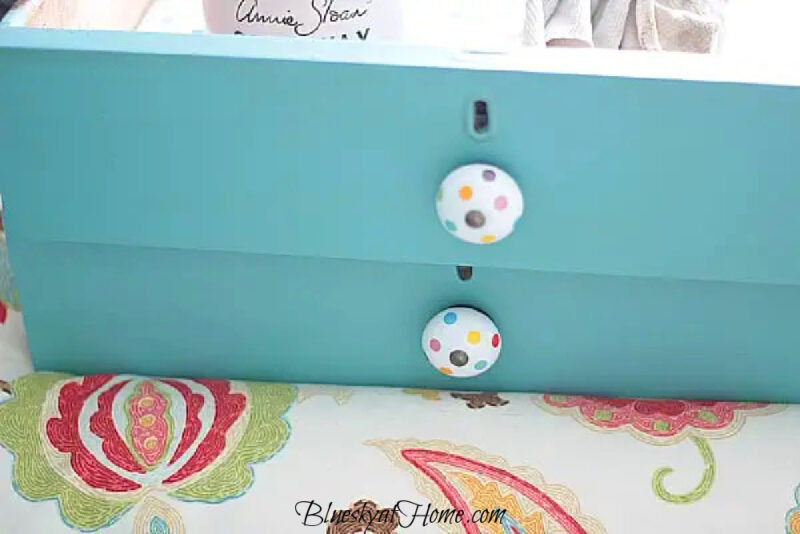 Then, yippee, I found this wrapping paper that I bought months ago on sale at Home Goods in an upstairs closet where I keep wrapping and ribbon. (I used to have stuff all over the house, but a couple of years ago made the other guest closet my home decor, accessory, and extra DIY supply closet.) I couldn't have asked for a better pairing. I just measured and cut the wrapping paper to fit.
The Big Reveal
The final step was to put the dresser drawers back in and place the dresser in place. The dresser looks so much better with the drawer pulls aligned.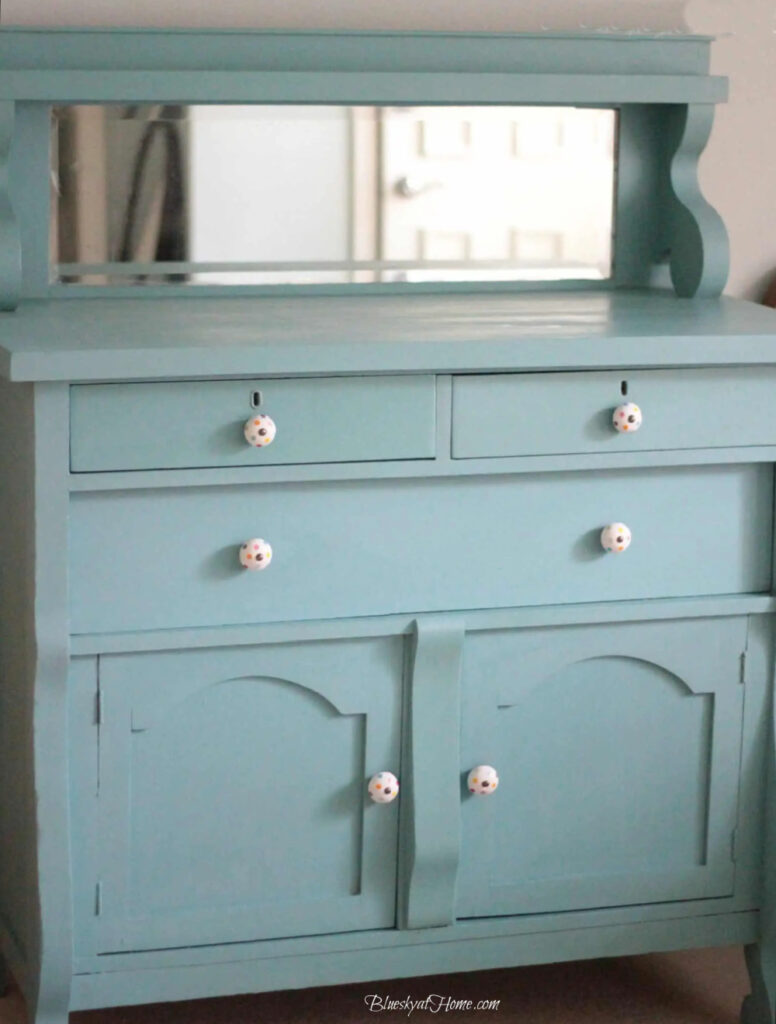 Then I replaced the lamps that I had found on sale at Target and made fabric-covered shades for. The books were Sweet Shark's as a kid and I collected the black and white farm animals years ago. The baby rattle on the books also belonged to Sweet Shark.
I love how the dresser turned out. Since it's in the center of the wall when you enter the room, it provides a wonderful focal point. The drawer pulls in the large drawer align with the pulls in the smaller drawers. I can't believe I waited 35 years to fix that.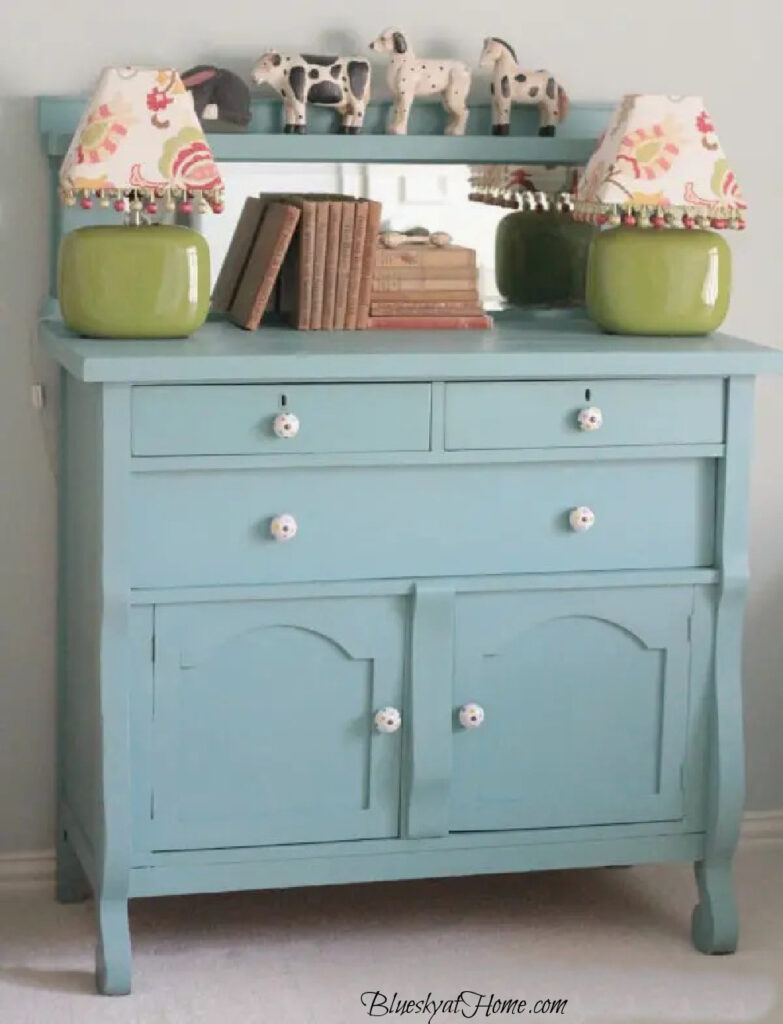 More Recent Vintage Dresser Re-Do
Several months ago, I decided to give the vintage dresser re-do another update. I still love the polka dot knobs, but I wanted the dresser to have a fresh update. (One granddaughter now thought they looked "babyish"!)
I found these gold metal pulls at Lowe's. I like the more modern look. What do you think?
I also moved the lamps to the top ledge of the vintage dresser.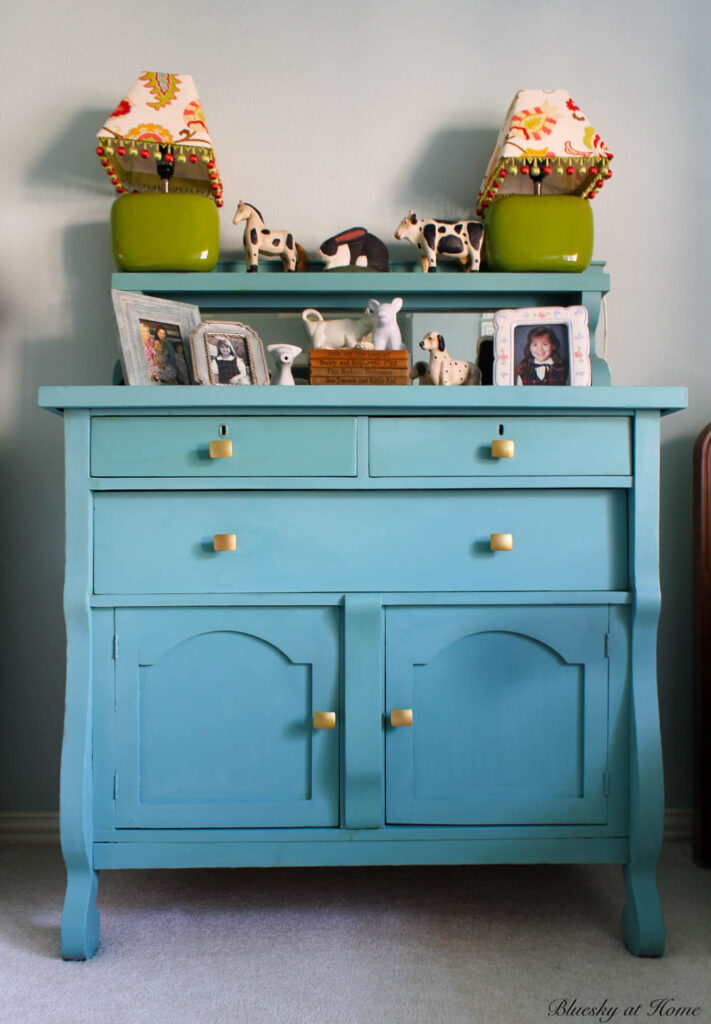 Do you like my vintage dresser re-do using chalk paint? Do you think I did the right thing in painting the dresser?
Here are more awesome paint re-do projects.
Like this vintage dresser re-do? PIN this project for your furniture painting inspiration.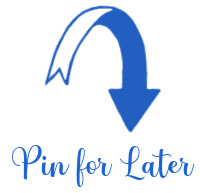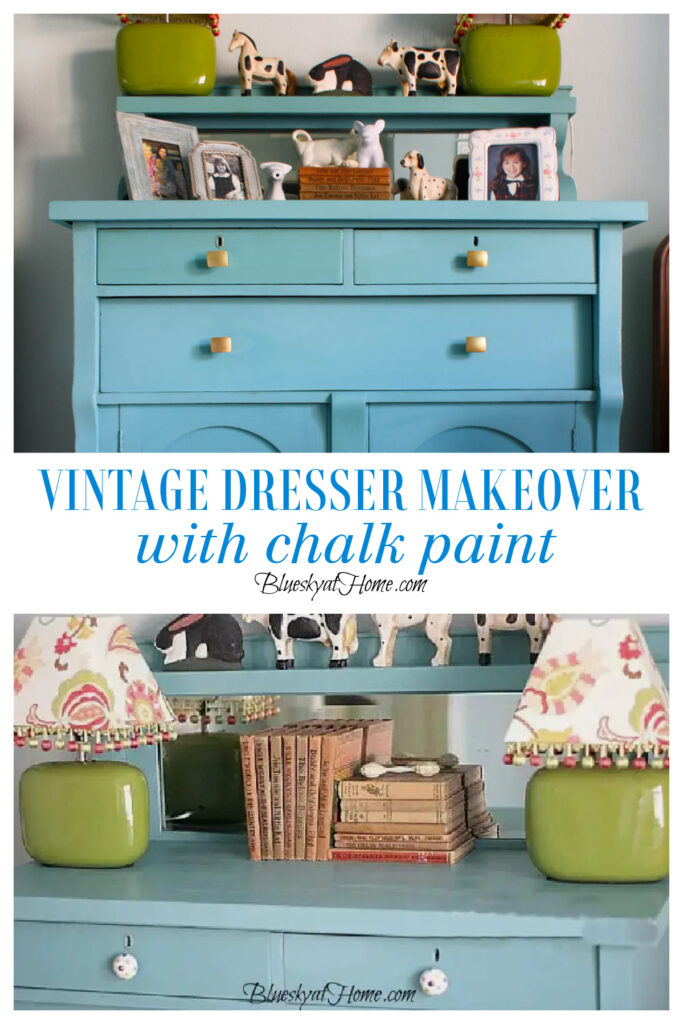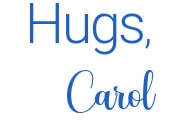 Bluesky at Home – Vintage Dresser Re-Do with Chalk Paint
The Painted Apron – Sunflower Snack Jar
Purple Hues and Me – Upcycled Tuna Can Flower Trinket Box
The Apple Street Cottage – Firecrackers' From Essential Oil Tubes
Elle Marie Home – Crochet a Modern Geometric Diamonds Blanket for Cozy Vibes Year Round
Paint and Patina – Watermelon Summer Sign
Life as a Leo Wife – Easy & Affordable Coastal Farmhouse Wood Bead Wreath
Modern on Monticello – Easy and Fun Patriotic Painting Ideas for July 4th
My Thrift Store Affiction – 3 Ways to Craft Simple Greeting Card Art
Decorate and More with Tip – Dollar Tree Wreath Tutorial