Tuesday Turn About Link Party 94
Welcome to Tuesday Turn About Link Party 94.
At Tuesday Turn About Link Party 94, we are so excited that you have chosen to share your creations here.
We hope that everyone had a lovely and meaningful Easter. Our church had our first service back as a community. Three services were held outdoors in the church parking lot. Everyone brought chairs or blankets. There was singing and lilies and warm hellos ~ all behind masks. Our senior pastor joked that he never imagined preaching in a parking lot! It was like a tailgate party.
Try to imagine over 300 hundred people singing Handel's Messiah in a parking lot. I hope the neighbors enjoyed it. We certainly did.
We are now into April and the springtime will bring blooming flowers, white jeans and flip flops.
Once again we had an amazing turnout at Tuesday Turn About. Thank you to all our party goers.
Tuesday Turn About Link Party 94 is now open for partying.
Here is TTA 93 if you would like to visit again.
Tuesday Turn About Link Party 94
Carol's Blogger Tip
This week's Blogger Tip is about 4 must~haves of a Pinterest image.
Pinterest images are the billboard for your post. Let's look at 4 parts to a PIN:
1. The image ~ whether the photo is your own or a stock image, make sure it will help the reader understand what the post is about. LIght, clear and sharp.
2. PIN text ~ the text on your image should tell the pinner instantly what it's about. Try to use keywords in your title. The Pin title doesn't have to be the exact title of the post. Remember that Pinterest can read words on the photo.
3. Branding ~ is your brand (website) mentioned on your Pin? Whether it's a logo or your blog URL, it should be included in your Pin.
4. Call to Action ~ tell the Pinner on the Pin what you want them to do, "sign up for my email list" or "learn more" or get the instructions". You can put this CTA in a text box.
BOTTOM LINE ~ These are easy actions to take. Scroll through Pinterest and study Pins that follow these important elements.
Carol at Bluesky at Home
Spring DIY Home Decor Projects| 10 Pretty Ways to Use Greenery in your Home | 10 Thoughts on an Easter Weekend
Michelle at Thistle Key Lane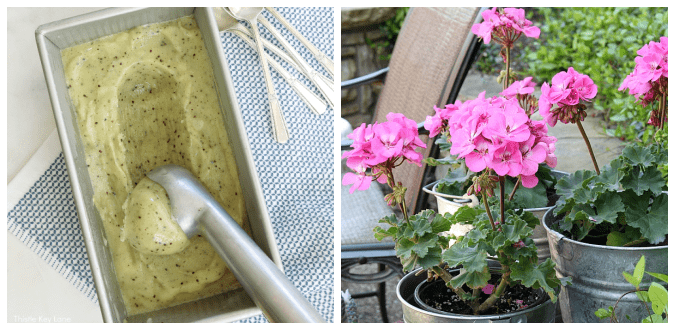 Kiwi Sorbet Recipe | Simple Bucket Container Garden
Julie at My Wee Abode
Create a Faux Spring Mantel | DIY Spring Tire Wreath
Now, let's see what your hostesses have been up to this week.
Ellen of Confessions of an Overworked Housewife shows us how to make these pretty cards and envelopes embellished with washi tape. I love washi tape and how it can easily make the simple so cute.
I love making pillows. This tutorial from Jennifer of The Everyday Farmhouse shares very clear instructions for a no~sew pillow cover.
This is one of the prettiest spring hutches I've ever seen. Lori of Dining Delight created this beautiful vignette with all the pretty pink flowers, white containers, and bunnies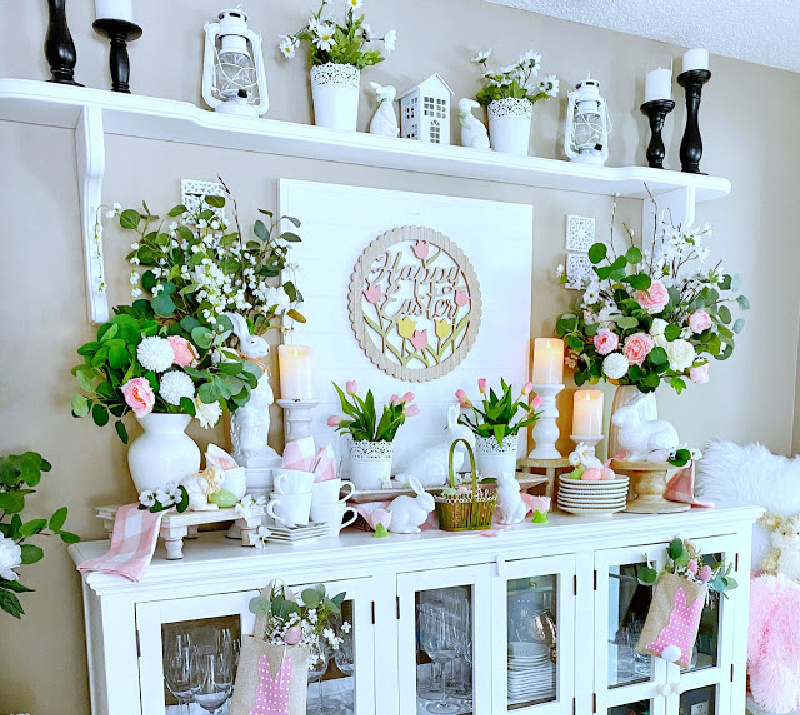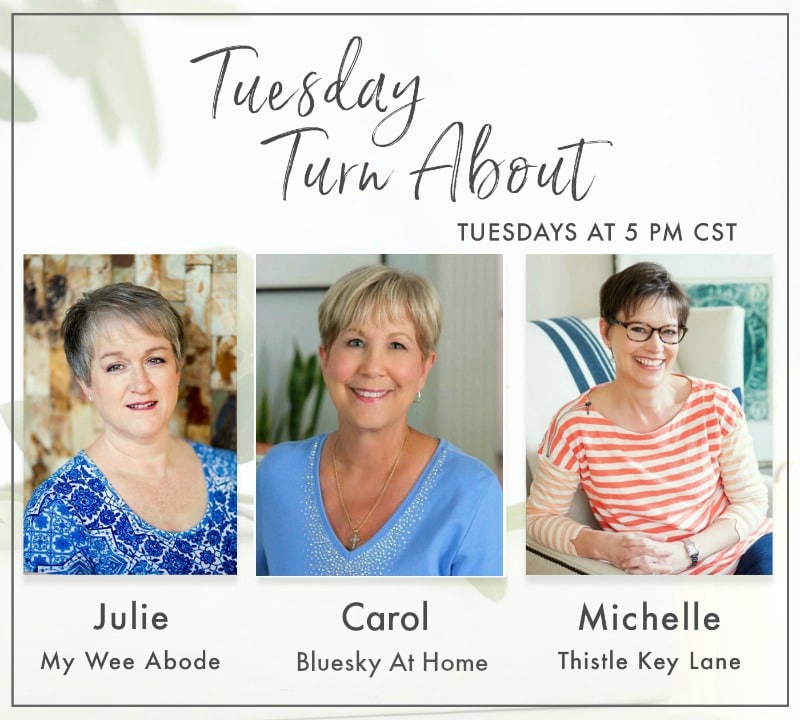 Please visit your hostesses on Social Media.
My Wee Abode: Pinterest | Facebook | Instagram
Thistle Key Lane: Pinterest | Facebook | Instagram
Bluesky at Home: Pinterest | Facebook | Instagram
This party is for home decor and home-related posts only (home decor, recipes, organizing, DIY, crafts, etc.). Link up to 3 related posts. Please do not link up informational posts that do not relate to the topic.
If you would please not link up shops, advertising, round-ups, other link parties, or any posts promoting sales, we would appreciate it.
DO NOT PIN FROM IMAGES ON THIS PAGE (it just won't work right on Pinterest). However, please visit the original post/source and PIN from there. That works perfectly!
Please make sure that your images are in a jpeg or png format. If we can't copy your image, we can't feature you. So sad!
By linking to the party, you give us permission to share your projects on our blogs and social media. We will always give proper credit with a no-pin image.
You are invited to the Inlinkz link party!