Tuesday Turn About Link Party 84
Welcome to this week's Tuesday Turn About Link Party 84.
This is the last link party in January! Can you believe that? We have had some amazing content shared every week. Tuesday Turn About Link Party 84 was no exception.
Here is TTA 83 if you would like to visit again.
Tuesday Turn About Link Party 84
Carol's Blogger Tip
This week's first blogger tip of the year is about tags on your blog
You know I love Grayson at Blogging on WordPress. He is like a WordPress guru and his FB Group is full of current and applicable WordPress advice.
In a recent post, Grayson mentioned tags and that they basically not needed as they duplicate categories. He recommended going forward not to use them.
I thought that was a great idea since it's one less thing to do for each post. I decided to do a little research.
The most recent information is from June 2020 at WP Beginner (a great resource, by the way): "One of the biggest differences between tags and categories is that all WordPress posts must be filed under a category, but they don't have to have tags." I didn't know that.
An article from February 2020 in According to Business to Community: "Don't make the mistake of thinking it's a good idea to put a dozen tags on each blog post you write. Blog tags are different from YouTube tags, so they won't increase your traffic. In fact, tags are really not that useful from an SEO standpoint.
The real purpose of tags is to organize similar content for readers. If a reader sees a tag on a post, they're given the impression that there's more content on a similar topic."
This site also recommended using no more than one category and five tags per post. More than that is unnecessary and can confuse Google Analytics.
For now, I'm going reduce the number of categories I use to one and limit the number of tags to just 3 ~ or maybe follow Grayson's advice and dont' bother with them.
Bottom~Line: Check out some of the recent information about using tags (I always just pay attention to the most recent information, especially for SEO, Google Analytics and blog best practices.) At least reduce the number of categories and tags you use.
Now, let's see what your hostesses have been up to this week.
Carol at Bluesky at Home
5 Amazing Valentine's Day Projects | Cutest Valentine's DIY Gift| Romantic Valentine's Brunch for Two
Michelle at Thistle Key Lane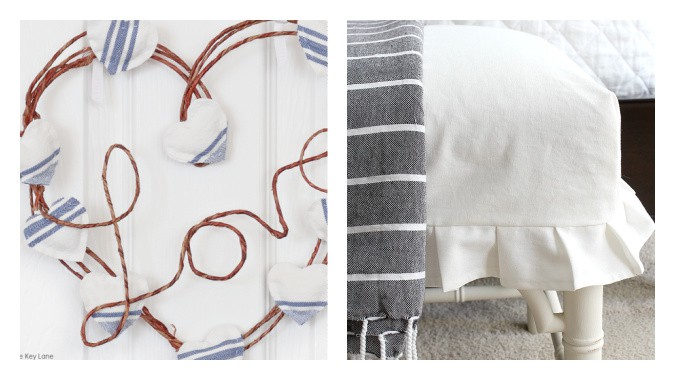 DIY French Country Style Heart Wreath | DIY Slipcover Bench With Pleated Skirt
Julie at My Wee Abode
Free Water Color Winter Printables | Add a Little Spice with a Valentine Tote Pinterest Challenge
Let's take a look at this week's features.
Are you ready to look forward to 2021? These projects will give you some inspiration.
Tuesday Turn About Link Party 84 Features
I can't resist a cute Valentine's Day DIY decoration. Tammy of Patina and Paint shared a sweet little decorative box with easy instructions.
In the deep, dark days of winter, are you already dreaming of a beautiful spring garden? Heidi of My Sweet Garden provides a flower~filled gallery of flowering gardens and her plan for her own new planting area.
I start breathin fast when I see a really great repurposed project ~ taking the old and forgotten and reimagining it as something new and useful. Cindy of Reinvented Delware shares an amazing transformation.
Now take a look at the features that Julie and Michelle have chosen.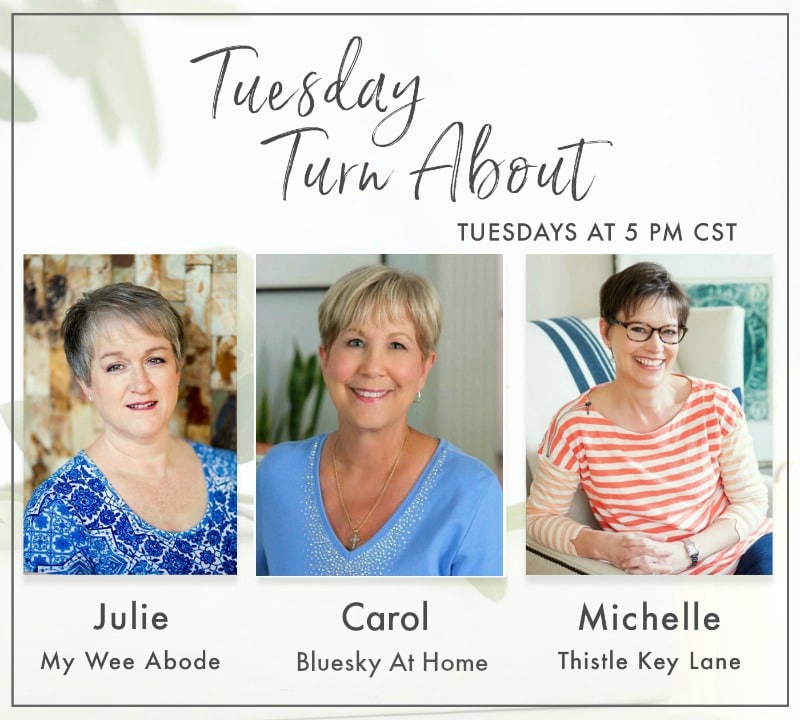 PLEASE VISIT YOUR HOSTESSES ON SOCIAL MEDIA AND SAY HI
My Wee Abode: Pinterest | Facebook | Instagram
Thistle Key Lane: Pinterest | Facebook | Instagram
Bluesky at Home: Pinterest | Facebook | Instagram
This party is for home decor and home-related posts only (home decor, recipes, organizing, DIY, crafts, etc.). Link up to 3 related posts. Please do not link up informational posts that do not relate to the topic.
If you would please not link up shops, advertising, round-ups, other link parties, or any posts promoting sales, we would appreciate it.
DO NOT PIN FROM IMAGES ON THIS PAGE (it just won't work right on Pinterest). However, please visit the original post/source and PIN from there. That works perfectly!
Please make sure that your images are in a jpeg or png format. If we can't copy your image, we can't feature you. So sad!
By linking to the party, you give us permission to share your projects on our blogs and social media. We will always give proper credit with a no-pin image.
You are invited to the Inlinkz link party!