Tuesday Turn About Link Party 76
Welcome to our Tuesday Turn About Link Party 76. Can you believe it's Thanksgiving Week?
Here at Tuesday Turn About Link Party 76, we are grateful for you coming each week to share your creativity. Thank you for helping this party grow.
We had another great turnout last week. Christmas is definitely taking over the Internet!
Here is last week's TTA 75 if you would like to visit again.
Tuesday Turn About Link Party 76
Carol's Blogger Tip
This week's Tuesday Turn About Link Party 76 blogger tip is all about Photography.
Last year I took  Photographing Interiors course from Rachel Paxton of Maison de Pax. It was amazing. Rachel's photography is beautiful and she has been featured in several magazines. Rachel has taught classes at Haven Conference, too. Although she doesn't call it a Lightroom Class, Rachel includes quite a bit of very helpful information about Lightroom and Photoshop (for text overlays).
I learned things I didn't know and it was a great refresher if you already use Lightroom. This course is clear, entertaining, and full of hands~on information. Rachel is a dear and she obviously loves sharing her expertise and photography skills. You will feel like you are in her living room learning from her.
Yesterday I received an email from Rachel that she is offering her amazing course with a 25% discount for Black Friday.
BOTTOM LINE ~ Check out Rachel's course, take advantage of this super sale and up your photography skills with Rachel's course. (This is an affiliate link.) You can get the discount using the code BLACKFRIDAY2020. My Thanksgiving Gift to You.
Now, let's see what your hostesses have been up to this week.
Carol at Bluesky at Home
How to Make Holiday Place Cards and Holders| Vintage Cutting Boards for Christmas Decor | Sweet Hot Chocolate Bar
Michelle at Thistle Key Lane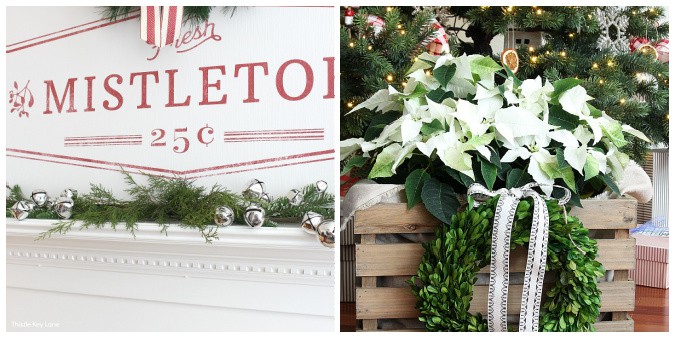 Cozy Christmas Mantel In Red And White | How To Decorate With Poinsettias In Crates
Julie at My Wee Abode
Create a Faux Christmas Mantel with Flocked Garland | FREE Christmas Printables
Let's take a look at this week's features.
You may notice a trend with this week's features ~ it's beginning to look a lot like Christmas.
Wreaths are quintessential Christmas decorations and can go just about anywhere in your home. Amy of Health, Home and Heart shows us how to make a wreath inexpensively.
Christmas ornaments are the best way to give a personal touch to your Christmas tree. I love this simple bead and tassel ornament created by Michelle of Our Crafty Mom.
How to reuse and restyle Christmas decorations from year to year? Rachel of The Ponds Farmhouse gives us some great ideas.
Be sure to see what features that Julie and Michelle have chosen.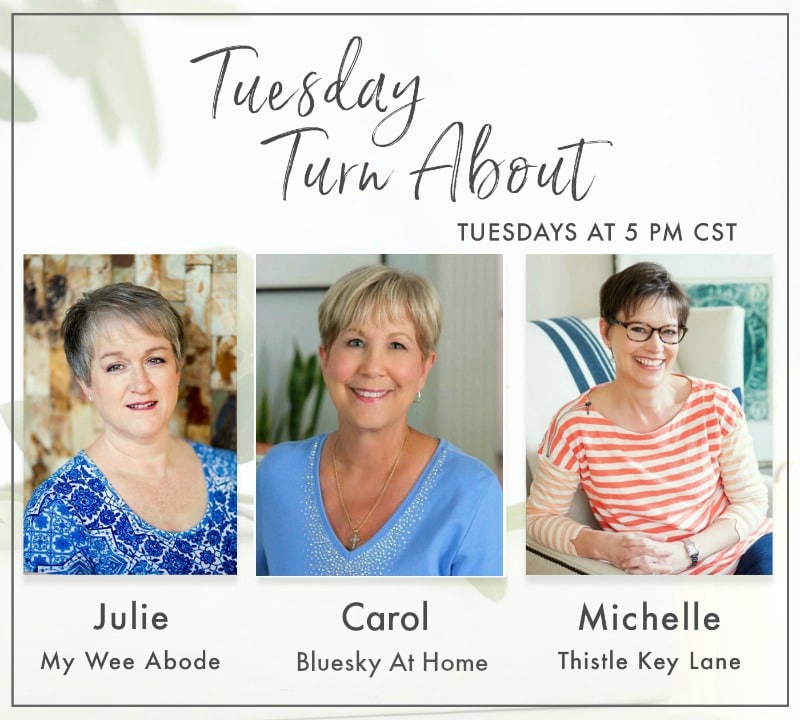 PLEASE VISIT YOUR HOSTESSES ON SOCIAL MEDIA AND SAY HI
My Wee Abode: Pinterest | Facebook | Instagram
Thistle Key Lane: Pinterest | Facebook | Instagram
Bluesky at Home: Pinterest | Facebook | Instagram
This party is for home decor and home-related posts only (recipes, organizing, DIY, crafts, etc.). Link up to 3 related posts. Please do not link up informational posts that do not relate to the topic.
If you would please not link up shops, advertising, round-ups, other link parties, or any posts promoting sales, we would appreciate it.
DO NOT PIN FROM IMAGES ON THIS PAGE (it just won't work right on Pinterest). However, please visit the original post/source and PIN from there. That works perfectly!
Please make sure that your images are in a jpeg or png format. If we can't copy your image, we can't feature you. So sad!
By linking to the party, you give us permission to share your projects on our blogs and social media. We will always give proper credit with a no-pin image.