Tuesday Turn About Link Party 75
Welcome to our Tuesday Turn About Link Party 75. You all are the best link party attendees. Thank you for joining us every week.
Again we had a great turnout last week. We're so happy for you to join us this week at Tuesday Turn About Link Party 75.
Here is last week's TTA 74 if you would like to visit again.
Tuesday Turn About Link Party 75
Carol's Blogger Tip
This week's Tuesday Turn About Link Party 75 blogger tip is all about broken links. Do you know what those are?
This tip comes from a podcast that I listen to ~ Paula Rollo.
A broken link is a link on your site that basically goes nowhere. Broken links are links that don't work. They lead to what is known as a 404 page, a page that doesn't exist. No blogger wants to send a reader to a broken link. It's not good for your SEO either.
What causes broken links?
If you have links to products on your site, a company may no longer sell that product.
If you have worked on a sponsored post, that brand may no longer be promoting that product or sale.
If you have links to other bloggers, that blogger's link may no longer be viable.
When a website is active, but the specific page within it doesn't exist, that is a brocken link. A different error appears if the whole website you're visiting is unavailable.
How do you find and fix broken links on your site? Paula Rollo suggests adding the plugin Broken Link Checker to your WordPress site.
BOTTOM LINE ~ Be sure every link you can to your site is a viable link. When updating older posts (fresh Pins for Pinterest!), be sure to check your links. Finally, add Broken Link Checker to your blog. I'm going to.
Now, let's see what your hostesses have been up to this week.
Carol at Bluesky at Home
DIY Wood Christmas Gifts | Burlap Bow and Fall Wood Sign | Thanksgiving Napkin Rings
Michelle at Thistle Key Lane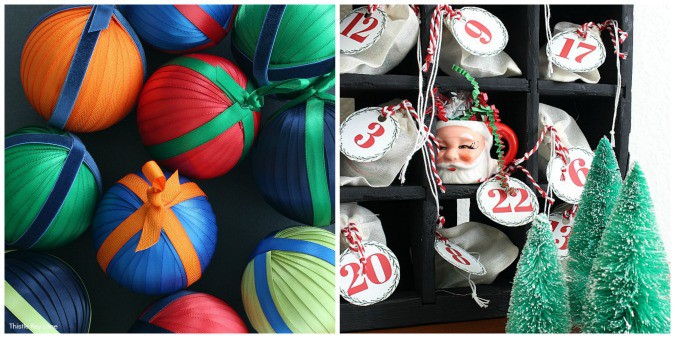 How To Make Ribbon And Ticking Christmas Ornaments | Advent Calendar With Bags And Printable Numbers
Julie at My Wee Abode
Frosty Mint Christmas Decor Guide | Custom Handpainted Gift Anyone Can Make
Let's take a look at this week's features.
You may notice a trend with this week's features.
As the weather goes from cool to cooler to cold, I love a good mug of hot chocolate. This sweet hot chocolate bar from Denise of My Home for All Seasons. Has anyone seen Santa?
DIY decorations for Christmas are so much fun to make. How cute are these framed signs from Stacy of Not Just a Housewife?
More darling DIY ornaments. These made from wood slices (one of my favorite materials) will brighten up any tree. Chrissy of First Day of Home created them.
Be sure to see what features that Julie and Michelle have chosen.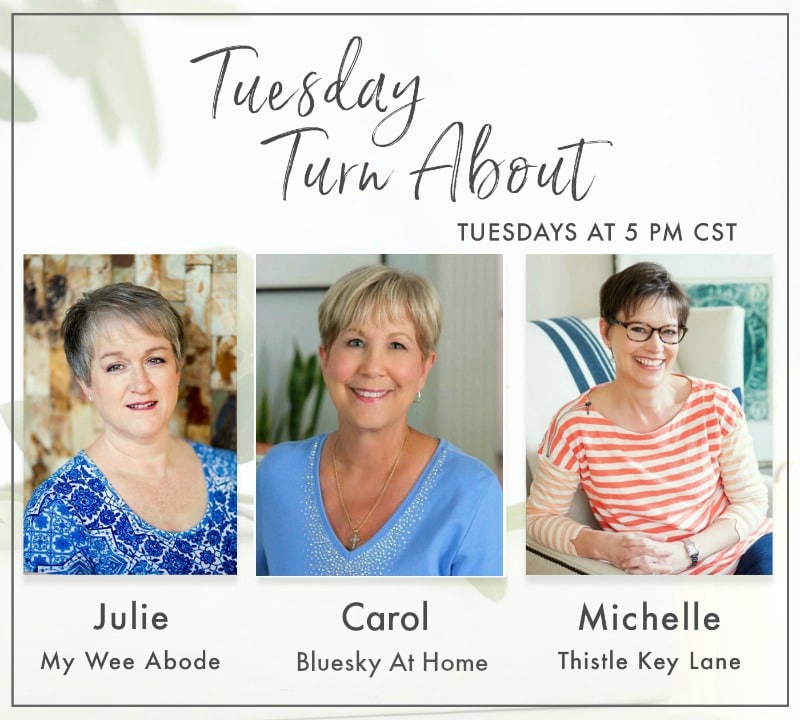 PLEASE VISIT YOUR HOSTESSES ON SOCIAL MEDIA AND SAY HI
My Wee Abode: Pinterest | Facebook | Instagram
Thistle Key Lane: Pinterest | Facebook | Instagram
Bluesky at Home: Pinterest | Facebook | Instagram
This party is for home decor and home-related posts only (recipes, organizing, DIY, crafts, etc.). Link up to 3 related posts. Please do not link up informational posts that do not relate to the topic.
If you would please not link up shops, advertising, round-ups, other link parties, or any posts promoting sales, we would appreciate it.
DO NOT PIN FROM IMAGES ON THIS PAGE (it just won't work right on Pinterest). However, please visit the original post/source and PIN from there. That works perfectly!
Please make sure that your images are in a jpeg or png format. If we can't copy your image, we can't feature you. So sad!
By linking to the party, you give us permission to share your projects on our blogs and social media. We will always give proper credit with a no-pin image.