Tuesday Turn About Link Party 74
Welcome to our Tuesday Turn About Link Party 74. Can you believe this is the first link party in November?
We had a really big turn out last week for Tuesday Turn About Link Party 74. Thank you for joining us every week.
I read that today is Forget~Me~Not Day. We definitely won't forget you all.
I am still adjusting to standard daylight time; how about you? Hopefully, I will start to sleep past 4:00 because, with the holiday season upon us, I need all the energy I can muster.
Here is last week's TTA 73 if you would like to visit again.
Tuesday Turn About Link Party 74
Carol's Blogger Tip
This week's Tuesday Turn About Link Party 74 blogger tip is all about a new feature I found in Tailwind. I absolutely love Tailwind. I've used it for over 2 years and it is worth every penny.
Tailwind is more than just a scheduler for Pinterest and Instagram. There are so many more features ~ your personal IG hashtag lists, algorithm time slots for both Pinterest and IG, interval scheduling, Tribes, your custom Pinterest boards, scheduling to multiple boards, and scheduling from any website. Not to mention the amazing resources that Tailwind provides.
How often have you wanted to PIN an image from another blog that is not configured for Pinterest (2:3 ratio) or post an image to Instagram (square 1080 pixels)? It's frustrating, not to mention time~consuming.
For editing images for Pinterest (not my specific Pinnable images) and Instagram from my own blog and others, I have used PicMonkey. It's not hard, but it takes time.
Several weeks ago, a blogger friend shared with me a way to edit an image for Pinterest and Instagram right in Tailwind. What used to take several minutes in PicMonkey or Canva, now takes seconds with a few clicks.
If you use Tailwind for Pinterest or Instagram and aren't familiar with this feature, here's how:
Editing an image for Pinterest takes about 5 seconds:
From a website, click on the SCHEDULE box at the bottom of the image you want to use. It goes directly to your Tailwind dashboard.
In your Tailwind dashboard, on the image, click on the "PENCIL" ICON in the upper left corner.
Click on the CROP OPTION at the top of the left menu. Your image appears.
Click on the PINTEREST OPTION near the bottom of the screen. The correct size for Pinterest will appear on a grid. You can adjust vertically or horizontally.
Your image is instantly cropped for Pinterest. Click SAVE and CLOSE. Your new image will appear right in your Pinterest dashboard ready for scheduling.
Editing an image for Instagram takes about 3 seconds:
Open the Tailwind Instagram dashboard and click to add the image you want to use from your computer.
When the image appears in your Tailwind Instagram dashboard, click on the 'CROP" ICON in the upper left corner.
Your image will pop up in a new screen with a choice of shapes below it. Click on SQUARE. A grid will appear. You can adjust horizontally.
Click on SAVE.
Your image will appear on the dashboard screen, ready to add your caption, hashtags, and schedule it.
If you have any questions, don't hesitate to contact me.
BOTTOM LINE ~ If you use Tailwind, try this feature. You will love it. If you don't use Tailwind, this is another reason to try it. If you haven't tried it out yet, now is the time! As a Tailwind partner, I have the exclusive scoop that there's a huge sale happening for Cyber Monday (and they rarely have sales!). Start your free trial so that you're ready to jump on a huge discount in just a few weeks!  You can start your free trial via my affiliate link. If you choose to click through and make a purchase, I will receive a small commission at no cost to you.
Now, let's see what your hostesses have been up to this week.
Carol at Bluesky at Home
Farmhouse Style Scroll Sign | DIY Christmas Gifts | Thanks Sign for Mantel
Michelle at Thistle Key Lane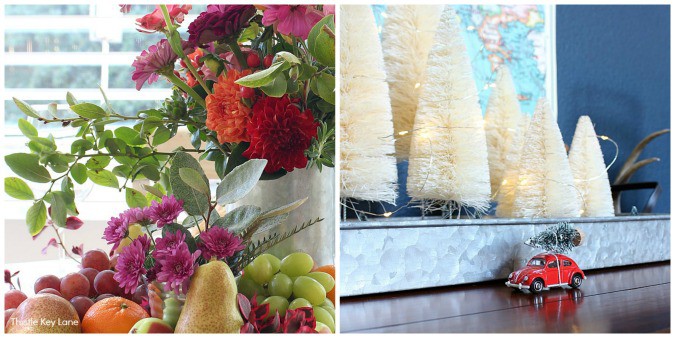 Thanksgiving Fruit And Flower Tablescape | Simple Bottle Brush Christmas Tree Vignette
Julie at My Wee Abode
FREE Thanksgiving Printable | Christmas Decor and DIY for a Tiny Home
Let's take a look at this week's features.
I don't how this happened, but all the features I picked are "risers" this week.
I love this darling green pedestal tray made by Jennifer of Cottage at Bunker Hill. It's perfect for displaying Christmas decor.
This DIY table riser from Tara of Stilettos and Shiplap is perfect for a long dining room table.
This beautiful centerpiece is stunning on this pretty riser from Jayne of Chalking Up Success. I'm so impressed with her skills.
Be sure to see what features that Julie and Michelle have chosen.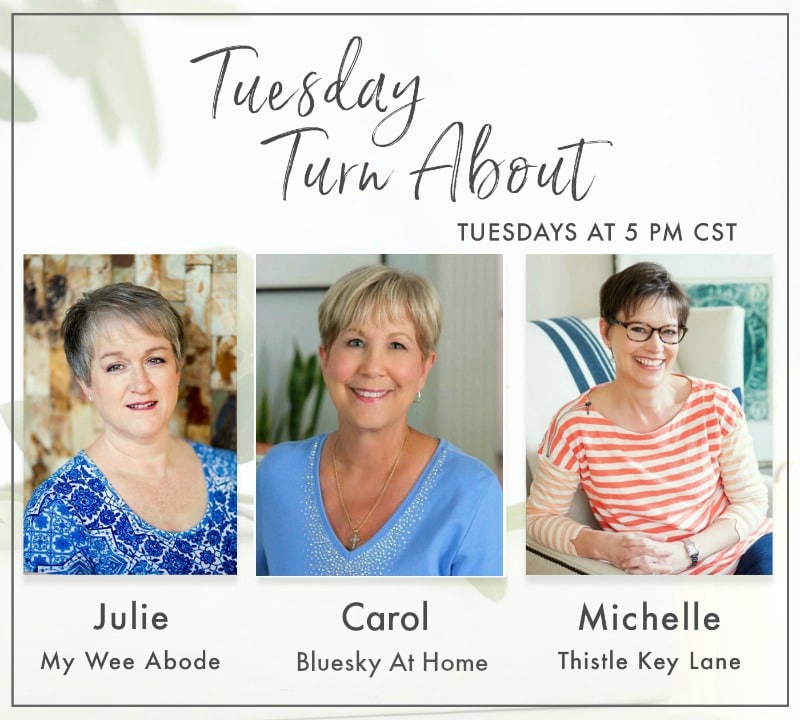 PLEASE VISIT YOUR HOSTESSES ON SOCIAL MEDIA AND SAY HI
My Wee Abode: Pinterest | Facebook | Instagram
Thistle Key Lane: Pinterest | Facebook | Instagram
Bluesky at Home: Pinterest | Facebook | Instagram
This party is for home decor and home-related posts only (recipes, organizing, DIY, crafts, etc.). Link up to 3 related posts. Please do not link up informational posts that do not relate to the topic.
If you would please not link up shops, advertising, round-ups, other link parties, or any posts promoting sales, we would appreciate it.
DO NOT PIN FROM IMAGES ON THIS PAGE (it just won't work right on Pinterest). However, please visit the original post/source and PIN from there. That works perfectly!
Please make sure that your images are in a jpeg or png format. If we can't copy your image, we can't feature you. So sad!
By linking to the party, you give us permission to share your projects on our blogs and social media. We will always give proper credit with a no-pin image.