Tuesday Turn About Link Party 71
Welcome to our Tuesday Turn About Link Party 71. Happy Columbus Day.
Once again, you have shared wonderful projects on Tuesday Turn About Link Party 71. This makes choosing features very fun, but very hard.
It's hard to believe that October is halfway over. Our weather can be cool and crisp one day and warm and humid the next. It's like Mother Nature doesn't know whether she wants to stay in summer or move on to fall.
Here is last week's TTA 70 you would like to visit again.
Tuesday Turn About Link Party 71
Carol's Blogger Tip
This week's Tuesday Turn About Link Party 71 blogger tip comes from one of my favorite podcasts, The Blogger Genius with Jillian Leslie. The topic she covered last week was Google Trends and how it can help bloggers know what topics to focus on.
I was vaguely familiar with Google Trends, but had never visited the website. It is definitely worth spending 20 ~ 30 minutes once a week. Here's how:
enter your search term
under the time frame option, change to "past 30 days"; the differences between this time last year and last year are significant. I found it most helpful to focus on the past 30 days.
you can enter a category search option.
you can enter the type of search ~ web, image, YouTube, news, Google Shopping.
you can see how many people are searching day~to~day on Google for your term.
you can change the location to international or the United States and how many searches by state.
BOTTOM LINE ~ Check out Google Trends and see if it will help you decide what topics to write about.
Now, let's see what your hostesses have been up to this week.
Carol at Bluesky at Home
How to Make Halloween Cards | Halloween Cupcake Toppers | Autumn Pumpkin Vignette
Michelle at Thistle Key Lane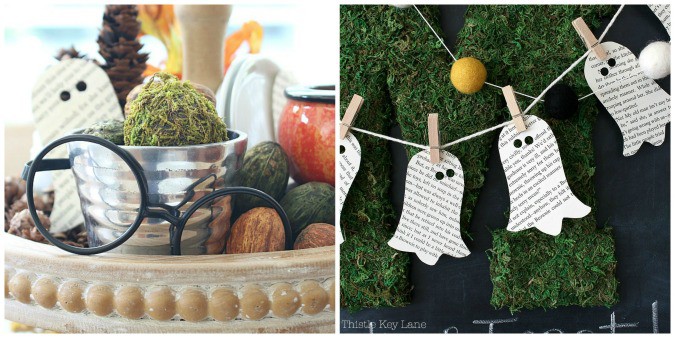 Create A Last Minute Halloween Tiered Tray | DIY Book Page Ghost Garland
Julie at My Wee Abode
23 Best "Quiet" Toys for Kids in Big Church
9 Tips and Tricks for Choosing the Perfect Paint Color
Let's take a look at this week's features.
I love painting terra cotta pots and stenciling, so I was attracted to this variety of Halloween decorations from Kippi of Kippi at Home.
Olivia of Olivia Hern Designs asked "what at Boo Bags?" and that piqued my interest. She shows you what and how to make them.
I love little sweet treats, and these peanut butter pumpkins are so cute to pass up. Traci of The Kitchen is My Playground shared the perfect dessert/snack for Halloween.
Be sure to see what features that Julie and Michelle have chosen.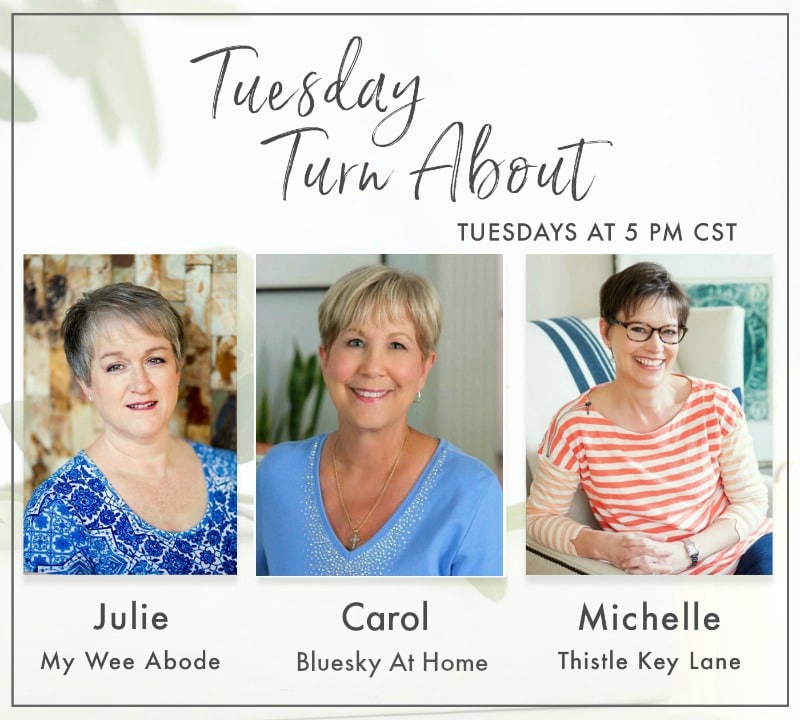 PLEASE VISIT YOUR HOSTESSES ON SOCIAL MEDIA AND SAY HI
My Wee Abode: Pinterest | Facebook | Instagram
Thistle Key Lane: Pinterest | Facebook | Instagram
Bluesky at Home: Pinterest | Facebook | Instagram
This party is for home decor and home-related posts only (recipes, organizing, DIY, crafts, etc.). Link up to 3 related posts. Please do not link up informational posts that do not relate to the topic.
If you would please not link up shops, advertising, round-ups, other link parties, or any posts promoting sales, we would appreciate it.
DO NOT PIN FROM IMAGES ON THIS PAGE (it just won't work right on Pinterest). However, please visit the original post/source and PIN from there. That works perfectly!
Please make sure that your images are in a jpeg or png format. If we can't copy your image, we can't feature you. So sad!
By linking to the party, you give us permission to share your projects on our blogs and social media. We will always give proper credit with a no-pin image.