Tuesday Turn About Link Party 68
Welcome to our Tuesday Turn About Link Party 68. This is the last Monday in September. Are you ready for October?
Once again, Tuesday Turn About Link Party 68 had wonderful ideas. Thank you again for sharing your creations with us.
Here is last week's TTA 67 you would like to visit again.
Tuesday Turn About Link Party 68
Carol's Blogger Tip
What is your photography workflow? We all know how important images are to bringing and keeping reader engagement on our blogs and social media.
Different platforms, especially Instagram, require different image shapes and sizes. I love to know the processes that other blogger use, so I thought I would share my image workflow, from taking images to publishing them.
This is the workflow that I have used and adjusted over time that works for me. Maybe it will work for you or give you ideas to make your own.
Some of the links below are affiliate links, but I'm more interested in you just checking out the resource.
Preparing Images for Post (30 ~ 60 minutes, depending on the number of images):
upload images to my MAC (I have different folders by year, such as 2020 Fall Decor or 2020 Fall DIY Projects.)
import images into Lightroom.
edit images, both horizontal and vertical, in Lightroom, adding watermark and image title.
export images from Lightroom to the appropriate post folder.
upload images to WordPress post.
add Pin Description, Pin Title and alt text to images. (I use Tasty Pins plugin.)
insert images into a WordPress post. (I used Block Editor.)
For Pinnable Images (15 minutes):
open PicMonkey (or Canva).
use the collage feature to create 2 Pinnable images with text overlay.
edit 2 more images to PIN without text overlay (Tailwind now has a feature to edit images for Pinterest right in Tailwind which I've been using. Saves a ton of time.)
upload and insert Pinnable images into WordPress.
insert Pinnable images into Post.
Images for Instagram (10 minutes):
still in PicMonkey.
from the post folder, choose a few images appropriate for Instagram.
in PicMonkey, crop and resize images for Instagram.
save images with title and IG extension to my 2020 Tailwind folder.
resize some images to use in my weekly newsletter; add ML extension and save to my 2020 MailerLite Newsletter folder.
Later, I will then open Tailwind, upload the image(s), write my caption, add emojis and hashtags. Tailwind will schedule the image to Instagram. I can repeat this with multiple images and let Tailwind schedule them.
BOTTOM LINE ~ Develop and establish a workflow process. Use it and tweak it until it works for you.
Now, let's see what your hostesses have been up to this week.
Carol at Bluesky at Home
Transforming Terra~Cotta Pots| Fall Pumpkin and Floral Wreath | Fall Spray Paint Projects
Michelle at Thistle Key Lane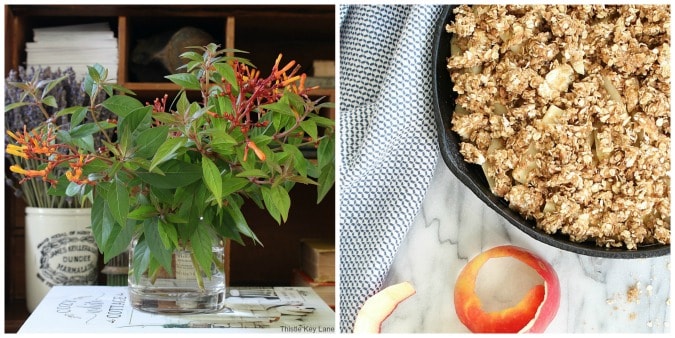 Fall Home Tour With Subtle Colors | Apple Crisp Recipe
Julie at My Wee Abode
Now let's look at this week's features.
These are such pretty pumpkins from Marie of Interior Frugalista that I would love to make some.
I love decoupage. Here is a very different, but super cute, pumpkin project from Gail of Purple Hues and Me.
I wish I had a she~shed. Judith of Botanic Bleu has just remade her garden and craft shed and it is so pretty.
Be sure to see which features that Julie and Michelle have chosen.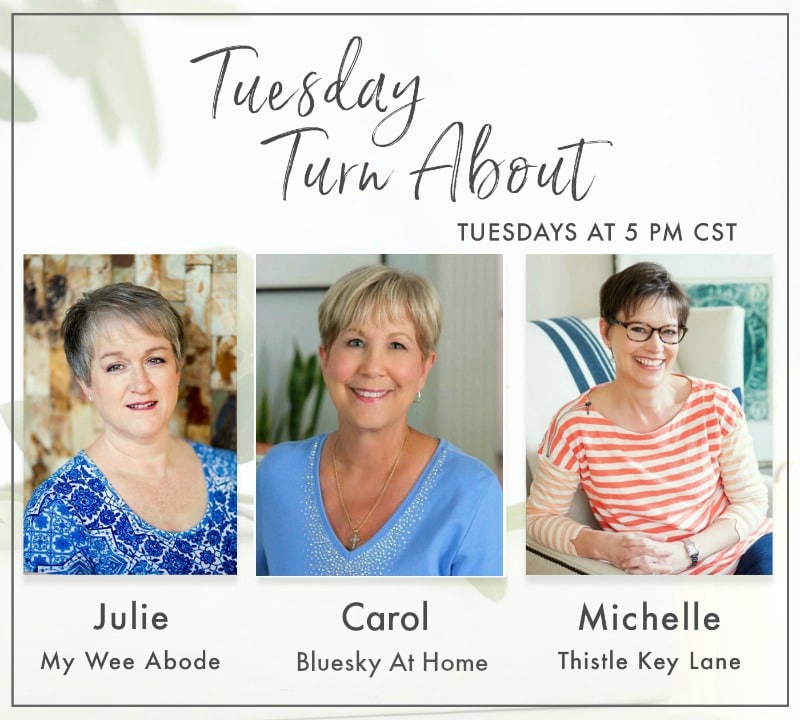 PLEASE VISIT YOUR HOSTESSES ON SOCIAL MEDIA AND SAY HI
My Wee Abode: Pinterest | Facebook | Instagram
Thistle Key Lane: Pinterest | Facebook | Instagram
Bluesky at Home: Pinterest | Facebook | Instagram
This party is for home decor and home-related posts only (recipes, organizing, DIY, crafts, etc.). Link up to 3 related posts. Please do not link up informational posts that do not relate to the topic.
If you would please not link up shops, advertising, round-ups, other link parties, or any posts promoting sales, we would appreciate it.
DO NOT PIN FROM IMAGES ON THIS PAGE (it just won't work right on Pinterest). However, please visit the original post/source and PIN from there. That works perfectly!
Please make sure that your images are in a jpeg or png format. If we can't copy your image, we can't feature you. So sad!
By linking to the party, you give us permission to share your projects on our blogs and social media. We will always give proper credit with a no-pin image.