Tuesday Turn About Link Party 64
Welcome to our Tuesday Turn About Link Party 64. Thank you for participating every week.
Last week was one of our biggest weeks ever. Thank you again for helping Tuesday Turn About Link Party 64 grow.
Fall is everywhere and I'm starting to see some Halloween projects. Are you ready for Halloween?
Here is last week's TTA 63 you would like to visit again.
Tuesday Turn About Link Party 63
Carol's Blogger Tip
Again this week, I'm sharing tips from one of my very favorite and most instructional podcasts, The Blog Millionaire by Brandon Gaille.
Once again, these tips come from his list of 125 Blogging Stats that Matter Most. He compiled these statistics from multiple sources covering different aspects of blog posts. These statistics are thoroughly researched and tested by Brandon.
This week's tips focus on BLOG CONTENT. I have picked 4 more actionable ones that you can implement easily and quickly.
Stat 1 ~ Quality of content" is rated the #1 most important success factor among all bloggers.
Stat 2 ~ Short sentences increase content readability by 58%.
Stat 3 ~ Bloggers with 10+ images in a post are seeing the strongest results, but only 3% of bloggers post 10+ images.
Stat 4 ~ Nearly 70% of bloggers now report going back to older content and making updates.
BOTTOM LINE ~ Focus on your content. Write posts with shorter sentences, include at least 10 images in each post, and update older blog content!
Now, let's see what your hostesses have been up to this week.
Carol at Bluesky at Home
Blue and White Fall Cloche | Fall DIY Yard Art | How to Paint Plates with Ceramic Paint
Michelle at Thistle Key Lane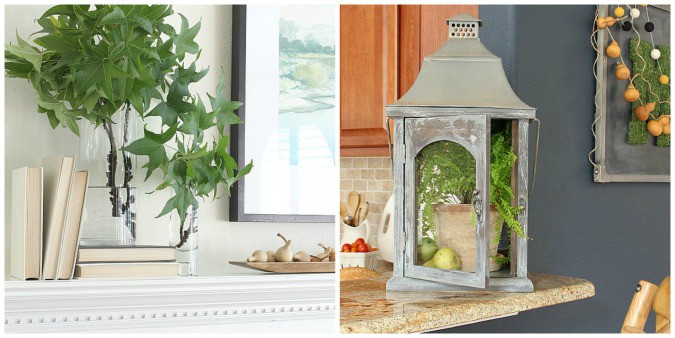 Simple Fall Mantel With Gourds And Greenery | Transitioning Summer To Fall Kitchen Ideas
Julie at My Wee Abode
Tuesday Turn About Link Party 64 Features
Let me introduce you to my features for this week.
I love anything that makes organizing prettier. I love how Kathleen of Our Hopeful Home used contact paper to make her drawers prettier.
Love a Pottery Barn Hack? Laura of Everyday Edits created a pretty setting with a repurposed table and new chairs.
If you ever need to carry some wine to a party, the park or the beach, Marie of Interior Frugalista shows you how to date 2 different old wine caddies.
Be sure to visit Julie and Michelle to see their features.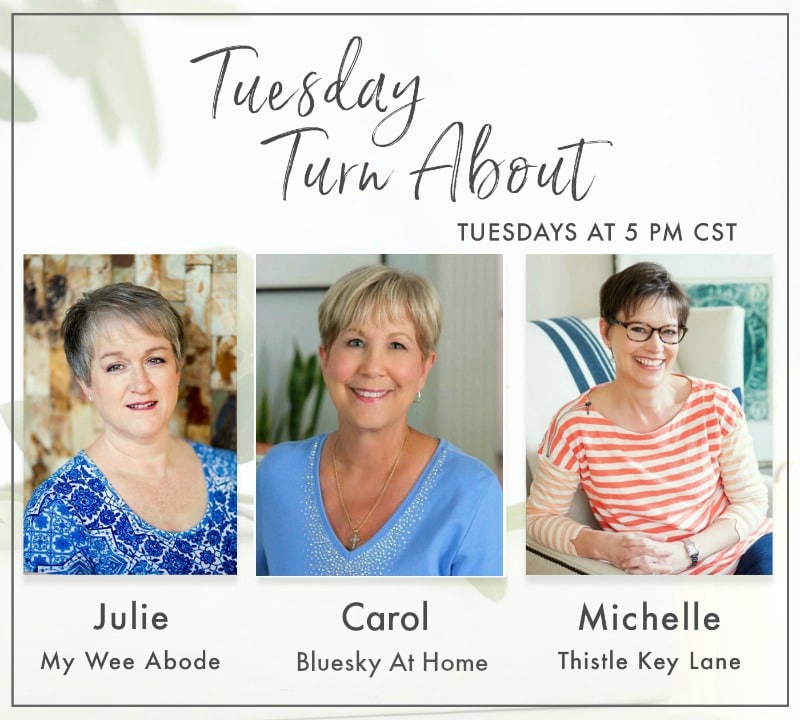 PLEASE VISIT YOUR HOSTESSES ON SOCIAL MEDIA AND SAY HI
My Wee Abode: Pinterest | Facebook | Instagram
Thistle Key Lane: Pinterest | Facebook | Instagram
Bluesky at Home: Pinterest | Facebook | Instagram
This party is for home decor and home-related posts only (recipes, organizing, DIY, crafts, etc.). Link up to 3 related posts. Please do not link up informational posts that do not relate to the topic.
If you would please not link up shops, advertising, round-ups, other link parties, or any posts promoting sales, we would appreciate it.
DO NOT PIN FROM IMAGES ON THIS PAGE (it just won't work right on Pinterest). However, please visit the original post/source and PIN from there. That works perfectly!
Please make sure that your images are in a jpeg or png format. If we can't copy your image, we can't feature you. So sad!
By linking to the party, you give us permission to share your projects on our blogs and social media. We will always give proper credit with a no-pin image.