Tuesday Turn About Link Party 63
Welcome to our Tuesday Turn About Link Party 63. We're so happy that you come back every week.
We know that you have many link parties to visit and that Tuesday Turn About Link Party 63 is just one of them.
Fall is in full force across the Interest and Pinterest. Are you looking for fall ideas? Please check out my fall posts at Bluesky at Home and share your fall ideas here at TTA.
Here is last week's TTA 62 you would like to visit again.
Tuesday Turn About Link Party 63
Carol's Blogger Tip
Last week I shared some tips from one of my very favorite and most instructional podcasts, The Blog Millionaire by Brandon Gaille. I thought I'd share a few more because they are thoroughly researched and tested by Brandon.
Once again, these come from his list of 125 Blogging Stats that Matter Most. He compiled these statistics from multiple sources covering different aspects of blog posts.
These tips are under the topic of BLOG WORD COUNT ~ the length of your blog post. I have picked 3 more actionable ones that you can implement easily and quickly.
Stat 1 ~ Bloggers who write 2000+ words per post are reporting the best results, but only 11% of bloggers write posts that have at least 2000 words.
Stat 2 ~ Longer form content tends to rank for more keywords. A single 2000+ word blog post that ranks in the top 10 on Google for a specific phrase will also rank in the top 10 for 212 other keyword phrases.
Stat 3 ~ Blog posts with 3000+ words get an average of 77.2% more referring domain links than posts shorter than 1000 words. 
BOTTOM LINE ~ Write longer posts!
Now, let's see what your hostesses have been up to this week.
Carol at Bluesky at Home

How to make an Easy Burlap Banner | How to Repaint a Tabletop in 3 Easy Steps |How to Transform French Doors into a Barn Door
Michelle at Thistle Key Lane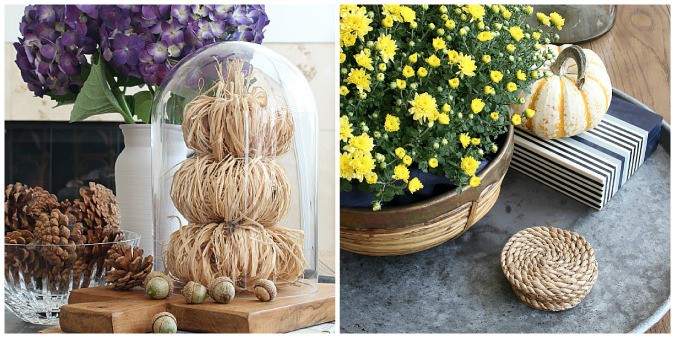 Fall Cloche With Raffia Pumpkins | Fall Decorating With Mums And Pumpkins
Julie at My Wee Abode
7 Fall Decor and DIY Ideas to Start the Season Right
Tuesday Turn About Link Party 63 Features
Let me introduce you to my features for this week.
I can't resist anything blue and white. When I saw the blue and white table that Barbara of Mantel and Table created, I wanted to relax and enjoy her pretty patio setting.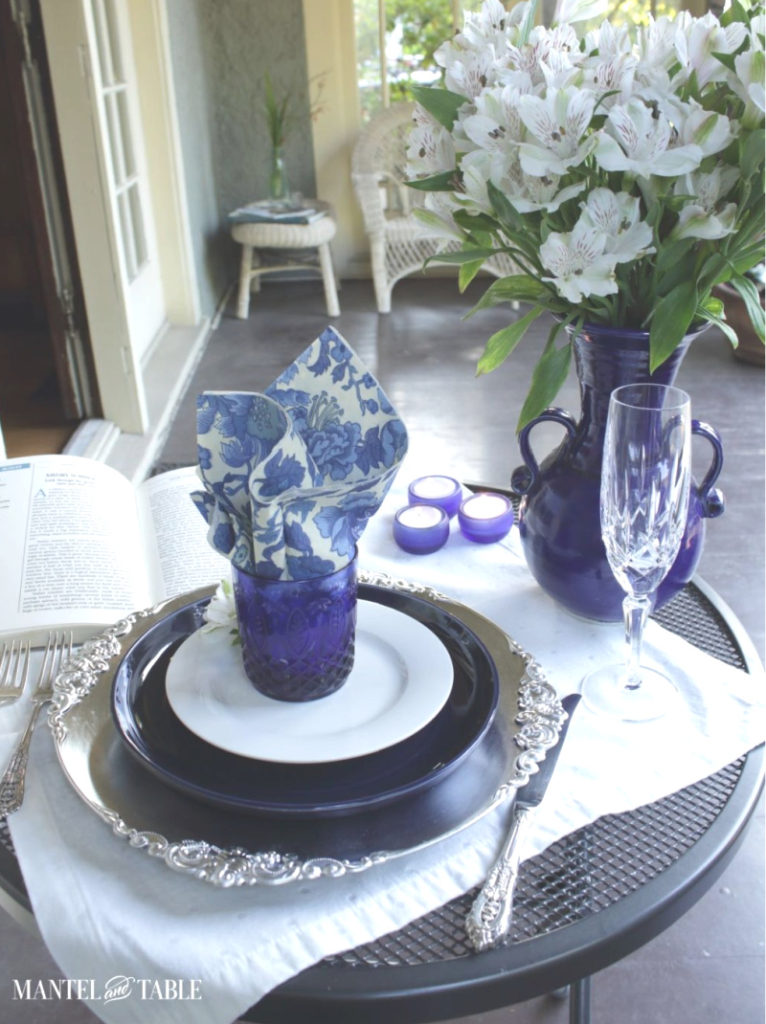 Rescuing and restoring castoff items from a flea market or estate sale is a worthwhile endeavor. Cecilia of My Thrift Store Addiction did a fabulous job ~ you will love the color ~ of repurposing an old office drawer set for her garden.
Who doesn't love a great kitchen remodel project? Megan of Simply Rooted Farmhouse shows how to give a farmhouse kitchen a complete update that is pretty and functional.
Be sure to visit Julie and Michelle to see their features.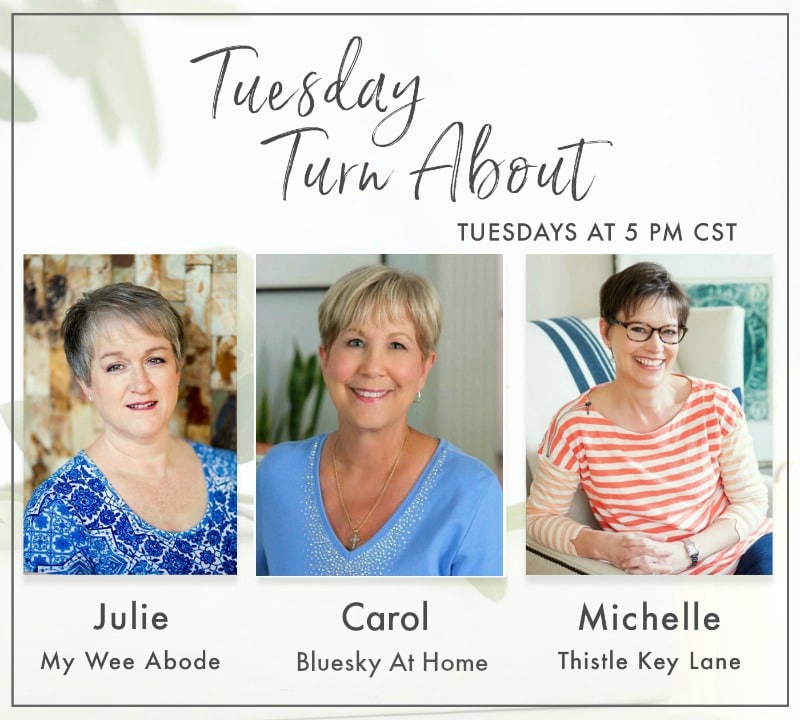 PLEASE VISIT YOUR HOSTESSES ON SOCIAL MEDIA AND SAY HI
My Wee Abode: Pinterest | Facebook | Instagram
Thistle Key Lane: Pinterest | Facebook | Instagram
Bluesky at Home: Pinterest | Facebook | Instagram
This party is for home decor and home-related posts only (recipes, organizing, DIY, crafts, etc.). Link up to 3 related posts. Please do not link up informational posts that do not relate to the topic.
If you would please not link up shops, advertising, round-ups, other link parties, or any posts promoting sales, we would appreciate it.
DO NOT PIN FROM IMAGES ON THIS PAGE (it just won't work right on Pinterest). However, please visit the original post/source and PIN from there. That works perfectly!
Please make sure that your images are in a jpeg or png format. If we can't copy your image, we can't feature you. So sad!
By linking to the party, you give us permission to share your projects on our blogs and social media. We will always give proper credit with a no-pin image.