Tuesday Turn About Link Party 62
Welcome to our Tuesday Turn About Link Party 62. Thank you for visiting our party.
We are deep into August. As always, we love that you visit and share on Tuesday Turn About Link Party 62 every week.
After a road to Atlanta with my older daughter and grandgirls, a visit to the lake in North Georgia, games of Go Fish, and working on last week's link party on 3 different devices, I am back home.
Of course, the temps hit 100 when I arrived.
Here is last week's TTA 61 you would like to visit again.
Tuesday Turn About Link Party 62
Carol's Blogger Tip
I am a big podcast listener. Since Covid, I have been listening every morning on my walks. One of my very favorite and most instructional is The Blog Millionaire by Brandon Gaille.
Recently he had a post about the 125 Blogging Stats that Matter Most. He compiled these statistics from multiple sources covering different aspects of blog posts.
I'm not going to share all 125! I decided to focus on the topic of BLOG TITLES. I have picked 3 actionable ones that you can implement easily and quickly.
Stat 1 ~ Blog posts with 11 to 13 words get the most traffic. Action ~ adjust the length of your blog titles.
Stat 2 ~ Using a number in blog titles increases social shares by 200%. Blog titles that lead with a number have a 36% higher click~through rate. Action ~ whenever possible, include a number in your title.
Stat 3 ~ Titles that contain a question (How, Why, What, Who) have a 14.1% higher CTR versus pages that don't have a question in their title. Action ~ include question words in your titles.
I hope these statistics and actions are helpful to you.
Now, let's see what your hostesses have been up to this week.
Carol at Bluesky at Home

How to Reuse and Restyle Fall Decorations | How to Style A Mantel for Fall | How to Make A Wood and Burlap Banner
Michelle at Thistle Key Lane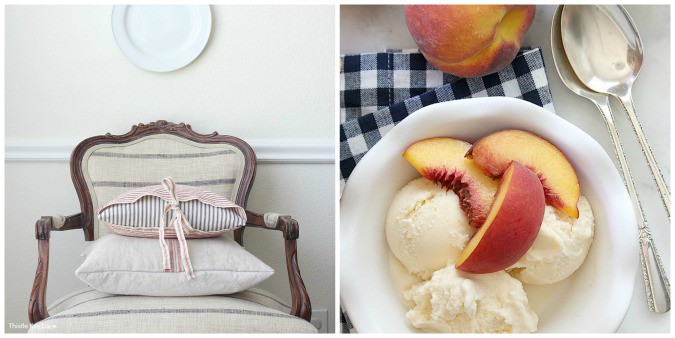 Make Your Home Look New After Painting | Peach Ice Cream Recipe
Julie at My Wee Abode
15 Painted Bathroom Cabinets to Fit Any Style
Tuesday Turn About Link Party 62 Features
Let me introduce you to my features for this week.
I love ideas for organizing places in our home. I truly think an organized home is a happier home. Coco of The Crowned Goat shared some wonderful ideas as well as awesome products to keep your spaces neat.
If you are thinking ahead to fall and Halloween, Chloe of Celebrate and Decorate has made the cutest scarecrow DIY. You can hang this pizza pie man as a wreath or door hanger.
I love when people reuse, restore, or dress up an old piece of furniture. Ashley of At Home with Ashley took an old plain~Jane nightstand and made it something special with a unique approach.
Be sure to visit Julie and Michelle to see their features.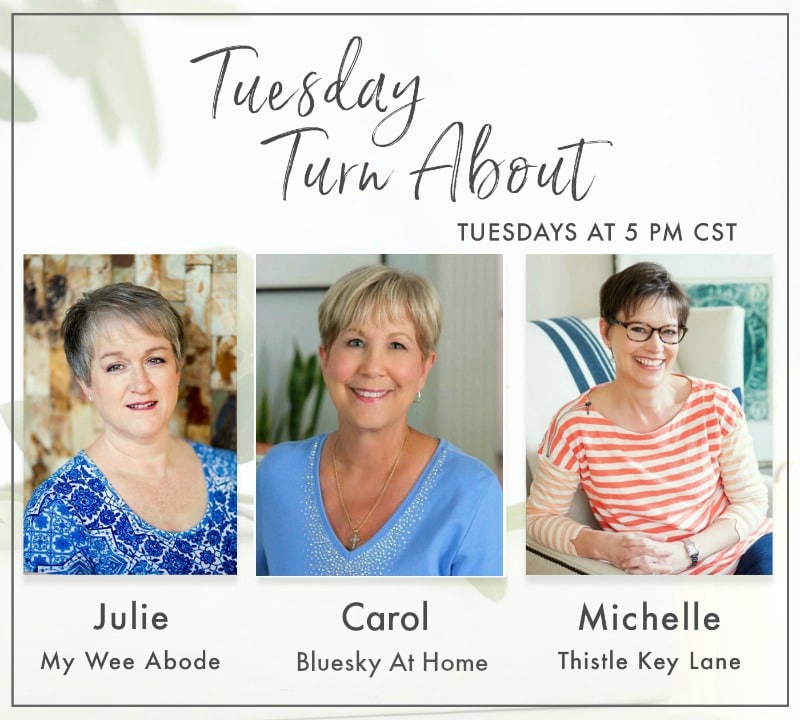 PLEASE VISIT YOUR HOSTESSES ON SOCIAL MEDIA AND SAY HI
My Wee Abode: Pinterest | Facebook | Instagram
Thistle Key Lane: Pinterest | Facebook | Instagram
Bluesky at Home: Pinterest | Facebook | Instagram
This party is for home decor and home-related posts only (recipes, organizing, DIY, crafts, etc.). Link up to 3 related posts. Please do not link up informational posts that do not relate to the topic.
If you would please not link up shops, advertising, round-ups, other link parties, or any posts promoting sales, we would appreciate it.
DO NOT PIN FROM IMAGES ON THIS PAGE (it just won't work right on Pinterest). However, please visit the original post/source and PIN from there. That works perfectly!
Please make sure that your images are in a jpeg or png format. If we can't copy your image, we can't feature you. So sad!
By linking to the party, you give us permission to share your projects on our blogs and social media. We will always give proper credit with a no-pin image.