Tuesday Turn About Link Party 59
Welcome to Tuesday Turn About Link Party 59. We are so happy you're here.
Can you believe this is the last Tuesday in July? Thank you for continuing to visit and share at Tuesday Turn About Link Party 59 every week. We really appreciate you coming to the party. 
Is summer 2/3 over? For many whose kids are going back to school ~ one way or another ~ summer is practically over. I liked it when school didn't start until after Labor Day.
On Pinterest, searches for all things Christmas has spiked dramatically. I never thought I would be posting about Christmas decorations in July, but last week I did ~ along with 13 of my blogger friends.
Not to be left behind or leave anyone out, I'm planning on mixing in Christmas~themed posts in the coming weeks. Granted, they are updates from previous years. But Christmas never goes out of style, right?
Are you thinking about Christmas in July? August?
Here is last week's TTA 58 you would like to visit again.
Tuesday Turn About Link Party 59
Carol's Blogger Tip
Who do you follow on Instagram? Do you follow back everyone who follows you?
I've always had a hard time with this subject. I have my own don't follow criteria.
I don't follow private accounts unless it is a good friend.
I don't follow men ~ period.
I pretty much don't follow people in a language that I can't understand. *The one exception is a former au pair from Sweden who I like to keep up with.
I don't follow people/companies whose niche/products bear no relationship to anything I am interested in. I won't even tell what those topics are.
I don't follow back companies that offer to grow my IG account by billions in 20 seconds.
I don't follow selfies of naked/half~naked bodies and anything else that is offensive.
So that leaves everyone else who follows you. Or does it?
There were several Instagram~focused classes at Haven. A lot of Instagram classes. One piece of advice I heard more than once that I'm passing on to you: Only follow people who you will engage with.
As we heard over and over, engagement is so important to growing an Instagram account. I definitely need to improve on my engagement. It's easy to comment or like someone else's posts when you like their feed. If you follow someone, but never like or comment, it's a waste of your time and it lowers their engagement rate.
So bottom line: think about engagement and only follow back those feeds you really like.
Let's see what your hostesses have been up to this week.
Carol at Bluesky at Home

Cucumber Tomatillo Gazpacho | Rescued Tray Gets Makeover | DIY Christmas Wood Signs
Michelle at Thistle Key Lane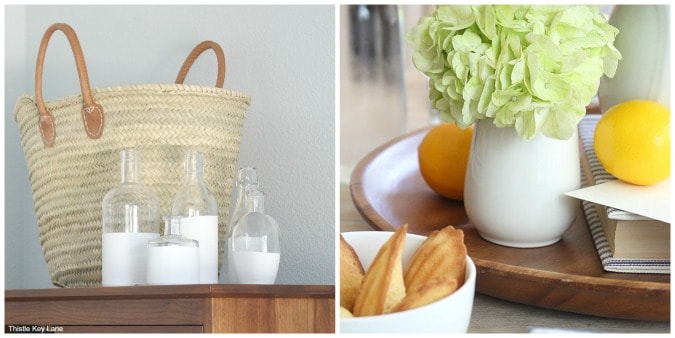 How To Create Vases With Chalk Paint | Summer Lemon Tablescape And A Free Printable
Julie at My Wee Abode
How to Repair Bathroom Cabinets the Fast and Easy Way
Tuesday Turn About Link Party 59 Features
Give a shout out to Amber of Follow the Yellow Brick Home for putting down a new brick floor in her kitchen. She's also sharing some beautiful examples of other brick floors.i
I love a great DIY project. This natural~looking wreath made by Kippi of Kippi at Home is one I am going to make very soon.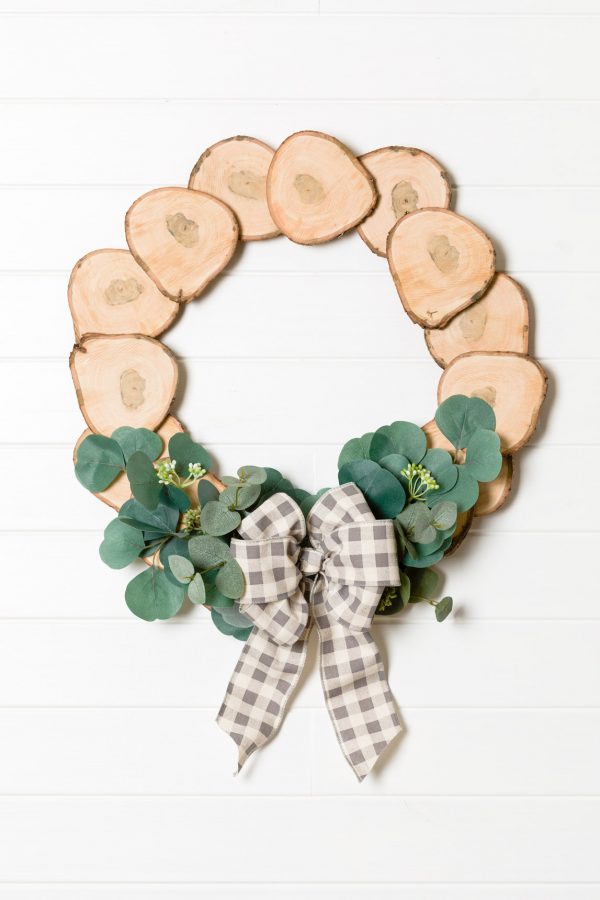 I love a pretty craft/office. If it is painted in pink, it's even better. See how Lindsay of Lindsay's Sweet World transformed her office.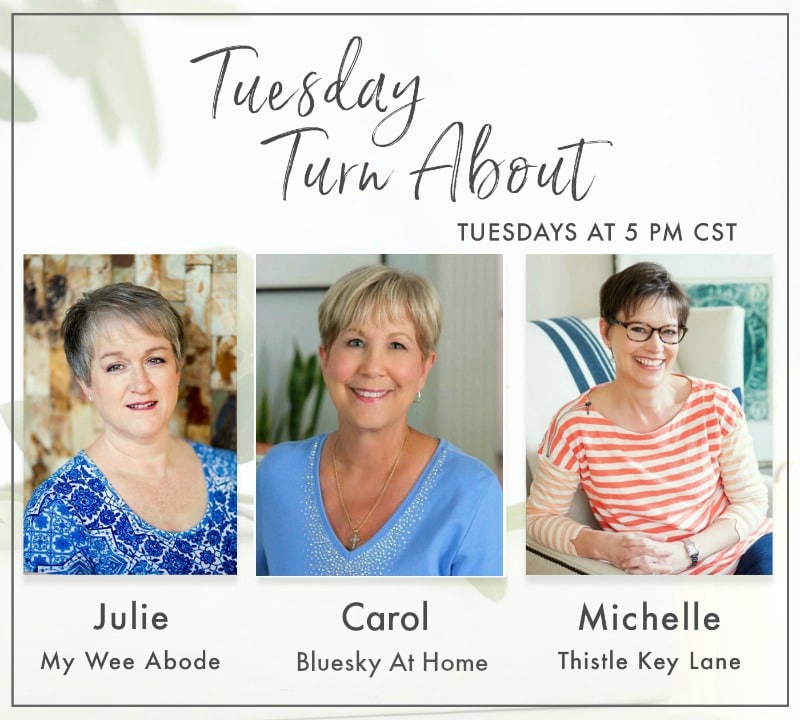 PLEASE VISIT YOUR HOSTESSES ON SOCIAL MEDIA AND SAY HI
My Wee Abode: Pinterest | Facebook | Instagram
Thistle Key Lane: Pinterest | Facebook | Instagram
Bluesky at Home: Pinterest | Facebook | Instagram
This party is for home decor and home-related posts only (recipes, organizing, DIY, crafts, etc.). Link up to 3 related posts. Please do not link up informational posts that do not relate to the topic.
If you would please not link up shops, advertising, round-ups, other link parties, or any posts promoting sales, we would appreciate it.
DO NOT PIN FROM IMAGES ON THIS PAGE (it just won't work right on Pinterest). However, please visit the original post/source and PIN from there. That works perfectly!
Please make sure that your images are in a jpeg or png format. If we can't copy your image, we can't feature you. So sad!
By linking to the party, you give us permission to share your projects on our blogs and social media. We will always give proper credit with a no-pin image.