Tuesday Turn About Link Party 57
Welcome to Tuesday Turn About Link Party 57. We are so glad you're here.
Tuesday Turn About Link Party 57 continues to grow thanks to the wonderful ideas and projects you all share every week. I wish we could give a SHOUT OUT to you all.
This is going to be another busy week. Julie and I will be attending the virtual Heart of Haven Conference. Instead of meeting up in Atlanta Thursday through Saturday, we will be attending classes and meet-ups via Zoom. Julie and I are both mentors this year and we are really excited. I hope that I see some of you in classes. 
Next week, I'll share my impressions of Haven gone virtual.
I'm in a much better mood this week. After struggling with a slow computer on Friday and Saturday, an Apple tech walked me through a bunch of clean up and my computer is running as it should. Yippee!! Double Yippee!
Here is last week's TTA 56 if you would like to visit again.
Tuesday Turn About Link Party 57 
Carol's Blogger Tip
Some weeks it's hard to pick just one tip to share. This week's tip is about cloning. Some days I wish I could clone myself and give my clone half of my work. This tip is about a different type of clone ~ a post clone.
If you use WordPress as your site platform, then I'm sure you have the Yoast SEO plugin. It's an indispensable tool for helping you improve your SEO and content. Recently, Yoast acquired another plugin called Duplicate Post. It's built right into your Yoast and every post. It allows you to clone a post and update it. The original post stays the same ~ isn't that amazing!
Here's how I'm now using Duplicate Post every week to write our Tuesday Turn About posts.
In the past, I would write each week's TTA from scratch, copying and pasting static elements from the previous week. Not hard, but time-consuming.
Normally, I would take screenshots of the process (I may write a post about it.), but in the interest of time and space, I'll talk you through the process.
In your post editor, click on the post you want to work on.
In the options below the post title (Edit, Trash, View, etc.), there is now an option called clone;

click on that.

A copy of the duplicate (clone) post appears on your screen.
You can start editing: change your title, slug, any elements that need to be updated. Insert new images that you have added to your Media Library and delete old ones. Update your Meta Description and Pin Title. Update your featured image. In fact, update anything that is different in this new post from the original post. 
When you are satisfied that the duplicate post has been updated, click Save Draft. View in Preview. 
If everything is good, you can schedule the duplicate post. The original post is still there.
Isn't that awesome! I can't tell you how much time is saved by using this new feature in Yoast. I think this is the perfect tool if you are a link party hostess. This is not the same as updating an old post with new Pinnable images or improving the SEO. This tool is for when you want to update a previous post and leave the original one intact. 
I hope that makes sense. See if you can figure out which parts of this post would stay the same week to week and which ones would be updated.
Here's what your hostesses have been up to this week.
Carol at Bluesky at Home
Okra and Tomatoes One~Skillet Side Dish | Traditional Home with Blue and White Accessories | Stencil on Glass Artwork
Michelle at Thistle Key Lane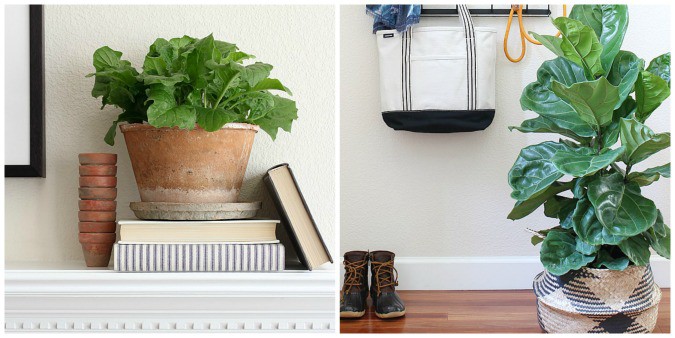 Simple Summer Home Decorating Tour | Ideas For Decorating With Plants
Julie at My Wee Abode
17 Color Palettes for Your Bathroom Makeover | The Traveling Teacup Cools Down in So Cal
 Tuesday Turn About Link Party 57 Features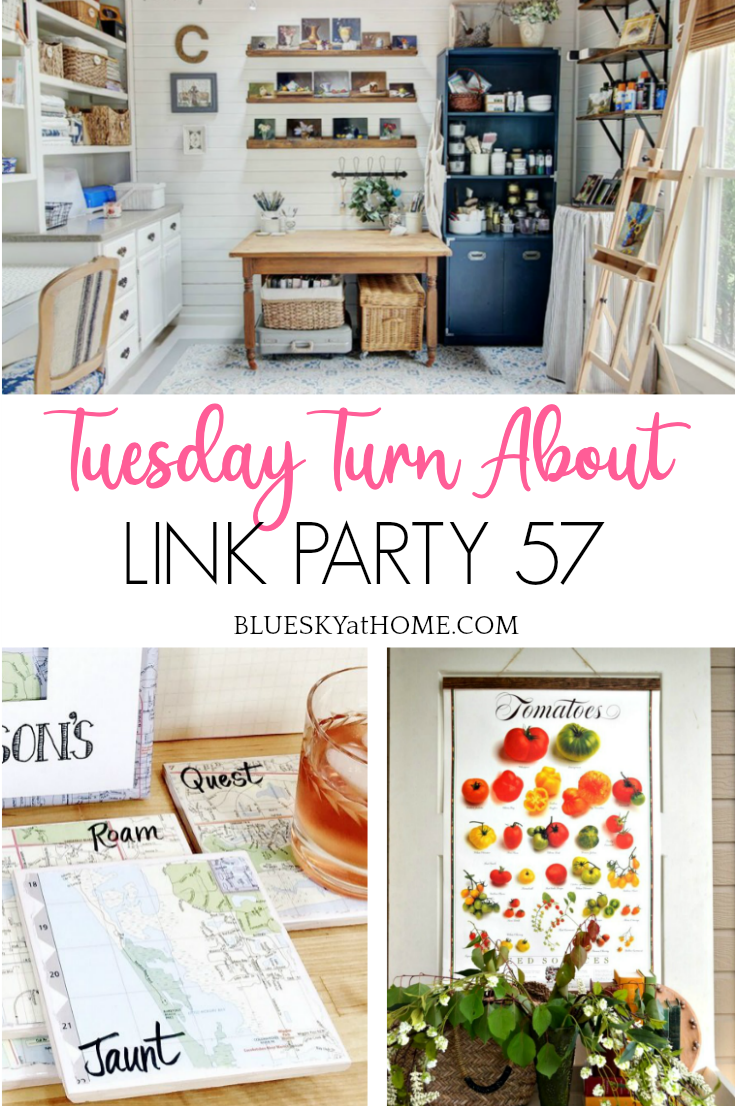 Now let's get to our link party features of the week.
You know I love decoupage and creating something from nothing ~ or almost nothing. Beth of Creatively Bethcreated 3 useful projects out of one thing and all of them are super cool.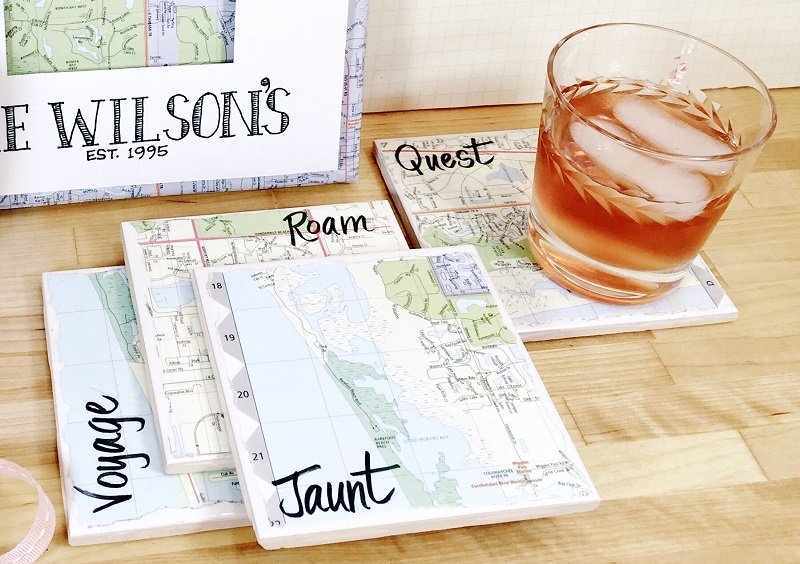 I have bought beautiful posters at the antique mall and they are still rolled up. I just haven't figured out how to hang them. Rachelle of My Hubbard House has the answer. Check out her easy solution.
I love my office/craft room, but at only 62 square feet, I openly am jealous of anyone with lots of space in their craft room.  Carrie of The French Blue Cottage created this amazing office/craft room out of an abandoned space her husband no longer needed. Her One Room Challenge Reveal is a challenge beautifully met.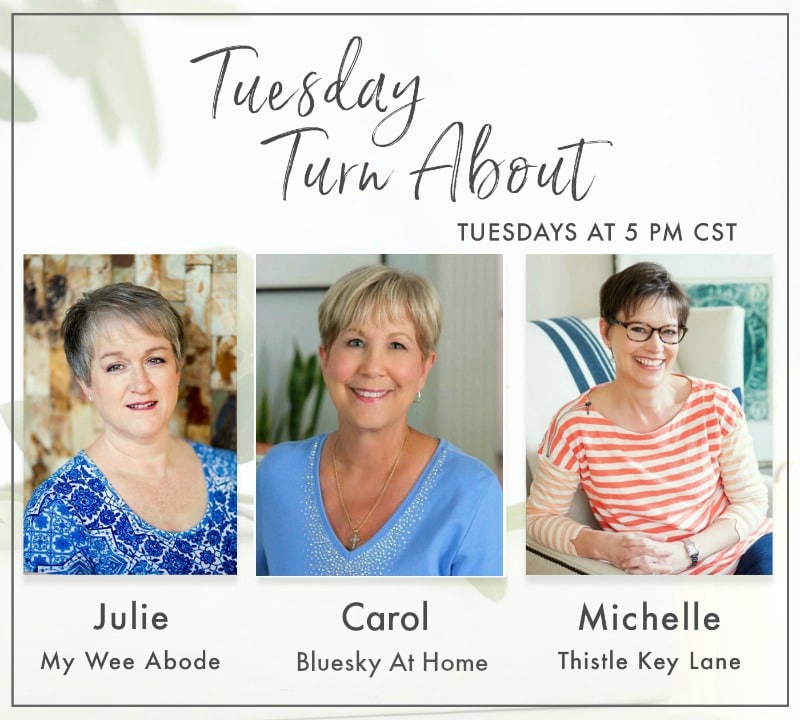 PLEASE VISIT YOUR HOSTESSES ON SOCIAL MEDIA AND SAY HI
My Wee Abode: Pinterest | Facebook | Instagram
Thistle Key Lane: Pinterest | Facebook | Instagram
Bluesky at Home: Pinterest | Facebook | Instagram
BEFORE YOU GET STARTED, TAKE A LOOK AT OUR GUIDELINES:
This party is for home decor and home-related posts only (recipes, organizing, DIY, crafts, etc.). Link up to 3 related posts. Please do not link up informational posts that do not relate to the topic.
If you would please not link up shops, advertising, round-ups, other link parties, or any posts promoting sales, we would appreciate it.
DO NOT PIN FROM IMAGES ON THIS PAGE (it just won't work right on Pinterest). However, please visit the original post/source and PIN from there. That works perfectly!
Please make sure that your images are in a jpeg or png format. If we can't copy your image, we can't feature you. So sad!
By linking to the party, you give us permission to share your projects on our blogs and social media. We will always give proper credit with a no-pin image.
LET'S GET STARTED LINKING UP!!