Tuesday Turn About Link Party 56
Welcome to Tuesday Turn About Link Party 56.
Tuesday Turn About Link Party 56 is our first link party in July. I know it will be a great month of fabulous ideas and inspiration.
I hope that everyone had a wonderful 4th of July. Did you watch fireworks on TV? We watched the beautiful fireworks above Mt. Rushmore and a fabulous display over Ft. Worth. They never fail to amaze.
Lots of things were happening here last week: a new operating system on my computer and a call with our Internet provider that has made our connection faster. I'm feeling much better this week.
Here is last week's TTA 55 if you would like to visit again.
Carol's Blogger Tip
Let's talk about Keywords. Specifically, Keyword Prominence and Keyword Density. I listened to a webinar last week that was very helpful, and I'm so sorry I did not write down who was giving it. I'll probably remember 5 minutes after this post goes out.
So first, remember what a Keyword is? It's the word or words that people search for in Google or Pinterest. This tip has more to do with Google and your blog. So let's say that someone is searching "best lemon icebox pie", they will find my post on page 1, number 4. (That's a hint ~ it's an amazing recipe.)
Keyword Prominence refers to WHERE you place your keyword.
Page title (H1) ~ most important
At the beginning of the title, if possible
Early in your post ~ 1st sentence of the 1st paragraph
At the beginning of your meta description because Google will

BOLD

it.
In your subheadings (H2, H3) ~ but not more than 75% of them.
Keyword Density refers to FREQUENCY OF KEYWORD IN YOUR POST.
Come up with several variations of your keyword phrase.
The longer your post, the more times your keyword or a synonym or variation of the keyword should be used.
Use naturally.
If you use the Yoast SEO plugin (you are, aren't you?), Yoast will tell you if you are using your keyword too much (keyword stuffing) or too little.
I hope this tip makes you aware of how important Keyword Prominence and Keyword Density are. Check out this post to see if I've followed the guidelines.
So now let's get going with this week's Tuesday Turn About Link Party 56 Features.
Tuesday Turn About Link Party 56
Here's what your hostesses have been up to this week.
Julie at My Wee Adobe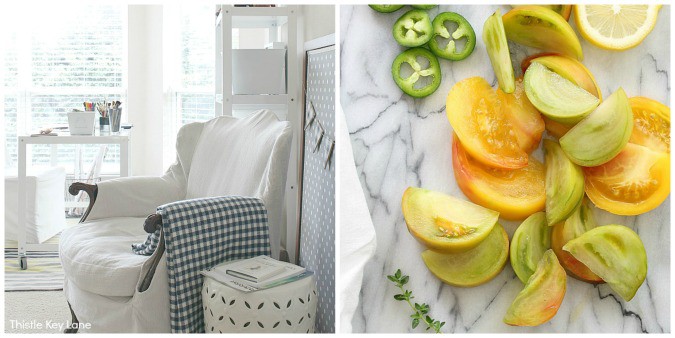 Heron Watercolors And A Look At My Studio | Small Batch Spicy Sweet Refrigerator Pickled Veggie Recipe
Michelle at Thistle Key Lane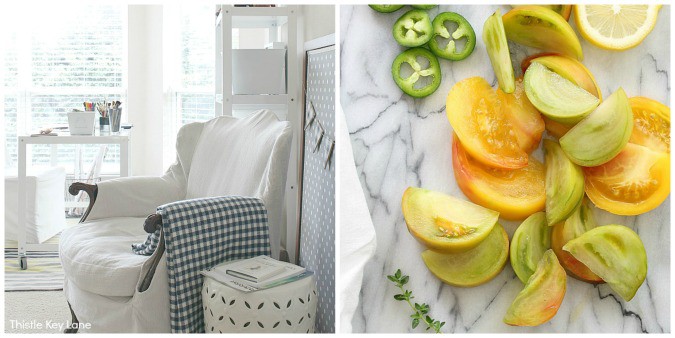 Heron Watercolors And A Look At My Studio | Small Batch Spicy Sweet Refrigerator Pickled Veggie Recipe
Carol at Bluesky at Home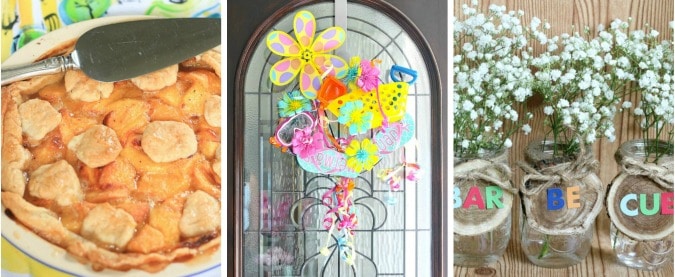 Best Summer Peach Cobbler | DIY Summer Wreath| Barbecue DIY Party Decoration
Now let's get to our link party.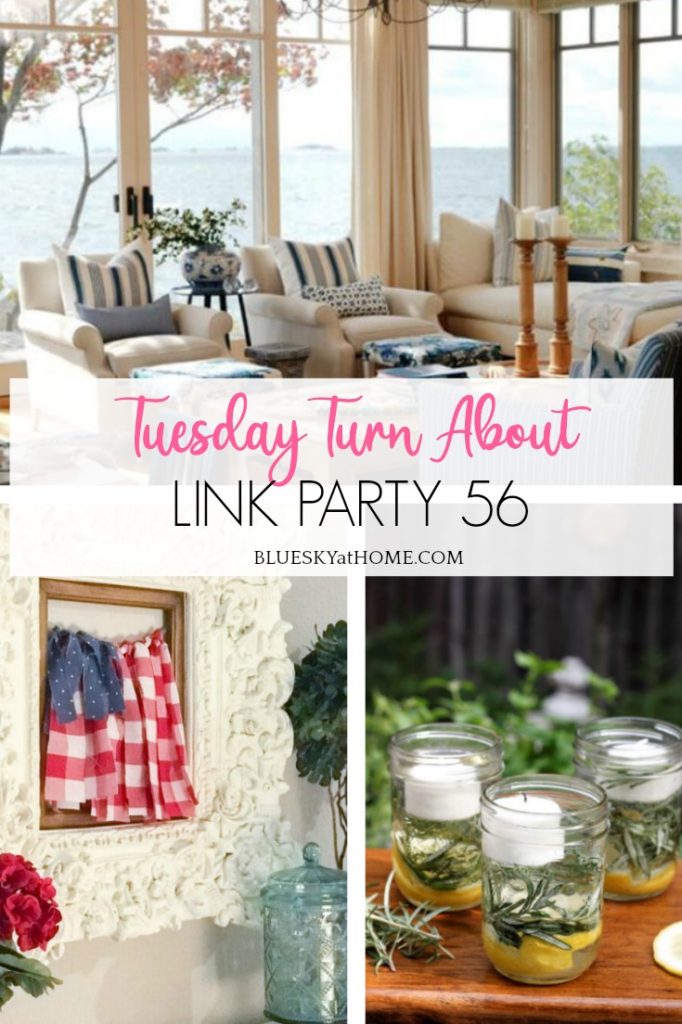 Isn't this the cutest little DIY project? Have an unused frame and some fabric around? Cindy of County Road 407 created this darling decoration.
These insect~repelling candles from CD at Pallete and Pantry are not only practical but so pretty for our outdoor spaces.
I love coastal decor and any space that evokes water. Amber of Follow the Yellow Brick Home gives us a wonderful tour of some great coastal decorating.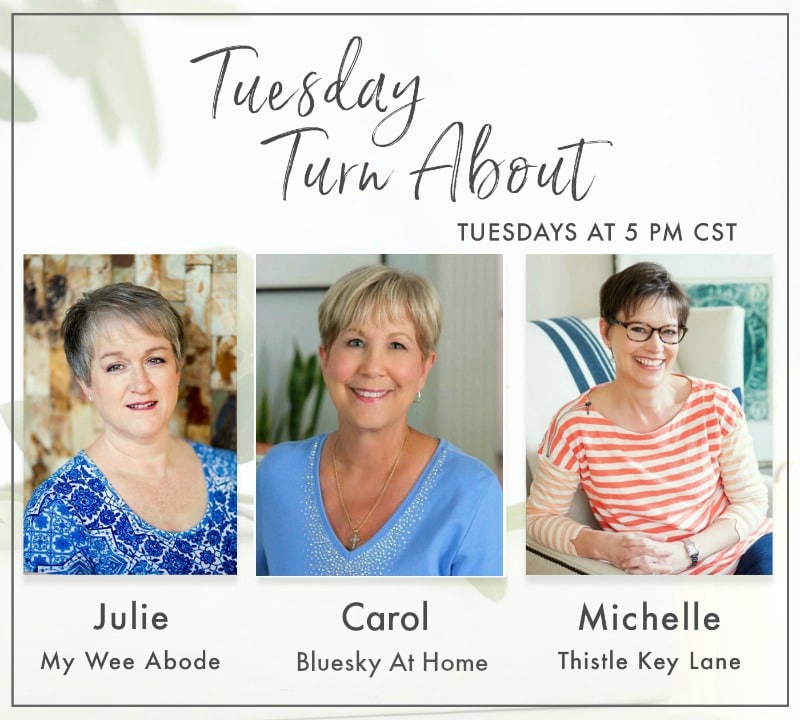 PLEASE VISIT YOUR HOSTESSES ON SOCIAL MEDIA AND SAY HI
My Wee Abode: Pinterest | Facebook | Instagram
Thistle Key Lane: Pinterest | Facebook | Instagram
Bluesky at Home: Pinterest | Facebook | Instagram
BEFORE YOU GET STARTED, TAKE A LOOK AT OUR GUIDELINES:
This party is for home decor and home-related posts only (recipes, organizing, DIY, crafts, etc.). Link up to 3 related posts. Please do not link up informational posts that do not relate to the topic.
If you would please not link up shops, advertising, round-ups, other link parties, or any posts promoting sales, we would appreciate it.
DO NOT PIN FROM IMAGES ON THIS PAGE (it just won't work right on Pinterest). However, please visit the original post/source and PIN from there. That works perfectly!
Please make sure that your images are in a jpeg or png format. If we can't copy your image, we can't feature you. So sad!
By linking to the party, you give us permission to share your projects on our blogs and social media. We will always give proper credit with a no-pin image.
LET'S GET STARTED LINKING UP!!
You are invited to the Inlinkz link party!