Tuesday Turn About Link Party 55
June is coming to a close, friends, and we are so excited to welcome you to Tuesday Turn About Link Party 55. This has become such an awesome link party because of you.
Tuesday turn About Link Party 55 and every week is a labor of love. This week I had some issues with Apple, so thanks for being patient with the post launch.
If you visited last week, you might have noticed that my post was a little wonky ~ the beginning of the post was at the end and the middle was at the beginning. We tried to fix it but to no avail. Hopefully, I've made some changes (see my blogger tip below) that will prevent that from ever happening again.
Can you believe that tomorrow is July? It never fails to amaze me how fast summer flies by. With minimal vacation time this summer, it's interesting to see how we adjust to more at~home time.
Here is last week's TTA 54 if you would like to visit again.
Carol's Blogger Tip
This blogging tip is kind of long, so you may want to scroll down, link your post, and then scroll back up here for this very important tip.

You may remember 2 weeks ago when I talked about making changes and not hesitating? Then, I was referring to finally, after months of agonizing facilitating, changing my email marketing provider. Making that change to MailerLite was one of the best decisions I've made. Be my guest to check MailerLite out. (affiliate link)
Well, I just made another big change. If you use WordPress for your blog platform, you know that in December, 2018, WP changed its entire content creation system. They call it Gutenberg. Being the procrastinator that I obviously am, I didn't see the need to switch. I was happy with the Classic Editor. Gutenberg, which uses a Block Editor format, seemed like a major change that I thought I could do without. Classic was working for me ~ until it wasn't.
On Friday I published a post sponsored by Wayfair. If you've done a sponsored post recently, you know that Google and the company want you to use a "rel=sponsored" code on any links. Mine were just not working even though I have added that link in previous sponsored posts.
Whenever I have a WordPress issue, I contact Grayson Bell with iMarkInteractive who runs the Facebook Group Blogging on WordPress. It is an invaluable resource. Grayson sent me a link to a brand new feature to the Yoast plugin. This feature allows you to easily add, open in new tab, "no follow" and "sponsored" code to your links. I was so excited. I updated my Yoast plugin with great anticipation. But it didn't work! I was devastated, on the verge of tears (Please tell me I'm not the only blogger who is on the verge of tears when technology doesn't work!)
Thankfully, someone in the FB group explained that you have to be using the Gutenberg Block Editor for this Yoast feature to work and there was a little button you had to click. Oh no, another thing to change!! But switching to Gutenberg had to happen if I was going to be able to use the Yoast feature and save my relationship with Wayfair.
So in 2 seconds I switched to Gutenberg. Two seconds later, I clicked on the button and 2 seconds later, I had all the sponsored links working with the "sponsored" code in place. It was like magic. I updated the post and then played around, familiarizing myself with Gutenberg.
For the Peach Cobbler recipe I posted yesterday, I used Gutenberg. For this post, I used Gutenberg. Guess what? I'm now a Gutenberg girl.
So the moral of this story? If you use WordPress and are not on Gutenberg, do not delay, do not pass GO, switch NOW. I can't believe I didn't do this 18 months ago. Here's more information on how to use Gutenberg.
Thanks for bearing with me as I related this story. I hope it was worth it!
So now let's get going with this week's Tuesday Turn About Link Party 55.
Tuesday Turn About Link Party 55
Here's what your hostesses have been up to this week.
Julie at My Wee Adobe
DIY Patriotic Flags from Fabric Scraps | Summer Watercolor Printables
Michelle at Thistle Key Lane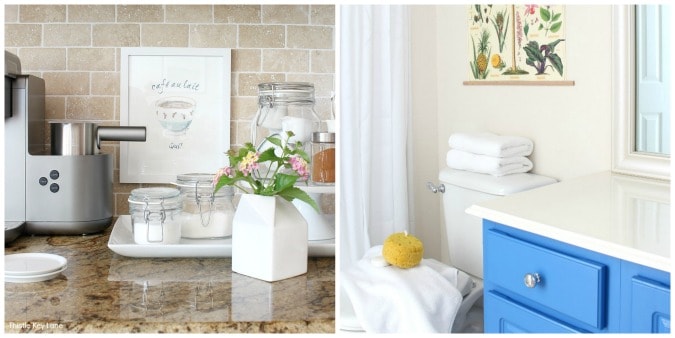 Organizing A Coffee Station And A Free Printable | Ideas For Updating A Plain Bathroom
Carol at Bluesky at Home
4th of July Outdoor Decor | 4th of July DIY Decorations | How to Style a Bar Cart
Now let's get to our link party.
If you like grain sacks you will love this grain sack runner from Coco at The Crowned Goat.
Who doesn't have a pair of old blue jeans lying around? Pillar Box Blue shows us how to turn them into pretty faux flowers.
Christina of DIY Dreamer shows us how to make this awesome bar stools for the patio.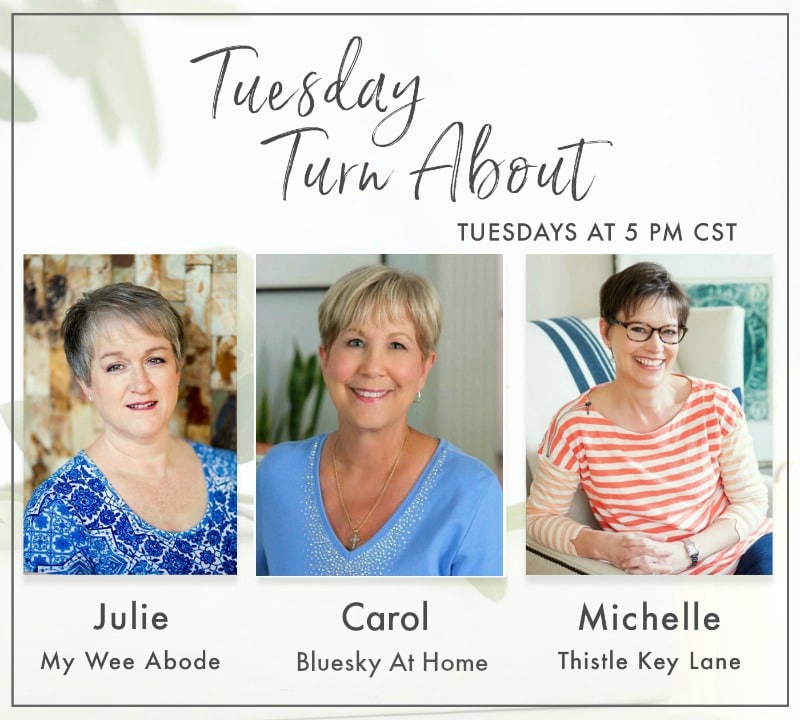 PLEASE VISIT YOUR HOSTESSES ON SOCIAL MEDIA AND SAY HI
My Wee Abode: Pinterest | Facebook | Instagram
Thistle Key Lane: Pinterest | Facebook | Instagram
Bluesky at Home: Pinterest | Facebook | Instagram
BEFORE YOU GET STARTED, TAKE A LOOK AT OUR GUIDELINES:
This party is for home decor and home-related posts only (recipes, organizing, DIY, crafts, etc.). Link up to 3 related posts. Please do not link up informational posts that do not relate to the topic.
If you would please not link up shops, advertising, round-ups, other link parties, or any posts promoting sales, we would appreciate it.
DO NOT PIN FROM IMAGES ON THIS PAGE (it just won't work right on Pinterest). However, please visit the original post/source and PIN from there. That works perfectly!
Please make sure that your images are in a jpeg or png format. If we can't copy your image, we can't feature you. So sad!
By linking to the party, you give us permission to share your projects on our blogs and social media. We will always give proper credit with a no-pin image.
LET'S GET STARTED LINKING UP!!
You are invited to the Inlinkz link party!