Tuesday Turn About Link Party 53
Tuesday Turn About Link Party 53 is the best link party to share your DIY, craft, garden, and home decor projects. Share every Tuesday ~ Friday.
Hello and welcome to Tuesday Turn About Link Party 53. We are on the backside of 50 link parties and going strong. Thank you so much for sharing with Julie, Michelle, and me every week. We love growing this party and all giving you a place to share your amazing projects. I want to give a shout out to Julie for reaching the Mediavine threshold. She is such an inspiration to me and I'm sure many of you. I love this blogging community and how we support each other. So everyone, keep up the good work. Here's last week's TTA 52 if you would like to revisit all the great link~ups.
Tuesday Turn About Link Party 53
For this week's Tuesday Turn About, here is my blogger tip of the week.
Carol's Blogger TIP
Don't hesitate to make changes: that could be a mantra for life in general. We all know that there are changes we should make (our diet, our exercise routine, that paint color in the laundry room we can't stand).
We all know the importance of email in growing our blogging businesses. Email is the one thing we have complete control over. No one can take our subscriber list (we love our subscribers!!) away. No algorithms to deal with, no accounts suspended, no interference from outside sources.
For over a year, I have wanted to change my email marketing provider. I had been with this service from the beginning of my blogging journey. What held me back? Fear of change. Although I wasn't happy with the service and technical support of ______ service, I put off changing. It was just easier to put up the same old, same old.
Finally, at the beginning of May, I just said to myself that enough is enough. After asking many fellow bloggers, including my fellow hostesses and my mentor group, reading about the different plans, and comparing features, I decided to switch to MailerLite. This is not an endorsement of MailerLite, although I am thrilled with the technical support and the designs and the features. I'm so happy that I made the change.
The point is: don't hesitate to make changes. Do your due diligence, make a decision, and then push the go button.
BTW, if you want to see what my new email design looks like, join me in my Bluesky at Home community.
Check out Julie's tips when you visit her. Now take a look at what my hostesses and I have been doing this past week.
Michelle at Thistle Key Lane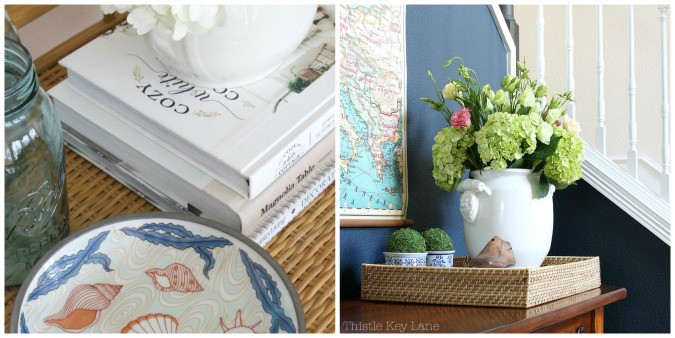 Styling A Bar Cart Three Ways | How To Style An Entry Table Tray
Carol at Bluesky at Home
(Do you think I went overboard with all the 4th of July ideas?)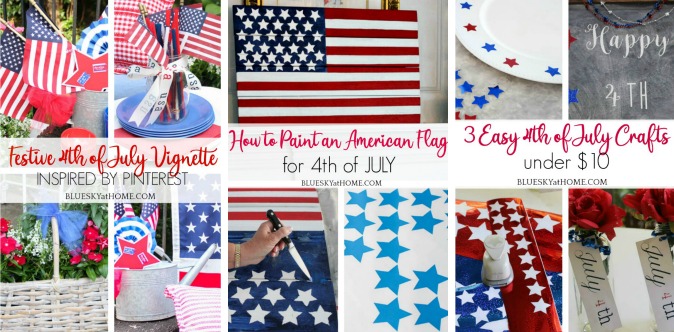 Festive 4th of July Vignette | How to Paint an American Flag | 3 Easy 4th of July Crafts
Julie at My Wee Adobe
Free Patriotic Summer Printables | Patriotic Wood Bead Garland with Stars
Now let's see what features we have for you today. Don't forget to visit Michelle and Julie and see their features.
I have an unapologetic lover of blue and white. Mix it will a very cool DIY project like this plain charger given a rustic vibe with cord and a super cute napkin ring and I am all in. Thank you to Jennifer of The Everyday Farmhouse for sharing this great project.
I love vintage cutting boards. I love grain sacks too. This paint project from Debra at Common Ground combines both vintage collectibles to create a grain sack cutting board. Next project, I'm thinking.
Do you like pink lemonade in the summer? It's one of the best and prettiest summer drinks around. Tracey of The Kitchen is My Playground offers her version of this awesome summer refresher.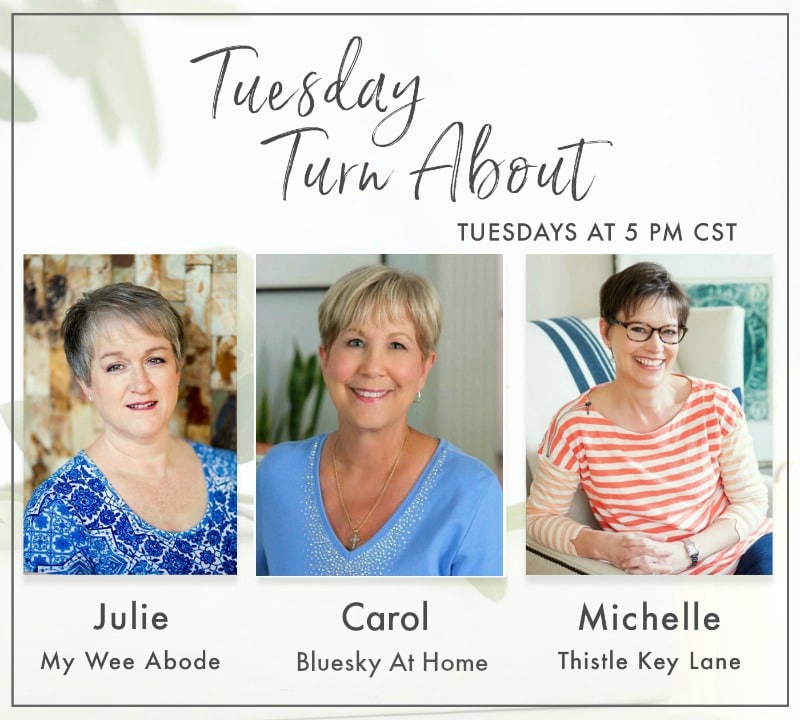 PLEASE VISIT YOUR HOSTESSES ON SOCIAL MEDIA AND SAY HI
My Wee Abode: Pinterest | Facebook | Instagram
Thistle Key Lane: Pinterest | Facebook | Instagram
Bluesky at Home: Pinterest | Facebook | Instagram
BEFORE YOU GET STARTED, TAKE A LOOK AT OUR GUIDELINES:
This party is for home decor and home-related posts only (recipes, organizing, DIY, crafts, etc.). Link up to 3 related posts. Please do not link up informational posts that do not relate to the topic.
If you would please not link up shops, advertising, round-ups, other link parties, or any posts promoting sales, we would appreciate it.
DO NOT PIN FROM IMAGES ON THIS PAGE (it just won't work right on Pinterest). However, please visit the original post/source and PIN from there. That works perfectly!
Please make sure that your images are in a jpeg or png format. If we can't copy your image, we can't feature you. So sad!
By linking to the party, you give us permission to share your projects on our blogs and social media. We will always give proper credit with a no-pin image.
LET'S GET STARTED LINKING UP!!