Tuesday Turn About Link Party 52
Hello friends, welcome to Tuesday Turn About Link Party 52.
I hope this Tuesday finds you well and not sweltering in the heat. Maybe it's a good time to spend the heat of the day inside creating, visiting link parties, and sharing your projects. I'm loving the projects and home decor I see every week. It makes it hard to choose our favorite features. But choose, we must.
Can you believe that the 4th of July is only 4 weeks away? Sorry if I'm jumping the gun. I'm sharing more red, white, and blue and I'm seeing it all over Pinterest.
Stay cool. And keep on sharing.
Carol's Blogger Tip
A few weeks ago, I watched a webinar called Creating for Pinterest. It was hosted by 2 team members from Pinterest ~ nothing like getting info from the horse's mouth. As we all know, blogs are about sharing content about a myriad of different topics. Regardless of the topic, well~written content should be either educational, entertaining, or inspiring. The team members covered "What does inspiring content look like?"
Here are the 5 dimensions of inspiration they shared:
It should be novel, original or present a new take on something familiar.
It should be relevant to your audience.
It should be visually appealing and fuel the imagination.
It should be positive.
It should be actionable ~ your reader should be able to take action offline.
I hope this advice from Pinterest gives you ideas to improve your content.
If you would like to see last week's TTA 51, here it is.
Tuesday Turn About Link Party 52
Let's see what your hostesses have been creating lately.
Julie at My Wee Abode
Welcome Home Sunday Guest Hostess | Patriotic Patio Decor
Michelle at Thistle Key Lane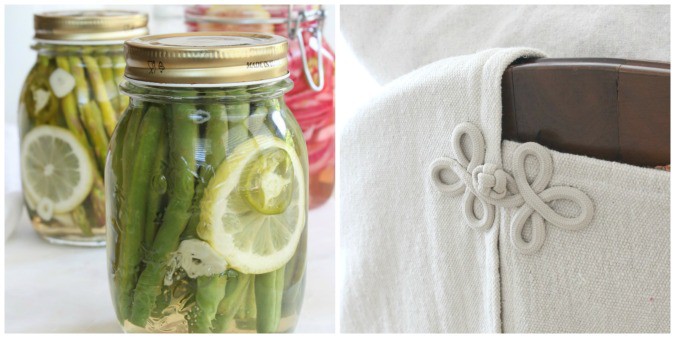 Sweet Spicy Refrigerator Pickled Green Bean Recipe | DIY Slipcovers and Why I Love Making Them
Carol at Bluesky at Home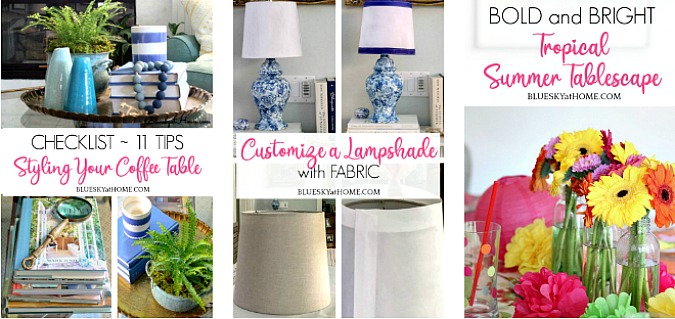 Tips for Styling Your Coffee Table | How to Customize a Lampshade with Fabric | Tropical Summer Tablescape
Tuesday Turn About Link Party 52 Weekly Features
First up, do you have random teacups unused in your cabinets? Barbara at Mantel and Table shows you  7 ways to use teacups for pretty organization and storage. 
We always need trays for practical and pretty uses in our homes. This coastal stencil design tray from Beverly at Across the Boulevard is one way to add style to any setting.
Finally, I love a little project that turns out to be unique and usable. This reusable paper sack plant holder from Laura at Everyday Edits is not only unique and usable, but so simple.
Now it's time to link your own creations and then head over to see what features Julie and Michelle have chosen.