Tuesday Turn About Link Party 51
Welcome to June and to Tuesday Turn About Link Party 51.
I love June. It's my birthday month and my son's birthday month. In fact, he is the best birthday present I ever received.
June signals the beginning of summer with warm weather, blooming gardens, and outdoor activities. We may not be gathering like normal, but we can still enjoy the beauty of summer. From many of the posts you have shared, backyard sprucing up is on the minds of many. It's a fun time to share those summer ideas. Here's TTA 50 for you to peruse.
Tuesday Turn About Link Party 51
Are you still loving our tips?
Carol's Blogger Tip
One of my favorite WordPress plugins is Tasty Pins from the team at Food Blogger Pro. (Julie has mentioned this plugin before.) I thought I'd dive deeper into the WHY every blogger should invest in Tasty Pins (it's $29 a year ~ that's $2.42 a month or 8¢ a day).
First, Tasty Pins creates boxes in your Media Library post dashboard for both Pinterest Title and Pinterest Description ~ which Pinterest really wants because Pinners want them. This information is very good for Google and SEO. Those boxes help you remember to include that information on every Pin.
Secondly, Tasty Pins includes a checkbox to disable a Pin. That means that your PIN button doesn't work on these images. I love that I can steer Pinners to Pins that really show what my post is about. Why do you want to disable a Pin?
allows you to focus on images that clearly show what your Pin (post) is about
focuses on images that add to your content
keeps horizontal images from being Pinned
keeps random images (sidebar graphics or photos that don't clearly demonstrate what the Pin is about) from being Pinned
The disable Pinning button has to be checked in the image details within your post, not in the Media Library dashboard. If you want to check out Tasty Pins for yourself, here is a link to the plugin. Just FYI, this is an affiliate link.
Here's what Julie, Michelle, and I have been up to this past week.
Carol at Bluesky at Home

5 Decorating Books You Should Read | How to Make a Chinoiserie Style Lamp | DIY Woven Basket Project
Michelle at Thistle Key Lane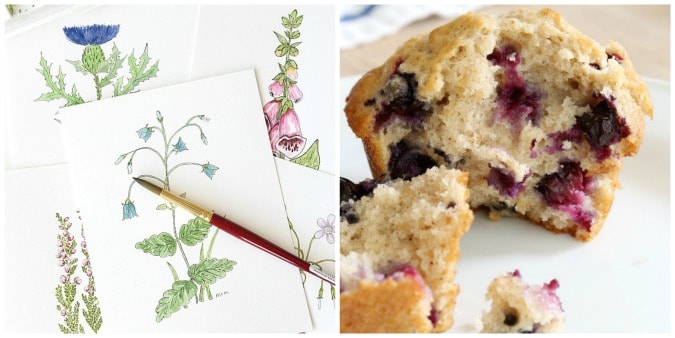 Simple Watercolor Botanicals | Basic Blueberry Muffin Recipe With Gluten~Free Option
Julie at My Wee Abode
Tuesday Turn About Link Party 51 Features
I hope you like this week's features. Be sure to click on the post to visit and PIN.

With everyone thinking about outdoor spaces, Paula of Sweet Pea showed just how to make a patio space more inviting and comfortable. I'd love to sit on Paula's patio and enjoy the lake views.

I go gaga over blues and Coco of The Crowned Goat has created a lovely blue and white comfy front porch setting. The check pillows, flowers, and books to read make this the perfect spot for relaxing on a summer afternoon.

I remember pressing flowers in books as a kid, but nothing so pretty and sophisticated as these framed flowers by Candace of Unfolding Beautiful.

Love these features? Please visit Julie and Michelle and see what they have chosen.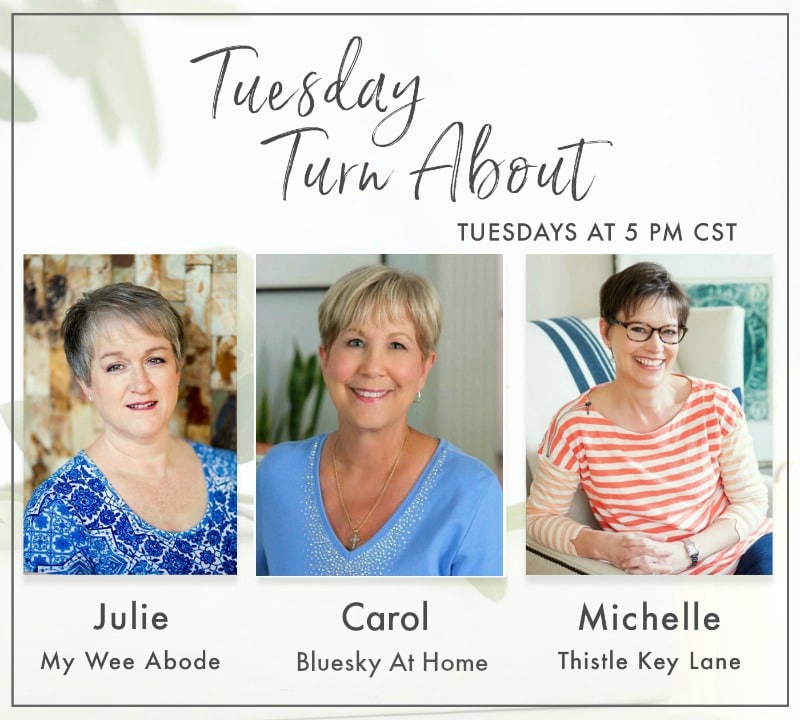 PLEASE VISIT YOUR HOSTESSES ON SOCIAL MEDIA AND SAY HI
My Wee Abode: Pinterest | Facebook | Instagram
Thistle Key Lane: Pinterest | Facebook | Instagram
Bluesky at Home: Pinterest | Facebook | Instagram
BEFORE YOU GET STARTED, TAKE A LOOK AT OUR GUIDELINES:
This party is for home decor and home-related posts only (recipes, organizing, DIY, crafts, etc.). Link up to 3 related posts. Please do not link up informational posts that do not relate to the topic.
If you would please not link up shops, advertising, round-ups, other link parties, or any posts promoting sales, we would appreciate it.
DO NOT PIN FROM IMAGES ON THIS PAGE (it just won't work right on Pinterest). However, please visit the original post/source and PIN from there. That works perfectly!
Please make sure that your images are in a jpeg or png format. If we can't copy your image, we can't feature you. So sad!
By linking to the party, you give us permission to share your projects on our blogs and social media. We will always give proper credit with a no-pin image.
LET'S GET STARTED LINKING UP!!