Tuesday Turn About Link Party 48
Welcome to Tuesday Turn About Link Party 48. We hope that everyone had the very best Mother's Day that you possibly could have under this challenging situation.
Since none of my kids live in Dallas, I rely on phone calls and cards. Hearing the voices of your kids, even when they are grown~ups, is always special. My son even called on Saturday, thinking it was Sunday. Such a sweet young man, he called back on Sunday so I got double mom talk.
Wow, you all rocked your projects last week. We are so excited that so many bloggers partied with us last week ~ maybe the most ever. I know that we are all home more, on our phones and computers. Pinterest traffic has skyrocketed in the past 2 months. I know that I have been searching, scrolling, and Pinning more than ever. Let's just hope that the traffic and the linking don't slow down when stay~at~home is lifted.
I have 1 really good tip for you today. I love tips, don't you!!
Carol's Blogger Tip
Add internal links to your blog posts. What's an internal link? It's a link to another post on your own site that relates to the current post you are publishing. For example, in the post that I published on How to Update Discarded Containers, I included a link to an earlier post that was related, How to Use Gold Leaf', which is the internal link. Even including these two links in this post is using internal links. Why do you want to include internal links in every post you write? Google likes it. Internal links give your post and your site gravitas. They tell Google that you are an authority.
improves usability.
helps spread the link juice
boosts page views
improves Page Rank
improves time on site
helps bots to crawl and index your site
Extra TIP: If you are linking to an older post, this is the perfect time to update it with new Pinnable images, check for SEO, keywords, grammar, and proofread. Then re~PIN it to your relevant boards and tribes. Pinterest will read it as fresh content. I do this every time I use internal links.
Here's last week's TTA 47 if you would like to take a look.
Tuesday Turn About Link Party 48
Here's what Julie, Michelle, and I have been up to.
Carol at Bluesky at Home
How to Make Mother's Day Cards with a Cricut | Fabulous Kitchen Remodel Tour | Update Your Discarded Containers
Michelle at Thistle Key Lane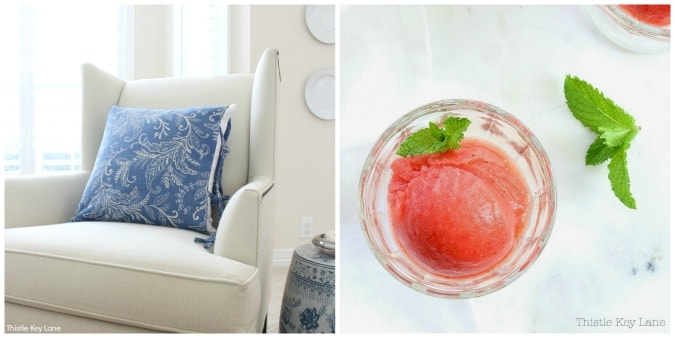 Ideas For Making Easy Pillow Covers With Ties | Strawberry Lemonade Sorbet Recipe
Julie at My Wee Abode
Ready to see my Features of the Week? Be sure to hop over and see what Julie and Michelle have chosen. Please PIN them to your own boards.
My friend (yes, in real life, we have met for lunch and chatted about blogging and girl stuff, but that's not why I picked her project.) Cindy of County Road 407 will tell you she is not a DIYer. I will respectfully disagree. This bird feeder that she made from an old metal chandelier and clay pots is a great idea for your yard.
Don't you love vintage vignettes? Debra of Common Ground combined a vintage bucket, and watering can and a bird~inspired dish towel for a super sweet grouping fit for any kitchen or breakfast area.
With Memorial Day in a couple of weeks, I chose this red, white, and blue tablescape for your inspiration. Karin of Karin's Kottage also includes some menu ideas you will love.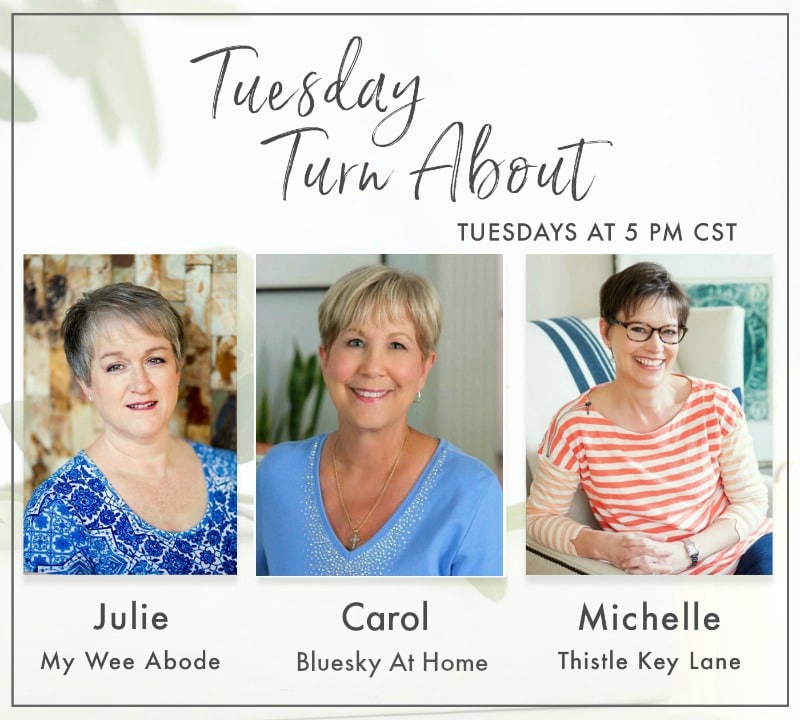 PLEASE VISIT YOUR HOSTESSES ON SOCIAL MEDIA AND SAY HI
My Wee Abode: Pinterest | Facebook | Instagram
Thistle Key Lane: Pinterest | Facebook | Instagram
Bluesky at Home: Pinterest | Facebook | Instagram
BEFORE YOU GET STARTED, TAKE A LOOK AT OUR GUIDELINES:
This party is for home decor and home-related posts only (recipes, organizing, DIY, crafts, etc.). Link up to 3 related posts. Please do not link up informational posts that do not relate to the topic.
If you would please not link up shops, advertising, round-ups, other link parties, or any posts promoting sales, we would appreciate it.
DO NOT PIN FROM IMAGES ON THIS PAGE (it just won't work right on Pinterest). However, please visit the original post/source and PIN from there. That works perfectly!
By linking to the party, you give us permission to share your projects on our blogs and social media. We will always give proper credit with a no-pin image.
LET'S GET STARTED LINKING UP!!
Let's make this week's party bigger and better than the last, and remember to come back next Tuesday to see the newest features.