Tuesday Turn About Link Party 47
Welcome to May, friends, and Tuesday Turn About Link Party 47. April seemed very long. As we will be slowly venturing out in May, hopefully, life will become a little less confining and scary and more normal. What a great party we had last week. Thank you so much to our loyal "linkers" and new guests to TTA.
You all are rocking the DIY, gardening, recipe, tablescaping, and home decor world. Just a note to let you know that we (I'm speaking for Julie and Michelle and me) may not comment on every link, but we visit and PIN and are in awe of your creative talents. What inspiration!! If you include a list of link parties you visit on your blog, please be sure to include Tuesday Turn About. Hugs and kisses to you!!
Carol's Blogging Tip
This is straight from the Tailwind/Pinterest Guide: When you publish a new post, save it to the most relevant Pinterest Board FIRST. For example, an article about brownies goes to "Chocolate Dessert Recipes" Board before your "Dessert Recipes" Board. A post about spring decorating would go to "Spring Decor" or "Spring Accessories" Board before your "Home Decor" Board.
Carol's Household Tip
Are you afraid of running out of disinfectant wipes? Make your own. Add 5 tablespoons of bleach to 1 gallon of water in a plastic container. We used a washed out iced tea gallon container from McAlisters. Dampen a paper towel with the solution to wipe down your kitchen and bathroom countertops or any other surfaces. Let the surface air dry. Throw away the paper towel.
Here's TTA 46 if you missed visiting. Such great opportunities for PINNING. It's party time!! Have a great week.
Tuesday Turn About Link Party 47
Here's what your hostesses have been sharing this past week.
Michelle at Thistle Key Lane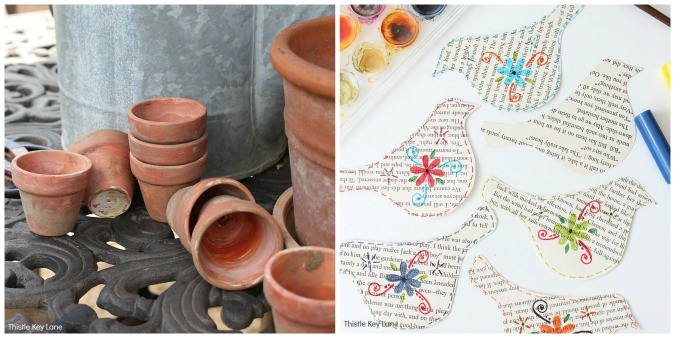 DIY Aging Terracotta Pots | Book Page Bird Garland
Carol at Bluesky at Home
How to Use Galvanized Pails and Flowers on the Patio | Yeastless Jalapeno Cornbread
Julie at My Wee Abode
Last-Minute Mother's Day Gifts She Will LOVE | Affordable Summer Pillow Picks
Now let's get to our weekly features. It was hard to choose this week. Be sure to visit Julie and Michelle and see their features.
This coming Sunday is Mother's Day. Our moms, our kids or grandkids may not be able to visit during this time, but Coco at The Crowned Goat has a fabulous breakfast in bed picnic to share anyway. Scones and fruit tarts sound great to me.
Yes, I have become thoroughly smitten with decoupage. Carrie of Curly Crafty Mom share a great project for pots with fabric and monogramming. I love her colors and patterns. So cute.
My friend Jenna at The Painted Apron is a fabulous artist (You should visit her Instagram!) She painted a watercolor of a vignette created by another blogger friend.
Please PIN the features and the projects that you like. Check out what Julie and Michelle have chosen.