Tuesday Turn About Link Party 46
Can you believe that it's almost the end of April? Did go fast or slow for you? At least, we know that it's Tuesday Turn About Link Party 46 ~ the last one of this month. What a month it has been ~ in so many ways it's like no other April we have ever imagined. One thing I don't think has changed is the creative talents of bloggers. The fabulous projects, makeovers, and ideas don't seem to have slowed down one bit.  At least not from the wonderful projects that you are sharing here at TTA.
Carol's Blogger Tip
Add the Yoast SEO plugin to your WordPress site. This may be the most helpful plug~in you can have. This is a plugin that helps you set up technical and on-page SEO for your blog and blog posts. There is a free version of Yoast SEO plugin is great, but if you want to really take your blog to the next level, get the PRO version. The free version helps you easily let Google know what your site is all about, the site structure, enter keywords, meta descriptions, etc. The PRO version helps you find links within your site to interlink, and it provides you optimization for up to five keywords. Yoast doesn't necessarily boost your ranking in Google. It just helps guide you by letting you know if you're doing the right things with your content, links, and images that Google likes.
TIP: Yoast is divided into 2 parts: readability and SEO; it shows you by green, yellow, or red lights if you have maximized your content. According to HashtagJeff.com, don't worry so much about the readability, but concentrate on getting a green light for SEO.
Carol's Household Tip
Baking Soda is one of the cheapest and most versatile products you can use in your home. It removes odors from carpet: sprinkle it on your rugs and carpet and let sit for 30 ~ 40 minutes and then vacuum. Don't forget the Fridge~n~Freezer boxes for your refrigerator and freezer; change them out every 30 days to eliminate odors. Does that sound like a commercial? Here's last week's TTA 45. Enjoy linking and stay safe.
Tuesday Turn About Link Party 46
Here's what your hostesses have been sharing this past week.
Julie at My Wee Abode
Create a Fresh Spring Vignette | Spring Floral Monogram Printable for Mom
Michelle at Thistle Key Lane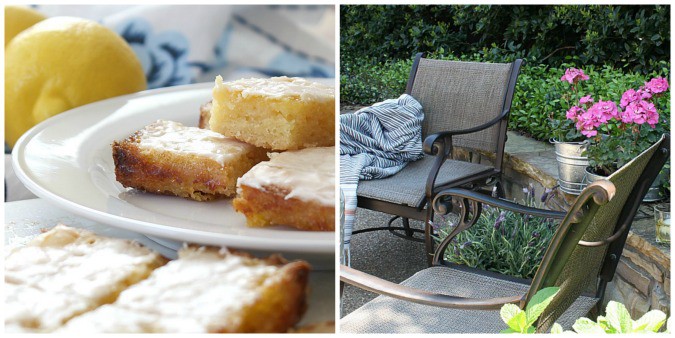 Lemon Squares Recipe | Simple Bucket Container Garden With Flowers
Carol at Bluesky at Home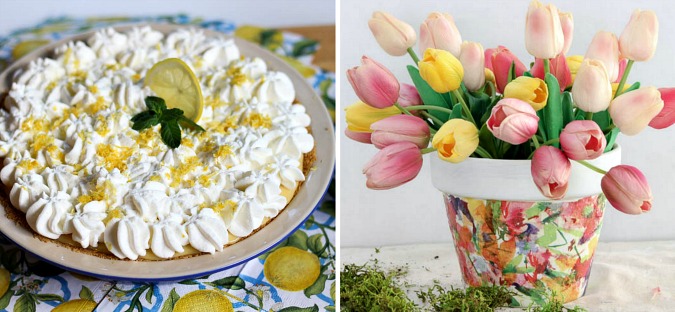 Best Lemon Icebox Pie You've Ever Tasted | 3 Ways to Decorate Terra Cotta Pots with Decoupage
Now let's get on to my weekly features. We had so many great projects shared this week.
Tuesday Turn About Link Party 46 Weekly Features
I love beeswax candles, but I didn't know you could make them yourself. Beverly of Across the Boulevard shows us how to make these lovely colored candles for a Mother's Day gift.
I love a pretty tablescape and Lori of Dining Delight has created a bright spring tablescape in yellows and greens. Maybe we will be able to set the table for Mother's Day!
I love a good DIY roundup and Stephanie of The Abbots at Home has gathered 10 great DIY ideas. I'm especially in love with the potting table.
Please PIN all our features and see what Julie and Michelle have chosen.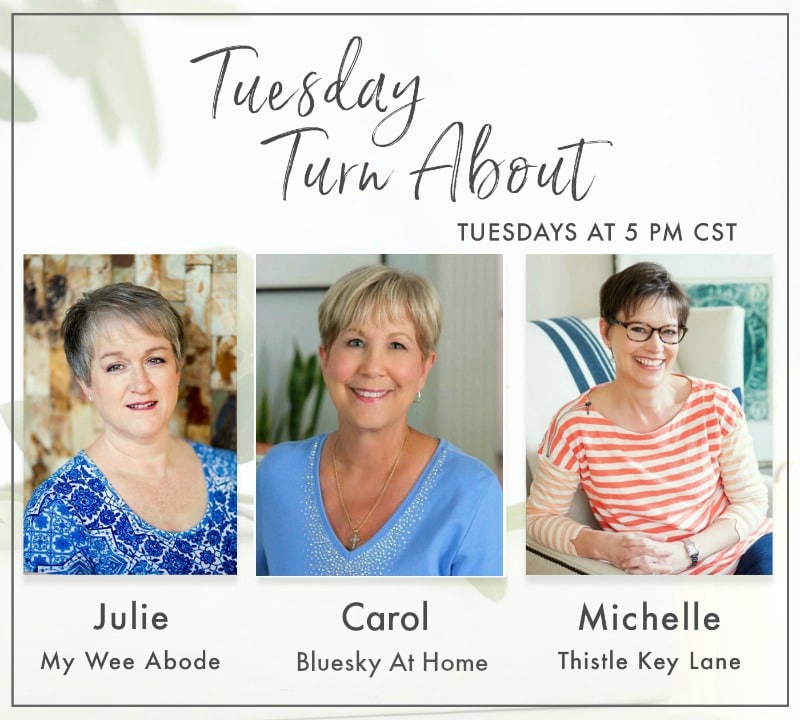 PLEASE VISIT YOUR HOSTESSES ON SOCIAL MEDIA AND SAY HI
My Wee Abode: Pinterest | Facebook | Instagram
Thistle Key Lane: Pinterest | Facebook | Instagram
Bluesky at Home: Pinterest | Facebook | Instagram
BEFORE YOU GET STARTED, TAKE A LOOK AT OUR GUIDELINES:
This party is for home decor and home-related posts only (recipes, organizing, DIY, crafts, etc.). Link up to 3 related posts. Please do not link up informational posts that do not relate to the topic.
If you would please not link up shops, advertising, round-ups, other link parties, or any posts promoting sales, we would appreciate it.
DO NOT PIN FROM IMAGES ON THIS PAGE (it just won't work right on Pinterest). However, please visit the original post/source and PIN from there. That works perfectly!
By linking to the party, you give us permission to share your projects on our blogs and social media. We will always give proper credit with a no-pin image.
LET'S GET STARTED LINKING UP!!
Let's make this week's party bigger and better than the last, and remember to come back next Tuesday to see the newest features.